Good evening everyone! As Tyler mentioned yesterday, I do have a bit of flair for the unique recipes of the culinary world. But that's what cooking is all about: trying new flavors and ideas & seeing if your pallet enjoys certain flavor combinations. After all, isn't that how new favorites get started - a simple taste can open a whole new world to you...but I digress...
Tonight, I'm trying a new flavor combination that we have never tried. I suppose in our big book of flavors (The Flavor Bible) these two are listed in it. But before now, I wouldn't have imagined pairing them up.
The Recipe: Chicken with Brussel Sprouts and Mustard Sauce (with Rosemary Potatoes)
Note: I want to mention that we will not be doing the Brussel Sprouts because neither of us like Brussel Sprouts nor are we feeling adventurous to try them.
Original Recipe Found In: Cooking Light, December 2011
What You'll Need:
1 Tablespoon Olive Oil
4 (6 ounce) Skineless, Boneless Chicken Breast Halves
1/2 Cup Fat-Free, Lower Sodium Chicken Broth
1/4 Cup Unfiltered Apple Cider
2 Tablespoons Whole Grain Dijon Mustard
1 Tablespoon Butter
1 Tablespoon chopped fresh Parsley
Potatoes:
12 Red Potatoes, quartered
1 Tablespoon Olive Oil
1 Teaspoon chopped fresh thyme
1/2 Teaspoon minced fresh Rosemary
To start, preheat your oven to 450 degrees. While the oven is preheating, heat an oven safe skillet with oil over medium high heat. Also, you can begin to prepare the potatoes: combine the olive oil, thyme, rosemary, potatoes, and sprinkle in salt and pepper. Spread the potatoes on a jelly roll pan. Sprinkle the chicken with salt and pepper and add to the pan. Cook for three minutes or until browned. Turn the chicken and place pan in oven. Bake for 9 minutes or until a meat thermometer reads 160 degrees. You can also put the potatoes in the oven as the chicken cooks, they will require 25 minutes to cook. Remove the chicken from the oven, transfer to a plate, and tent with foil to keep warm.
Return the pan to a medium-high heat. Add 1/2 cup broth and the cider and bring to a boil, scrapping the pan to loosen any browned bits. Reduce the heat to a medium-low hear and simmer for 4 minutes or until thickened. Whisk in the mustard, 1 tablespoon of butter, and parsley. Drizzle the sauce over the chicken, serve with the potatoes, and enjoy!!
Infusing all those delicious flavors
The Results: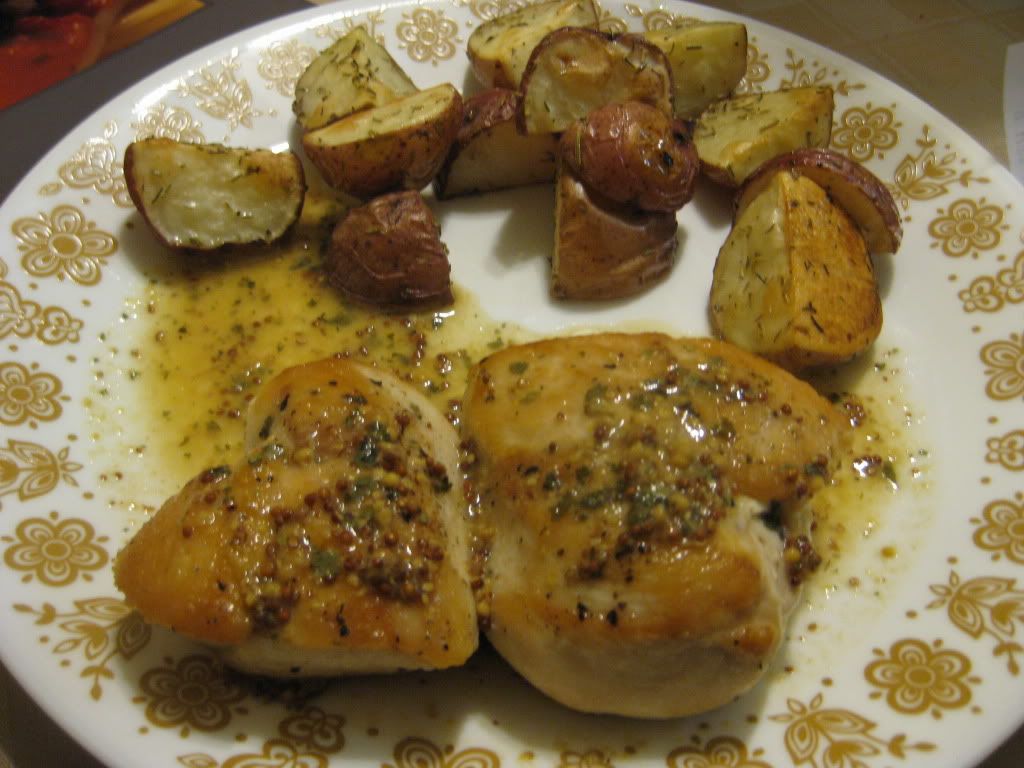 The sauce became sort of creamy concoction due to the combination of the broth, cider and butter. The pairing of the apple cider and mustard gave the whole dish a really strong flavor that managed to stay fresh at the same time. I thought that the apple cider would have a much more prominent role, but the mustard actually was the shining star in this dish. The potatoes, sprinkled with all those herbs and coated in olive oil, made it a wonderfully crusted with flavor. The potatoes were infused with great herb flavor and when combined with the chicken provided for a beautiful complimentary dish.
That's all we have for you tonight, Tyler takes to the kitchen tomorrow with a recipe first for the blog. Stop in tomorrow night to see what he has cooking. Until then,
~Cheers!