Good eve...er... Happy Weekend everyone! As Tyler mentioned on Wednesday, I whipped up something special this week, and quite honestly, I'm proud of it. I'm notorious for being the 'non-baking' type and I have to be in the mood to bake. With this recipe, it proves that anyone can bake and make a delicious treat.
The Recipe: Pumpkin Spice Bread
Original Recipe Found In:
www.allrecipes.com
(special thanks to Marissa, my eldest sister, for sharing it with me.)
What You'll Need:
3 Cups Sugar
1 Cup Vegetable Oil
4 Eggs, slightly beaten
1 Can (16 ounces) Solid Pack Pumpkin
3 1/2 Cups All-Purpose Flour
1 Teaspoon Baking Soda
1 Teaspoon Salt
1 Teaspoon Ground Cinnamon
1 Teaspoon Ground Nutmeg
1/2 Teaspoon Baking Powder
1/2 Teaspoon Ground Cloves
1/2 Teaspoon Ground All Spice
1/2 Cup Water
To start, preheat an oven to 350 degrees. In a large bowl, combine the sugar, oil, and eggs - don't worry when you see the amount of sugar that goes into this dish, granted it's a lot, but it will make the bread really delicious. Add the pumpkin and mix well. In a separate bowl, combine the dry ingredients. To the pumpkin mixture, add the dry ingredients and the water alternatively. This mixture will become really thick towards the end, so don't be surprised if you find yourself stirring extra hard.
Pour the mixture into 2 or 3 greased loaf pans. Bake at 350 degrees for 60-65 minutes, until a toothpick comes clean when inserted (the universal 'done' sign in the baking world.) Cool in pans for ten minutes before removing to a wire rack to cool completely - if you love any sort of pumpkin dish, this will be the longest ten minutes of your life, because you just want to gobble this bread down. Serve by itself or with butter, serve, and enjoy!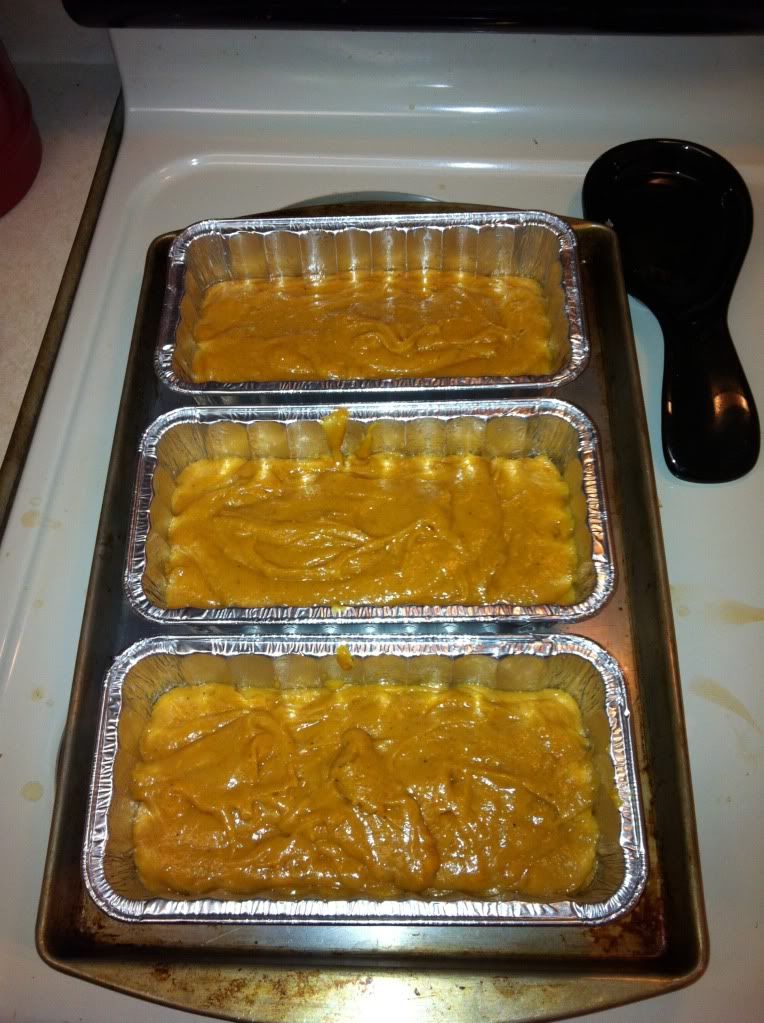 Pre-bread
The End Result:
Oh...my...goodness!!! This is probably the best fall/winter themed dessert/bread every created. The bread is super moist and incredibly delicious. It's especially great when it is warm, so even if you can't get that 'out-of-the-oven' warmth, pop it in the microwave for 15-20 seconds and it will have that savory flavor all over again. This will be a dish to create over and over again for a great fall/winter treat!
Join us on Monday as Tyler takes us Around the Culinary World. Until then,
~Cheers!