Good evening everyone! One of my favorite times of the year is when a brand new issue of Cook's Illustrated arrives in our mailbox. It's always full of interesting recipes, new ideas, product reviews and all sorts of culinary fun. Every once in awhile, there is a recipe in within the latest issue that makes me stop and go "Wow, I have to try that". The latest issue had once such recipe that as soon as I laid eyes upon it, I knew I had to try it.
Tonight's dish is a wintertime staple – beef stew. However, this beef stew is unlike any other that I've ever made. Tonight's dish finds its roots in the Mediterranean – this change in culture changes the entire complexion of the dish. Every other beef stew recipe I've made has used stew beef, red wine and even a little beef broth. Tonight's recipe flips the script by using white wine, a different cut of beef, cinnamon and even sugar. Supposedly, this change completely changes the way beef stew presents itself. Is it delicious, or do we end up with a dud recipe? Let's find out!
The Recipe: Catalan-Style Beef Stew With Mushrooms
Original Recipe Found In: Cook's Illustrated (December 2011 Issue)
What You'll Need:
2 Tablespoons Olive Oil
2 Large Onions (Finely chopped)
½ Teaspoon Sugar
2 Plum Tomatoes – Grated, Pulp Reserved (Skins discarded)*
1 Teaspoon Smoked Paprika
1 Bay Leaf
1 ½ Cups Dry White Wine
1 ½ Cups Water
1 Large Sprig Fresh Thyme
¼ Teaspoon Ground Cinnamon
2 ½ Pounds Boneless Beef Short Ribs (Cut into 2 in. cubes)
For The Picada**
¼ Cup Whole Blanched Almonds***
2 Tablespoons Olive Oil
1 Slice White Sandwich Bread (Crust removed, torn into 1 inch pieces)
2 Garlic Cloves
3 Tablespoons Fresh Minced Parsley
½ Pound Oyster Mushrooms (Trimmed of stems)
1 Teaspoon Sherry (Or red wine) Vinegar
*Alternatively, you can substitute a tablespoon of tomato paste and adjust with more, to taste, as necessary.
** Picada is a very common base in Mediterranean dishes. It's used almost as a sauce, but is typically placed IN dishes while cooking. The base creates a great flavor and also acts as a way to thicken the dish it's been added to. Tonight, this base is crucial to our stew for two reasons – first, it is the thickening agent to the stew and secondly, it's a major part of the flavor profile of this dish.
*** If you cannot find blanched almonds, it's reasonably simple to blanch them yourself. Simply add the almonds to a bowl and cover with about an inch of boiling water. Allow the almonds to rest for one minute before draining the bowl. Rinse the almonds in cold water and drain again before removing the almonds from the bowl
Beef short ribs are preferred for this dish over stew meat for two reasons as well. First and foremost, a boneless beef rib is actually more tender and contains a better flavor than the standard variety of 'stew beef'. Secondly, and – for this dish, most importantly, this cut of beef lends itself to elongated cooking times without losing excess amounts of moisture or its structure. You'll be able to cook this in the oven and still enjoy firm beef cubes when it's all said and done. That's a rare accomplishment when it comes to beef stew.
To begin making the stew, adjust your oven rack to the middle position and set your oven to 300 degrees. Next, heat the olive oil in a large Dutch oven over medium low heat until the oil begins shimmering. Add the onions, sugar and ½ teaspoon of salt and cook the onions, stirring constantly, until they have completely caramelized. This will take about 30 to 40 minutes.
Next, add your tomatoes (or tomato paste if you choose) the smoked paprika and the bay leaf. Cook this mixture, continuing to stir often, until the mixture turns a deep golden brown. This will take about 5 to 10 minutes.
Next, add the white wine, water, thyme and cinnamon to the pot - making sure to use a wooden spoon to scrape up and browned bits that are stuck to the bottom of the pan. (Much like making an onion soup, this step almost acts as a 'deglazing' of the caramelized onions. The flavor that is cooked onto the bottom of the pot is incredible; you don't want to leave any of that behind!)
Season the beef with a pinch of salt and pepper and add that to the pot as well. (I actually marinated our beef in a smoked paprika, pepper and salt blend for an hour before using - this ended up adding another element of flavor to the final dish - but is absolutely optional)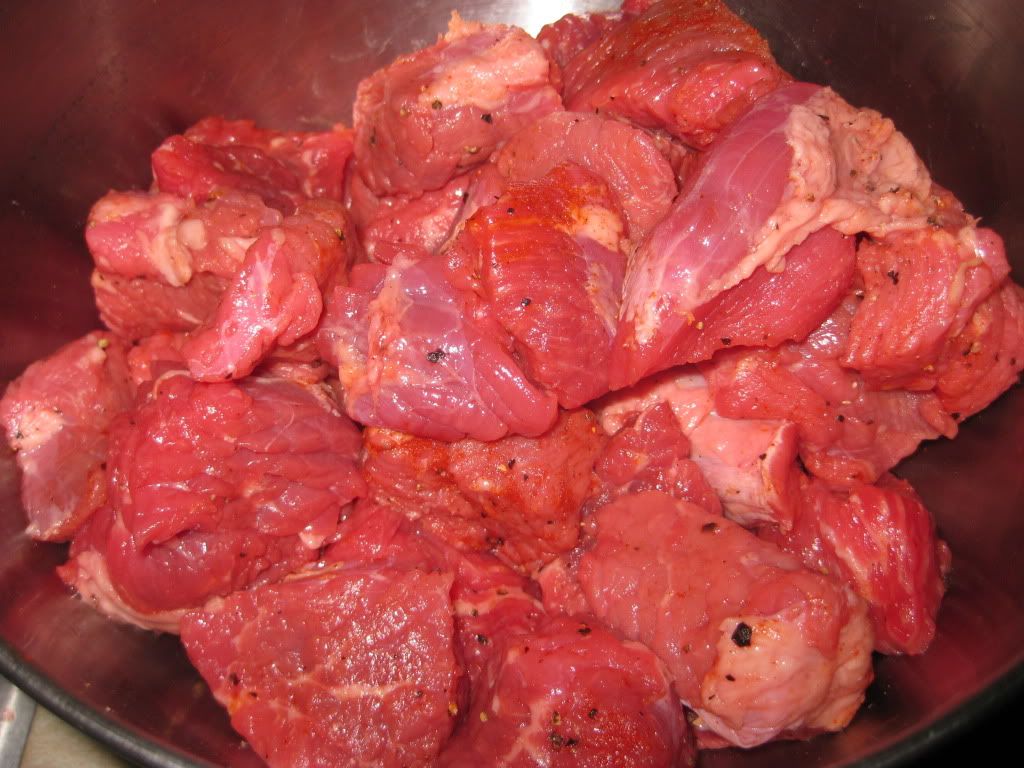 Traditionally, when making a beef stew, you brown the beef to 'kick-start' the flavor of the beef – however, with the small amount of liquid the beef ribs are being cooked in (in addition to the way the ribs cook) they will actually brown while in the pot – reducing the time you need to spend with the beef!
Bring the mixture to a simmer before transferring the pot to the oven (uncovered). Allow the stew to cook one hour before removing to stir (the beef tends to settle after an hour of cooking, stirring redistributes the beef and ensures even cooking). Return the pot to the oven and cook (uncovered) for an additional 1 ½ to 2 hours. (Until the beef is tender)
While the stew is in the oven, you can begin working on the Picada. Begin by heating the almonds in a large skillet with 1 tablespoon of the olive oil (Medium high heat). Stir the almonds often and cook until the almonds become golden brown, roughly 3 to 6 minutes. Use a slotted spoon to transfer the almonds to a food processor. Set aside. Return the skillet to medium heat and add the bread cubes. Stir the cubes often and allow them to brown on all sides – roughly 2 to 4 minutes. Transfer these bread cubes to the food processor with the almonds. Add the garlic to the bowl as well and process the mixture until it is finely ground. This should take about 20 seconds. Transfer the blended mixture to a bowl and stir in the parsley. Set aside.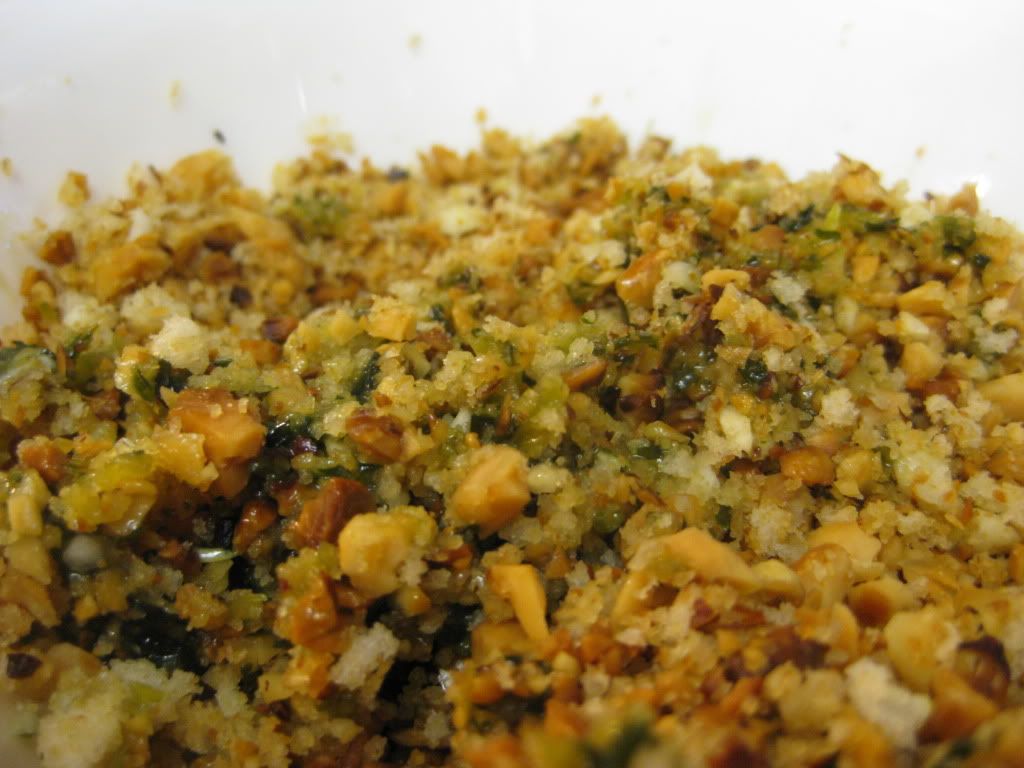 Once your stew has reached the desired tenderness, remove the bay leaf and stir in the Picada, mushrooms and vinegar. Stir to incorporate the mixture. Serve and enjoy!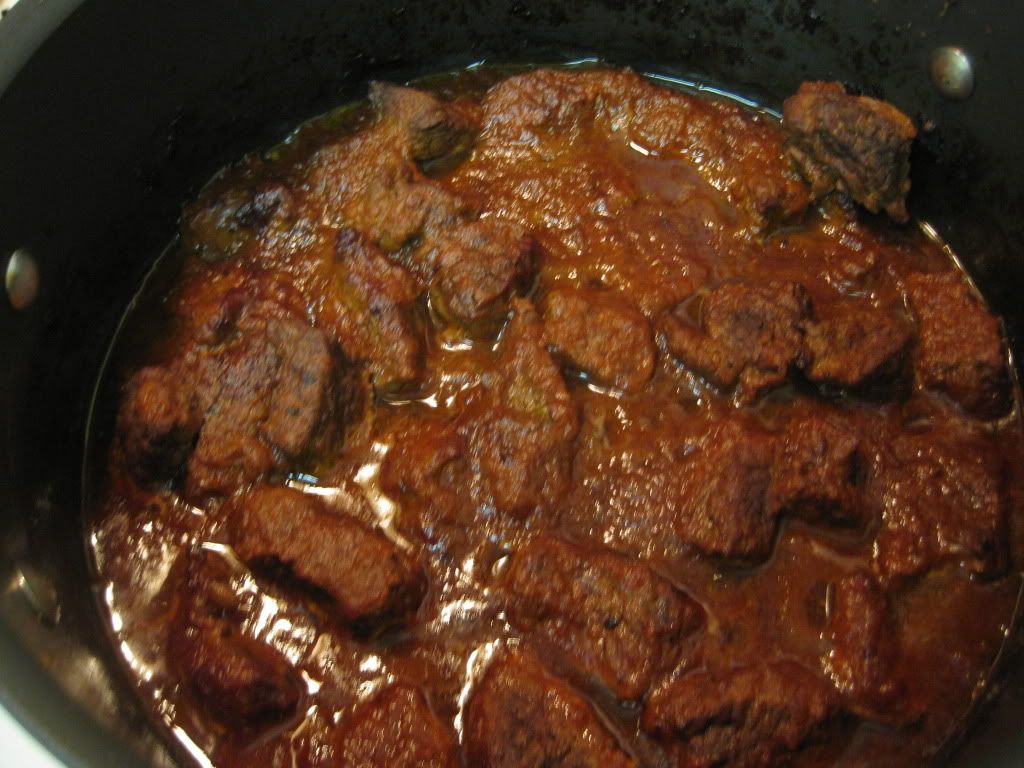 The Results: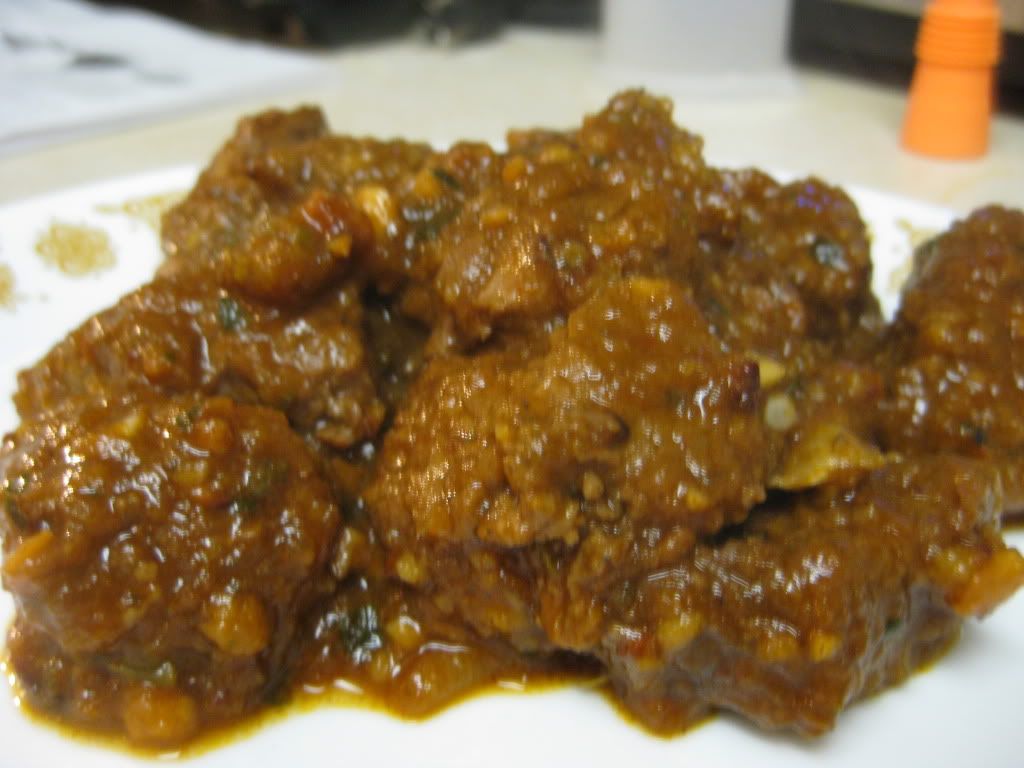 So - it doesn't photograph well, but it's DELICIOUS anyway
I would go as far to say that this recipe is misnamed. While it is technically stewed beef (thereby making it BEEF STEW) it doesn't have the same flavors or even composition of the traditional beef dish. This dish is very Mediterranean in flavor. It's fresh, very light on the palette and full of great, original flavor. The beef absolutely shines in this dish – which makes the decision to go for a higher end cut of beef a wise one. While this is not like any beef stew you've tried before, I'd argue that isn't a bad thing at all. Sure, this recipe isn't really "beef stew" but who cares? What it can be called is delicious, and that's all that really matters in the end.
That's all we have for you this week. It was an adventurous one for sure. Maggie's dish was a little bit of a culinary disaster. We learned the hard way on that one and ended up with a story to tell and experience to build on, but nothing really to eat in the end. My dish was an adventure of its own, but this adventure ended up quite successful with a very untraditional but still tasty dish at the end. Like we say, we're amateur chefs who are cooking right along with you. We try the recipes and make the mistakes (sometimes) so you (hopefully) won't run into the same problems. Taking cooking down to its simple elements sometimes comes with bumps along the road. Live and learn, right? We're back next Monday with another trip 'Around The Culinary World' – until then,
~Cheers