Good evening everyone! It's unbelievable to think that Christmas is only five days away and the end of 2011 is shortly thereafter. Tonight, I'm tackling a completely different and new recipe to the traditional Christmas week dish. It doesn't have any of the traditional fixings, which is sort of the point. With all of the holiday cooking we're about to undertake – it's nice to have a non-holiday dish to distract us to start the week. It may not be festive, but it sure looks appetizing!
The Recipe: Gnocchi with Tomatoes, Pancetta, and Wilted Watercress
Original Recipe Found In: www.eatingwell.com
What You'll Need:
2 Ounces Pancetta, chopped
3 Cloves Garlic, minced
2 Large Tomatoes, chopped
1/2 Teaspoon Sugar
1/4 Teaspoon Crushed Red Pepper
2 Teaspoons Red-Wine Vinegar
1/4 Teaspoon Salt
1 Pound Gnocchi
4 Ounces Watercress, tough stems removed, coarsely chopped
1/3 Cup Parmesan Cheese
Note: we are omitting the watercress from this dish, because honestly we won't have a use it if there's any left over. In addition, we've tried watercress before in another recipe and were not overly fond of the flavor it provided.
Also, we are swapping the gnocchi for a big shell variation. Granted, I was really excited to try gnocchi, our local grocery store does not sell it - which I was almost certain they did. So, we're using a similar pasta with hopefully similar results. (gnocchi is essentially a closed up shell anyway, so its not too much of a stretch to use big shells in its place).
Organic pasta...who knew?
To start, begin a pot of water to boil the gnocchi/big shell pasta. As the water boils, you can begin to cook the pancetta. In a large nonstick skillet over medium high heat, stir the pancetta occasionally until it begins to brown, 4 to 5 minutes. The excess oils from the pancetta will give a good base for the next ingredients. Add the garlic, stirring for 30 seconds. Add the tomatoes, sugar, and crushed red pepper, and cook, stirring until the tomatoes are almost completely broken down, about five minutes. Stir in the vinegar and salt. Remove from heat.
Getting the sauce ready
Once the water has started to boil, add the gnocchi and cook until they float, 3 to 5 minutes (or according to package directions for whichever pasta you use.) If you're using watercress, add to a colander and drain the gnocchi over the watercress, wilting it slightly. Add the gnocchi (and watercress) to the sauce in the pan, toss to combine. Serve with Parmesan cheese and enjoy!
The End Result: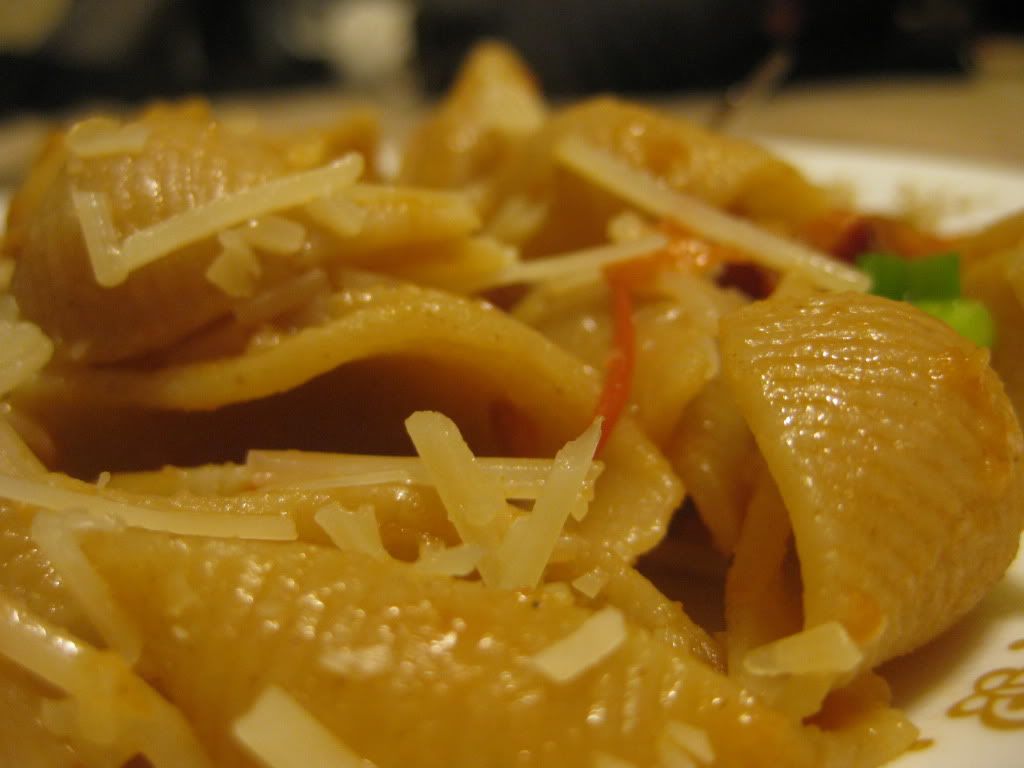 The pancetta and tomatoes give the dish a nice salty bite that's not too overbearing. The sugar that was added during the sauce making process makes the acidic ingredients have a nice pop and round out the entire dish. The pasta really soaks up the sauce nicely and the sauce completely coats the pasta, without it dropping off the shells. The Parmesan also adds to the dish nicely, without it being overly cheesy (which is something I can, surprisingly, do without for one night.) It was simple, yet the flavors melded together so well. From my disaster last week, this was a great recovery.
That's all we have for you tonight. Our holiday schedule only allows us to do one recipe this week. We wish everyone a Merry Christmas, Happy Holidays, and safe travels wherever they take you. Until next time,
~Cheers!