Happy New Year everyone!! I hope everyone had a joyous and safe holiday season. It's kind of crazy that in a matter of a short weeks that all the hullaballoo of the holidays get an abrupt cut off. Nevertheless, now it's on to focusing on trying to lose the holiday weight and eat a bit healthier. Granted it's hard to get into that particular routine, but it's definitely worth a shot. And even though this recipe might not have an entirely vegan base, it's at least a step in the right direction.
The Recipe: Farmhouse Baked Eggs with Cheddar and Potatoes
Original Recipe Found In: Food Network Calendar 2011 (yup, you saw right, calendar. As I was browsing our old calendar, I happen to come across this recipe. I saved this one, among others, and pitched the calendar. So last year's features became this year's to try recipes.)
What You'll Need:
3 Tablespoons Unsalted Butter
1 1/2 Pounds Red-Skinned Potatoes, diced
1/4 Cup Chopped flat-leaf Parsley
2 Large Cloves Garlic, minced
8 Large Eggs
1 Cup shredded extra-sharp White Cheddar Cheese
To start, preheat the oven to 400 degrees. Next, melt the butter in a large cast iron skillet or an ovenproof skillet over medium heat. Add potatoes and cook, stirring occasionally until tender and brown, about 15 minutes. Stir in parsley and garlic. Season with salt and pepper to taste and remove from heat.
We are using one of our Christmas presents for tonight's dish. We had received a Princess House 12 inch nonstick, oven safe skillet as one of our gifts. We have been searching tirelessly to find an oven safe skillet and alas, we had finally received one. It's a large, heavy, sturdy pan and will hopefully become one of our favorites.
Potatoes sizzling away in our new skillet.
Make 4 shallow depressions in the potatoes and beat two eggs into each. Transfer to oven and bake until egg white are cooked and yolks are still runny, about 10 minutes. Another note: since neither of us like over easy eggs, we decided to scramble the eggs for the potatoes, hopefully with similar results. Sprinkle cheese over eggs and continue to bake until the cheese melts, about one minute. Serve immediately and enjoy!
Ready to pop in the oven
The End Result: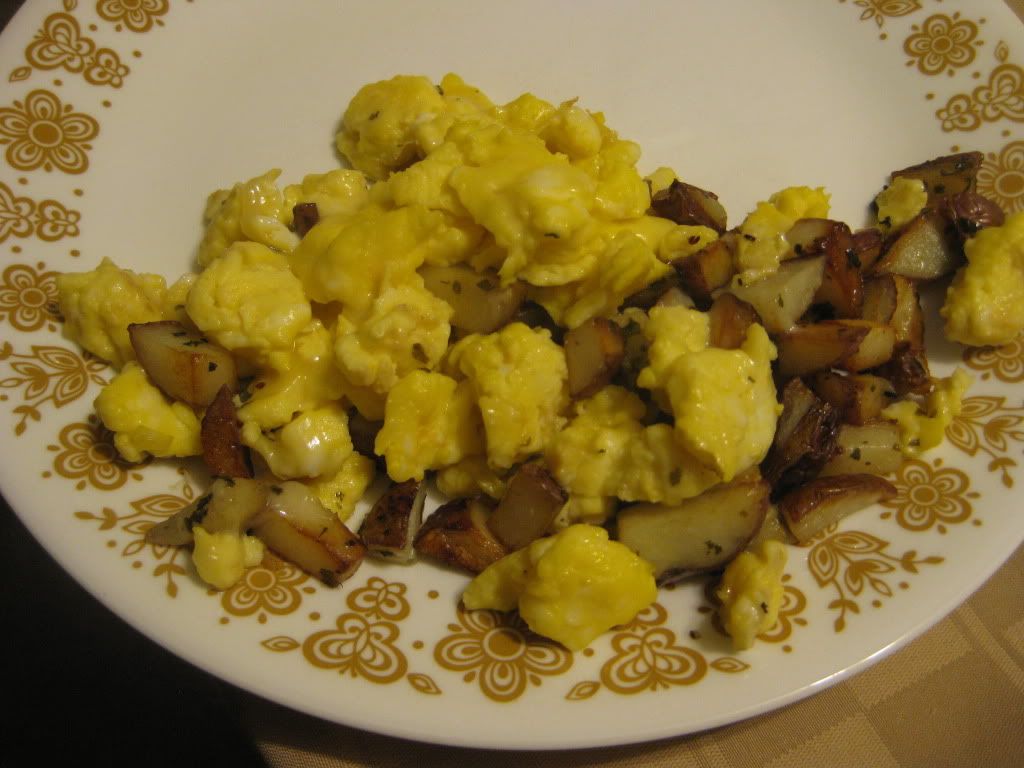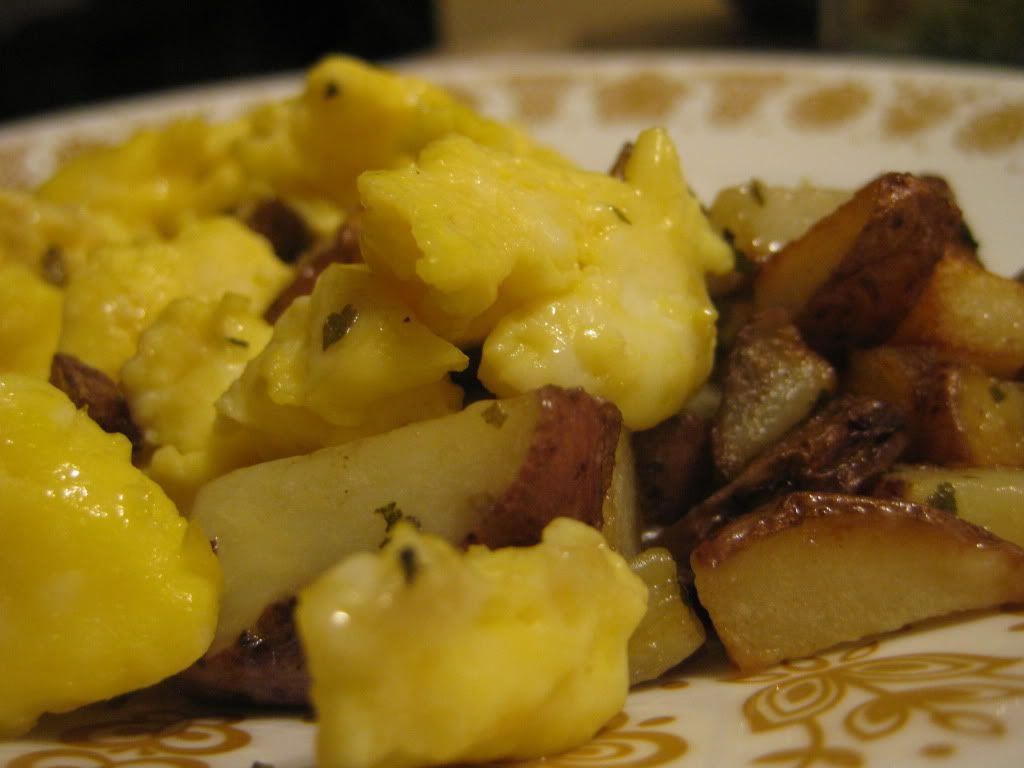 Even though this would make a great brunch dish, it's a great hearty dinner dish as well. The potatoes were cooked to perfection and the eggs, in all their scrambled glory, were the cherry on top. The white cheddar make an incredible addition and add a real depth to the entire dish. Although it could have really used a meat to round out the entire recipe, I know that this could be used as a vegetarian dish. Heck, if all things vegetarian tasted this great, I would convert right now!
That's all we have for you this evening. Join us tomorrow night when Tyler brings us a new recipe with a new flavor quotient. Until then,
~Cheers!