Good evening everyone! As Tyler has been alluding to Monday and Tuesday, I have been on the hunt for a particular recipe. Now, it's no secret that I have a strong favoritism towards Mexican food and trying all things within that realm. With that being said, I've always wanted to try an enchilada recipe because they are, in my opinion, one of the best Mexican foods around. Unfortunately, the only enchilada recipes I find are 1) extremely high in the calorie department and 2) feed a small army. It's been incredibly difficult to find a small portioned dish with fewer calories without giving up on flavor. Alas, after much searching, I finally found an enchilada recipe that serves only 4 (leftovers are always welcome) and that ranks in under a typical Mexican restaurant menu item. Will it be everything that I anticipated??
The Recipe: Enchilada Casserole
Original Recipe Found In: Cooking Light Magazine, January/February 2012
What You'll Need:
1 Pound Ground Sirloin
1 Cup Chopped Onion
1 Tablespoon Butter
1 Tablespoon Minced Garlic
1 1/2 Tablespoons All-Purpose Flour
1 Cup fat-free, lower sodium Beef Broth
1 Tablespoon 40%-less -sodium Taco Seasoning Mix
1 (8 ounce) can no-salt-added tomato sauce
4 (8 inch) whole-wheat flour Tortillas
1/3 Cup shredded Monterey Jack Cheese with jalapeño peppers
The reason why I chose this version of the classic enchilada recipe is that it had many substitutions where many added. First off, the beef broth, taco seasoning, and tomato sauce are all low or no sodium products. Salt, granted adds flavor to food, but also adds a lot of calories. By reducing what we can on the sodium front, we can reducing calories. Also, the tortillas are whole-wheat, instead of flour or corn. This not only adds grains to the recipe, but helps the overall healthfulness of the dish. Keeping these things in mind won't add too much guilt in eating something so good.
To start, preheat the oven to 400 degrees. Next, heat a large nonstick skillet over medium high heat. Brown the beef until completely cooked. Drain any excess fat. Add the beef to the pan and add the onions as well, cook for six minutes, stirring to crumble.
Next, melt the butter in a medium saucepan over medium high heat. Add the garlic and sauté for about one minute, until it becomes fragrant. Sprinkle the flour into the saucepan and cook for 30 seconds. Add the broth, taco seasoning, and tomato sauce to the pan. Bring this mixture to a boil and cook for two minutes making sure to keep stirring occasionally. Remove the pan from heat and add 1 1/2 cups of the tomato mixture to the beef mixture while reserving the rest of the tomato mixture.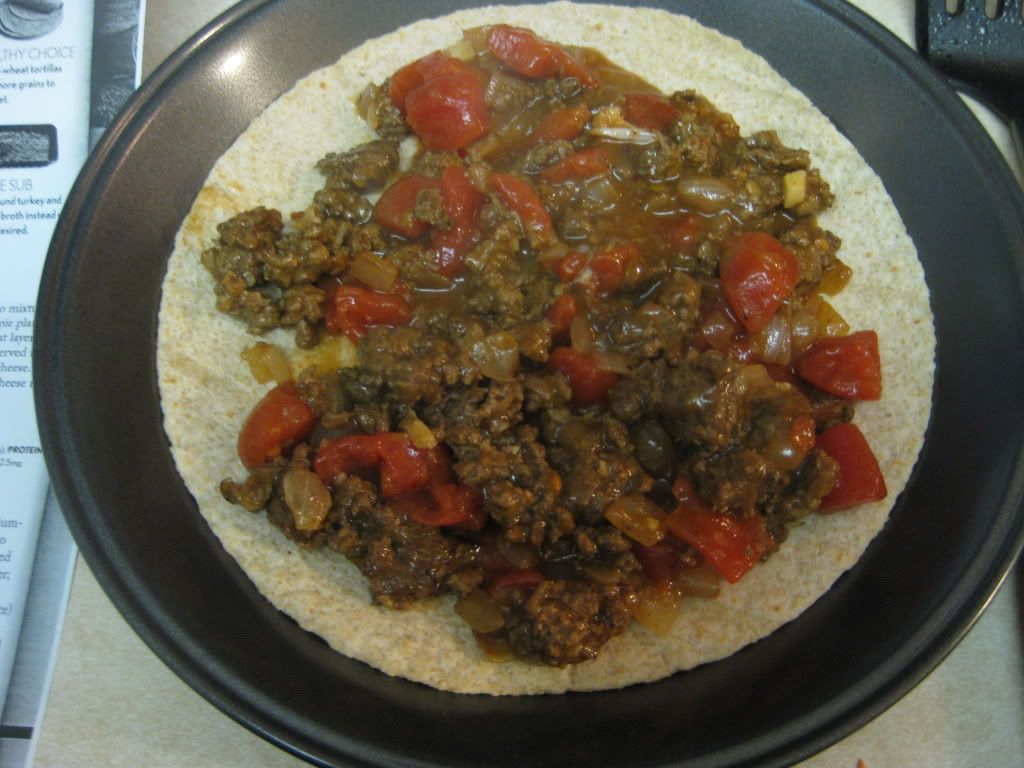 Let the layering begin!
Finally, place 1 tortilla in a 9 inch pie plate. Top with 1 cup of the beef mixture. Repeat the layering until all of the tortillas have been used, making sure to end with a tortilla on top. Top this tortilla with cheese. Place the pie plate into the oven and bake 10 minutes or until the cheese melts and turns a nice golden brown. Cool slightly, cut into 4 wedges, serve, and enjoy!!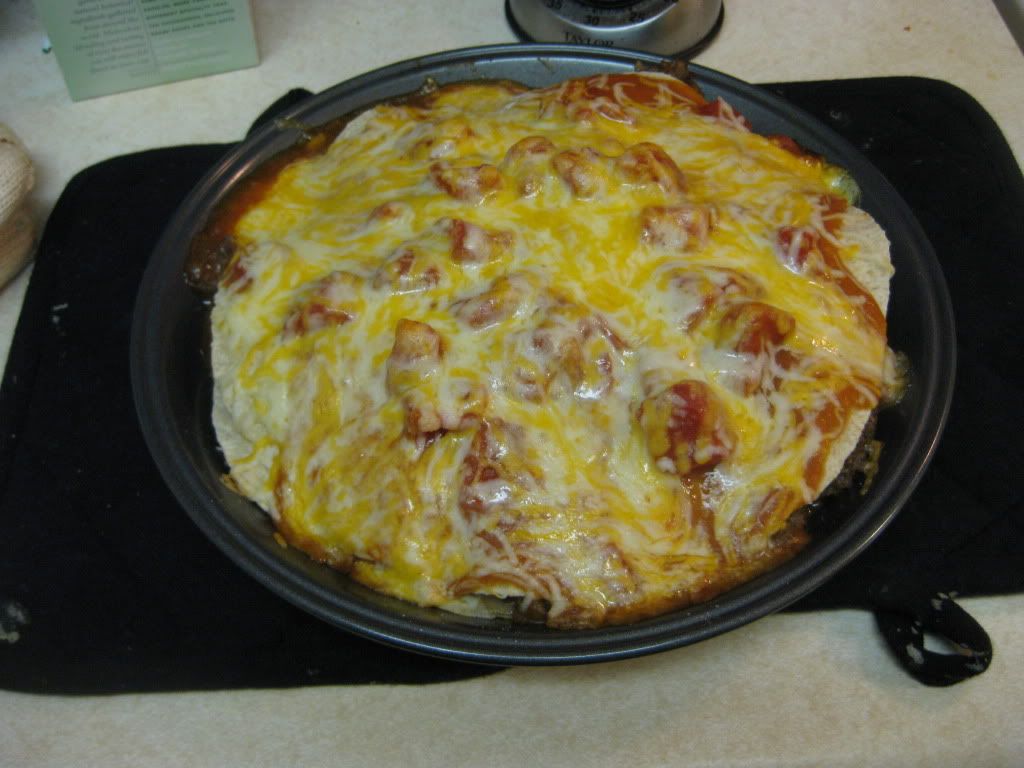 The End Result: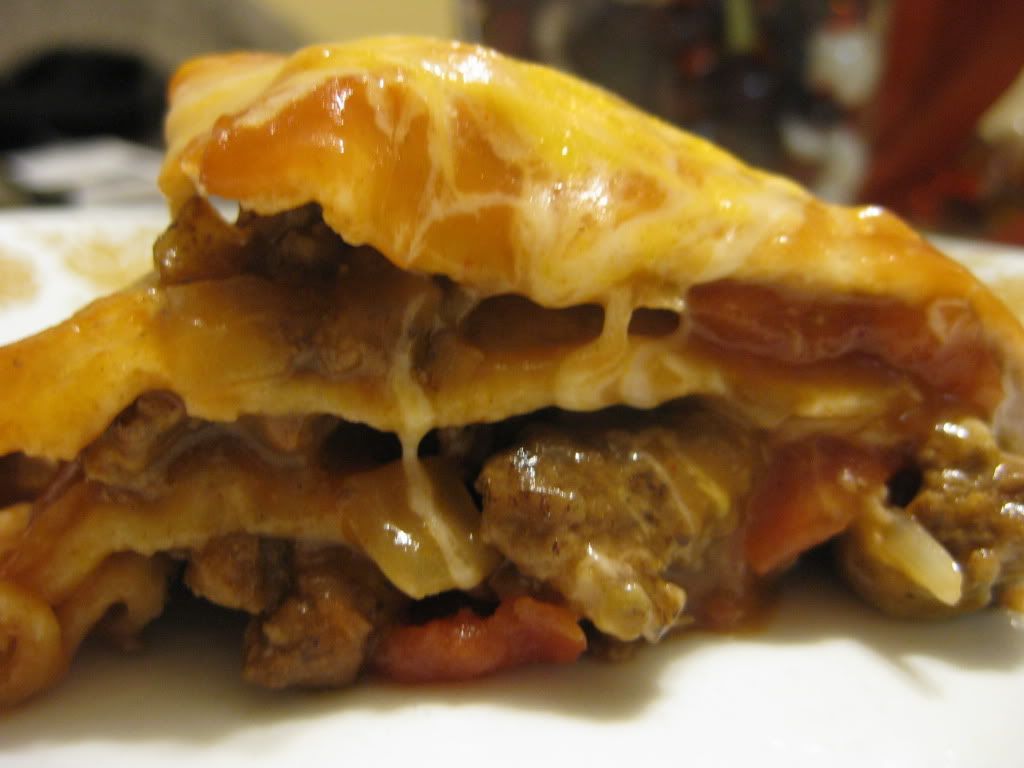 Although the filling is a standard tomato meat sauce, the creativity behind stacking it in between wheat tortillas is genius. I'm used to my enchiladas in individually wrapped tortillas, but the fact that everything is combined is really great. The flavors really harmonize well, as they should. We did substitute tomato chunks instead of tomato sauce. I thought this made the enchiladas heartier, which was a great substitution. It didn't have an overtly Mexican flavor, i.e. a strong kick of spice or pepper, but the taco seasoning did add a nice hearth to it. Honestly, it could have probably used more taco seasoning to really amp up the flavor, but maybe when we try another variation of this recipe, it could be done. I did find another recipe for healthy enchiladas and I'm eager to stack that recipe against this variation and see who comes out ahead. But, that's for another week.
That's all we have for you this week. Join us next week as another edition of Around the Culinary World and a full week of cooking. Have a great weekend everyone, until Monday,
~Cheers!