Good evening everyone! As we were preparing for this week's dishes, we were trying to use up some of the ingredients from our pantry. I was immediately reminded of one of our favorite Food Network shows: Chopped. For those who haven't seen this show, four chefs are given a basket of four mystery ingredients to create an appetizer. The lesser quality dish from one of the chefs will get eliminated - or as the show implies, chopped. This process continues through an entree and dessert round, until only one chef remains. This chef will receive a monetary prize and a Chopped title. Oh, and the kicker, each round is only 30 minutes long and the chefs need to cook in that time frame.
Although I won't be rushed to create a fantastic dish, I did have a list of secret ingredients and will use them for tonight's recipe. The main ingredient is not a frequently used ingredient here on the blog, but it's definitely unique and I have a great feeling about it.
The Recipe: Orzo with Parmesan and Basil
Original Recipe Found On: www.allrecipes.com
What You'll Need:
2 Tablespoons Butter
1 Cup Uncooked Orzo
1 (14.5 ounce) Can Chicken Broth
1/2 Cup Parmesan Cheese
1/4 Cup Fresh Basil (Chopped)
Orzo is a type of pasta that is slightly larger than the size of a grain of rice. In fact, orzo is commonly mistaken as being a form of rice due to its similar shape, size, color and even similar texture.Even its Italian name 'risoni' means "big rice". Orzo used to be made from barely, but more modern interpretations of the pasta are now made from wheat or some form of wheat byproduct.
Orzo is typically used in dishes with a heavy sauce, and it pairs well with a ragu and works great in a casserole. It's a fairly hearty pasta despite being fairly diminutive in size. You'll frequently see orzo as a filler in many Italian dishes that are predominatly 'sauce heavy'. The beauty of orzo is that it works quite well with lighter influences such as lemon and herbs as well. Some more modern dishes have even begun to feature the petite pasta as the star of the dish.
While its origins are from Italy, orzo has made its way into Middle Eastern cooking as well as Greek and Turkish cuisine. But the most important thing about orzo's history is to remember that it's a pasta, not a rice, so be sure to look next to the spagetti in your grocery store, rather than amongst the rice!
To begin preparing the orzo, melt the butter in a large non stick skillet over medium-high heat. Warm the butter until it turns a light golden brown. Stir in the orzo and sauté until the pasta is slightly browned, this takes around 5 minutes.
The obligatory 'boiling pasta' picture
Next, stir in the chicken broth and bring the mixture to a boil. Cover the skillet with a glass top and reduce the heat to medium or medium low. Allow the mixture to simmer until the orzo is tender and the liquid is absorbed, about 15-20 minutes. Give the orzo a quick stir as you add the parmesan cheese. You may have to add the cheese in segements to allow it all to melt evenly. Finally, stir the basil into the skillet. Season with salt and pepper, serve, and enjoy!
Basil, pre chopped, in our handy curved cutting board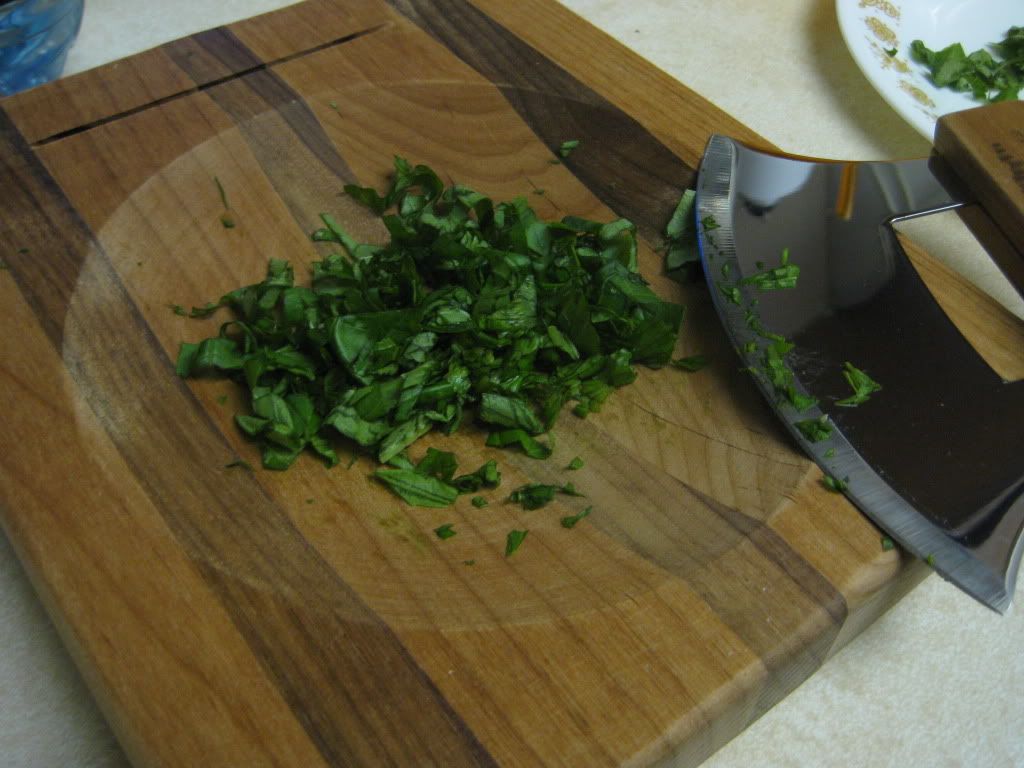 And post chopped
The End Result: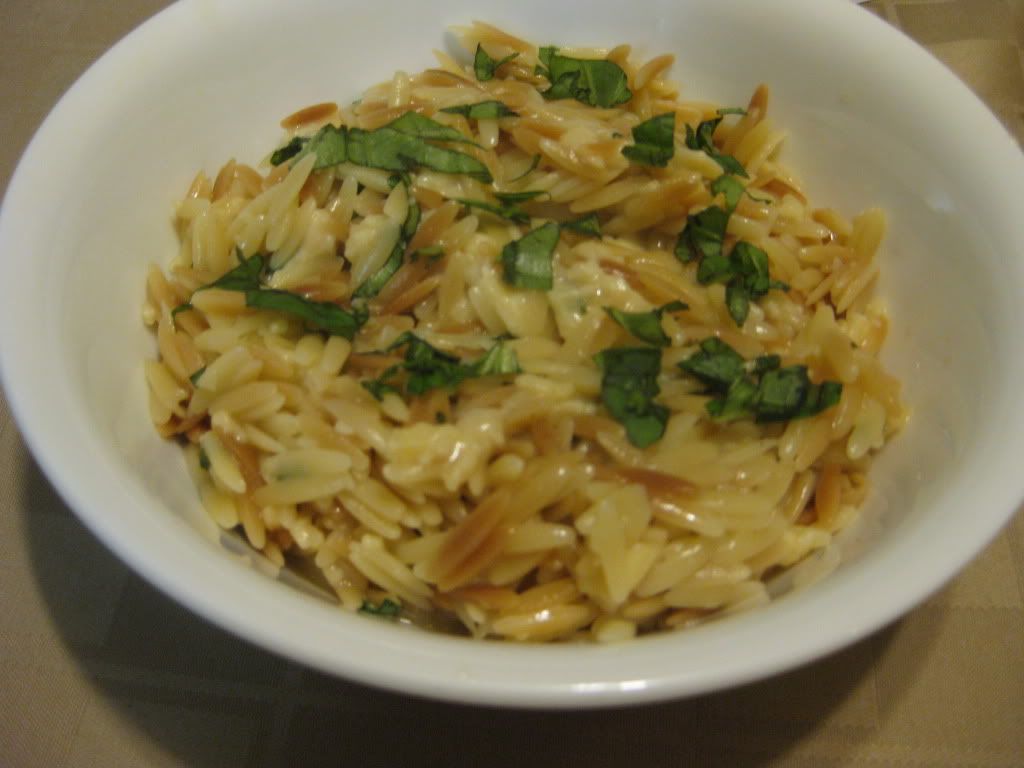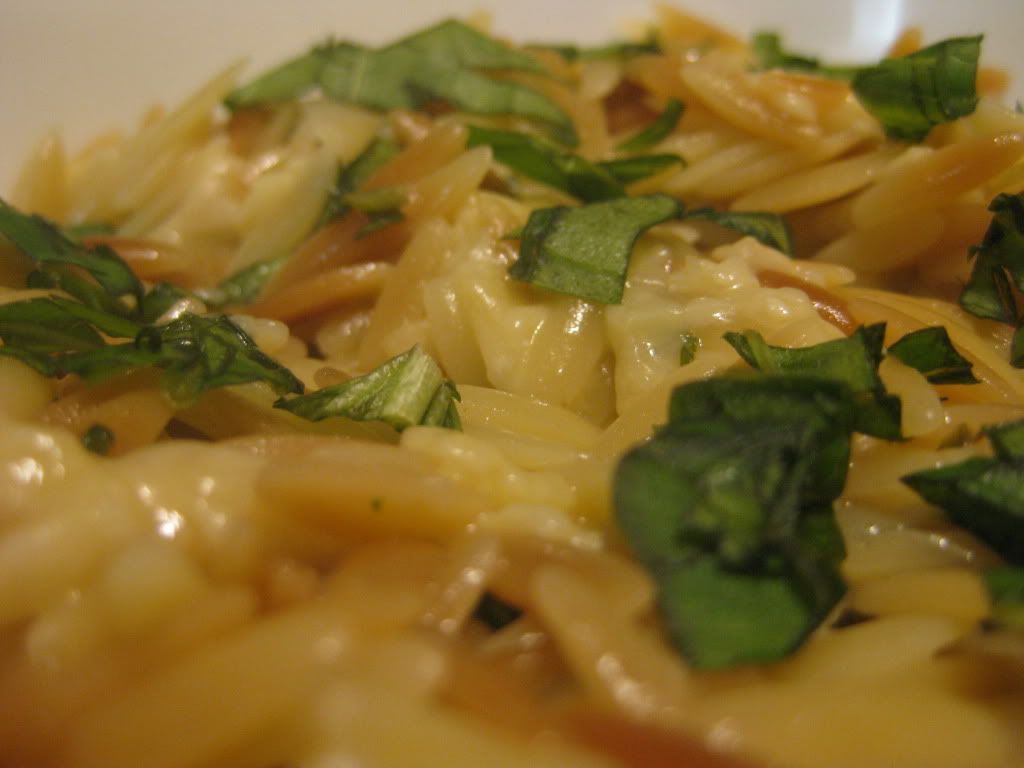 Even though this is a fairly quick recipe, it packs quite a delicious punch. The cheese we purchased was finely grated, which made it really easy to melt and to cover over the orzo. The fresh basil added a nice herby flavor to the entire dish and made it really fresh. Even adding chicken or some sort of meat and/or herb and cheese would step the dish up to another level. As we were eating, it reminded me of the my own creation: "Italian Spaghetti". This includes spaghetti covered in olive oil, shredded parmesan, and dried basil. This dish was way better because you won't be covered in olive oil after eating it. Also, the flavor quotient is taken to the next level with the fresh ingredients. Overall, a quick and easy dish to whip up in the middle of the week and to use again and again.
Join us tomorrow as Tyler tries to recreate one of our favorite eating establishment dishes. Until then,
~Cheers!