Good evening everyone! After a long holiday break, it is nice to be back to some semblance of routine. Don't get me wrong, long holiday vacations and light work weeks are certainly welcome – but having a little bit of order restored to our daily lives isn't always a bad thing either. Even more important is a return to a healthier eating routine. Needless to say we weren't eating at all healthy during the holidays (of course we tried, but in the end, holiday goodies won out – like they always do).
One of the gifts we received for Christmas was a bundle of Omaha steaks and other assorted Omaha Steaks brand frozen meats. I've never tried Omaha Steaks before, but I've heard nothing but good things from those that have. You can't give me a freezer full of steaks and NOT expect me to cook some up right away – so naturally, my first recipe of 2012 is going to feature the simple, unparalleled quality and simplicity that is steak.
The trick to tonight's recipe was actually finding a recipe that wasn't really a recipe. What I mean is this: Omaha Steaks are high quality pieces of beef that posses great flavor on their own. You don't really need to do anything to 'fancy them up'. My challenge was finding a recipe that would still allow me to cook – while not burying the natural flavor of the beef. The solution? A pan sauce of course!
The Recipe: Shallot & Butter Pan Sauce
Original Recipe Found In: The Complete America's Test Kitchen Cookbook
What You'll Need:
2 Steaks Of Your Choice (We're using top sirloin tonight)
2 Medium Shallots, Minced (About 1/2 cup)
4 Tablespoons Unsalted Butter, cut into 4 equal sections
1 Teaspoon Lemon Juice
1 Teaspoon Minced Parsley Leaves
This recipes takes place after you've already cooked your steaks in the skillet. While you don't have to cook your steaks in the skillet to make this pan sauce, a good portion of the flavor in this sauce is derived from the flavoring the steaks leave behind after cooking. If you're not sure how to pan sear a steak, it's surprisingly easy. Just make sure you have an instant read thermometer to ensure you're reaching the correct 'cooked' level.
To cook your steaks - add 1 teaspoon of vegetable oil to a large non stick skillet and bring to a shimmer over medium heat. While the oil is heating up, season both sides of your steaks with salt and pepper.
Place the steaks in the skillet and cook over medium high heat until they become nicely seared. To guarantee a proper sear, you have to leave the steaks undisturbed during this process. Sometimes it's hard to simply let something cook without 'checking' on it - but in this instance, if you want a beautiful crust on the top of your steaks, you'll have to let them cook. After 4 minutes, flip the steaks over and allow to cook until they reach the desired doneness.
The best way to check how 'done' your steaks are is to use an instant read thermometer. The center of the steak should register: 120 degrees - Rare, 125 degrees - Medium Rare, 130 degrees - Medium. (Cooking time should be 4,5 or 6 minutes respectively). Anything lower than 120 is not fully cooked and is not safe to eat so 120 is the very low point you're shooting for.
Once the steaks have reached their desired temperature, transfer them to a plate and loosely cover with aluminum foil. Allow to rest for 5 minutes while you prepare the pan sauce.
In the same skillet you prepared the steaks in (don't clean it out!) add the shallots and cook them over low heat until they being to soften. This takes about 1 minute. Next, turn the heat to medium low and stir in the butter. Use a wooden spoon or rubber spatula to work up any browned bits still stuck to the bottom of the pan. There is great flavor in these caramelized particles - you don't want to leave them behind! When the butter is just melted, stir in the lemon juice and sprinkle in the parsley. Serve immediately over the steaks and enjoy!
The Results: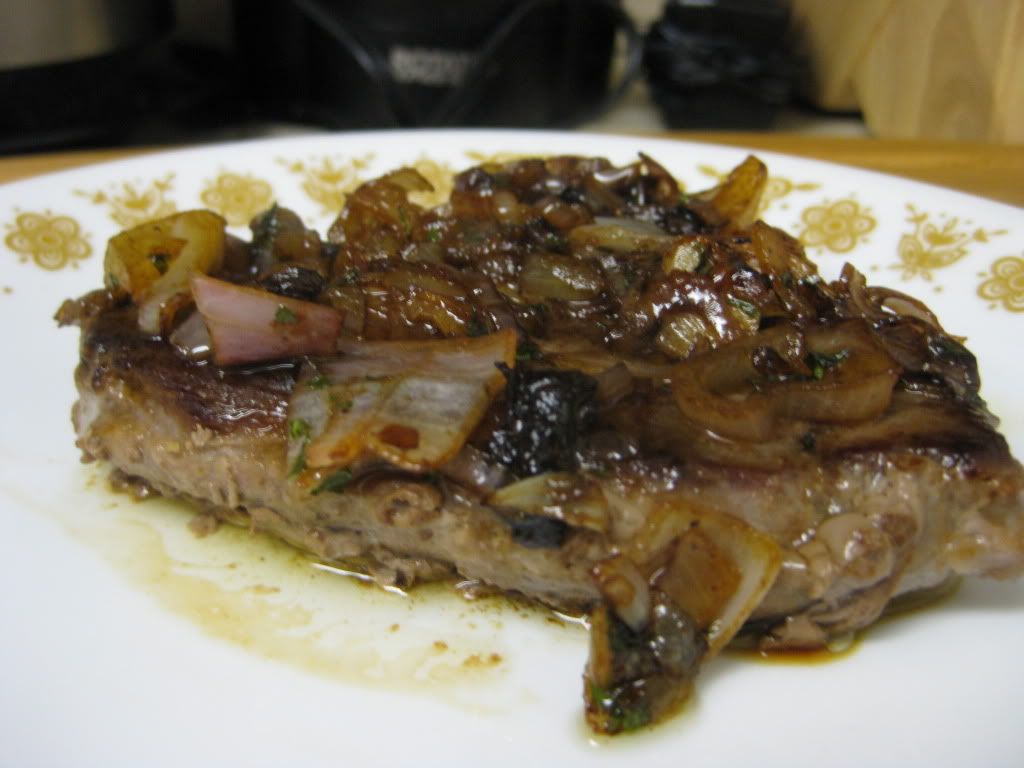 First and foremost - I got my first crack at using our new Princess House skillet that Maggie mentioned yesterday. Highly recommended! It's sturdy, has a great nonstick surface that heats up evenly and quickly and best of all it makes a great searing pan for steaks! The steaks themselves were delicious - you can really taste the quality of the beef. They would be fine on their own, but since this is a cooking blog - we needed to cook SOMETHING for them. Luckily, the shallot / butter sauce was amazing in its own right. Rich, full of flavor and incredibly complimentary to the steaks. With only 3 minutes of prep time, this simple sauce is a great way to spice up your steak dinner.
That's all we have for you this week. 2012's first 'Around The Culinary World' will return on Monday, followed by another full week of cooking. Until then,
~Cheers