Good evening everyone! Here in the Des Moines metro, we had another really chilly day - granted the temperature got up to the mid 30's, with that wind, it felt more like the single digits. All I can say is: BRRRR!! I don't like the cold weather just as much as the next person, but I have a difficult time warming up, so these temperatures are not very nice to my body. Enough of weather, let's talk food!
It's been a while since I have cooked a chicken dish - mainly because every time I do a chicken dish, something seems to go wrong. Whether it be smoking up the oven or not cooking it properly on the stove top, I can't quite get it down. When I came across this recipe, it sounded something that would be relatively easy and not end up with a mess on my hands. Will this recipe finally break my streak of failed chicken recipes?
The Recipe: Creamy Chicken and Mushrooms (any thoughts on a more creative title are much appreciated!)
Original Recipe Found In: Cooking Light, January/February 2012
What You'll Need:
4 Cups fat-free, lower-sodium Chicken Broth
2 Cups Water
1/3 Cup chopped Onion
3 Thyme Sprigs
1 Celery Stalk
4 boneless skinless Chicken Breasts halves
1 Tablespoon Olive Oil
1/2 Cup thinly sliced Shallots
2 Teaspoons minced Garlic
8 Ounces sliced Cremini Mushrooms
1/2 Cup Dry White Wine
2 Teaspoons All-Purpose Flour
1/2 Cup Creme Fraiche
For those of you who aren't aware, creme fraiche is a cream that is very similar to sour cream, but is less sour. It also is very thick and has a higher fat content. Mostly, it's used with fruits as a nice additive. But I am using it tonight with its other use: finishing sauce. It won't be added until the very end and will, hopefully, give a smooth consistency to the finished product.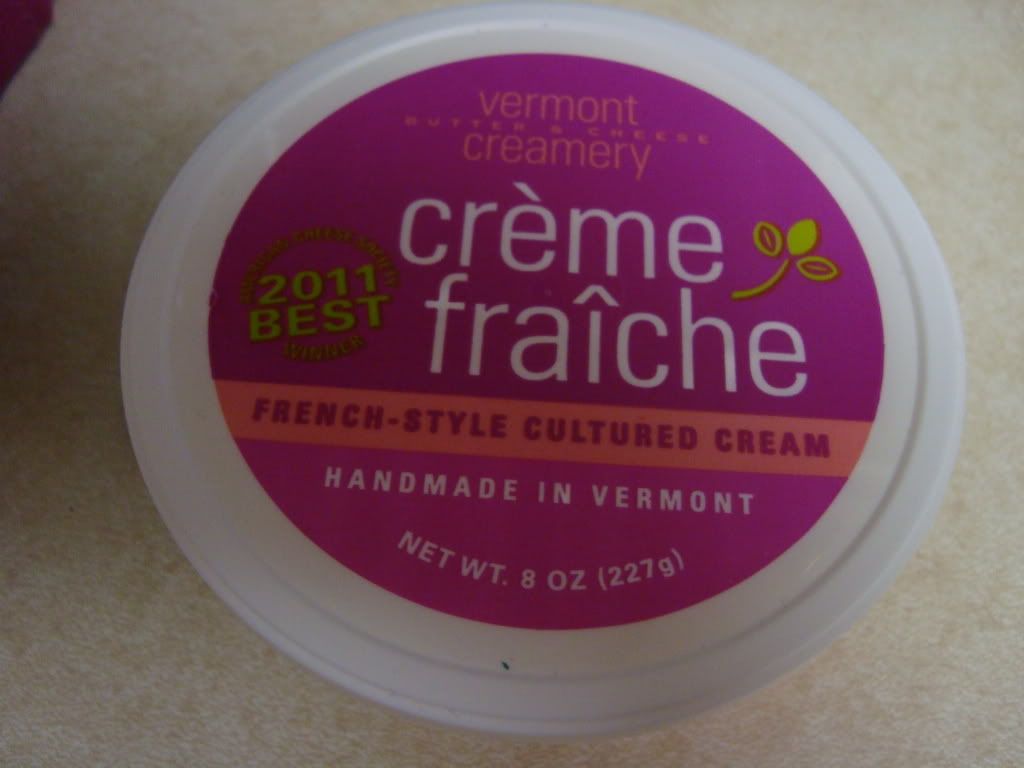 Creme Fraiche - pronounced like it's spelled
Begin by combining the chicken broth, water, onion, thyme sprigs, and celery stalk in a saucepan. Add the chicken breasts and bring to a simmer for 15 minutes or until the chicken is done. For some reason, our Dutch oven was rather persnickety tonight and took a while to get to 'simmer'. Alas, once it finally did warm up, it was rather a quick boil, so I decreased the time to cook to 10 minutes. Remove the chicken form the saucepan and let cool, shredding the chicken when the chicken is warm to the touch but not hot enough that you can't handle it. Strain the cooking liquid through a sieve or a mesh strainer over a bowl, reserving one cup of the cooking liquid.
Simmering away...
Meanwhile, heat a skillet over medium-high heat. Add the olive oil, shallots, and garlic. Saute for one minute, stirring frequently. These next few steps are going to go really quick, so don't focus on other things, because this part will go rather quickly. Add the mushrooms, salt, pepper and sauté for three minutes. Add the white wine and cook until the liquid evaporates. Stir in the all-purpose flour and cook for one minute. Stir in the reserved cooking liquid and bring to a boil, cooking for one minute. Remove from heat. Stir in the chicken and the creme fraiche, serve, and enjoy!
The End Result: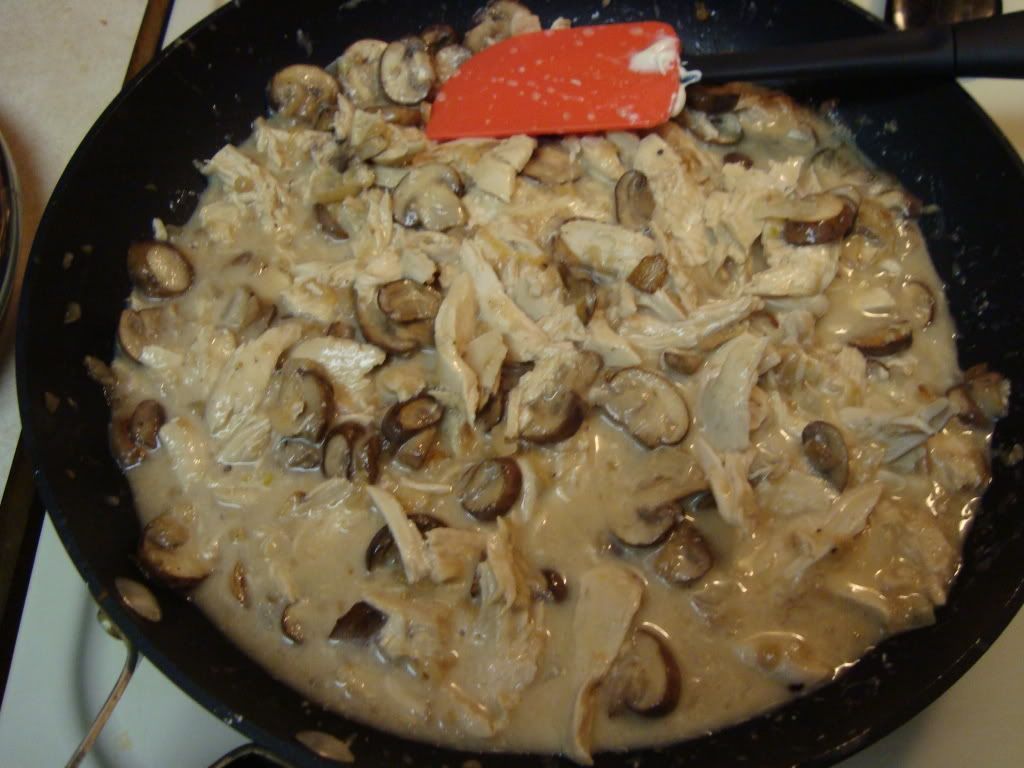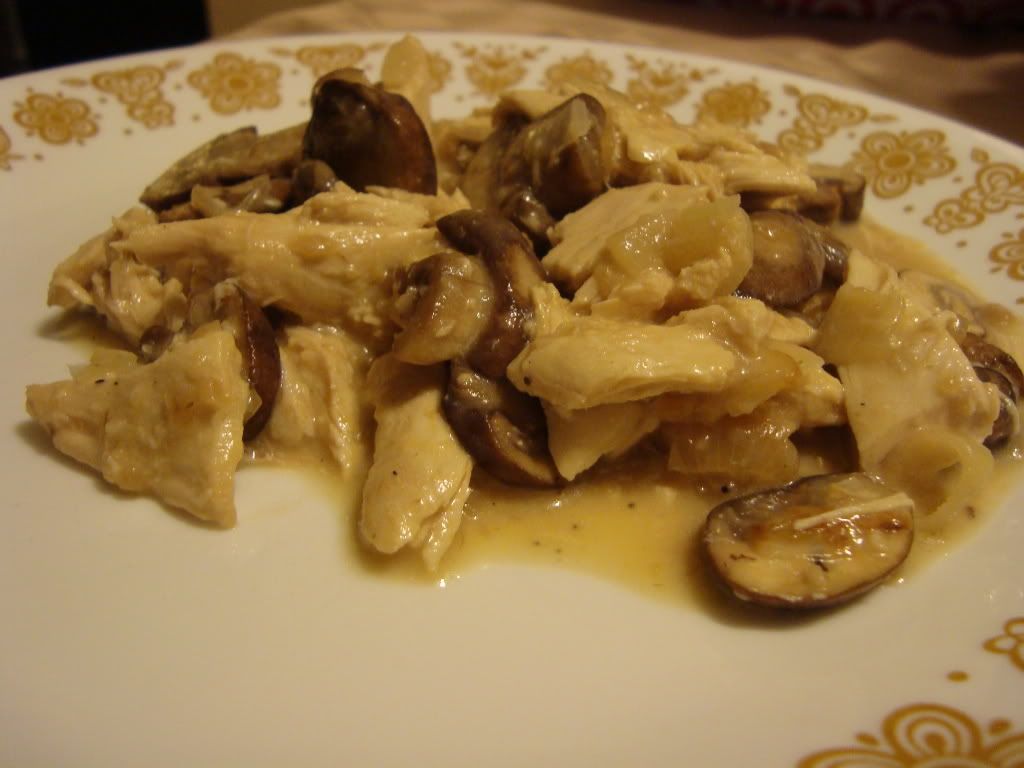 The creme fraiche really gives the whole dish an incredible creamy texture and doesn't add any strong flavors to it. Even though it is relatively unknown in most household kitchens, creme fraiche is a great additive without adding extra flavor or calories. I will admit that I have a bias towards sautéing mushrooms in garlic and/or shallots, because it really boosts the flavor of the mushrooms and makes it so much more delicious. The entire dish had a little more liquid than what I would have preferred, but if you put it on toasted bread, like the original recipe called for, it would enhance it even more. Overall, the flavor was incredibly consistent and was really flavorful. You could dress it up with more spices and it would still be delicious. The curse of the bad chicken recipes has been broken!
That's all we have for you this week. Join us on Monday as we take yet another trip Around the Culinary World. Until then,
~Cheers!