Good evening everyone! Once again, in the greater Des Moines metro, it is flipping out outside! With temperatures ranging in the middle to upper 90's, with heat indexes reaching three digits, it's no fun to be outside. It makes me thankful that I get to work in an air conditioned building, but I think about those folks who have to work outside and get few downtime when working in such extreme temperatures. It always nice to come home and cook up something fast and delicious without too much work.
Last week, I was inspired by my Chinese-inspired grilled dish to continue with the Asian cuisine trend. One of the many dishes I love is stir fry. The technique is so simple: throw a meat with some veggies into a giant wok, stir until everything is cooked, and bland ingredients get transformed into something delicious. I've been searching for a while for a better-for-you version of stir-fry, but I have never been able to find a lower calorie variation that would taste amazing. Tonight, I am trying to blend these two variables and produce something incredible.
The Recipe: Chicken-Peanut Stir-Fry
Original Recipe Found In: Food Network Magazine, June 2012
What You'll Need:
1 Cup Basmati Rice
3 Teaspoons Soy Sauce
1 Tablespoon plus 1 Teaspoon Cornstarch
1 Tablespoon plus 1 Teaspoon Rice Vinegar (not seasoned)
1 Pound boneless skinless Chicken breasts, cut into 1-inch pieces
2 Teaspoons packed light Brown Sugar
2 Tablespoons Peanut or Vegetable Oil
1 2-inch piece Ginger, peeled and thinly sliced
1 Bunch Scallions (whites roughly chopped, greens thinly sliced)
1 Jalapeño pepper (red or green,) seeded and thinly sliced
1 small head Napa Cabbage, cored and cut into 2 inch pieces
1/4 Cup roasted salted Peanuts
*Note: Since I am carrots leftover from last weeks dish, I will be adding 1/2 cup of thinly sliced carrots.
To start, cook the rice as the package instructs. As the rice cooks, whisk 2 teaspoons soy sauce and 1 tablespoon each cornstarch and rice vinegar in a bowl. Add the chicken pieces to the bowl and toss to coat. In another small bowl, whisk the brown sugar, 1/3 cup water, and remaining 2 teaspoons cornstarch and 1 teaspoon each of the soy sauce and rice vinegar. It's so important to get all these flavors melding and combined first, otherwise the dish would have no flavor base to go off of and it would taste very bland.
Next, heat 1 tablespoon of the peanut/vegetable oil in a large nonstick skillet over high heat. When the oil is almost smoking, add the chicken and stir-fry until the chicken is lightly golden, for about 2 to 4 minutes. Remove the chicken from the skillet into a bowl and cover with foil to keep warm until you're ready to use the chicken.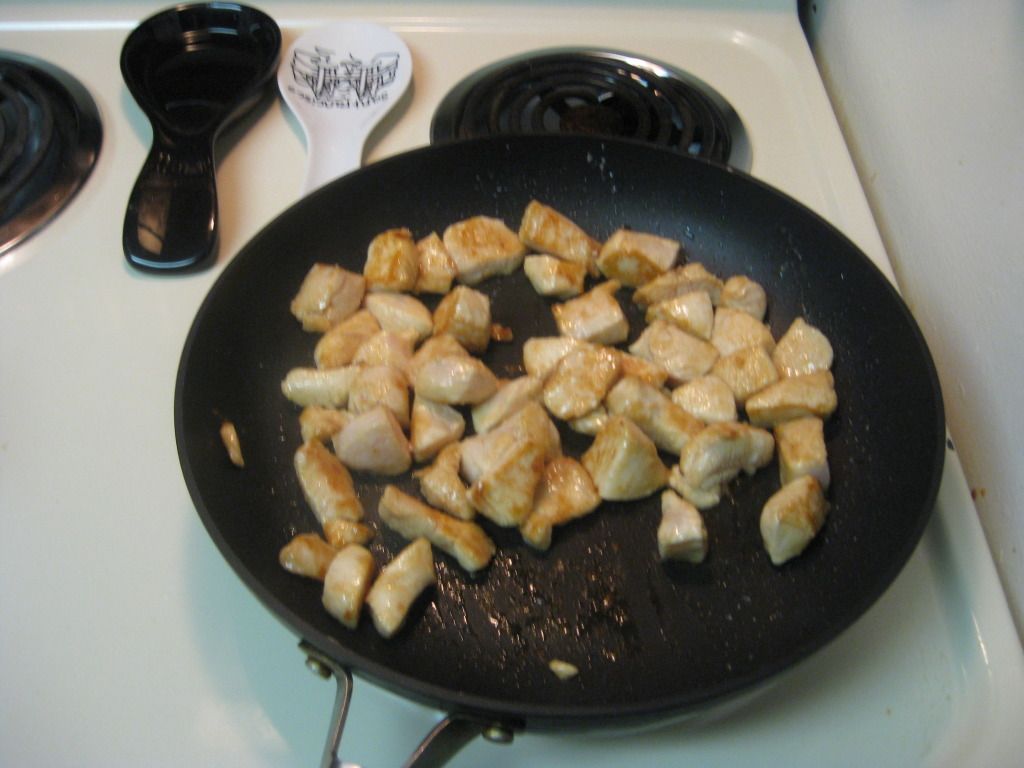 So this is what stir-frying chicken looks like...
After the chicken is removed, wipe out the skillet with a paper towel, return the skillet to a high heat and add the remaining 1 tablespoon of peanut/vegetable oil. When it begins to smoke, add the ginger, scallion whites, and jalapeño. Stir-fry this mixture for 45 seconds, or just until you begin to get a whiff of either the scallions, the jalapeño, or both! Next, add the cabbage and stir-fry until crisp-tender, 3 to 5 minutes. The cabbage will begin to wilt, but don't over cook the cabbage, you want it to be still crisp when you eat the stir-fry. Stir in the brown sugar mixture and add in the chicken. Stir-fry until the sauce is thick and the chicken is cooked through, 1-3 minutes. Stir in the scallion greens, peanuts, and carrots until the mixture is heated through. Serve with the rice and enjoy!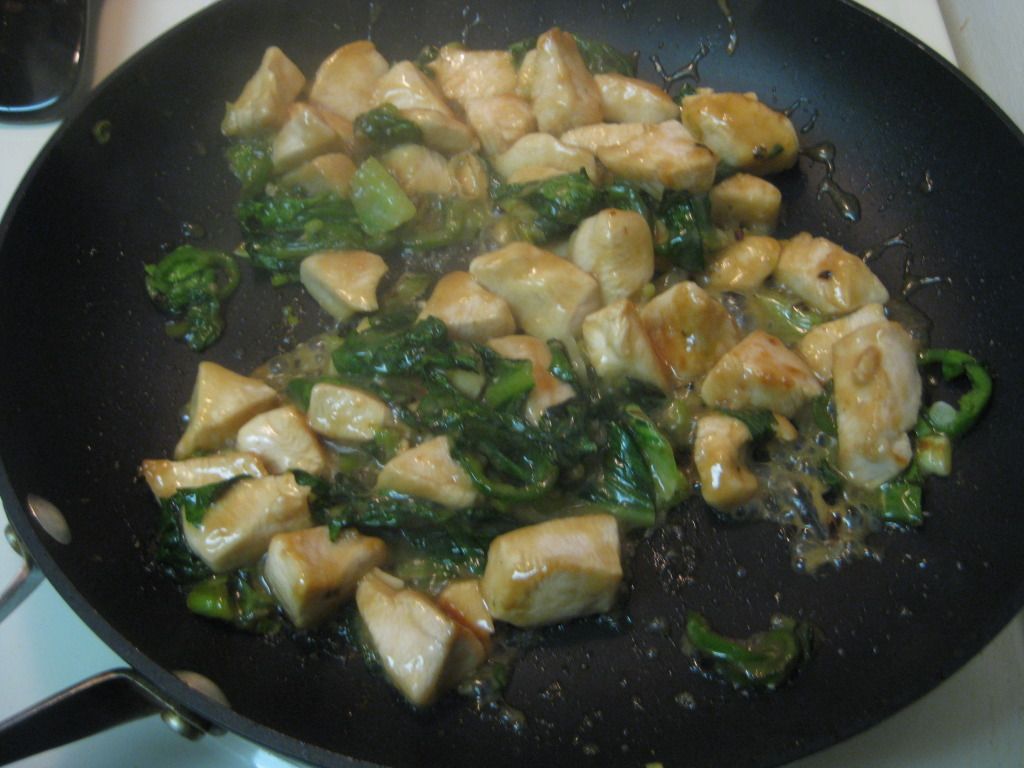 Everyone getting cozy in the skillet
The End Result:
Although, I am a bit disappointed I did not get to use my wok, I am very pleased at how well this dish turned out. As I mentioned before, stir-fry is one of those dishes that takes normal ingredients, mix them with a sauce, and cook them all together to make one heck of a delicious dish and this recipe did not disappoint. The chicken was cooked perfectly and add the soy sauce, cornstarch, and vinegar as a "coating" made it taste great. The brown sugar sauce was sweet but not too sweet, due to the soy sauce and rice vinegar, but added a nice base and a real depth to the dish.
The scallions, jalapeño, cabbage, and last minute add-in of carrots really brought a well-roundedness to the dish that I never thought vegetables could do. I was willing to try a jalapeño for this dish and it didn't add a strong heat, like I thought it would, which was really great. The only qualm about this dish is that the peanuts got top billing in the name of this recipe, but really didn't play the star of the show. I guess adding the peanuts in when adding the sauce and the chicken probably would have enhanced the flavor of the peanuts and really made it a Chicken-Peanut Stir-Fry, instead of a Chicken with Peanuts Stir-Fry. Otherwise, the dish performs superbly and tastes incredible.
Before I sign out, I want to wish everyone a Happy Independence Day, remember the reason why we celebrate, stay safe during our mid-week break! Join us Thursday as Tyler takes to the kitchen with a new variation of recipe done many times here on the blog. Until then,
~Cheers!