Good evening everyone! We've said it countless times on the blog - and I'll say it again tonight, there's nothing like breading to completely change a dish. From basic whitefish fillets to chicken pieces to whatever you can dream up, adding a basic layer of breading turns an otherwise ordinary dish into something a little more special.
Up until this point, we thought we had tried nearly everything there was to offer when it came to the wide world of breading. From panko to almonds to standard bread crumbs, if it's a potential breading component, we've given it a shot. My recipe tonight takes a breading we've used before (cornbread) and applies it to chicken while pairing it with a unique hispanic inspired sauce. Just when we thought we'd done it all - we find something new! Let's get cooking!
The Recipe: Cornmeal Crusted Chicken With Pepian Sauce
Original Recipe From: Eatingwell.com
What You'll Need:
(Serves 4)
4 Tomatillos (Husked and rinsed) OR 4 Roma Tomatoes (Diced)
1/4 Cup Diced Onion
4 Tablespoons Pepitas (Pumpkin seeds - check your bulk grain aisle)
3 Tablespoons Chopped Fresh Cilantro
1 Garlic Clove (Peeled)
1/2 Cup Reduced Sodium Chicken Broth
2 Tablespoons Low Fat Sour Cream
4 Boneless Skinless Chicken Breasts (Pounded to 1/4 inch thickness)
1 Large Egg White
2 Tablespoons Water
1/2 Cup Yellow Cornmeal
3 Teaspoons Canola Oil (Divided)
Preheat your oven to 400 degrees.
To begin, place your tomatillos (green Spanish tomatoes - or simply use Roma if you can't find tomatillos) in a food processor along with the garlic, broth, 1/4 teaspoon salt, 3 tablespoons of the pepitas and 2 tablespoons of the cilantro. Pulse until the mixture is smooth. Transfer this mixture to a small sauce pan and cook over medium high heat for 10 to 15 minutes, or until the sauce has reduced to approximately 3/4 of a cup and has thicken to a paste like substance. Once thickened, remove the sauce from heat and stir in the sour cream. Set this sauce aside.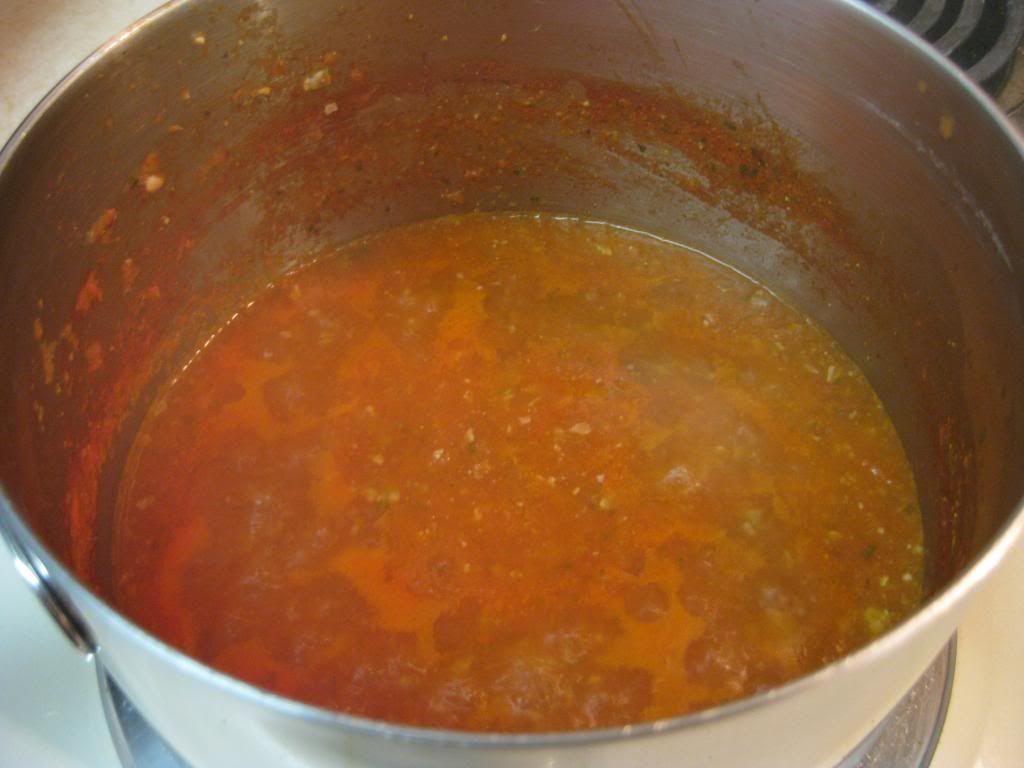 While you sauce is cooking, begin breading your chicken breasts. Begin by whisking the egg white and water together in a small bowl. Meanwhile, place the cornmeal on a shallow plate, season with a pinch of salt and whisk together. As we've done countless times before on breading recipes, construct an assembly line with your ingredients. (Egg white mixture, followed by the bread crumbs and finally the plate.)
Dip the breasts into the egg white mixture, allowing the excess to drip off, then roll them in the cornmeal, ensuring that all sides and crevices of the breast are evenly covered.
Next, add 1 1/2 teaspoons of canola oil to a large (12 inch) non stick skillet and bring the oil to a shimmer over medium high heat. Place two chicken pieces in the oil and cook until the cornmeal breading turns golden brown - approximately 4 minutes per side. Remove the chicken, wipe out the skillet and repeat the process above to finish cooking all of the chicken.
Now, for some reason every cookbook and cooking website out there seems to think 5-10 minutes on a stovetop completely cooks a piece of chicken. I don't know about the rest of you, but we've NEVER had that work. Each time, the chicken is vastly undercooked and usually needs a lot more skillet time. I know that thickness of the chicken breast has a lot to do with this, but even when we've beaten our chicken to paper thin levels, we've never hit 165 degrees after only 5 to 10 minutes. That's why I'm adapting this recipe and adding another step.
Place a wire baking rack on top of rimmed baking sheet. Place your breaded (and browned) chicken on this baking rack and into the 400 degree oven for 10 to 15 minutes. Check the chicken's internal temperature with an instant read thermometer - once you hit 165 degrees, serve with the sauce you cooked up earlier (top with the extra peptias) and enjoy!
The Results: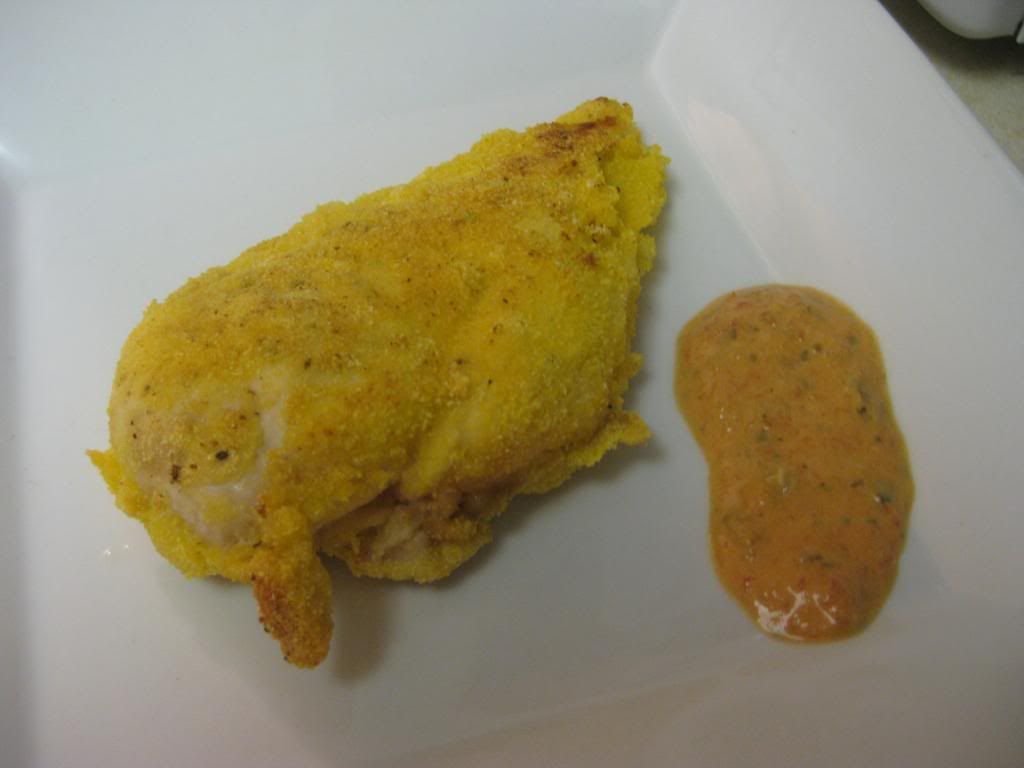 Breading continues to be a way to add a little flair to any weeknight meal. The combination of a nice crunchy out shell and tender moist chicken underneath is always going to a great result on your plate. The pepian sauce, however, was a little 'off'. The pepitas add a nice nutty flavor to the tomato base and the sour cream completely changes the complexion of the final flavor. The end result is a sauce that is 'okay' but not quite what this chicken needs. I'm surprised because all of the reviews of this recipe online lauded the 'amazing' sauce. Maggie and I were less than impressed. I'd like to return to this recipe and use pepitas - but tweak the sauce's other inputs to create a new flavor. All in all, this is still a good dish - even with the sauce being a little "off".
That's all we have for you this week, we're back next week with yet another set of brand new recipes. Until then,
~Cheers