Good evening everyone! A few weeks ago, we introduced you to the multifaceted ingredient known as couscous. No matter what you put with it, it seems to enhance the other ingredients it surrounds. As we continue to experiment with this versatile ingredient, it'll always be exciting to see what will turn out and tonight we will continue to find brand new ways to showcase this simple, yet extraordinary ingredient.
The Recipe: Chicken Sausage with Whole Wheat Couscous
An Out of the Culinary Original!
What You'll Need:
1 Cup Whole Wheat Couscous
1 Cup Vegetable Broth
2 Tablespoons Olive Oil
3/4 Cup sliced Chicken Sausage
1 Onion, chopped
1 1/4 Cup Chicken Broth
To start, prepare the couscous with the vegetable broth according to package directions. This typically involves combining the liquid (in most cases, it would be water, but for tonight, it's vegetable broth,) two tablespoons of butter, and 1/2 teaspoon of salt and bringing this to a boil. Once this combination is at a boil, remove from heat. Pour the dry couscous into the sauce pan. Stir until everything is well mixed. Cover the sauce pan and let stand for five minutes. Fluff the couscous with a fork and you're read to serve!
Next, in a large nonstick skillet, heat the olive oil over medium high heat. Stir fry the chicken sausage until lightly browned, about three to four minutes. Remove the chicken with a slotted spoon and place on a paper towel lined plate. Add the onion to the oil left in the skillet and cook for five to six minutes, until the onions begin to soften. Pour in the chicken broth and return the chicken sausage back to the skillet and simmer for two minutes.
Stir fried chicken sausage - tasty!
Spoon this mixture over the couscous, serve, and enjoy!
The End Result: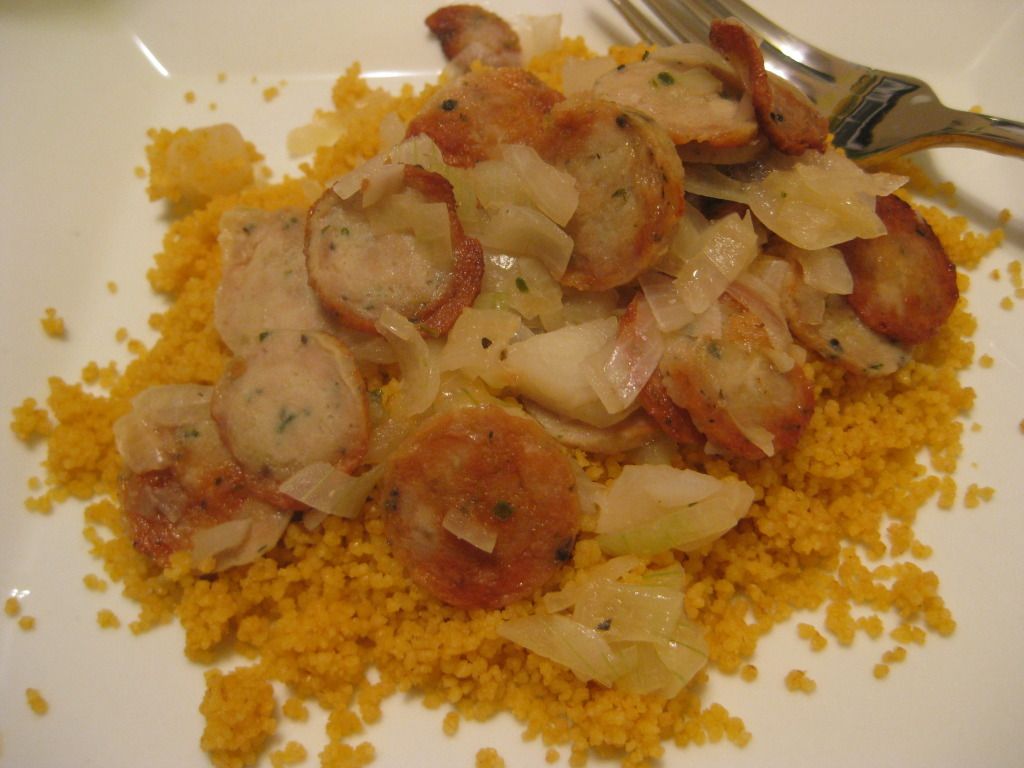 The entire dish had an incredible savory flavor to it. I think this was mostly in part to the vegetable broth we use for the couscous. Those little buggers soaked up all that flavor from the broth and retained it for the dish. Using the chicken sausage also amped up the savory flavor. There were versions of this dish that included chorizo, but I thought it would give too much heat for this simplistic dish. The chicken sausage gave it a boost of flavor, without knocking your socks off. Overall, a great and simple recipe to add to your menu any night of the week.
Join us Thursday as Tyler takes a new approach to a classic sandwich. Until then,
~Cheers!