Good evening everyone! We have a multitude of reasons for trying out a dish on the blog – it's healthy, it looks good, it's a challenge – but every now and again we try our a recipe simply because we've never had it before. That's the case with my recipe tonight. I was browsing for recipes last week and stumbled across a dish titled "Stuffed Pork Chop Sandwiches". Further browsing revealed that this sandwich was a simple adaptation on the classic 'Cuban' sandwich.
I've never had a Cuban sandwich before and was interested in giving it a try. For those who are in the same place I am, a Cuban sandwich is a blending of ham, Swiss cheese and a dill pickle. It can be accompanied by mustard, lettuce and tomato and is typically pressed and cooked on a griddle to fuse everything together.
Tonight's dish takes that concept and flips the ham for a pork chop – thereby reducing the sodium intake, and creating a heartier sandwich. Let's get cooking and find out just what this Cuban sandwich has to offer!
The Recipe: Stuffed Pork Sandwiches (AKA Pork Chop Cuban Sandwich)
Original Recipe Found On: Eatingwell.com
What You'll Need:
(Serves 2 but easily adapted to any number)
2 X 4 Ounce Boneless Pork Chops (1/2 inch thick, trimmed of fat)
1 Slice Swiss Cheese (Cut in half)
2 Dill Pickle Slices*
1 Tablespoon Canola Oil
2 Whole Wheat Hamburger Buns (Toasted)
1 Teaspoon Dijon Mustard
2 Slices Tomato
1 Romaine Lettuce Leaf (Cut in half)
* Pickle manufacturers / sellers make a "hamburger" style pickle that is flat (also known as a sandwich pickle) that's the kind you'll need for this recipe.
If you're using a thick cut pork chop, begin by butterflying the pork chop with a sharp chef's knife. To butterfly the pork chop simply slice the chop through the center, cutting all the way from one edge to within ¼ inch of the other edge, spread the chop open like a book.
The pork chops we're using this evening are fairly thing and butterflying them would be a) difficult and b) unnecessary (you're butterflying them to speed up cooking – when they're thin, they'll already cook fast). So, we're not butterflying our chops. Depending on the thickness of your chops you may not have to either.
If you've butterflied your chops, the original recipes calls for you to put the half cheese slice inside the chop and press it back together (like closing a book). I'm going to argue against this due to the simple laws of physics. That cheese is going to melt prior to the chop being done and odds are the cheese is going to ooze out from inside the chop while cooking. The cheese will burn, you'll have a gooey mess in the pan and it won't be a very fun time.
Instead, if you're butterflying your chops or not, simple season both sides of the pork chop with salt and pepper (close the 'book' if you're butterflying) and heat your canola oil in a large non stick skillet over medium high heat until it shimmers lightly. Cook the pork chop for 3 to 5 minutes per side until it's golden brown and cooked through.
During the final minutes of cooking, carefully pop open the pork chop (with a spatula or tongs!) and insert the cheese slice in the center. Close the chop and allow the cheese to melt while the pork chop finishes cooking. The cheese should melt within a minute or so – and by adding it at the end, you're making sure the cheese stays INSIDE the chop. Alternatively, for those not butterflying, simply add the half cheese slice to the top of the chop and allow it to melt.
Begin constructing your sandwich by spreading the Dijon mustard on the toasted bun, add the chop, top it with the pickle, lettuce and tomato and serve!
The Results: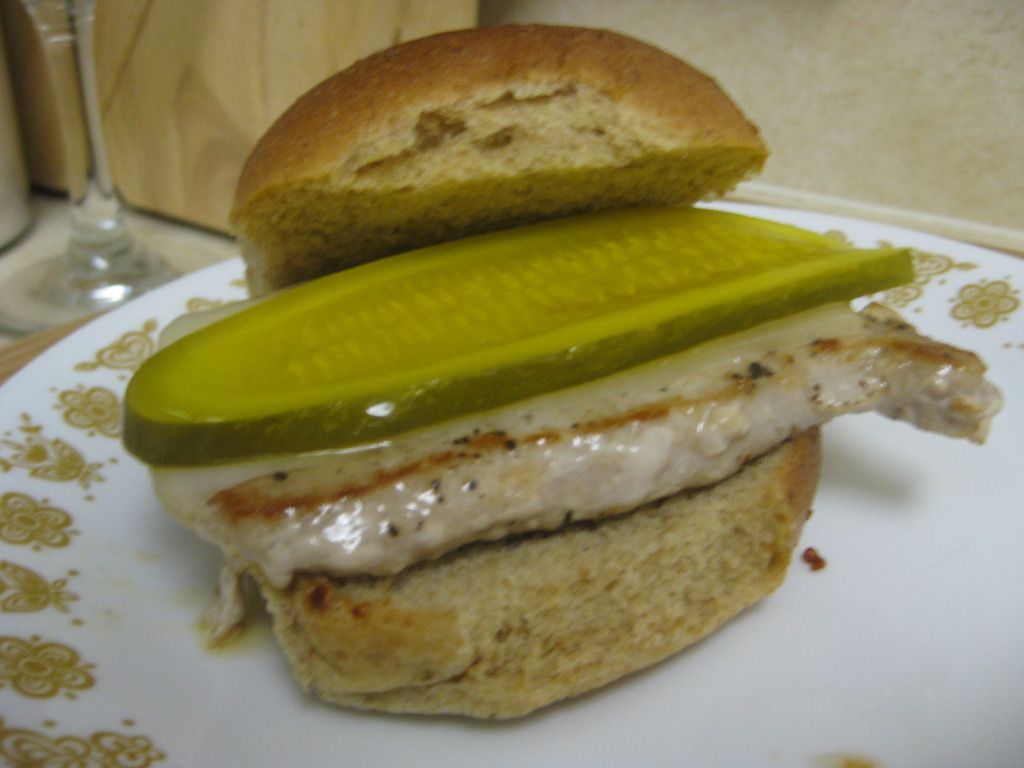 As I mentioned in the opening, I've never tried a Cuban sandwich before, but if this adapted version of the recipe is any indicator I think I like them. Pork chops and Dijon mustard go well together, they're classic flavors that blend beautifully on this bun. The nice twist is the addition of the creamy Swiss cheese and the bite of the dill pickle. All the flavors work well together and create a flavorful little adventure on a bun. At only 350 calories per serving, this is a quick, easy and healthy weeknight dish that the whole family can enjoy.
That's all we have for you this week. We're back next week with more recipes and adventures. Until then,
~Cheers