Good evening everyone! Risotto is an often used base to many of our recipes. This creamy concoction, made from Arborio rice and a broth base (usually chicken but vegetable is acceptable as well) blends the properties of rice with the consistency of pasta – which is why it works so well as a foundation for many dishes.
The downside to risotto is that it is a time consuming dish. (The 'diva' of the cooking world, if you will). Risotto takes 30 minutes at least to complete and much of that time must be spent stirring monitoring the rice so it doesn't stick and making sure it cooks evenly. (For those that are fans of Food Network's "Chopped" –you may recall that many chefs try to make risotto during the entrée round – and the judges cringe because risotto ALWAYS takes a little more than 30 minutes from start to end – time the chefs on that show typically do not have).
This week, as I was taking stock of our pantry and trying to create a recipe for this week (more on that a little later on) I saw our Arborio rice and thought "Risotto!" I didn't really feel like babysitting the dish, however, and decided to find an alternative method for cooking risotto.
I found a few different ways before finally settling on a process I felt comfortable with. By pulling out a few more ingredients from the freezer and pantry, I had a full blown recipe just waiting to be made. Let's get cooking!
The Recipe: Lemon Thyme Chicken With Oven Baked Risotto
This is an Out of the Culinary Original Recipe!
What You'll Need:
(Serves 4)
4 Boneless, Skinless Chicken Breasts (Cooked)*
1 Cup Arborio Rice
2 Tablespoons Unsalted Butter
2 ½ Cups Low Sodium Chicken Broth
1 Small Red Onion (Diced)
2 Tablespoons Fresh Basil (2 Teaspoons Dried)
Shredded Mozzarella
* You can choose to cook your chicken breasts however you'd like. Grill them, pan fry, oven roast – it doesn't matter how you get there, just get them to the cooked stage. For this dish, I wrapped our chicken breasts in individual foil pouches and added a splash of lemon juice with a few sprigs of thyme. I placed the chicken on a rimmed baking sheet and baked them in the oven at 425 degrees for 30 minutes. This flavor combination blends well with the risotto we're making – but you're free to be creative with this aspect of the recipe.
Preheat your oven to 425 degrees.
To begin, add the unsalted butter to a large oven safe baking dish or Dutch oven. Pop the baking dish into the oven (covered) for 3 to 5 minutes to allow the butter to melt. Next, add the risotto, red onion (and yellow onion works too – you just won't have as much color in your dish) and a pinch of salt and pepper. Finally, add the chicken broth and give everything a soft stir to incorporate all of the ingredients.
Once everything is mixed, place the lid back on the baking dish and return the dish to the oven. Allow the risotto to cook for 35 minutes undisturbed.
After 35 minutes, remove the baking dish from the oven and use a wooden spoon to fluff up the risotto (it's going to look flat and dehydrated – but resist the urge to add more fluids right away). After you "fluff" the risotto give it a taste – it should be creamy and soft. If it's at all chewy or otherwise undercooked, add a splash of chicken broth and return it to the oven for 5 minutes. (It shouldn't be undercooked, however).
Once your risotto is creamy and soft, add in the shredded mozzarella (the amount is based on your own preferences) stir the cheese in until it's fully melted. Finally, add in the basil and stir until it's incorporated.
Spoon the risotto onto your plates and top with sliced pieces of your cooked chicken breasts. Top this with a sprinkling of cheese (if it goes with the preparation of your chicken – if the flavor clashes, obviously omit that last step). Serve and enjoy!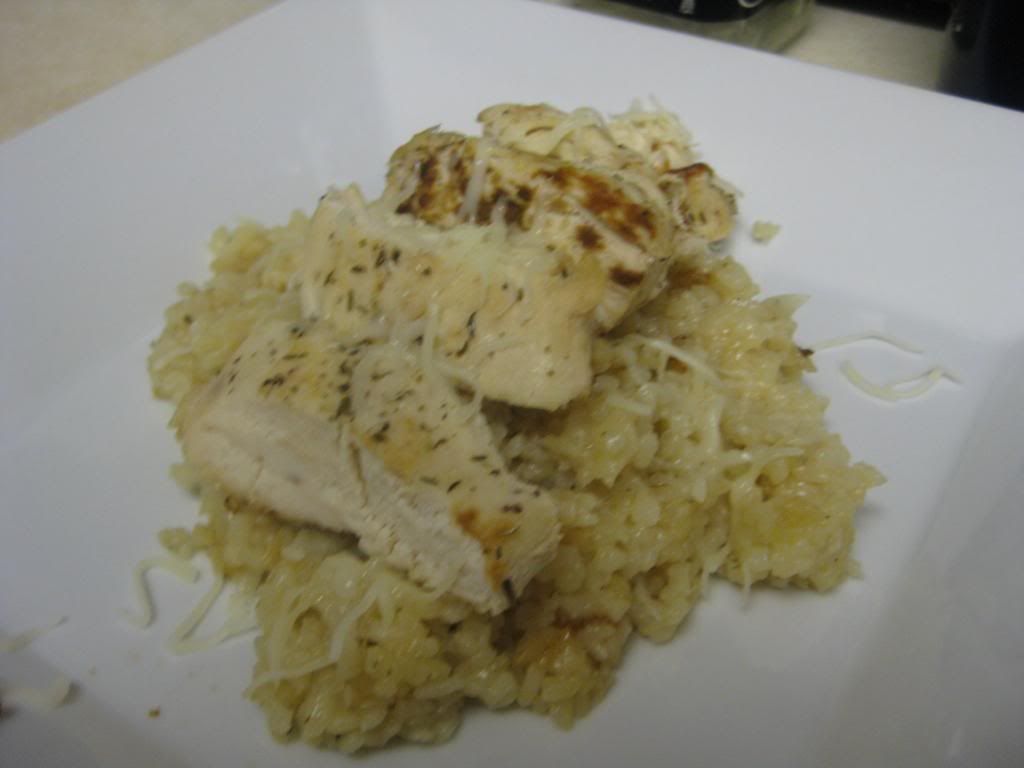 The Results:
The big question here was "Will this new cooking method take the fuss out of risotto?" I'm happy to say that the answer is a resounding yes. 35 minutes in the oven and the risotto was creamy and smooth just like I spent 30 minutes babysitting it on the stove top. While it's probably not fast enough for you to cook up risotto on "Chopped", it is a relatively low maintenance way to make a great recipe base.
Combined with a flavorful cut of chicken breast, this recipe is low cal, low sodium and high flavor.
That's all we have for you this week. We're back next week with some more new recipes and culinary adventures.
One last thing – I alluded to us clearing up the panty earlier in this post – there is a method for our madness; one that we will be revealing next week. Until then,
~Cheers