Good evening everyone! As Maggie mentioned earlier this week, we try very hard here to find recipes that are not only good – but good for you. The balance between flavorful and healthy is a fine line, one that some people don't exactly believe in (I.E. you can't have anything that tastes good if it's healthy). As Maggie showed with her flavorful turkey burgers and I hope to show with my dish tonight, flavorful meals with low caloric intake are not actually that scarce. Just like Maggie's recipe earlier this week, I'm taking a traditionally popular dish – stroganoff – and making it a whole lot healthier. Let's get cooking!
The Recipe: Chicken Stroganoff
Original Recipe Found In: Food Network Magazine October 2012 Issue
What You'll Need:
(Serves 4)
12 Ounces Egg Noodles
3 Tablespoons Unsalted Butter
1 Small Onion (Chopped)
4 Ounces White Mushrooms (Approximately 2 Cups)
1 ½ Pounds Boneless, Skinless Chicken Breasts or Thighs (Cut into chunks)
2 Tablespoons All Purpose Flour
1 Teaspoon Paprika
1 Cup Low Sodium Chicken Broth
1 Tablespoon Worcestershire Sauce
½ Cup Low Fat Sour Cream (Plus additional for serving)
2 Tablespoons Fresh Chopped Parsely
Begin by preparing your egg noodle according to package instructions. Once cooked, drain and set aside until needed.
While you noodles are cooking, melt 2 tablespoons of butter in a large (12 inch) non-stick skillet over medium-high heat. Add the onion and cook until it becomes slightly soft (this takes about 2 minutes). Next, add the mushrooms and cook until they begin to lightly brown. (Depending on the heat of your skillet, this will take between 2 and 5 minutes).
Once the mushrooms have begun to brown, add the remaining tablespoon of butter, the chicken chunks, flour, paprika, 1 teaspoon of salt and ¼ teaspoon of pepper. Cook this mixture, making sure to stir frequently, until the chicken begins to brown, about 3 to 5 minutes.
Finally, add the Worcestershire sauce and the chicken broth. Allow the mixture to come to a light simmer and cook until the sauce thickens, which will take around 5 minutes. Next, stir in the sour cream and season with salt and pepper as needed. Allow this mixture to simmer for an additional 2 to 5 minutes, or until the chicken is cooked through (use an instant read thermometer if you're unsure – remember, you're looking for 165 degrees at the thickest part of the chicken).
Once the chicken is cooked through, spoon the mixture over the egg noodles you prepared earlier and top with sour cream and a sprinkle of paprika. Enjoy!

The Results: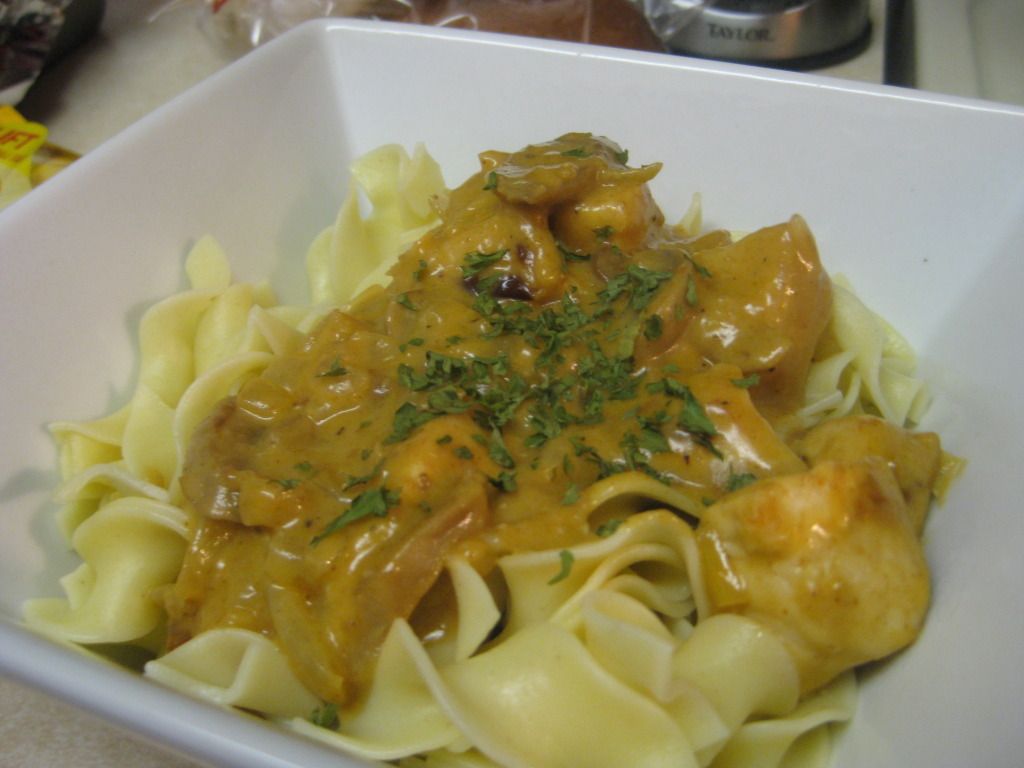 Stroganoff is a great fall dish; it's warm and filling, making it the perfect companion to cool fall evenings. This chicken stroganoff is a wonderful adaptation to the traditional beef dish. The rich and creamy sauce compliments the chicken and egg noodles while the paprika adds just enough kick to spice up the flavor. At only 500-600 calories per serving (depending on portion size) this is a relatively low calorie option for the fall time menu.
That's all we have for you this week. We're back next week with more brand new recipes and culinary adventures. Until then,