Good evening everyone! Sometimes when we're looking for recipes to duplicate, it's difficult to find inspiration to create these dishes. Whether it's the complexity of a dish or it seems too plain, cooking can be, more often than not, uninspired. Tonight's dish will shatter that lull of dullness. It's a first for me and will inspire me to create something completely different and not be afraid of the end results.
The Recipe: Italian Pasta Bake
An Out of the Culinary Original!
What You'll Need:
8 Ounces dry Elbow Macaroni
1 1/2 Cups thinly sliced Red Bell Pepper
2 Cups sliced Zucchini
8 Ounces thinly sliced Chicken Sausage
1/2 Cup shredded Mozzarella cheese
For the Sauce:
1 1/2 Teaspoon Olive Oil
2 Teaspoons Garlic
3/4 Cup Chicken Broth
2 Ounces 1/3-less-fat Cream Cheese
1/4 Cup grated Parmesan Cheese
1 Tablespoon Flour
1/4 Teaspoon Salt
1/4 Teaspoon Pepper
To start, preheat an oven to 350 degrees and bring a pot of water to boil and add the dry elbow macaroni. Do not add any salt, to reduce the caloric value, and cook according to package directions. Once cooked, drain the pasta in a colander. The pasta may have to sit a while, due to the next couple of instructions. Just make sure to shake the pasta every now and then to make sure it doesn't clump together.
Next, heat 2 teaspoons of olive oil in a large, nonstick skillet. Add the chicken sausage and saute until the sausage is cooked through, 7 to 9 minutes. With 3 minutes left to cook, add the red bell pepper and zucchini and sauté until they soften. After the vegetables and sausage is heated through, bring the heat to low and add the noodles. Stir together and keep warm by placing a lid over the skillet.
So, chicken sausage, red bell pepper, zucchini, and elbow macaroni walk into a bar...
To make the sauce, heat the oil in a saucepan over medium high heat. Add the garlic and cook until fragrant, about two minutes. Once the garlic is cooked, add the chicken broth and bring to a boil Whisk in the cream cheese, Parmesan cheese, flour, salt, and pepper. Cook this mixture for three minutes and stir constantly as so there are no clumps in the sauce.
After the sauce is cooked, add it to the macaroni, chicken sausage, and vegetable mixture so the sauce is coated throughout. Add this entire mixture to a large baking dish. Sprinkle the top with the mozzarella cheese with a even coat. Place in the oven and cook for 25 to 30 minutes, or until the cheese is slightly browned and bubbling. Remove from the oven, serve, and enjoy!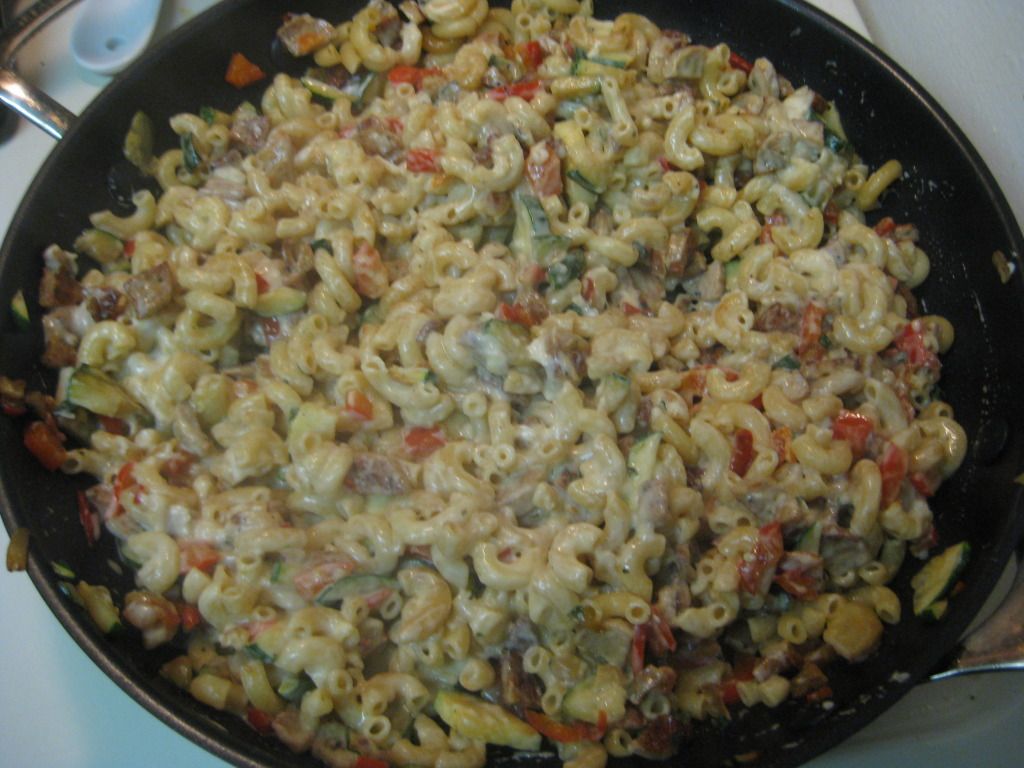 Adding the saucy goodness

The End Result:
This is a great filling meal and great tasting at that. The chicken sausage has an incredibly savory flavor and cooking the zucchini and red pepper makes the flavor pop even more. The sauce is cheesy, but not overly cheesy, which will please any palette. The mozzarella topping makes for a nice, even coating and doesn't weigh the dish down. Overall, I'm pleasantly surprised at how well this dish turned out and how great it tastes.
Thanks for joining us this week. Tune in next week as we continue to venture into the culinary world. Until then,
~Cheers!