Good evening everyone! Everyone has that favorite recipe, that is so rich and delicious and has a laundry list of ingredients to create. Yet, it takes hours to create so it's only reserved for special occasions. For myself, one of those recipes is beef stroganoff. I remember the recipe being introduced into our family recipe repertoire and how excited I got when we made it. I would often help with the recipe because it took at least an hour and a half to make and as many hands that could help as possible, the smoother the dish was made. Tonight, I'm recreating this dish, but instead of taking an hour and a half to create, I'm pairing it down to 40 minutes and a few key ingredients.
The Recipe: Quick Beef Stroganoff
Original Recipe Found In: Cooking Light, January 2013
What You'll Need:
6 1/2 Cups Water, divided
4 Ounces uncooked Egg Noodles
1 Pound Flank Stead, trimmed
1 Cup chopped Onion
1/4 Teaspoon hot Paprika
1 (6 Ounce) package pre sliced exotic Mushroom Blend
1 Cup lower-sodium Beef Broth, divided
5 Teaspoons All-Purpose Flour
1/3 Cup fat-free Sour Cream
3 Tablespoons thinly sliced Green Onions
1 Tablespoon Butter
2 Tablespoons chopped fresh flat-leaf Parsley
To start, bring six cups of water to a boil in a large saucepan. Once at a boil, add the egg noodles and cook the noodles for five minutes or until al dente. Drain in a colander and set aside.
When the pasta is cooking, cut the trimmed steak across the grain into 1/4 inch wide strips, then cut these strips into 2 inch pieces. The smaller these pieces are, the easier they are to cook and it won't add extra minutes to this already time-sensitive dish
Tender pieces of heaven
Next, heat a large skillet over medium-high heat and coat the pan with cooking spray. Add the beef to the pan and sauté for four minutes, or until the beef is browned. Once the beef is cooked thoroughly, remove it from the pan, place on a warmed plate, and tent with aluminum foil. This will help keep the juices in and keep the beef warmed until it is needed later on in the recipe. To the skillet, add the chopped onion, 1/2 teaspoon black pepper, 1/2 teaspoon salt, paprika, and mushrooms. Saute this combination until the onion begin to soften, about four to five minutes. Reduce the heat of the skillet to medium.
In a small bowl, mix 1/4 cup of the beef broth and flour, stirring with a whisk until the broth and flour are combined. Add the broth mixture, beef, remaining 3/4 cup of beef broth, and remaining 1/2 cup of water to the skillet. With this liquid, be sure to scrap the pan to loosen any browned bits. Cover the skillet and cook for eight minutes or until the sauce thickens. Once the sauce has cooked up, remove the skillet from the heat. Stir in the sour cream, green onions, and butter until everything is melted and well combined. Serve the beef sauce over the egg noodles, sprinkle with parsley, serve, and enjoy!
I could coat this sauce over anything and it would still be just as delicious!
The End Result: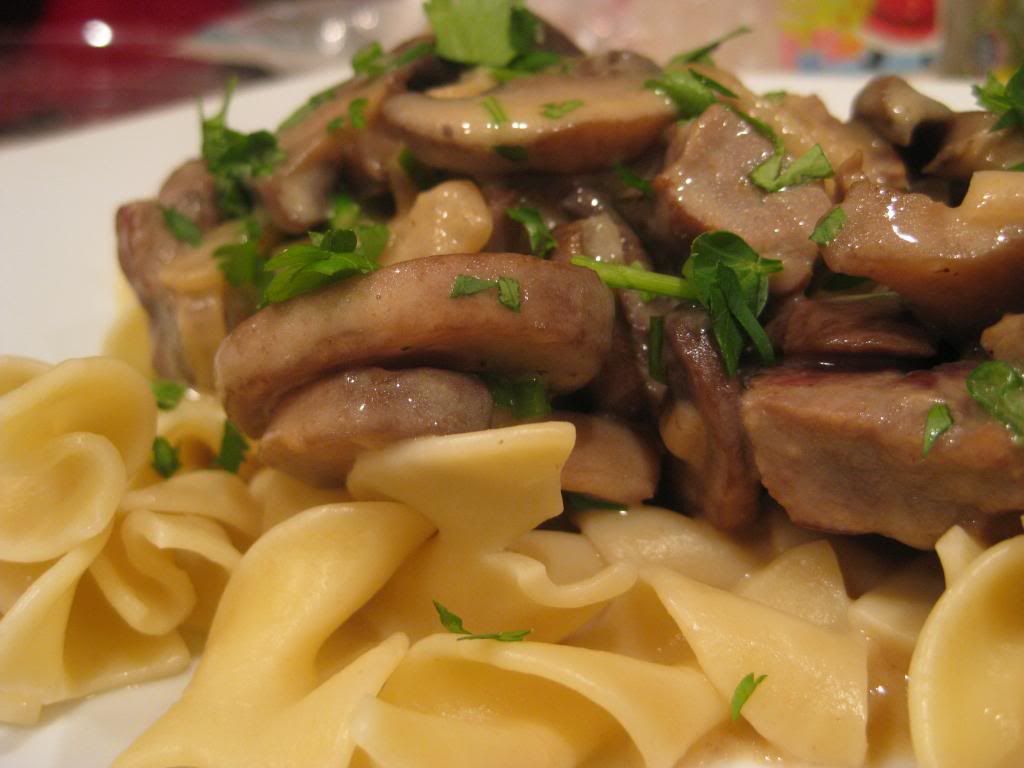 This recipe was just like the version I had growing up. Although the sauce was not as thick as I would have like it to be, it was creamy and had an intense flavor from the beef cooking with the beef broth and water. It seems so simple and yet, it makes the dish so flavorful from that easy step. The sour cream and butter really harmonize all those ingredients in the sauce, but it definitely doesn't weigh it down. Serving the sauce with egg noodles has always been my preferred method with beef stroganoff. There are other ways to serve this delectable sauce, but this version really coats and clings to the noodles. And I won't have to feel guilty eating this dish: at a whopping 357 calories, it's the perfect dish to serve any night of the week!
Join us tomorrow as Tyler creates the perfect wintertime soup. Until then,
~Cheers!