Good evening and Happy New Year everyone! After some time off, we are back in action for a brand new year of cooking. I'm echoing Tyler's theme from yesterday, that fresh and delicious recipes don't have to have ingredients that are full of calories. Just include ingredients that are full of flavor and that will result in some extremely satisfying meals. At first glance, tonight's recipe seems to add the calories, instead of take them away. But this light version of a classic casserole dish will really surprise you at how low the calories go.
The Recipe: Tortilla Chip Casserole
Original Recipe Found In: Cooking Light, January 2013
What You'll Need:
1 Tablespoon Canola Oil
1/2 Cup chopped Onion
1 Tablespoon minced fresh Garlic
2 Tablespoons all-purpose Flour
1 Cup 2% reduced-fat Milk
1/2 Cup unsalted Chicken Stock
1 Teaspoon ground Cumin
1/2 Teaspoon ground Coriander
1/4 Teaspoon Salt
1/4 Teaspoon Black Pepper
4 Ounce 1/3-less-fat Cream Cheese
1 Cup organic, canned Black Beans, rinsed and drained
3 Cups chopped cooked Chicken breast
4 Ounces bake Tortilla Chips, crushed
1 roasted Red Bell Pepper, chopped
8 Ounces lower-sodium green chile Enchilada Sauce
2.5 Ounces shredded Cheddar-Monterey Jack cheese (about 2/3 cup)*
*Note: For convenience sake, I'm using a Mexican blend shredded cheese, which has cheddar and monterey jack cheese in it, with just a few more cheese flavors (who wouldn't complain about that?)
To start, preheat the oven to 350 degrees. Next, in a large skillet, heat the oil over medium-high heat. Add the chopped onion and cook for six minutes. Stir in the garlic and flour and continue to cook for two minutes, or once the garlic starts to become fragrant. Gradually add the milk and the chicken stock, while stirring constantly, as to not to burn the milk. After bringing this combination to a boil, remove the skillet from heat. Add the cumin, coriander, salt, pepper, and cream cheese and stir until smooth. I'd prefer my cream cheese to be just shy of room temperature, so it's easier to melt in the skillet.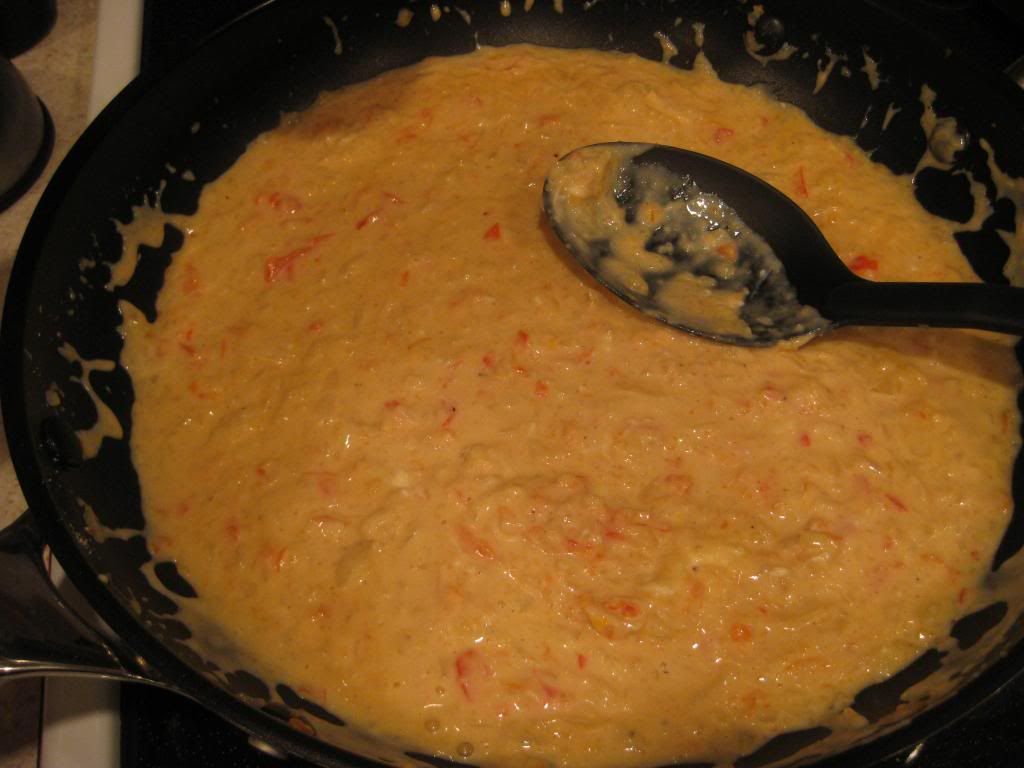 It doesn't look like much, but there's a whole lot of flavor in that skillet
Next, pour 1/2 cup of the milk mixture over the bottom of a broiler-safe 11x7 inch baking dish. I found this to be a little sparing, so I added some more of the milk mixture so there's just enough to line the bottom of the baking dish. After this, add the beans, 1 1/2 cups of chicken, and two ounces of the crushed tortilla chips. It won't be a even layer of ingredients, but it will add texture to the dish. Also, it's tough to measure out exact amounts of each ingredient, so eyeballing it will help save time. Add another layer a 1/2 cup milk mixture. Finally, layer 1 1/2 cups chicken, red bell pepper, and two ounces of crushed chips. Cover the top of the dish with one cup of the milk mixture, the enchilada sauce, and sprinkle with cheese. Bake at 350 degrees for 30 minutes. Serve and enjoy!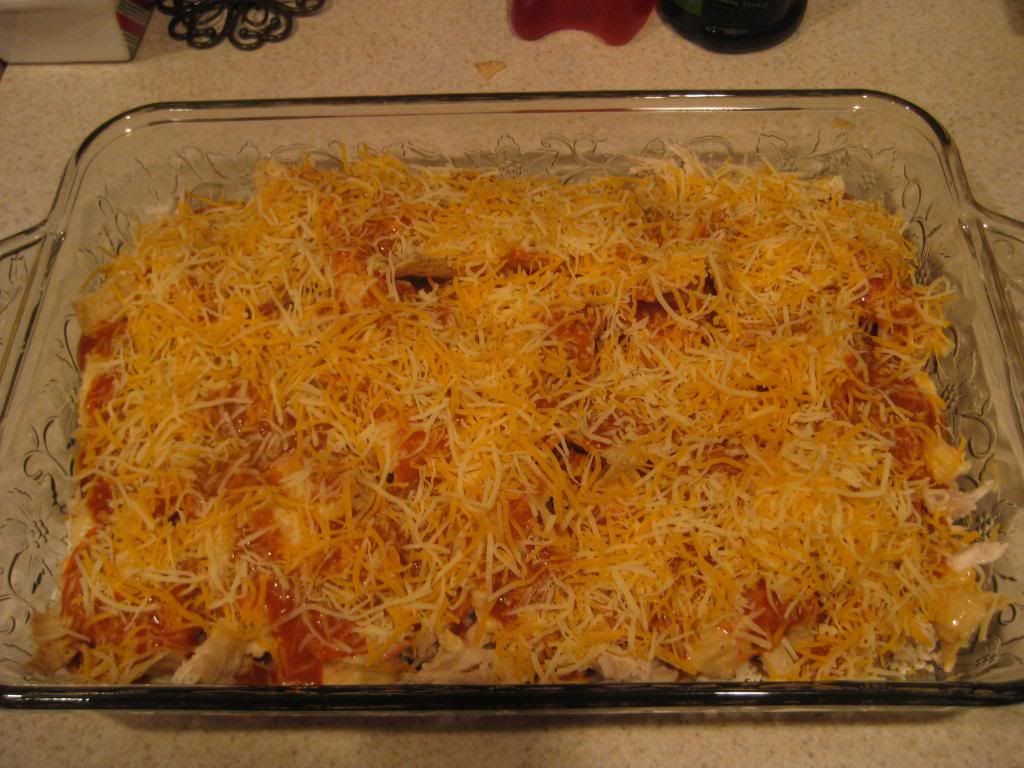 All layered and ready to bake!
The End Result: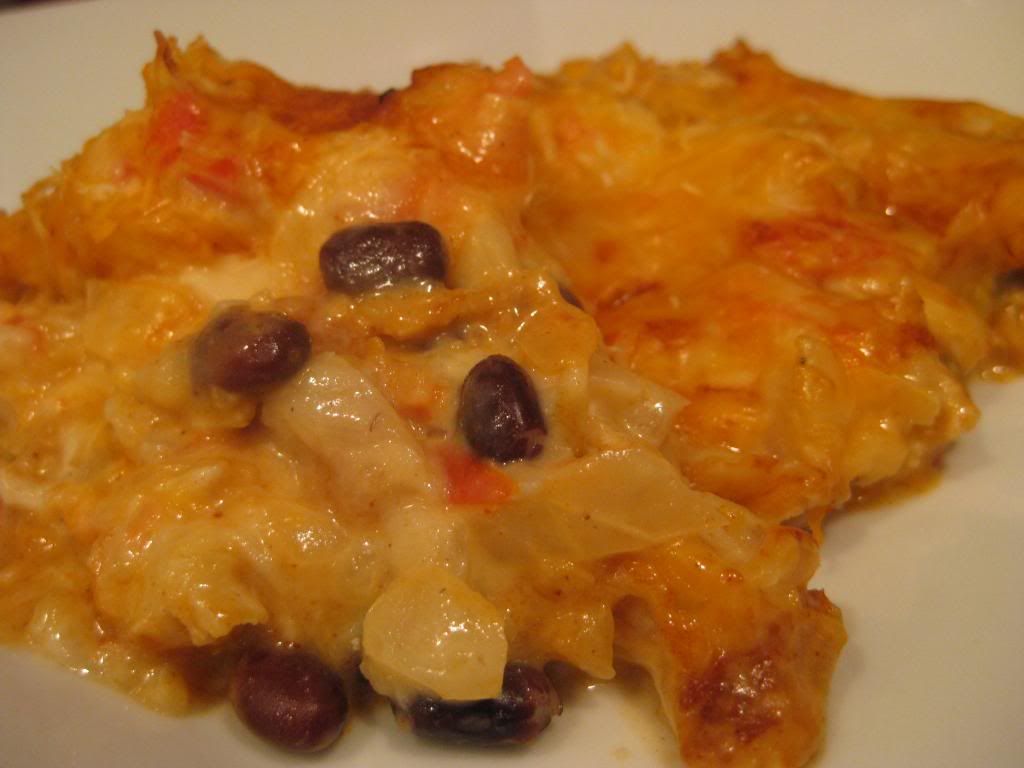 I get a really great feeling when I know I can create an dish that will not only taste good, but won't weigh too heavy on the waistline. This dish did both tonight. This has some of the quintessential ingredients and flavors that are featured in a majority of Mexican dishes, such as the enchilada sauce, black beans, and tortilla chips. All, with the other ingredients, taste great together and create a harmonious dish. It was creamy, yet crunchy and had a hint of spice. The flavor was really well-rounded and definitely satisfied. But, with a serving portion only having 379 calories, is the real winner here. Most Mexican recipes have too many calories for an even portion size, but this a great alternative to the traditional, calorie-ridden dishes. What a great way to start off 2013!
That's all we have for you this evening. Join us next week as we continue to share our culinary adventures. Until then,
~Cheers!