Greetings fellow culinary adventurers! (Sorry, sometimes we all need an exciting greeting like that.) As Tyler mentioned yesterday, here on the blog, we are prone to find traditional recipes and make them healthier. Sometimes, this isn't always possible, but when it is possible, it's definitely a thrill to compare it to the old recipe. Tonight, I'll take a traditional Italian recipe, add a few tweaks, and produce a new favorite.
The Recipe: Chicken Parmesan Meatballs
Orignal Recipe Found from Various Sources
What You'll Need:
1 1/4 Pounds ground Chicken
1/2 Cup Breadcrumbs
2 Tablespoons chopped Onion
1 Tablespoon chopped Parsley
1/2 Cup Parmesan cheese
1 clove minced Garlic
1 Teaspoon Fennel Seeds
1 Egg, whisked
3 Tablespoons Olive Oil
To start, preheat the oven to 400 degrees. In a mixing bowl, mix the ground chicken, breadcrumbs, onion, parsley, Parmesan cheese, sprinkle of salt and pepper, garlic, fennel seeds, and egg, until well incorporated. From this mixture, shape into balls that are slightly larger than a ping-pong ball, but not as big as a tennis ball. When you have the mixture in your hands, it will be easier to eyeball the size and to tell when the meatball gets too large. On a foil-lined baking sheet, place the meatballs on the sheet, and space them a few inches apart. Brush each meatball with a small amount of olive oil. Place the meatballs in the oven and bake for 15 minutes.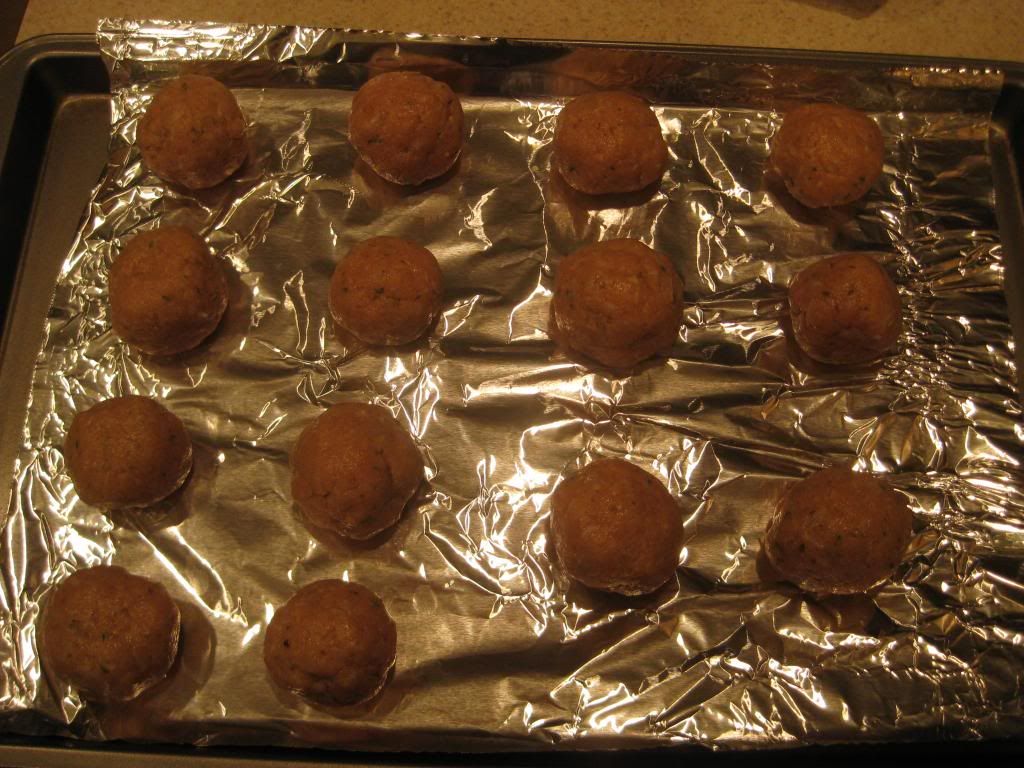 Once the meatballs are cooked, take the baking sheet out of the oven. Using some extra Parmesan, sprinkle each meatball lightly with cheese and put the sheet back in the oven. Cook for another 3 to 5 minutes, or until the cheese is golden. Take the baking sheet out of the oven and let the meatballs cool. Serve and enjoy!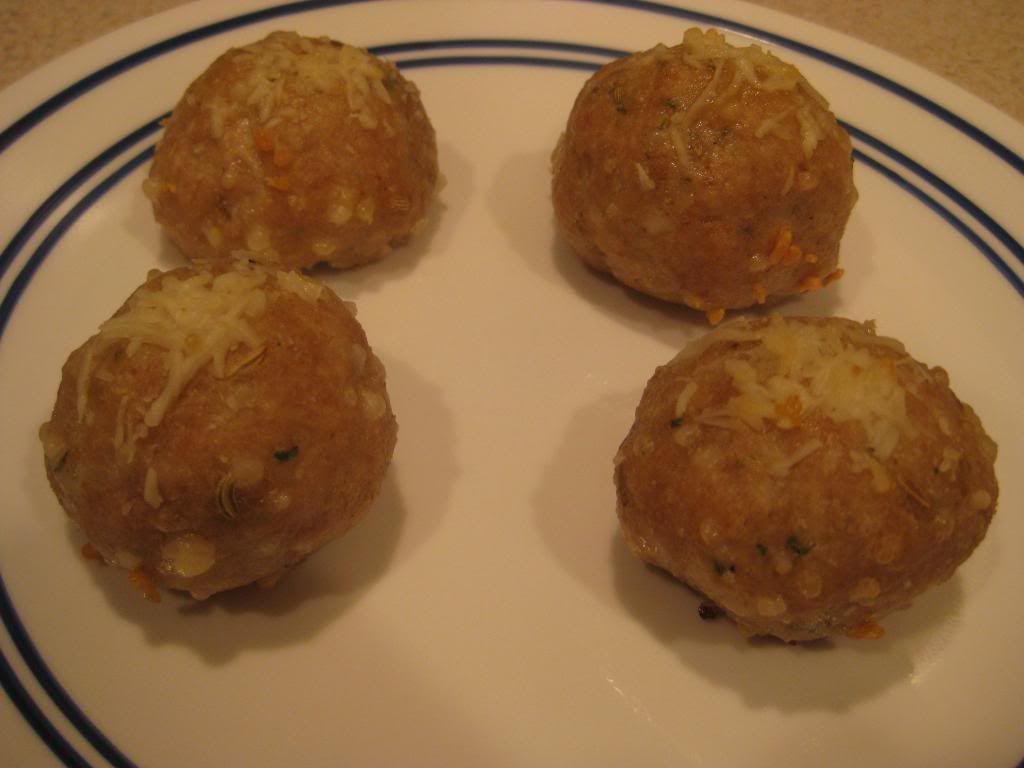 The End Result: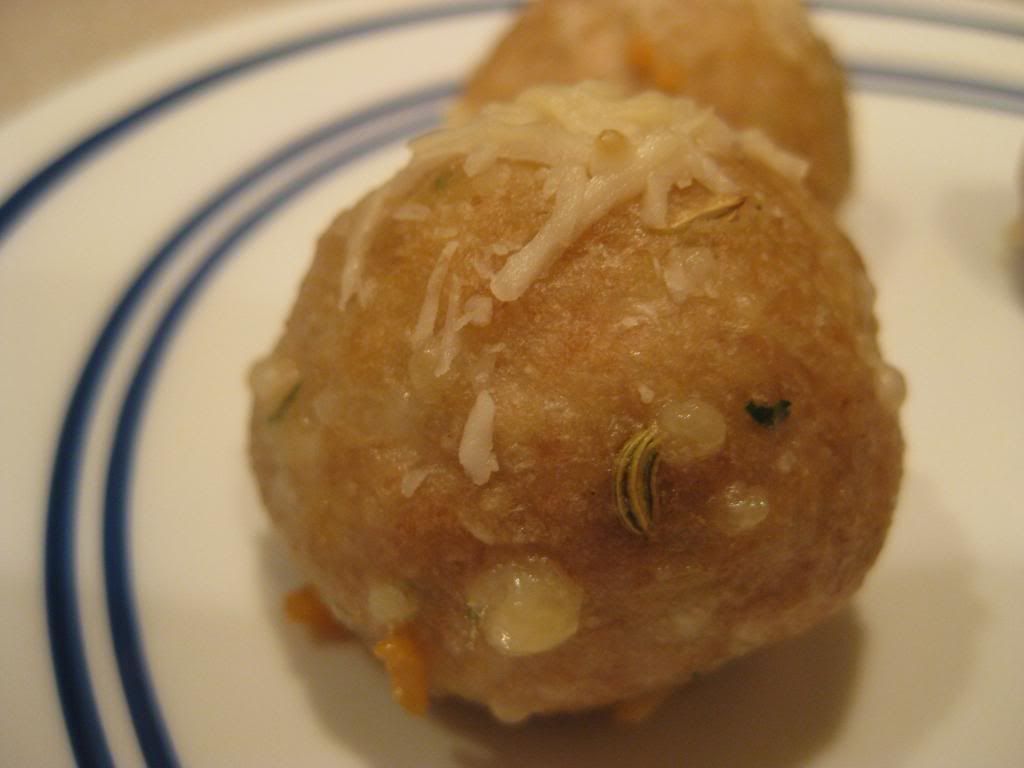 The chicken adds a new dimension to the traditional style of meatball, but it is still incredibly tasty. Some of the classic ingredients are still in the recipe (breadcrumbs, eggs,) but one ingredient in particular (fennel seeds) really give the meatballs a different flavor that I've never tried in a meatball before. Baking the cheese in the meatball and on top gives it a creamy taste, but it's not too overwhelming, like many cheeses could be. Overall, a great healthy alternative to a traditional dish, that packs a flavor punch that you soon won't forget.
In the original recipe, it called for store bought pizza sauce and to place on top of each meatball and cook in the oven. Since we are doing a healthier version of this recipe, the pizza sauce will not only cut out calories, but a lot of sodium that might be hidden in the sauce. Also, the original recipe called for putting mozzarella cheese on top of the meatballs and cooking until the cheese has melted. Cutting out some of these simple ingredients that might not be detrimental to the dish, will save extra calories in the end.
Thanks for joining us this week. Check back next week as we continue to explore the culinary world. Until then,
~Cheers!