Good evening everyone! It's been a frigidly cool week here the greater Midwest, we're hitting high temps in the single digits and our wind-chill has frequently begun with (-). In other words, it's soup weather!
I wanted to try something new this week, so I turned to an ingredient I've read about, but have never used – the split pea. Unlike some ingredients, which are named a certain way but are entirely different in their actual construction (for example, the chickpea, which is not a pea at all – but a legume) the split pea is in fact, a pea. Split peas are made by drying, peeling and splitting the seed from the pea plant. They're durable and easy to cook with, making them the perfect companion to soups and stews.
We've got our new ingredient, let's get to cooking!
The Recipe: Ham and Split Pea Soup
Original Recipe Found On: Foodnetwork.com & Eatingwell.com (this is a hybrid of two recipes I found)
What You'll Need:
(Serves 6)
16 Ounces Dried Split Peas (one bag)
6 Cups Chicken Broth
2 Large Carrots (Chopped)*
1 Yellow Onion (Diced) *
2 Large Celery Hearts (Diced)*
8 Ounces Diced Ham or Ham Steak (see photo)
Pinch Garlic Powder
*Alternatively, you can pick up a container of mirepoix mix if your local grocery store sells it. These containers will have carrots, celery and onions already diced and measured out. It's a great value and saves a LOT of time and prep work.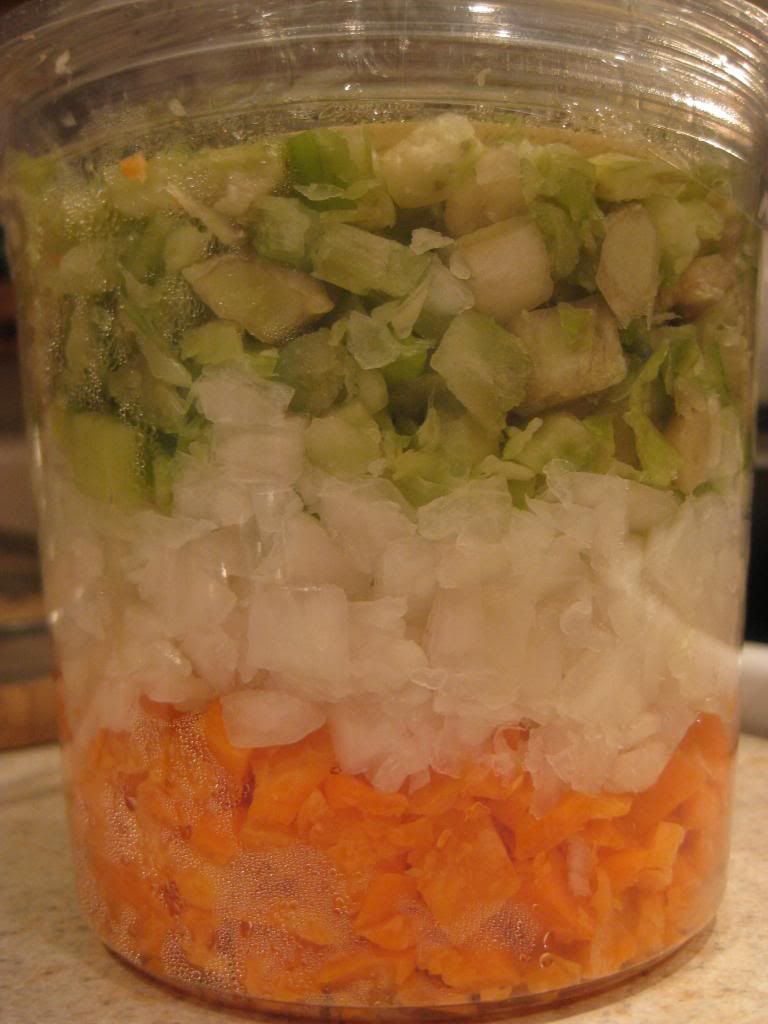 $3 and lots of time saved
This recipe is built for a slow cooker, but I've found that doing a little bit of prep work ahead of time can greatly improve the final flavors of any soup or stew that is destined for the slow cooker.
To begin, add 1 tablespoon of olive oil to a 12 inch non stick skillet placed over medium high heat. Once the oil begins to shimmer slightly, add in your carrots, celery and onion. Cook, stirring occasionally, until the veggies begin to soften. This takes about 5-10 minutes.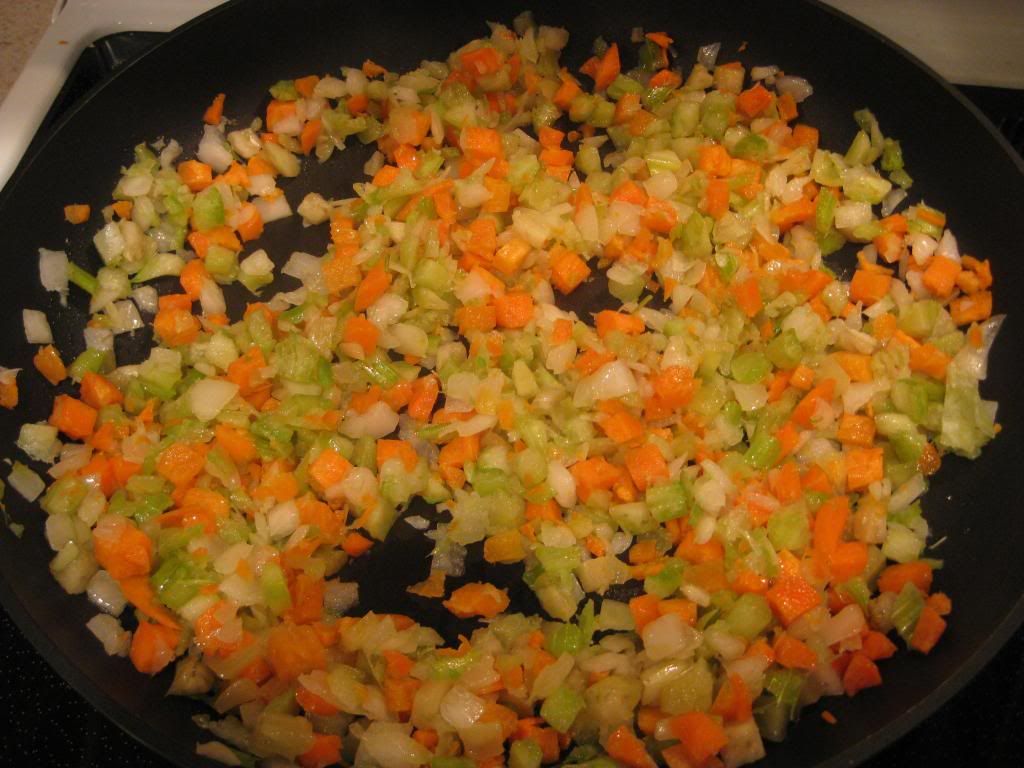 Take the time to sauté - you'll appreciate it later
You can just add these ingredients to the slow cooker without sautéing them first, but you'll end up with boiled veggies. While there's nothing wrong with that per say – you can extract a whole lot more flavor from these ingredients by giving them a quick fry in the pan.
Next, add your split peas, chicken broth, ham and sautéed veggies to a large (4 to 6 quart) slow cooker. Give everything a good stir and set the slow cooker on low. Allow the mixture to cook for 6 to 8 hours.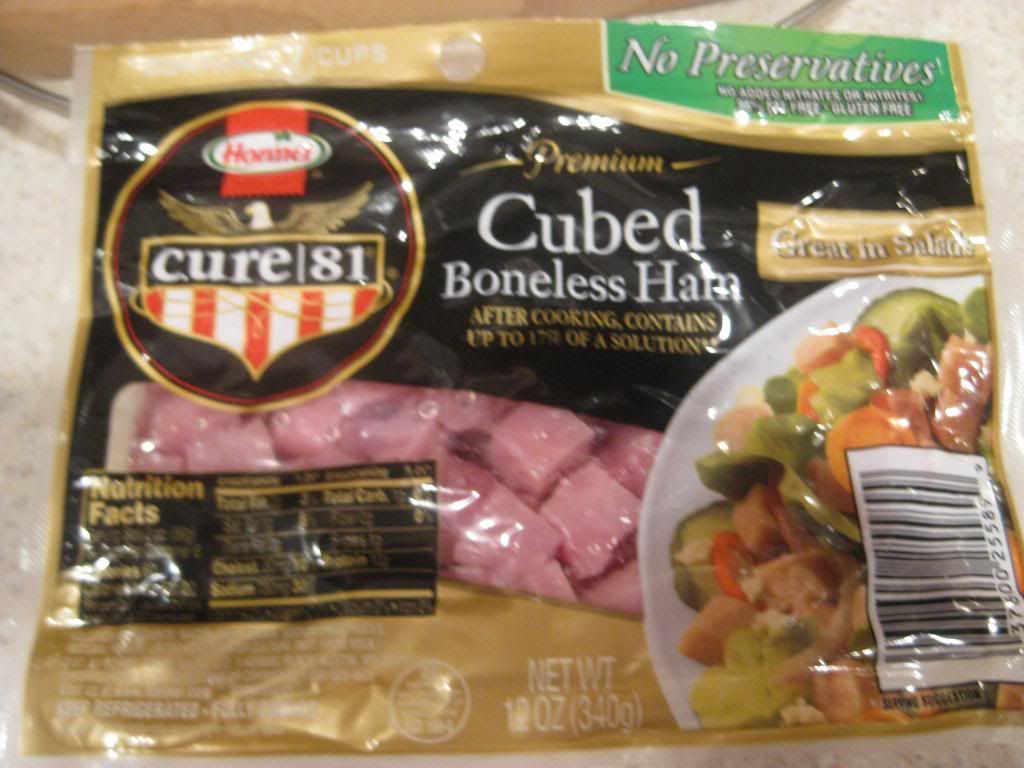 8 ounces and ready to go right in the slow cooker
Once everything has been stewing the day away and you're ready to serve, give the mixture a good stir, serve and enjoy!
The Results:
First - no pictures of the final dish because...well, it doesn't translate well to photo. Let's face it, it's a pea based soup with a chicken stock broth. The end result is sort of an olive looking dish that is, admittedly, not the most appetizing thing to look at. Between the name (Split pea soup...pea soup? Ewww) and the color, this dish is being dealt a tough hand. That being said, I'd encourage you to overlook the name and the color - the final dish is delicious.
There's something beautiful about a simple dish like this. Easy ingredients, simple flavors – yet it still achieves a warm and filling result. (A scant 220 calories per serving is a nice perk too!)
I'm pleased with my first encounter with split peas. They have an earthy – almost lentil like – flavor in comparison to the standard pea, but they're slightly sweeter than most legumes that typically accompany ham in soup.
I adapted the original recipes that called for 4 cups broth and 4 cups water, and I'm glad that I did. I don't like adding water to soups – I feel it dilutes the flavors and doesn't really add anything but volume to the dish. By swapping out 4 cups water for an equal amount of chicken broth, your can really boost up the base of this dish, helping create a more "whole" flavor.