Greetings and welcome back to another evening here at Out of the Culinary! When I cook, I love when I find recipes that have two distinct flavors from different styles of cooking that merge into one recipe. It's the versatility of those ingredients that makes cooking so enjoyable and satisfying. Tonight's recipe matches that exact challenge: take a traditional Italian dish, throw in a distinctly Spanish ingredient, to produce something completely unique, with, hopefully, strong results.
The Recipe: Chorizo Carbonara
Original Recipe Found In: www.jamieoliver.com
What You'll Need:
11 Ounces Uncooked Penne
2.5 Ounces Chorizo
Two sprigs fresh Rosemary
4 cloves Garlic
1.5 Cups Parmesan Cheese
1 Tablespoon Lemon Juice
1 large Egg
2 Tablespoons fat-free, natural plain Yogurt
To start, bring a large saucepan of water to boil, add salt if necessary. Add the penne and cook according to package directions. After the noodles are cooked, reserve a cup of the pasta water and set aside. Drain the water from the noodles in a colander and set aside, tenting the colander with aluminum foil to keep the noodles warm and to prevent them from sticking to one another.
Next, heat a large skillet over medium-high heat with a tablespoon of olive oil. On a cutting board, finely slice the chorizo and rosemary. The amount of chorizo might scare you, since there's not a lot of it. But if you've cooked with chorizo before, you know that a little chorizo goes a long way and you don't want to overwhelm the entire dish with a hot, spicy mess. Once the skillet is hot, add the chorizo, rosemary, and a pinch of pepper. Then, using a garlic mincer, add the garlic to the skillet and cook all the ingredients until the chorizo is lightly golden and heated through, about three minutes.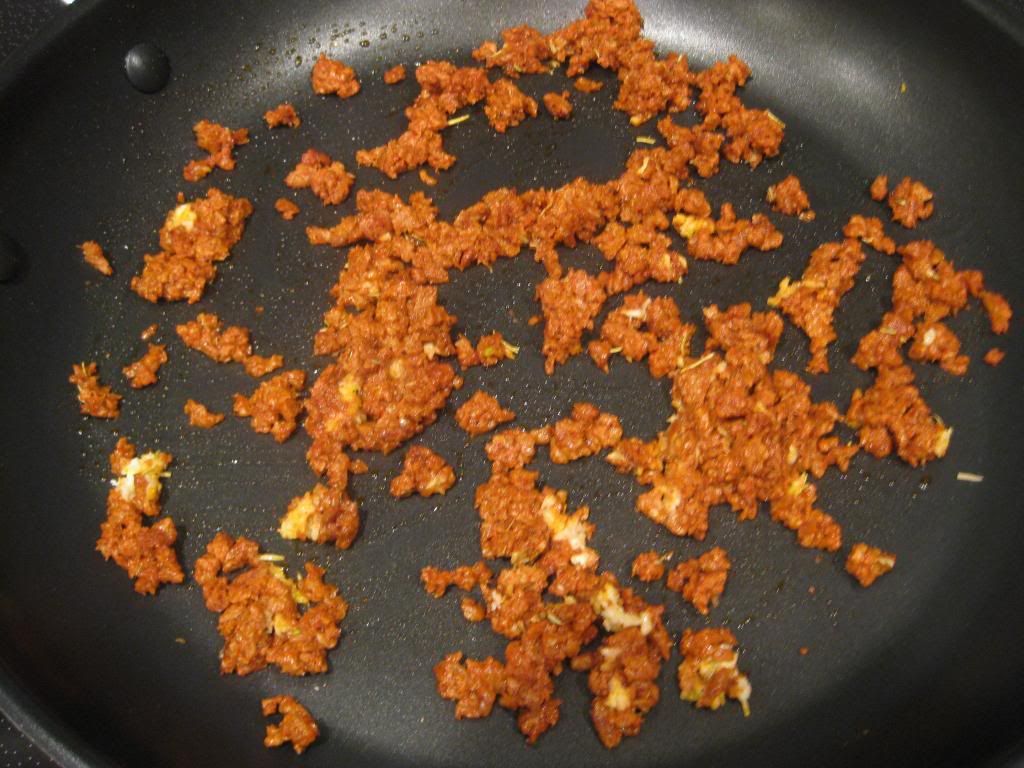 The smell that rises from these flavors blending together is quite fantastic.
In a small mixing bowl, whisk together the egg, lemon juice, yogurt. Be sure there aren't any lumps of yogurt in the final result. Pour the egg mixture into a larger mixing bowl with the Parmesan cheese in it and stir until well combined.
Add the drained pasta to the skillet with the chorizo mixture and mix well. Stir in the cheese/egg mixture until creamy, adding small portions of the reserved pasta water, if the mixture becomes too thick and the cheese doesn't melt evenly. Serve and enjoy!
The End Result:
The flavor of this dish is beyond anything I've made. I was skeptical cooking with such a little amount of chorizo, but the amount I added was just the right amount. It didn't become too overwhelming, yet it still gave a good amount of heat. Added with the rosemary and garlic boosted that flavor that I haven't had yet in a recipe. Unfortunately, my cheese didn't melt evenly, like I would have wanted too, but it still tasted great. I would have added the cheese/egg mixture in small portions to ensure everything melted consistently. The penne noodles soaked up all that good flavor and kept it in, giving every bite of the carbonara a fantastic flavor. Overall, a superb dish that was easy on the pallet and tasted quite amazing.
That's all we have for you this week. Thanks for your continued support and sharing our interest in cooking. Join us next week as we share our culinary adventures. Until then,
~Cheers!