Good evening everyone! As we continue to focus on healthier versions of great tasting recipes, it's always great to find healthy alternatives to popular dishes. One of those popular dishes, for example, are burritos. Jammed with incredibly tasty flavors and ingredients, it's one of my favorite things to eat. Although there are restaurants that like to serve a huge burrito, there are so many calories in the burrito, that one won't need to eat for several days. Tonight, I'll create a healthy, yet flavorful burrito that will surely beat any other version out there.
The Recipe: Crispy Southwest Chicken Wraps
Original Recipe Found In: Various sources
What You'll Need:
1 Cup cooked Rice, warm or at room temperature
1 Cup cooked, shredded Chicken (or any other leftover meat, such has shredded pork or beef)
1 Can Black Beans, rinsed and drained
1 Green Onion, finely sliced (green and white parts)
1/2 Green Bell Pepper, diced
1/4 Cup fresh chopped Cilantro
Juice of 1 Lime (about 2 Tablespoons)
1/2 Tablespoons Chili Powder
1 Teaspoon ground Cumin
1/2 Teaspoon Garlic Salt
2 Cups shredded cheese (I'm using a Mexican blend shredded cheese)
6 burrito-size Flour Tortillas
Sour Cream (optional)
To start, mix the rice, chili powder, cumin, and garlic salt together until the spices coat the rice. Next, add the chicken (or whatever meat you choose,) black beans, green onion, red (or green) bell pepper, cilantro, and lime juice. Stir until all the ingredients are well incorporated. Sprinkle the cheese over the tortillas, leaving a 1/2 inch border around the edges. Down the middle of the tortilla, arrange the chicken and the rice mixture. If you are using a different size tortilla, be sure to adjust how much stuffing you put in the tortillas so that it won't overflow or break open during the next part.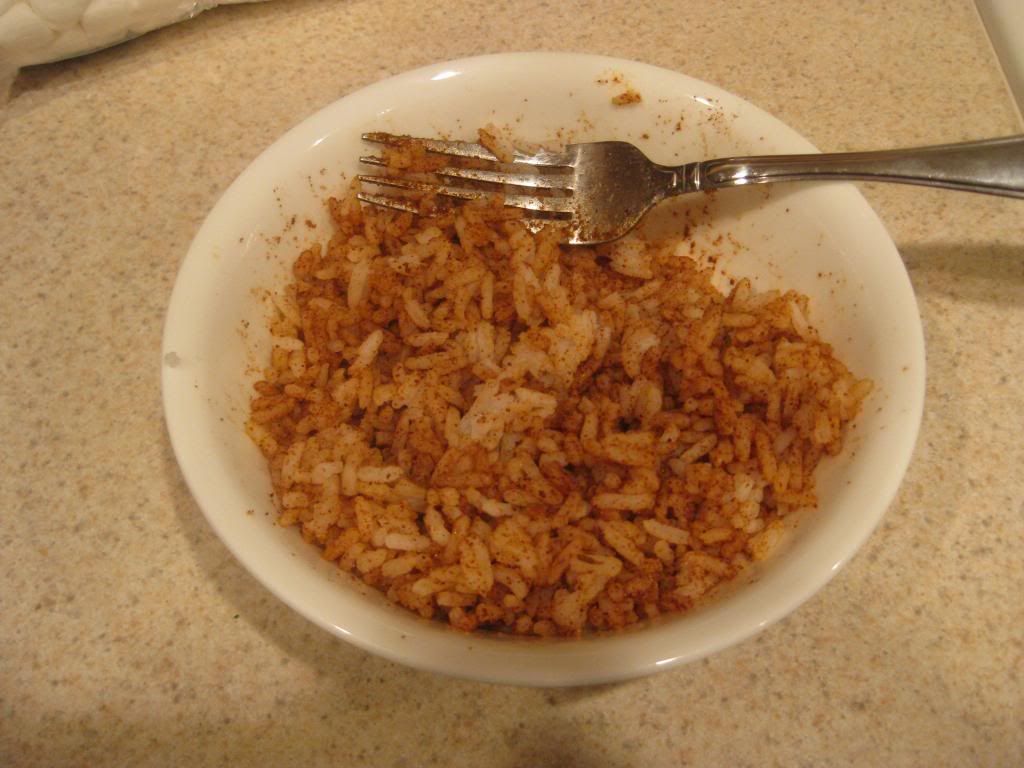 Spiced up rice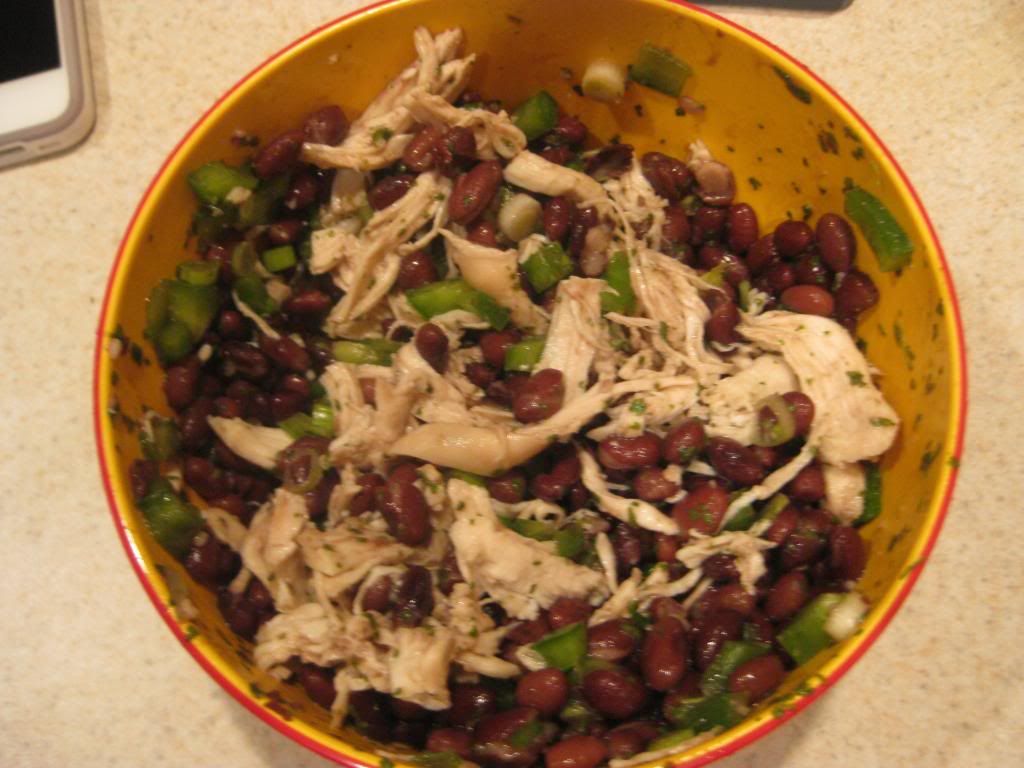 Although it doesn't look appealing, the flavor is quite amazing
Next, heat a large non-stick skillet over medium heat. Arrange the now wraps, seam-side down in the skillet, and cook until golden brown and crisp, about 2-3 minutes. If you start by cooking the wraps seam side down, it will seal the ingredients in the wrap and not fall open. Flip the wrap over and continue to cook for another 2-3 minutes. Continue until all the wraps are cooked. Serve with a side of sour cream, salsa, or taco sauce, serve and enjoy!
The End Result: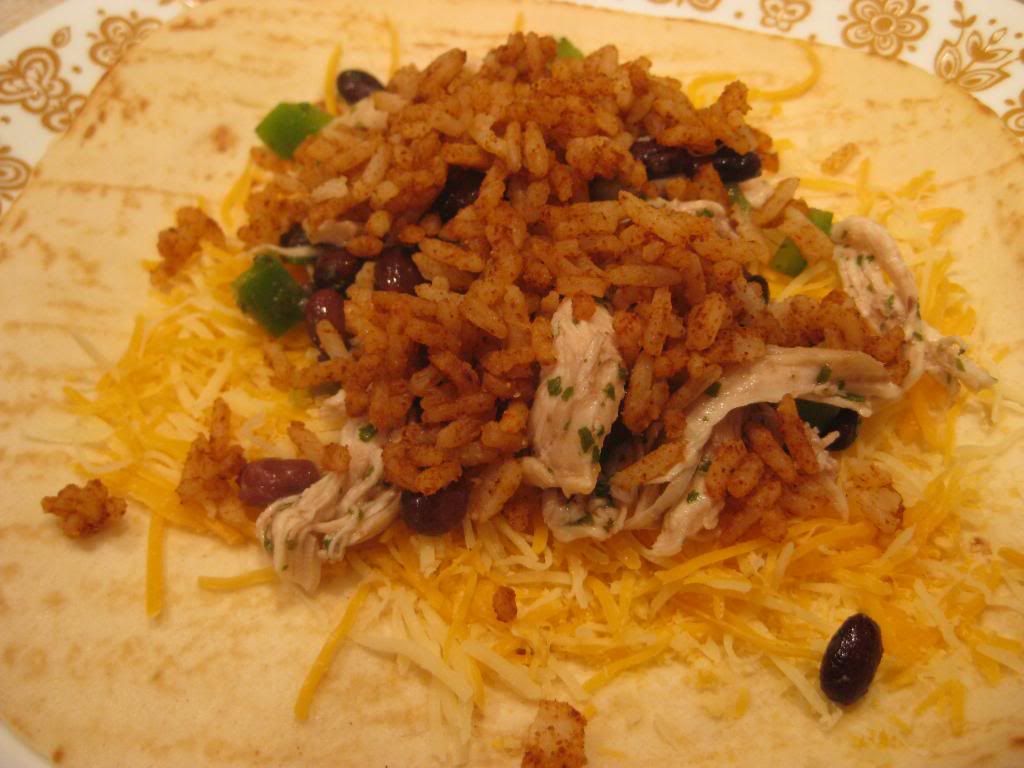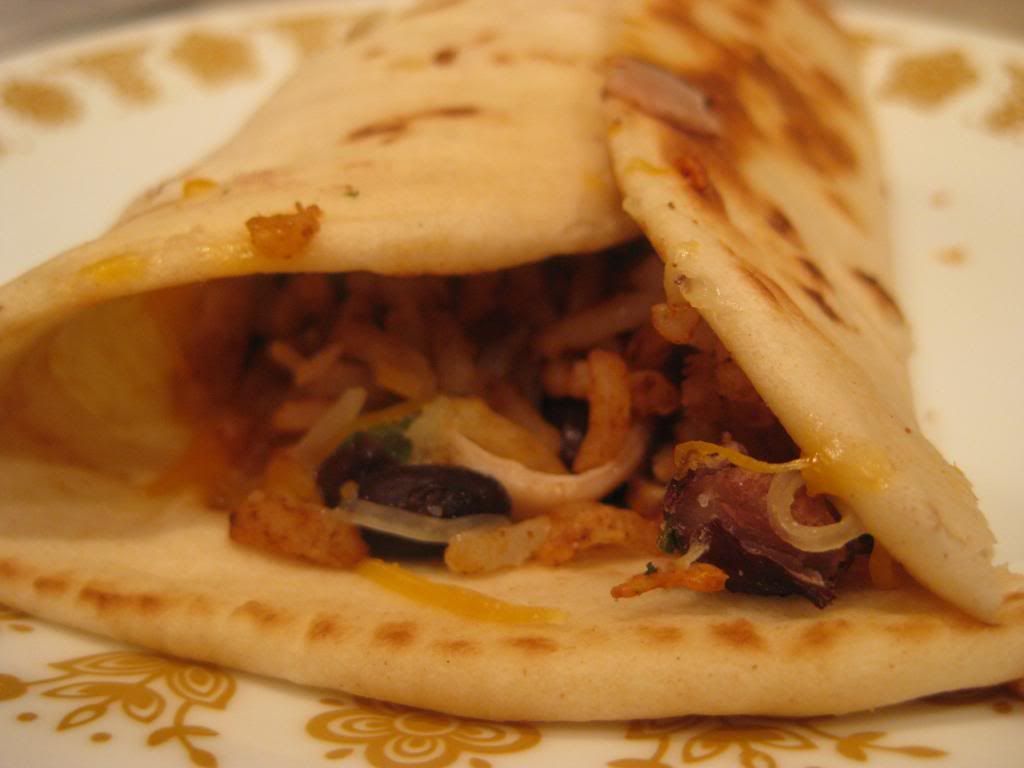 The spices really give this dish its kick. Granted they are only mixed together with the rice, you can definitely taste that flavor and that's what makes these wraps unique. Not only do all the ingredients have some sort of presence when eating the wrap, but everything works so well together. The cheese doesn't overwhelm, but it's a nice base for the other ingredients. Having those fresh elements (the green onion, green pepper, cilantro, and lime juice) helps enhance other ingredients (the chicken and black beans.) Overall, a great dish that is full of flavor and incredibly easy to create any night of the week!
Join us on Thursday as Tyler takes a new spin on an Italian classic. Until then,
~Cheers!