Good evening everyone! Welcome to the second edition of 'cooking on wednesday'! With my new promotion, I have one day during the week off (in exchange for working that Saturday). This means that our typical schedule of Tuesday / Thursday recipes might be shaken up from time to time - this is one such time!
Tonight, we're cooking a summertime classic. The burger. We've shown through multiple recipes on the blog that the only limit to a great burger recipe is your imagination. We've tried BBQ sauces, different herbs, crackers, a load of cheeses and even apple slices - all in the name of spicing up the summertime staple. The only downside to a good burger is that red meat (I.E. beef) is not really that good for your health - no matter how lean. It doesn't hurt you to have one every now and again - but if you can substitute the red meat for something a little more healthy - why wouldn't you? Tonight, we're taking things in a new direction and combining the summertime classic with a leaner, healthier alternative.
The Recipe: Grilled Turkey Burgers
Original Recipe Found In:
Cooking for Two 2011
What You'll Need:
12 Ounces 93% Lean Ground Turkey
2 Ounces Whole Milk Ricotta Cheese (About 1/4 of a cup)
1 Teaspoon Worcestershire Sauce
1 Teaspoon Dijon Mustard
1/4 Teaspoon Salt
1/4 Teaspoon Pepper
* You'll want to use ground turkey - but not ground turkey breast. (They are usually labeled fairly clearly so you can tell them apart). Turkey breast is almost always 99% lean, which will result in an overly dry burger. Opt for the 93% ground turkey and you'll have a much juicier burger.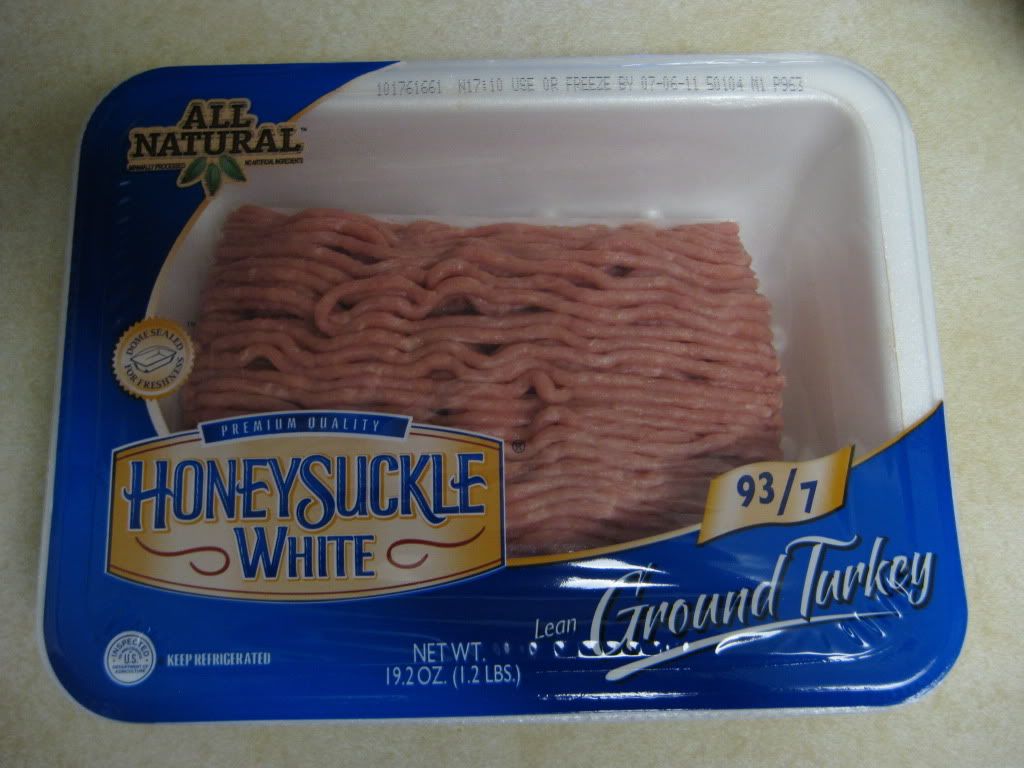 Begin by breaking the ground turkey into smaller sections (so it is easier to combine). In a medium bowl, add the ricotta cheese, Worcestershire sauce, dijon mustard and the salt and pepper. Using your hands, combine the ingredients until everything is well blended. Break the mixture into two separate patties and work the to about an inch thickness.
This recipe is (much like Maggie's dish last night) designed for an outdoor grill. We are still not allowed to grill indoors, so we opted to use a grill pan to cook the burgers. If you are using a gas grill or charcoal grill, you will have to adjust cooking times accordingly as the heat levels will vary between all cooking methods.
Place the burgers on the grill pan and allow to cook for 5 to 7 minutes before flipping. Cook for an additional 3 to 5 minutes on the second side. Using an instant read thermometer, check the burger's temperature. You are looking for 160 to 165 degrees. If your burgers have reached that magic temp - you are ready to serve.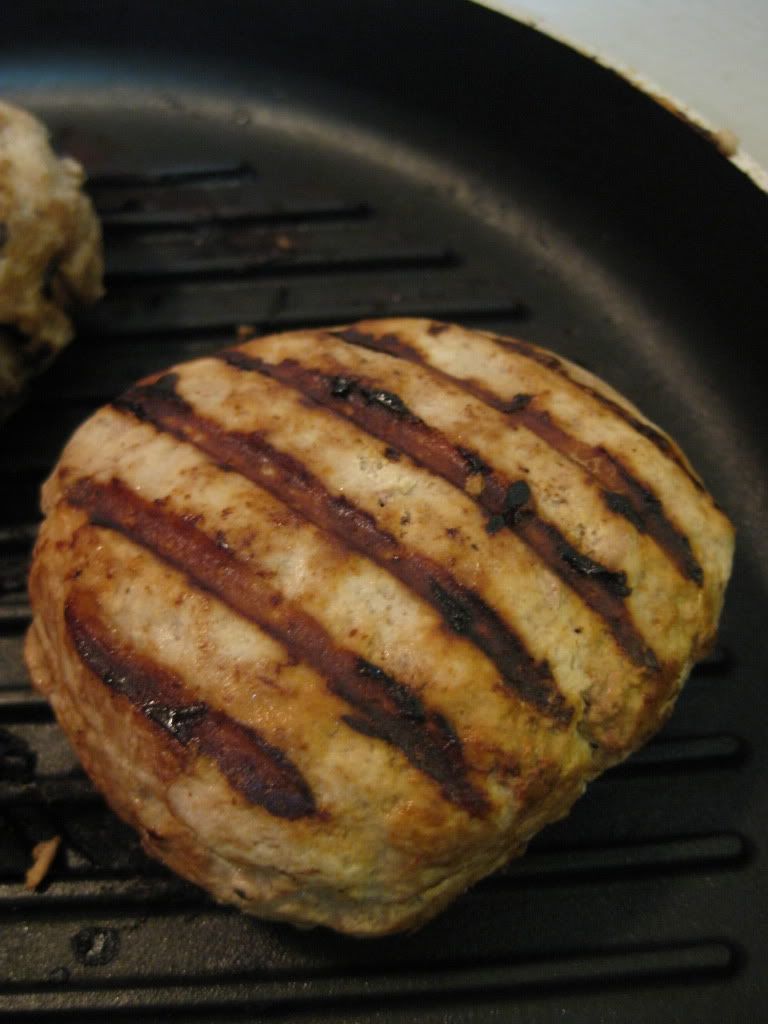 Grilled to perfection (Sorry, Blogger doesn't want this picture to rotate apparently)
Serve with a red onion, BBQ, lettuce, avocado, tomato or any other variation of vegetables you so desire. The nice part about this burger is that it has great flavor that pairs with almost anything you put on top of it.
The Results: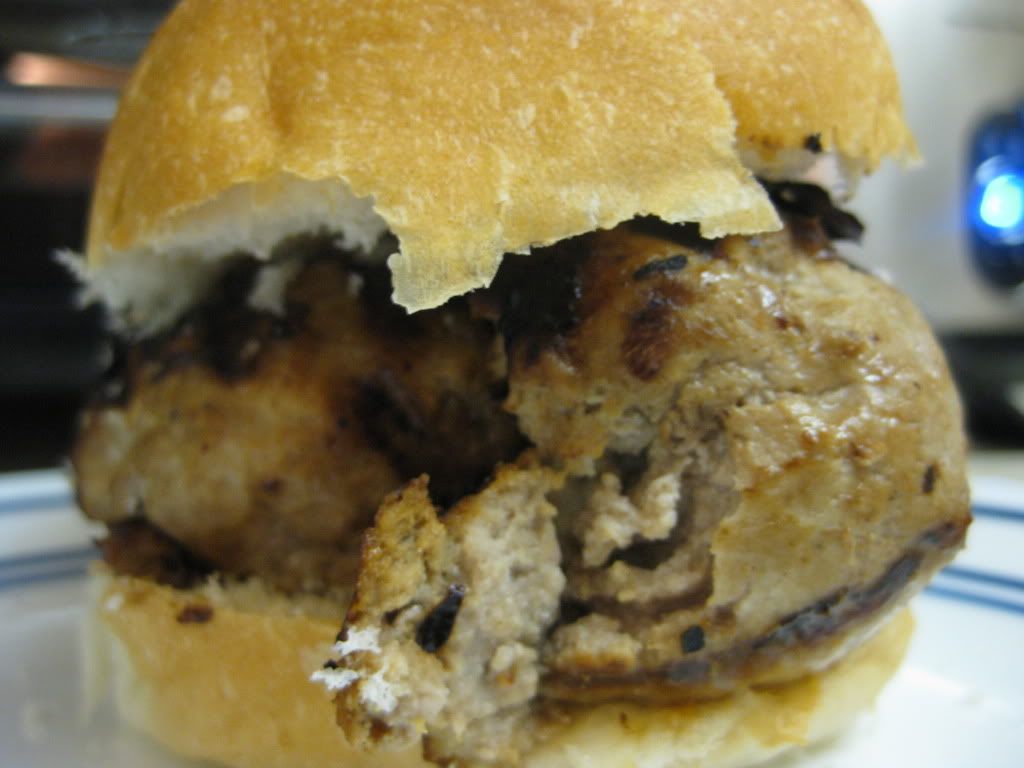 You have to love an easy recipe like this. Come home, throw it on the grill. 10 minutes to dinnertime. This burger packs a great, clean flavor that really shows how wide open burger recipes are. The turkey is much healthier, but you don't lose any of that classic 'summer' taste. This one is certainly worth a shot for those of you following along at home.
That's all we have for you this week. As a bonus, I'll be posting a recipe revisit sometime tomorrow evening. I haven't decided which classic recipe to feature as of yet - but it will be something from our catalog of dishes from last summer. After Thursday's recipe revisit, we're off until Tuesday, July 5th - and will have another short week as the 9th is MY birthday weekend. Busy, busy, busy around the Out Of The Culinary household lately! Thanks for sharing in our recipes for this week. As always,
~Cheers