Good evening everyone! This past weekend, an extended birthday celebration, was a great one. One spent with many memories and loved ones. Thank you to all who wished me a happy birthday!
During the weekend, I really didn't have time to think about what I would cook for this week's recipe (I'm being completely honest with you.) As the festivities wore down on Sunday evening, I began a frantic search for our next [hopefully] tasty feature. I found several recipes that looked incredibly satisfying, but alas, they took more than the usual time I allow for cooking. When I settled on tonight's recipe, not only was it in the time frame I follow, but it has a very unique twist on several ingredients.
Tonight's Recipe: Grilled Halibut with Mango-Avocado Salsa
Original Recipe Found In: Bon Appetit Magazine, June 2011 Issue
What You'll Need:
1 Medium Ripe Avocado, peeled and cut into 1/2 inch cubes
1 Medium Ripe Mango, peeled and cut into 1/2 inch cubes
1 Cup Cherry Tomatoes, quartered
4 Large Basil Leaves, thinly sliced
3 Tablespoons Extra Virgin Olive Oil, divided
3 Tablespoons Fresh Lime Juice, divided
4 6 Ounce Halibut or Mahi-Mahi Fillets
4 Lime Wedges
Begin by preparing the mango-avocado salsa. Gently combine the avocado, mango, tomatoes, basil, one tablespoon oil, and one tablespoon lime juice in a large mixing bowl. For tonight's recipe, I'm trying something a little different. Instead of preparing the salsa with a fresh avocado, I'm using a store bought, premade mashed avocado mix. Not only will this ease my salsa making abilities, but make my salsa a bit more creamier than a fresh avocado. After the ingredients are mixed, season with salt and pepper. Let the mixture sit at room temperature, stirring once in awhile to ensure the ingredients stay incorporated.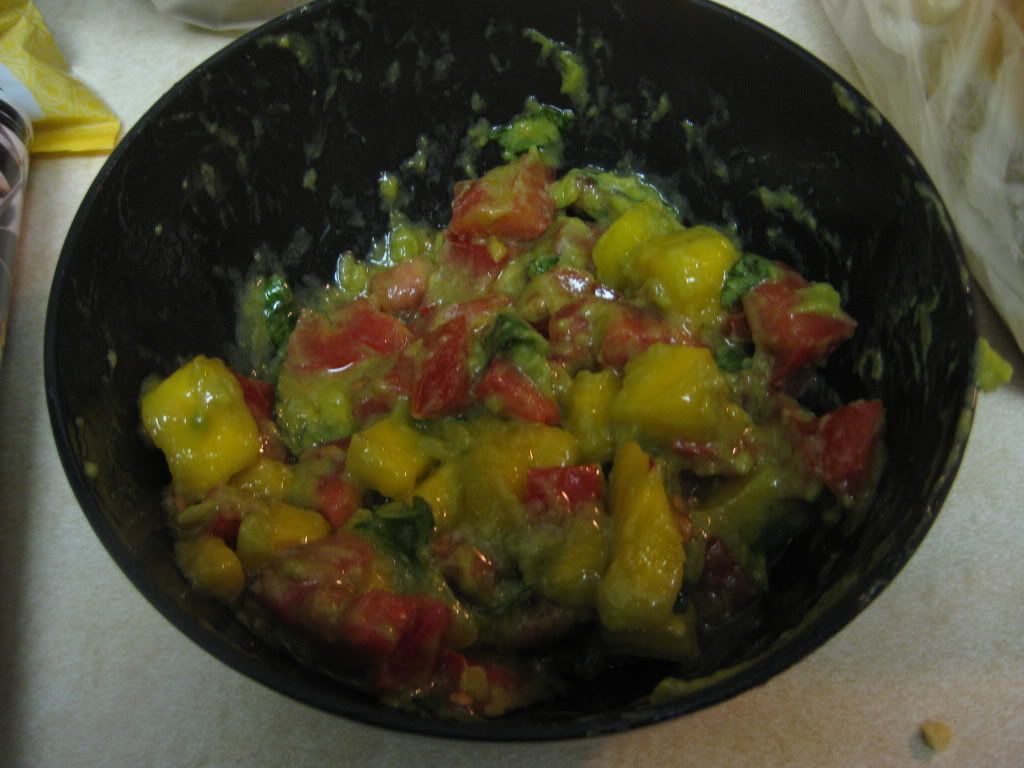 Doesn't look that appealing...
Next, place the fillets in a glass baking dish. Drizzle with two tablespoons of oil and two tablespoons of lime juice. Season the fish with salt and pepper and marinate at room temperature for ten minutes, ensuring both sides of the fish are flipped occasionally. Since halibut has a pretty neutral flavor, it's best that the oil and the lime juice get soaked in rather nicely. Not only will this give a good soak for the fish, but a good matching flavor with the salsa.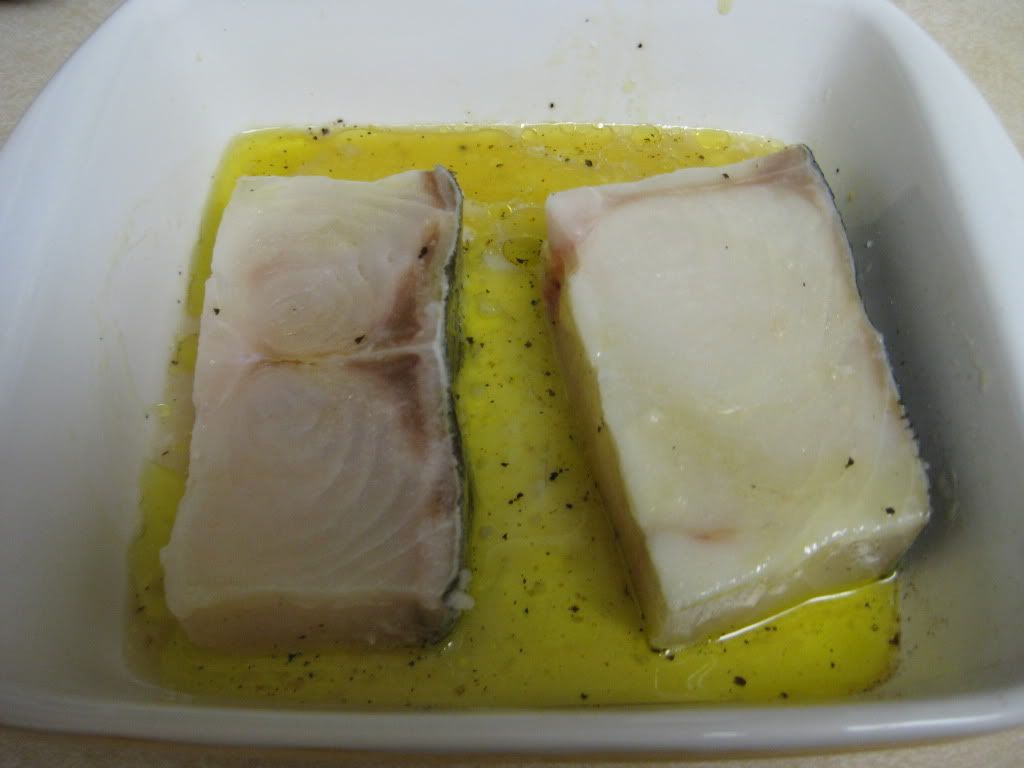 Giving the halibut a good soak
In the original recipe, it calls for the fish to be cooked on a medium-high grill. Since grilling indoors is frowned upon in our apartment complex, the next best thing will have to be used: a grill pan. We have used our grill pan to no end in many of our recipes. Whether substituting for a grill or making panini's on this pan, there is, quite possibly, no end for uses for a grill pan. This evening, we are cooking our halibut on it.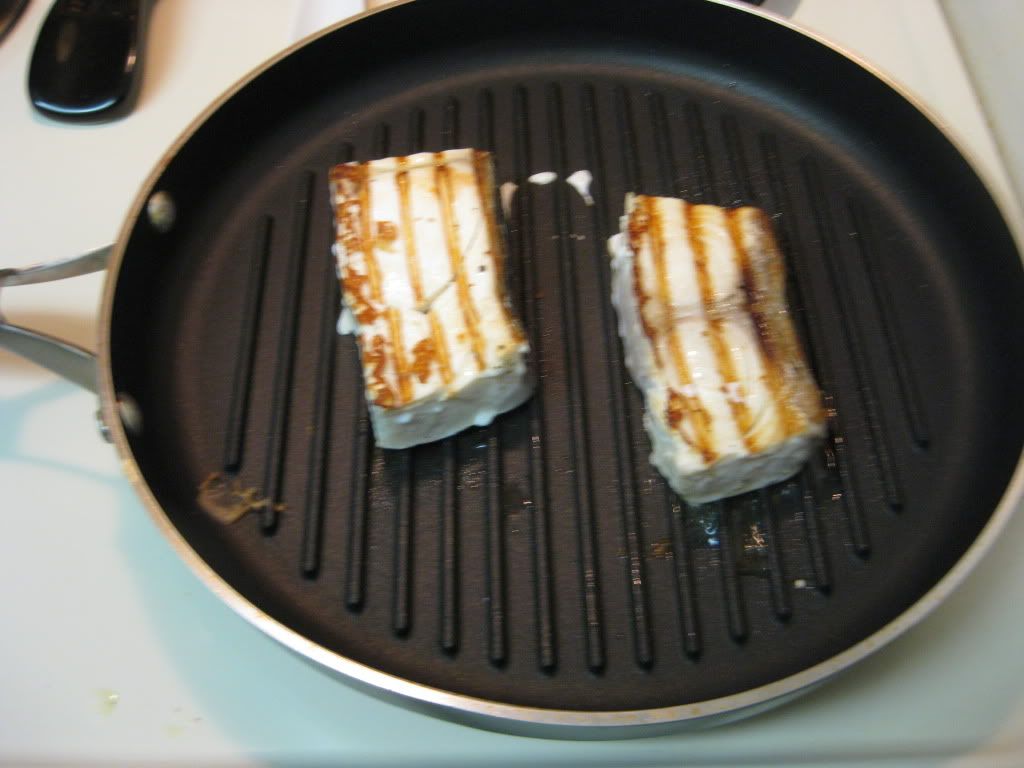 Nothing like fresh grill lines from a grill pan
Once the pan is almost done heating up, oil it with a dampened paper towel. Grill the fish until the inside is almost opaque, about five minutes on each side. Serve with a side of the mango-avocado salsa and lime wedge and enjoy!
The End Result: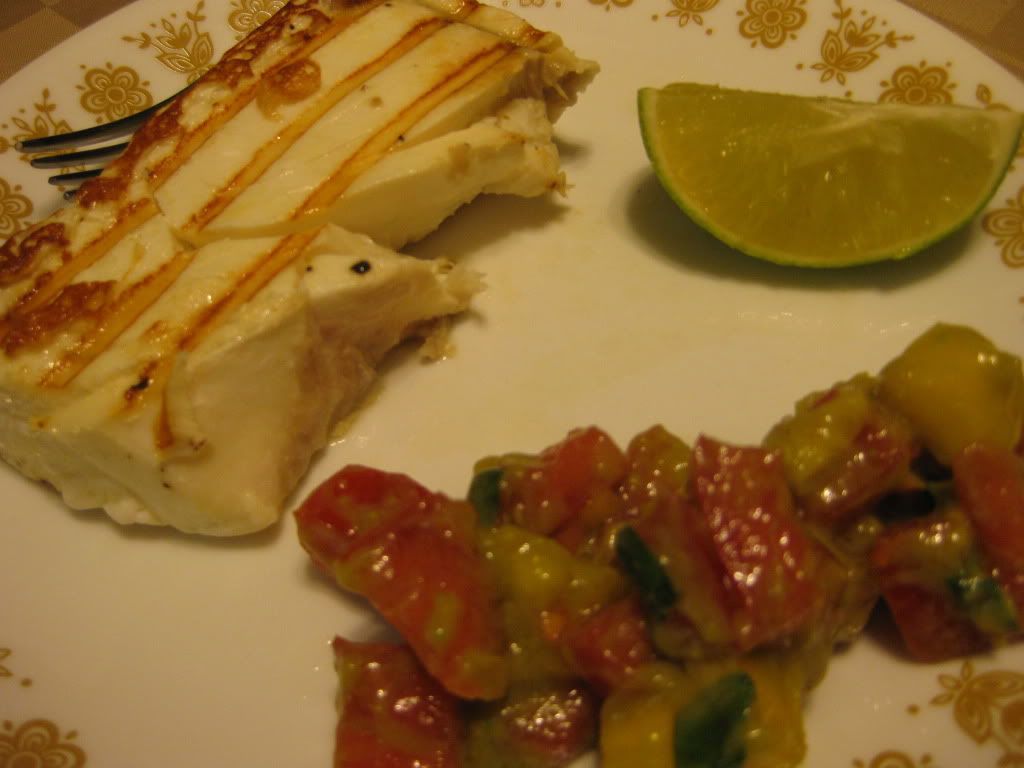 The creaminess of the avocado/guacamole, blended with the sweetness of the mango, and the tang of the lime somehow combine in the salsa to give the fish an extra kick. I was really unsure how the salsa would taste on the fish, but it was actually quite tasty. Tyler wanted to try the salsa on chips, unfortunately, the salsa is only good on the fish. The marinating before the cooking really helped the fish in preparation for all these different flavors to come together. The lime juice wasn't overpowering, like I had originally thought. But cooked to perfection, the fish was a great, neutral flavor for the salsa.
Stop in tomorrow night for a brand new recipe with a new twist on a favorite. Until then,
~Cheers!