Good evening everyone! My most recent favorite read Eat This, Not That. This "book series" has been out for quite some time, but since we have become really conscious about what and how much we put into our bodies, this has almost become a bible for us. The great thing about Eat This, Not That is not only do they give ratings to different restaurants, but they give recipes for healthier alternatives to restaurant dishes. Tonight, I'm trying one of their restaurant substitutes that you can cook at home. Would it still have that great eatery flavor?
The Recipe: Chicken Pizzaioli
Original Recipe Found In:
Eat This, Not That! 2011: Thousands of easy food swaps that can save you 10, 20, 30 pounds--or more!
What You'll Need:
(Formatted for Serving 2)
1 Tablespoon Olive Oil
2 Chicken Breasts (6 Ounces Each)
1 Teaspoon Dried Thyme or Rosemary
1 Medium Yellow Onion, sliced
1/2 Cup Chopped Green Olives (optional)
4 Garlic Cloves, minced
1 Teaspoon Red Pepper Flakes
1 28 Ounce Can Crushed Tomatoes
1 Cup Grated Mozzarella
Begin by pounding the chicken breasts to a 1/2 inch thickness. In quite a bit of our recipes, we have utilized this technique to make chicken (or any other meat) to cook more evenly. Lay the chicken on a cutting board and place a sheet of plastic wrap over the chicken. Pound with a meat mallet until the correct thickness is achieved. Or if you're working with frozen chicken breasts, like I am this evening, be sure to thaw properly and completely, and if the breasts need to be thinner, perform the aforementioned action. Once the chicken is a desired thickness, season with thyme or rosemary, salt and pepper.
Next, heat the oil in a large Dutch oven or an oven-safe pan over medium high heat. When the oil has heated, add the chicken and cook for three to four minutes on each side, until a golden crust has form on both sides. Remove the chicken from the pan.
Chicken, sizzling away
In the same pan that cooked the chicken, add the onions, (olives.) garlic, and chili flakes. Saute this combination until the onions have started to caramelize, about five minutes. After this, add the tomatoes and cook for another three minutes. This layering technique will give the tomato combination more depth of flavor, a stronger intensity of taste, and more aroma to the dish. After the tomatoes have had a chance to cook through, add the chicken back to the pan.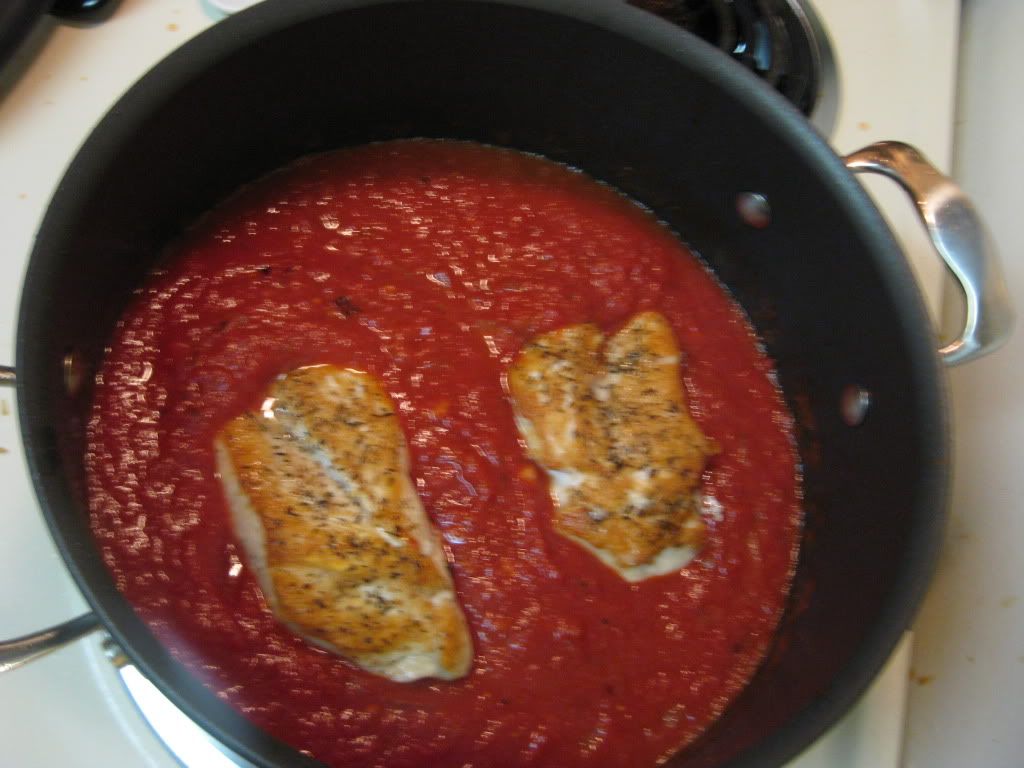 Ready for some time in the oven
Divide the mozzarella between the chicken breasts and place in a 300 degree oven. Cook for three to four minutes until the cheese has melted and is bubbling. Serve the chicken with a scoop of the tomato combination and enjoy!
The End Result:
This recipe hit all the right notes. The chicken was perfectly cooked - the seasonings worked perfectly and it was nice and juicy. The tomato sauce was full of flavor, yet so simple with red pepper flakes, onions, and garlic. The hint of cheese was a nice little touch that didn't add too much bulk to the chicken. This recipe is comparable to an Olive Garden dish, which has 1090 calories. While the homemade version has 360 calories. And you can make this dish for under $7.50 (for two servings,) whilst the Olive Garden version could cost you over 13 dollars (not counting tip, tax, and beverage of choice.) Overall, a great dish with a superb flavor.
That's all we have for you this evening. Tune in on Thursday for an ingredient we've never tried before on the blog. Until then,
~Cheers!