Good evening everyone! We're on a shortened schedule (read: compressed week) since it's Maggie's birthday weekend. We've got plans for the rest of the week, so that means your second dose of cooking goodness comes one whole day earlier. Hooray! Tonight, I'm jumping back into my favorite (of late) food group - fish. As we've said many, many times before - fish are so versatile that you simply cannot beat them as a mainstay in your diet. They are great for you (especially when compared to other meats) and they are so easily manipulated via flavors and other ingredients that the same cut of fish can be cooked five different ways and result in five different flavors. Tonight, we're returning to an old favorite - tilapia, but we're cooking it in a brand new way.
The Recipe: Oven Fried Fish
Original Recipe Found In:
The Cook's Country Cookbook: Regional and Heirloom Favorites Tested and Reimagined for Today's Home Cooks
What You'll Need:
2 Tablespoons Vegetable Oil
4 Ounces Store bough Cornbread* (one 3 1/2 inch square piece)
3 Slices Of High Quality Sandwich Bread
2 Teaspoons Dry Mustard
1 Teaspoon Dried Thyme
1/4 Teaspoon Garlic Powder
1/4 Teaspoon Cayenne Pepper
3 Tablespoons Unsalted Butter (Melted)
1/2 Cup All Purpose Flour
1 Cup Buttermilk
2-4 Skinless Whitefish Fillets (Cod or Haddock preferred, we're using tilapia)
Lemon Wedges
*Rather than running out and buying a whole block of cornbread simply to grind up and use as crumbs, we opted to use cornmeal breading. This type of breading is more like fine breadcrumbs (Maggie used them for everything from pancakes to (duh) cornbread in the past and I've used them for waffles, but we've never tried them as a breading). It is essentially ground up cornbread (not quite, but close enough). You are free to use whatever method you like - if you have cornmeal lying around, I'd recommed using that.
Begin by adjusting you oven rack to the middle position and preheating the oven to 450 degrees. Pour the cooking oil onto a rimmed baking sheet and allow it to distribute evenly.
Pulse the cornbread in a food processor (only if you're using the bread - skip this step if you're using the 'meal) until it becomes coarse crumbs. Transfer the crumbs to a large bowl. Next, pulse the sandwich bread into fine crumbs. Transfer 1 1/2 cups of the bread crumbs to the bowl with the cornbread crumbs. Discard any extra breadcrumbs. Toss the crumbs with the mustard, thyme, garlic powder, cayenne, 1/2 teaspoon of salt and 1/4 teaspoon pepper. Drizzle the melted butter over the crumbs and toss until evenly coated.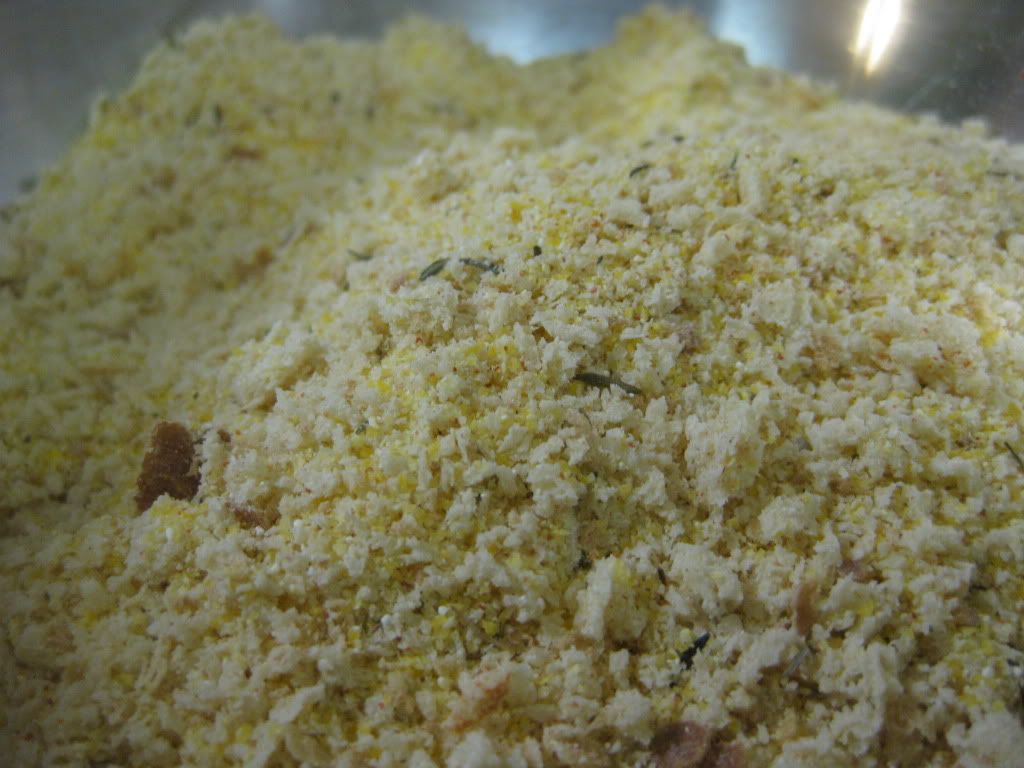 Place the flour in a shallow baking dish and the buttermilk in a second shallow dish. Line up the dishes (flour, buttermilk and breadcrumbs in that order) assembly line style with wire rack or plate to place your finished product upon.
Place the oiled baking sheet in the oven while you are breading your fish. Be very careful to not leave the baking sheet in the oven for more than 10 minutes, however, as the vegetable oil will begin to reach its smoke point after 10 minutes. Then you'll be left with an oven full of smoke, a house full of smoke and a VERY unappetizing smell for the rest of the week.(And you'll probably never live the 'smokey' reputation down!)
Pat your fish dry with a paper towel and begin the breading process. Dip the fish into the flour, making sure it is evenly coated. Allow the excess flour to shake off. Next, coat the fish with the buttermilk, again allowing the excess to drip off. Finally, press the fish into the bread crumbs, making sure the entire fillet is completely covered. Repeat until all of the fillets are breaded.
Finally, place the breaded fish fillets on the warmed baking sheet and cook until the breading is golden and crispy and the fish is cooked. This takes about 12 to 14 minutes. Serve with lemon wedges and enjoy!
The Results: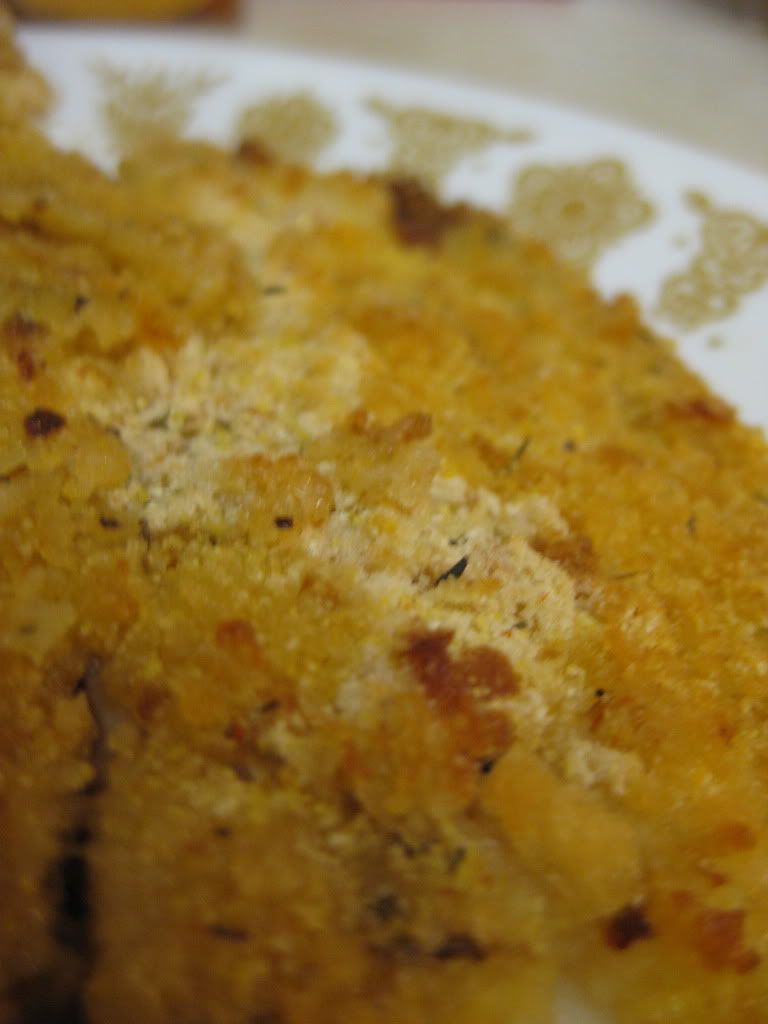 There really is no limit to what a good whitefish fillet can do. This is probably the 10th or 11th recipe we've done now that featured tilapia, cod, haddock etc. and this dish is distinctly different from all of the other recipes we've tried. Simply put, it's a clean, flavorful finish with a very interesting twist (courtesy of the cornbread). Well worth a shot for those following along at home.
That's all we have for you this week. A happy early birthday to my lovely wife. We've got an eventful weekend planned for her to celebrate. We're off until Monday, have a great weekend everyone!
~Cheers