Good evening everyone! I am super glad to be back after last week. I have no idea where I caught my little bug (doesn't help I work in a doctor's office, but in a small office, more illness will spread around faster.) This little guy stuck with me until now, I'm still fighting a little cough - even though I am not hacking up a lung, like I was last week. I'm glad to be back on the mend and feeling a lot better than I was.
Anyway, back to the food! This recipe comes from our much loved "restaurant guide": Eat This, Not That. I am always amazed at how many calories can be packed into one dish. I'll reveal how many calories that this original recipe was based on, but it's almost unsightly. Never the less, creating a great crispy chicken recipe involves some participation and not letting the chicken get too crispy. Otherwise, you might have a blackened chicken disaster on your hands. Let's begin!
The Recipe: Crispy Chicken with Dijon-Caper Sauce
Original Recipe Found In: Eat This, Not That, 2011 Edition
What You'll Need:
4 Boneless, Skinless Chicken Breasts (6 ounces each)
2 Tablespoons Olive Oil
3 Egg Whites, lightly beaten
1 1/2 Cup Bread Crumbs, preferably Panko
1/4 Cup Grated Parmesan
1 Tablespoon Dried Italian Seasoning
1/2 Cup Chicken Stock
2 Tablespoons Butter
1 Tablespoon Dijon Mustard
2 Tablespoons Capers
Juice of 1 Lemon
1/4 Cup Chopped Fresh Parsley
Start by covering the chicken breasts in either parchment paper or clear plastic wrap. Using a meat mallet or meat tenderizer, pound the chicken until it is a 1/4 inch thickness. As I stressed in the Chicken Pizzaioli recipe, it is very, VERY important to get the chicken to a uniform thickness. This helps with the cooking process (to get it evenly cooked) and not burning the outside of the chicken. Since this recipe does call for a crispy exterior, you don't want the chicken to look too brown or, even worse, black. Not very appealing, if you ask me.
Next, heat the oil over medium high heat in a cast iron skillet. In a shallow bowl, mix the egg whites until slightly beaten. On a large plate, mix the bread crumbs, parmesan cheese, and Italian seasoning. Carefully dip each of the chicken breasts into the egg whites and then into the crumb mixture, ensuring each breast is evenly coated.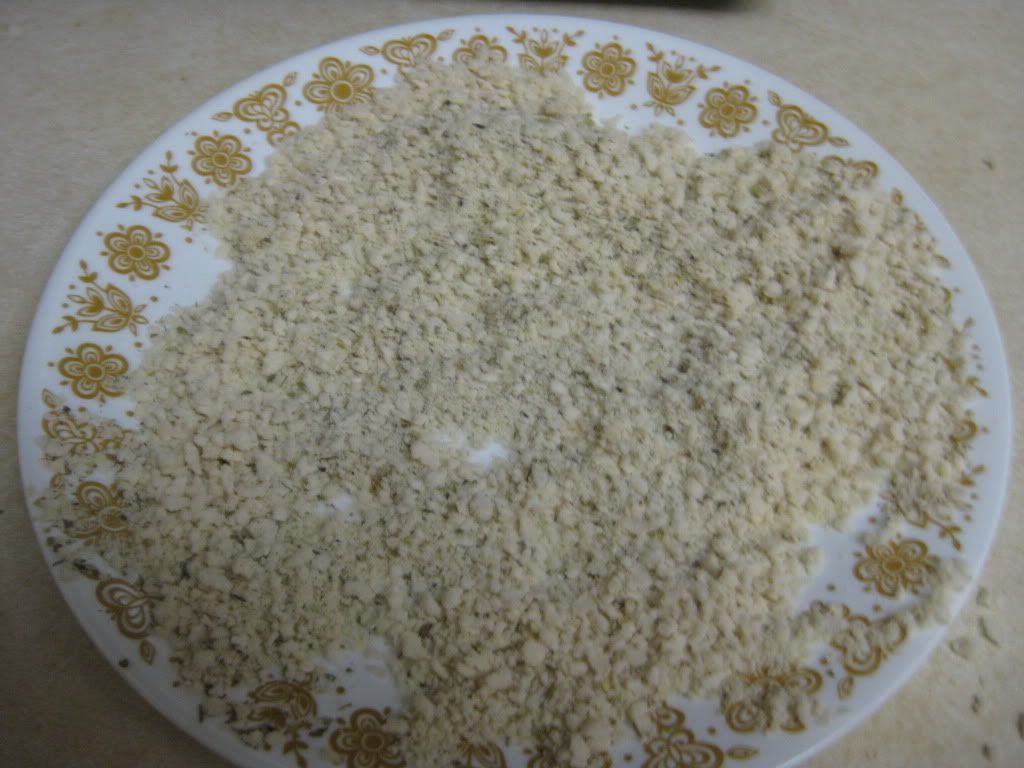 Breadcrumbs, ready for the chicken
The oil should be heated at this point. Add the chicken to the pan and cook for three to four minutes on each side. The chicken should be a light golden brown and crunchy. After the chicken is done cooking, transfer to a plate to let the chicken rest. Letting the chicken rest will let the juices redistribute within the chicken, giving a more juicy flavor to the chicken.
While the pan is still hot, add the stock and reduce by half, no more than two minutes. Stir in the butter, mustard, capers, and lemon juice - make sure that the browned bits at the bottom of the pan are also scraped up. Turn off the heat and add the parsley. Drizzle the sauce over the chicken breasts and enjoy!
The End Result: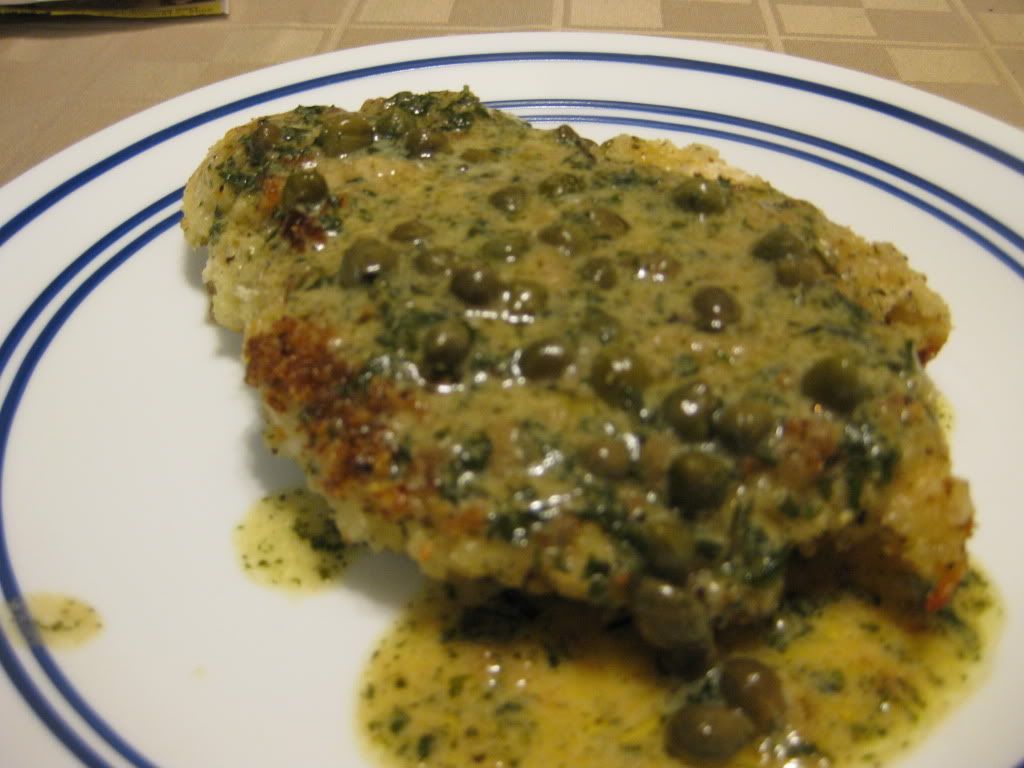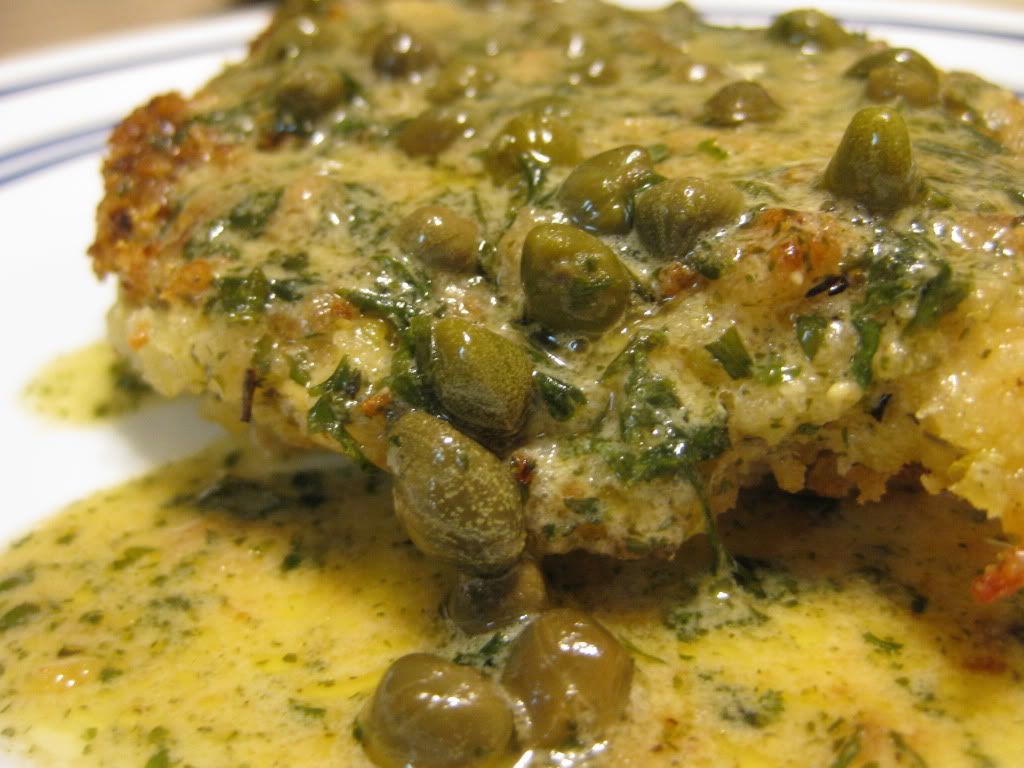 Even though the sauce is rather runny, it is incredibly flavorful and a nice addition to this chicken. The dish had a real strong tang to it. The mustard and the capers combined really well to create this unforgettable sauce. My tendency is to the add the ingredients to a hot pan and put away any remaining items in the kitchen. But with this dish, you really had to watch the chicken and the sauce as well. Again, cooked right, the chicken will be have a nice crunchy texture and will complement the sauce well. And it really did! I'm sure if I used real breadcrumbs, instead of panko breadcrumbs, the flavor would have been much different.
Since this recipe is out of Eat This, Not That, the book gives a dish similar to this. That dish is the Chicken Picatta from Ruby Tuesday. That dish is over 1400 calories - over 70 percent of the allotted amount of calories an average person should eat in a day. The recipe I made this evening has only 395 calories and won't bust your calorie count for the day. It's incredible that making a similar dish can be so vastly different in caloric value. But this one is definitely more bang for your buck and won't cost a couple more inches to your waistline.
Stop in tomorrow (yes, I did say tomorrow) for Tyler's new twist on an old favorite. Until then,
~Cheers!