Good evening everyone! We've had our fair share of mac'n'cheese adaptations here on the blog. Whether it's been baked or as a pizza crust, we've explored the endless variations of this classic American dish. Tonight, I'm exploring yet another version of this dish, one that will have fans of spicy dishes of our blog very excited. I am also excited about this dish, as it will not only incorporate our friend, mac'n'cheese, but another tried and true partner of the blog.
The Recipe: Chili-Cheese Mac
Original Recipe Found In: Cooking Light, April 2012
What You'll Need:
1 Teaspoon Canola Oil
3/4 Pound Ground Round
1 Teaspoon Garlic Powder
1 Teaspoon Ground Coriander
1 Teaspoon Ground Cumin
2 Teaspoons Chili Powder
2 Cups fat-free, lower sodium Beef Broth
1 Cup Water
1 (10 ounce) can mild diced Tomatoes and Green Chiles, undrained
8 Ounces uncooked Elbow Macaroni
1/2 Cup Fat-Free Milk
4 Ounces 1/3-less-fat Cream Cheese
4.5 Ounces finely shredded reduced-fat sharp Cheddar Cheese
*Note: Since we don't want our mouths to be completely on fire whilst eating this dish, we opted for diced tomatoes sans green chiles. We figured the dish would have a milder taste without the green chiles.
I think the reason why there are so many adaptations of the classic mac'n'cheese recipe is that one: it's a versatile dish. You can add almost anything to it and it will add an extra 'oomph' to the standard fare. Throw peas in it for an extra serving of vegetables or add tuna for a bit of different flavor (my favorite - thanks Dad!), it will still be great. And two: it's easy to change it into something completely different and yet have that same mac'n'cheese appeal. A four cheese pasta dish could have some exquisite name, but in the end, it's still noodles with cheese. Anyway, enough waxing about the dish, let's get cooking!
To start, heat the oil in a Dutch oven over medium high heat. Add the beef, garlic powder, ground coriander, ground cumin, and chili powder and cook for three minutes, crumbling up the beef so it gets cooked evenly. Add the broth, water, and tomatoes. Bring this combination to a boil. Stir in the macaroni and cover with a lid. Cook for 10 minutes or until the macaroni is done cooking.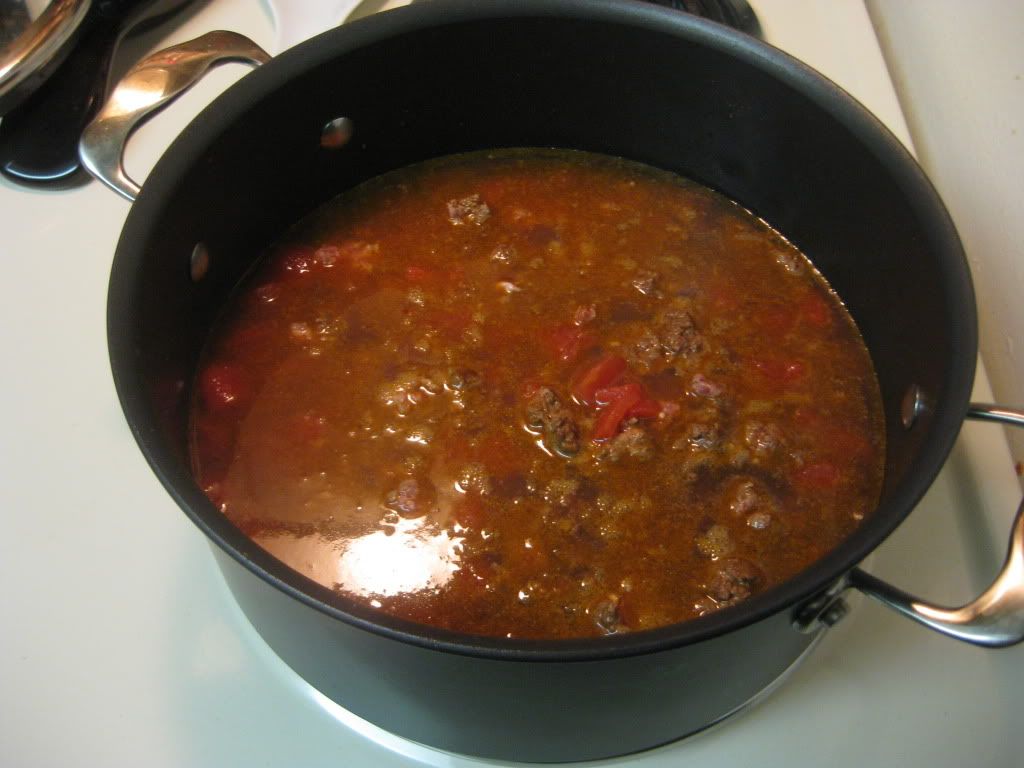 Getting ready for the macaroni noodles
Next, add the milk and cream cheese to a saucepan and heat over medium high heat. Cook for four minutes or until the cheese has melted. You'll want to keep an eye on the saucepan - if the cheese and milk get overheated, you'll have scalded lactose products and not a very good smell arising from the kitchen. After this combination is throughly combined, remove the saucepan from the heat. Slowly stir in the cheddar, careful again not to burn the cheese. After both pots are done cooking, add the cheese sauce to the macaroni mixture and toss to coat well. Serve and enjoy!
Homemade cheese sauce!
The End Result: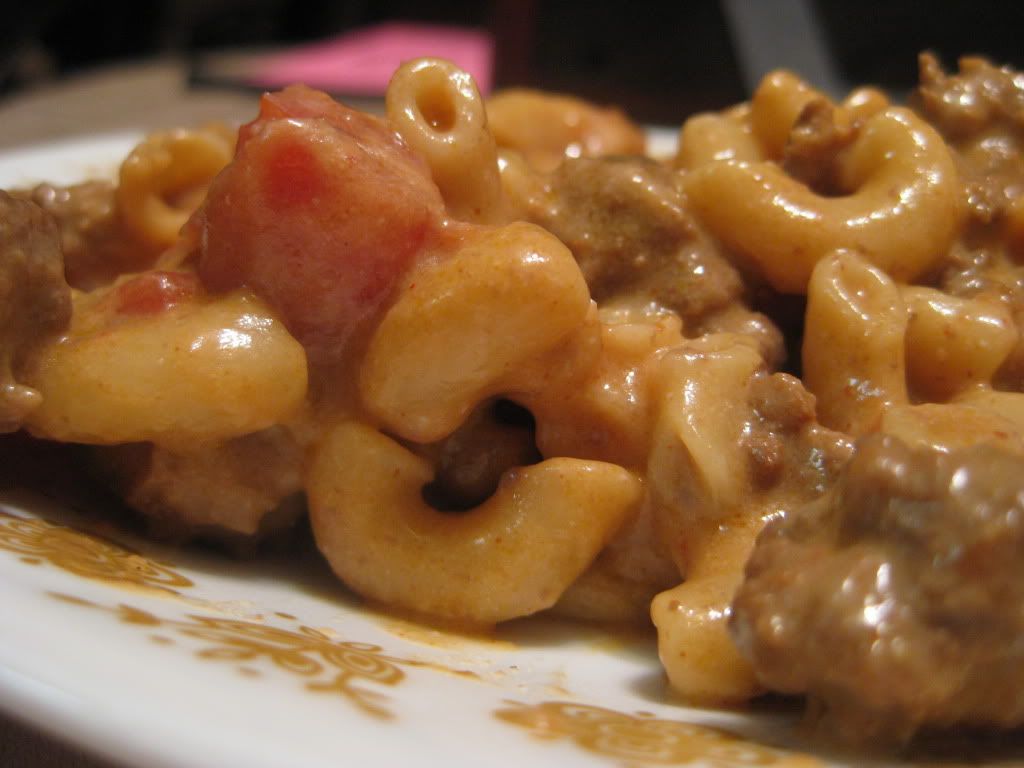 Oh, my, tasty! I originally thought that with all the spices going into this dish it would be too hot to handle. But actually it's incredibly flavorful and very tasty. It definitely had a unique flavor that leaves normal mac'n'cheese in the dust. Making your own cheese sauce is something quite to behold too and it won't leave a 'processed' taste in your mouth. Everything seems fresh and not from a box. I would make this again with some additions to make it even more of a better dish.
Join us tomorrow as Tyler tackles a not-so standard Mexican regular. Until then,
~Cheers!