Good evening everyone! For the first time in a long while, we're adding a third recipe to the weekly rotation. Tonight's dish warranted its own special blog post simply because of the unique nature of this recipe. This recipe comes from the same "50 Taco Recipe" Food Network Magazine insert that last week's egg and chorizo tacos dish came from. However, unlike last week, which had some foundation in Mexican cuisine, tonight's dish is taco in name only. Let's get cooking!
The Recipe: Sweet Potato Tacos
Original Recipe Found In: Food Network Magazine (50 Taco Recipe Insert)
What You'll Need:
(Serves 4)
3 Cups Peeled, Diced Sweet Potatoes (Roughly 2-3 medium sweet potatoes)
1 Can Black Beans (Rinsed)
Low Fat Sour Cream
4 Flour Tortilla Shells
A few months ago, we tried a
baked sweet potato recipe
that used these very same ingredients, so we came into this recipe knowing that the flavor combination works well. If you haven't even tried these three ingredients together, give it a shot before you judge. It's surprising just how well these three blend together.
Preheat your oven to 425 degrees.
To begin, toss the sweet potatoes in a drizzling of olive oil and season with a pinch of chili powder. Place the sweet potatoes into a small roasting pan and into the oven to roast for about 30 to 45 minutes, or until they've become tender.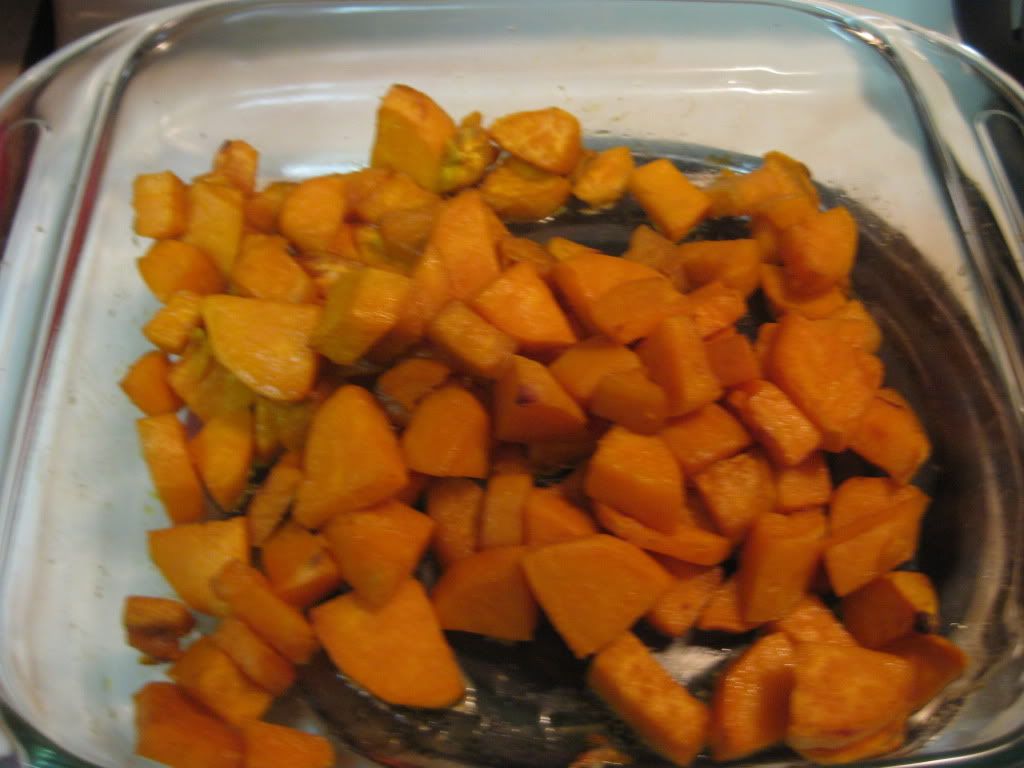 While the potatoes are cooking, drain your black beans and rinse them in a colander to remove any of the solution that the beans are packed in. (This water / sludge mix is very high in sodium. Rinsing the beans before cooking them allows you to reduce the sodium in the beans by about 20% depending on the manufacturer). Heat the beans until they are evenly cooked through (according to the directions on the can). Keep warm until the sweet potatoes are finished.
Once the sweet potatoes are tender and the beans are cooked, you can begin construction of these unique tacos. First, spread a spoonful of the black beans onto a (warmed) tortilla. Follow this with a generous helping of sweet potatoes and finally top the mixture off with a dollop of low fat sour cream. Roll the tortilla into a tight taco and enjoy!
The Results: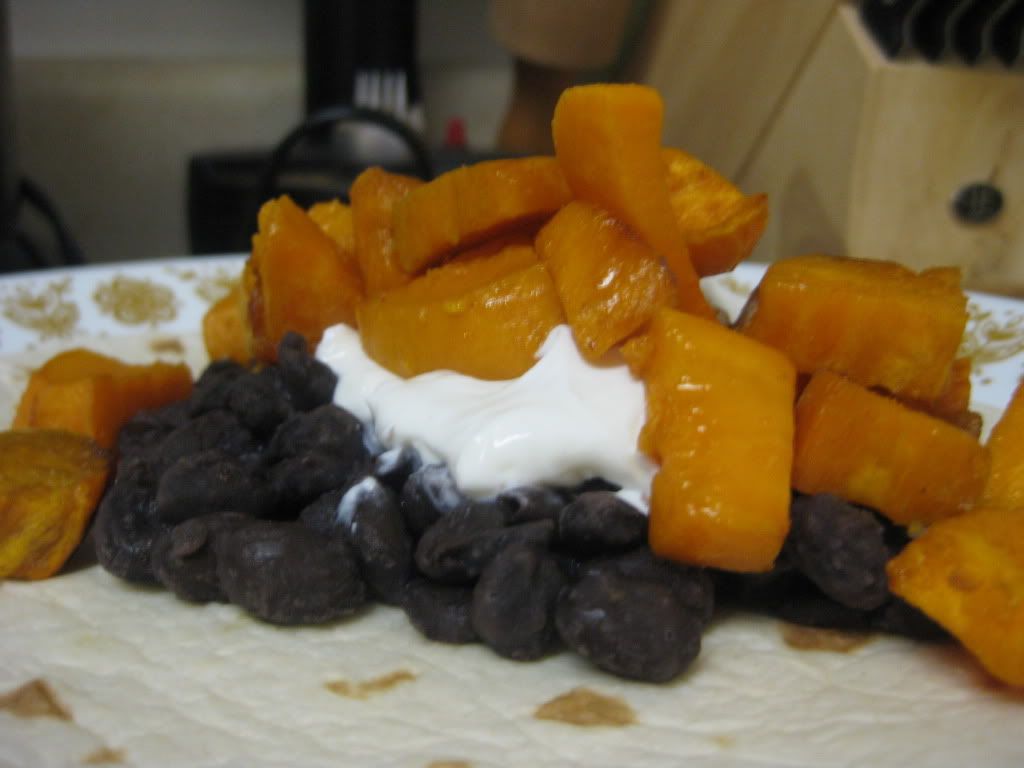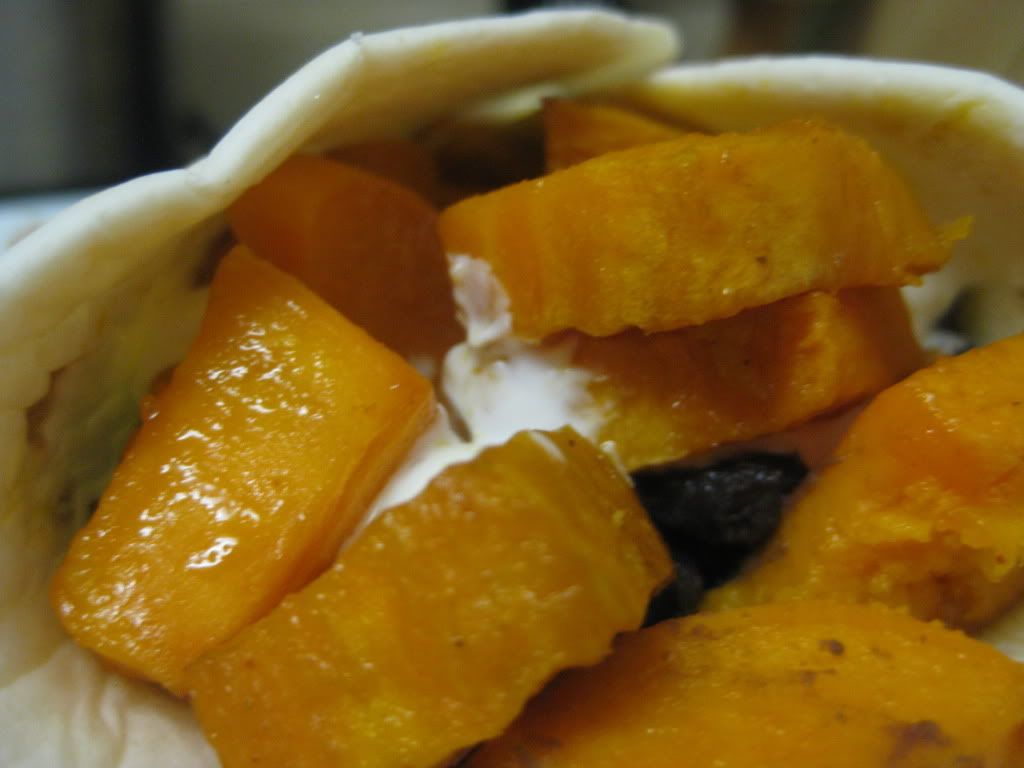 Like I mentioned in the opening, we have tried this flavor pairing before so it wasn't a surprise when these tacos came out delicious as well. It's truly hard to describe how well the black bean / sweet potato / sour cream mixture blends, to put it simply – it's a harmonious union of flavor. This dish is a great way to get in your daily amount of protein and fiber without having to use any meat. With the flavor and texture of the black beans, you'll hardly notice there isn't an ounce of ground beef in this taco.
That's all we have for you this week. We're back next Monday with another installment of the culinary news in Around the Culinary World, followed by another week full of new and tasty recipes. Until then,
~Cheers