Good evening everyone! Here on the blog, we love to do adaptations and re-creations of classic dishes. Not only does it stir our palettes, but it's exciting trying something that is similar to an old favorite. Tonight is no different: the meatloaf has comfortably secured a place on our dinner tables. Heck, we've produced enough of them to make this. But I would have to disagree with aforementioned product by stating that the "perfect meatloaf" doesn't have to do with shape or consistency.
Without a doubt, meatloaf can be whipped up in a flash and served probably sooner than that. But there's definitely one thing that regular meatloaf lacks is flavor. Tonight, I will challenge the standard meatloaf recipe and give it an ultimate makeover. If you aren't careful, this slab of meat might knock you off your feet!
The Recipe: Chipotle Meatloaf
Original Recipe Found In: Bon Appetit Magazine, May 2012
What You'll Need:
1/4 Pound Applewood Smoked Bacon, coarsely chopped
1 3/4 Pound Ground Beef Chuck
1 Cup chopped Onion
1 Cup Heavy Cream
1 Cup Panko (Japanese breadcrumbs)
3 large Eggs, beaten to blend
1/2 Cup chopped celery
1 1/2 Tablespoons chopped fresh Cilantro
1 Tablespoon kosher Salt
1 1/2 Teaspoon minced flat-leaf Parsley
1 1/2 Teaspoon minced fresh Rosemary
1 1/2 Teaspoon minced fresh Thyme
1 1/4 Teaspoon ground Ancho Chiles
1 1/4 Teaspoon Smoked Paprika
3/4 Teaspoon ground Black Pepper
3/4 Cup plus 2 Tablespoons Ketchup
2 Tablespoons pureed Chipotle Chile (from canned chipotle chiles in adobo - about one large chile)*
*Note: to kick down the heat a little bit, we are going with ground Ancho chiles, instead of pureed chipotle chile. Powder is a little easier to find than canned chipotle chiles and a bit better to handle in the mouth.
To start, preheat an oven to 400 degrees. Coat the bottom and sides of a 13x9 baking pan with nonstick spray. This is probably one of the most crucial steps in this whole recipe. There's nothing worse than stuck-on meatloaf to a pan and trying to scrap it off, while scrapping the entire bottom of the pan off with the meat. Not the best scenario in the world.
Next, pulse the bacon in a food processor until the coarsely chopped pieces are now coarsely ground. Transfer these bacon bits to a larger mixing bowl. Add the ground chuck, onion, heavy cream, panko, eggs, celery, cilantro, salt, parsley, rosemary, thyme, ground ancho chiles, paprika, and black pepper (pause to breathe,) and mix well to incorporate. Transfer the meatloaf mixture to the prepared pan and form into a long log, smoothing to keep an even consistency. (Alternatively, you can use a meatloaf pan and shape the mixture in this. This will hold its shape better and you won't have to shape a log out of meat.) Bake the meatloaf for 35 to 45 minutes, or until an instant read thermometer reads 150 degrees.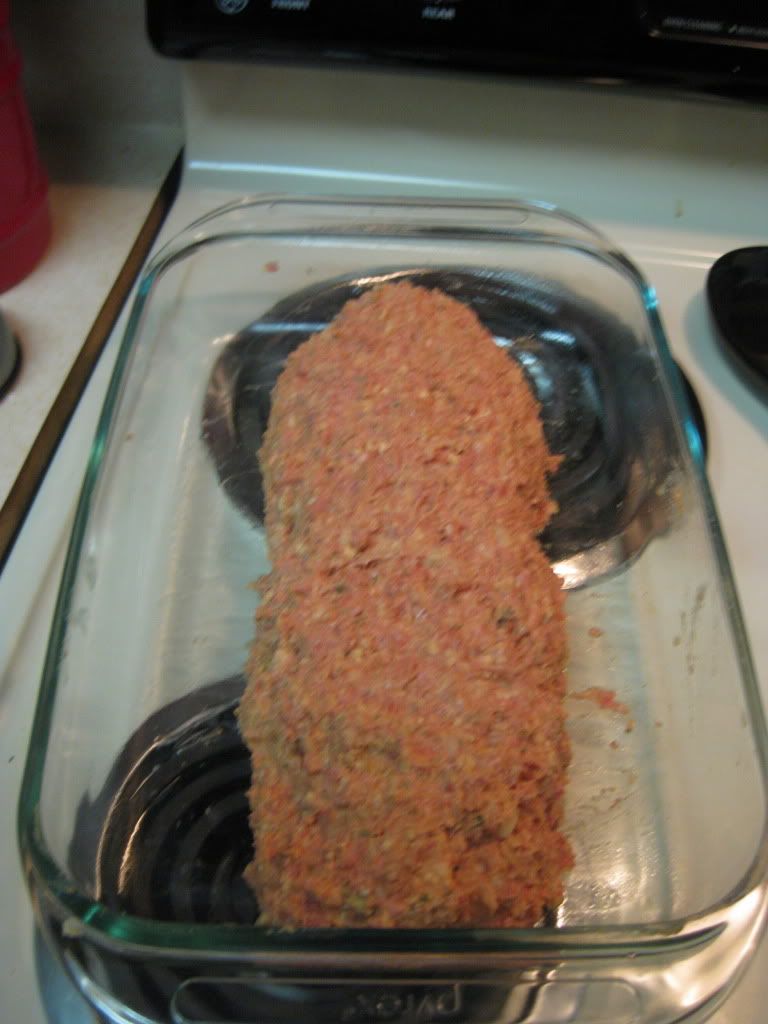 Meatloaf log...such an interesting combination of words
Next, stir the ketchup and pureed chipotle chiles in a small bowl. Spread 1/2 cup of the chipotle barbecue sauce all over the top and sides of the meatloaf. Bake the meatloaf for another 10 minutes, until an instant read thermometer registers 165 degrees. Serve the remaining chipotle barbecue sauce alongside of the meatloaf and enjoy!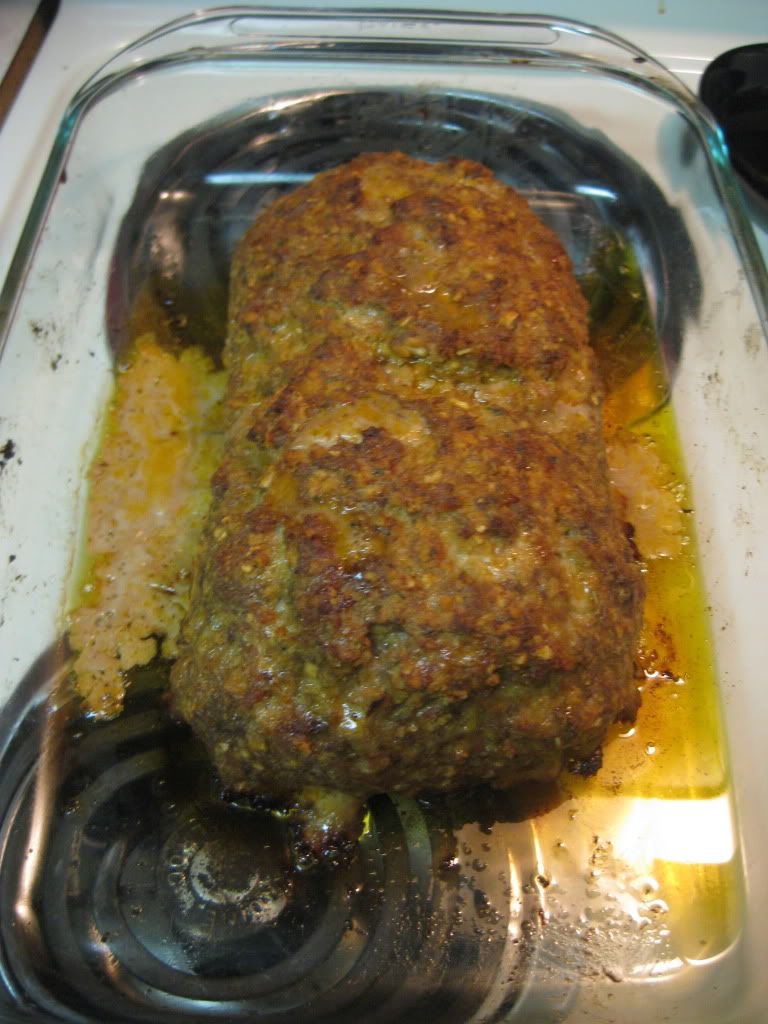 The End Result: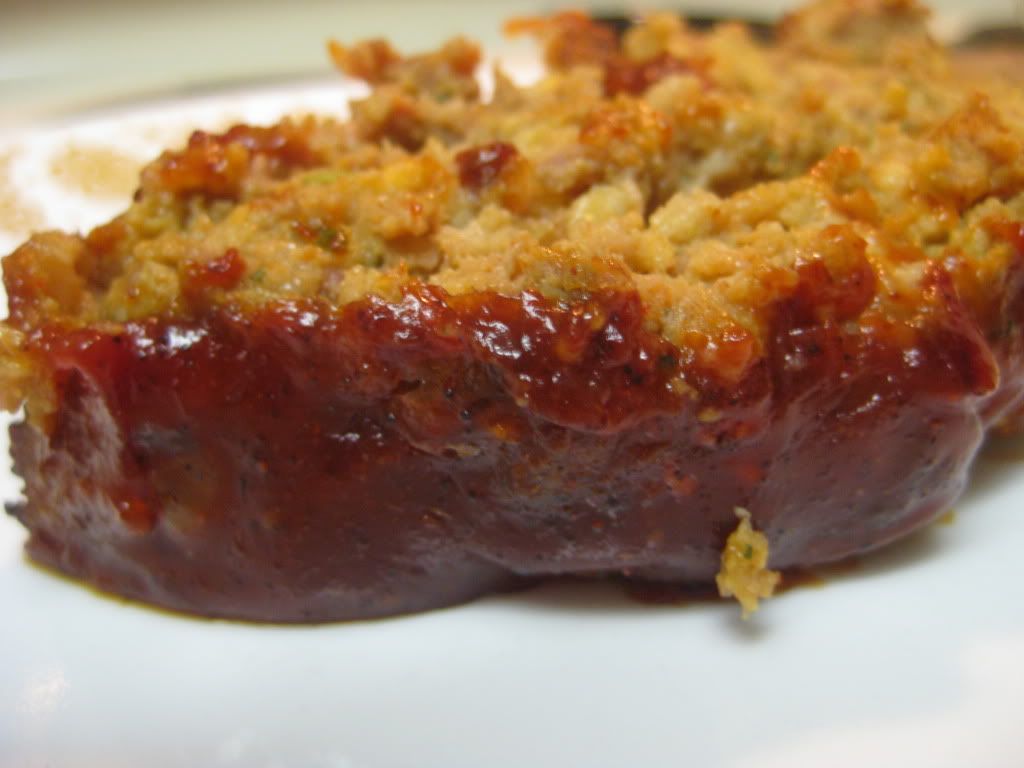 I am quite pleased with the adaptation I made, although I can't imagine how the pureed chipotle chili would affect my mouth (not well, more than likely!) The meat was super moist with the addition of bacon. And with all the spices and herbs that amped up the flavor even more. This version made a bland meatloaf into something superb. It's also fun to experiment with generic recipes, especially when you can create something new entirely.
Join us tomorrow as Tyler tries his hand at making a quintessential dish homemade. Until then,
~Cheers!