Good evening everyone! I, like Tyler, felt very ambitious this week when taking on my night of cooking. As I was searching recipes, I came across one that I could do in a snap. But I felt that it needed something a little bit more, not just the main course. So tonight, I am making two (count 'em, TWO) recipes to share with you all. Both are relatively easy and can make creating a meal easy as cake (although I won't be making cake, I'm not that ambitious.)
The Recipe: Pan-Grilled Flank Steak with Soy-Mustard Sauce
Original Recipe Found In: Cooking Light, April 2012
What You'll Need:
1 Pound Flank Steak
1 Teaspoon Canola Oil
1 1/2 Teaspoons Garlic (Minced)
2 Tablespoons Dijon Mustard
3/4 Teaspoon Sugar
1 1/2 Tablespoons Heavy Whipping Cream
2 Tablespoons Chopped Fresh Cilantro
To start, heat a grill pan on the stove over high heat. Sprinkle the steak with salt and pepper and lightly coat the grill pan with cooking spray. Once the grill pan is nice and toasty, add the steak to the pan. Grill each side of the steak for five minutes or until desired doneness (add 1 to 2 minutes for each level of doneness you're searching for. 5 minutes = medium rare, 6-7 minutes = medium - etc.) Once the steak is done grilling, remove the steak from the grill and let it stand for three minutes.
Typically, when a recipe lists an exact time to grill a steak, it's usually for a medium rare doneness. I enjoy a well done steak that's not completely burnt, meanwhile, Tyler enjoys a medium steak. Finding a happy medium when grilling is always a task since we like our steaks two different ways. Hopefully, with enough grilling opportunities I can perfect this daunting task (as such I am doing this evening.)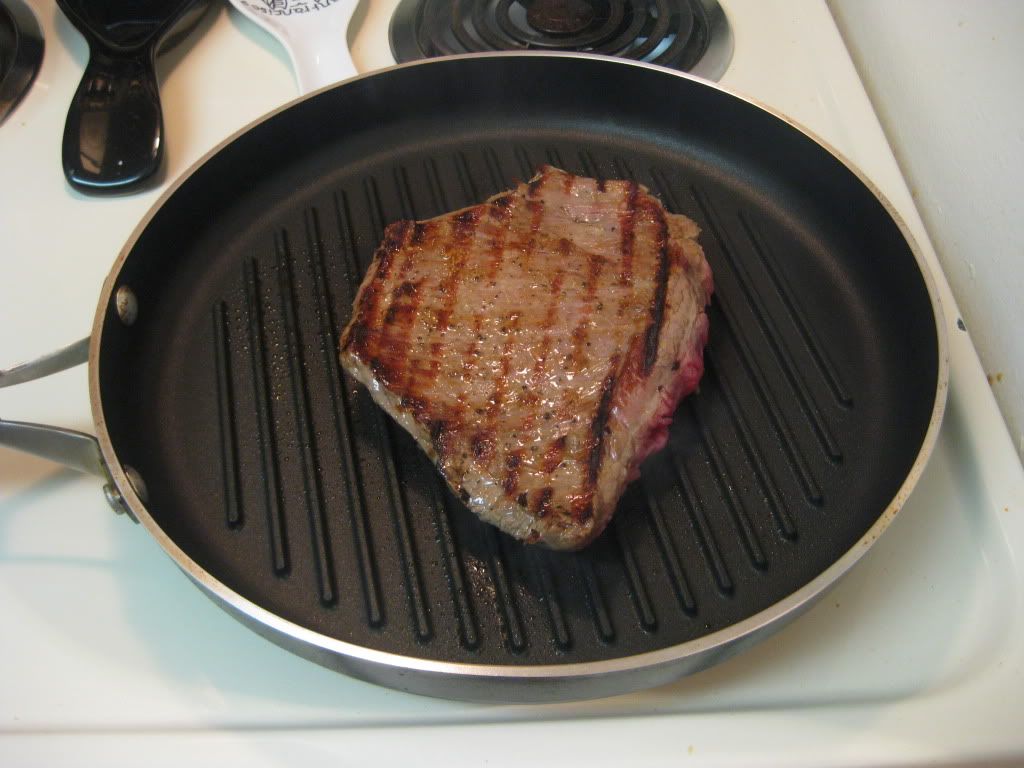 This was taken before the billows of smoke came from the steak.
Once the steak is resting, heat a small skillet on the stove over medium-high heat. Add the oil to the pan and swirl to coat. Add the minced garlic and cook for 30 seconds, just long enough so the garlic becomes fragrant. Add the soy sauce, mustard, and sugar. Cook the mixture for one minute, or until it just begins to bubble. Remove the pan from the heat and stir in the cream and one tablespoon of cilantro.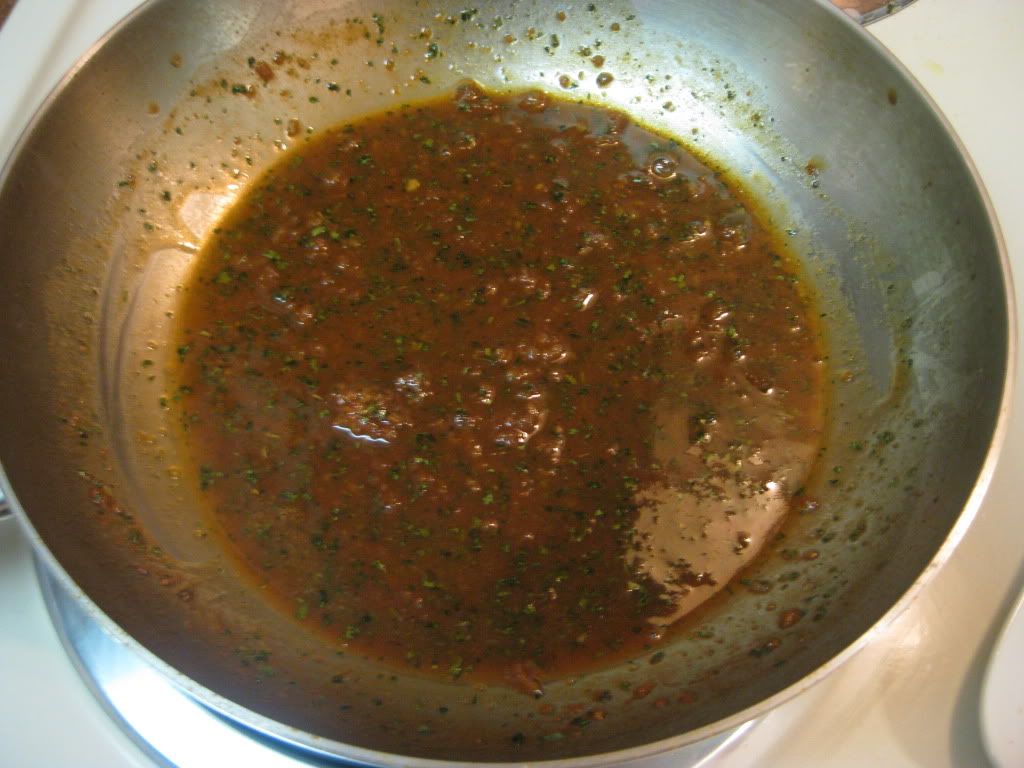 Doesn't look that great, but a surprise lurks beneath the surface.
Returning to the steak, cut it diagonally, across the grain, into thin slices. Sprinkle the steak with the remaining cilantro, serve with the sauce, and enjoy!
But that's not all! As I mentioned, I had the time this evening to create another dish to have the perfect pair of recipes.
The Recipe: Roasted Red Potatoes
Original Recipe Found In: Cooking Light, April 2012
What You'll Need:
1 Tablespoon Olive Oil
2 Shallots (Sliced Thin)
1 (20 ounce) Bag Refrigerated Red Potato Wedges
(You can easily make your own red potato wedges by slicing up whole red potatoes - don't spend the extra money on pre-cut wedges when whole potatoes are much cheaper.)
To start, preheat an oven to 400 degrees. Next, combine all the ingredients on a large jelly roll pan (or baking sheet.) Sprinkle the mixture with salt and pepper and toss well. Roast the coated potatoes at 400 degrees for 20 minutes or until throughly cooked, stirring after 15 minutes. Serve with the steak and enjoy!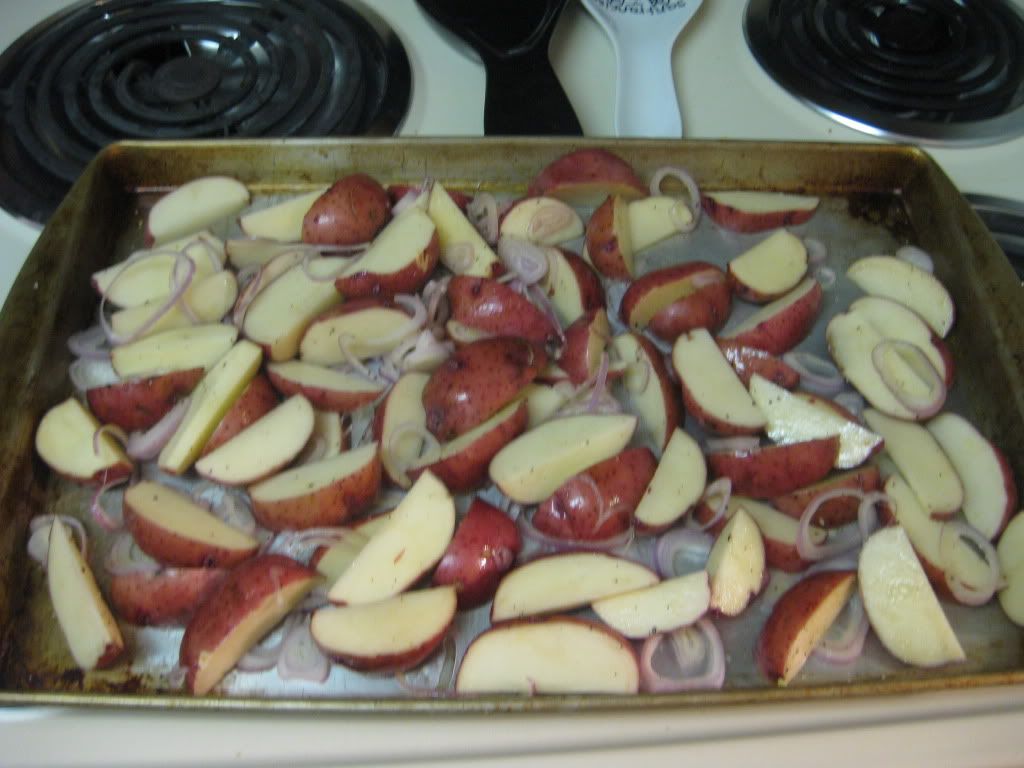 The End Result: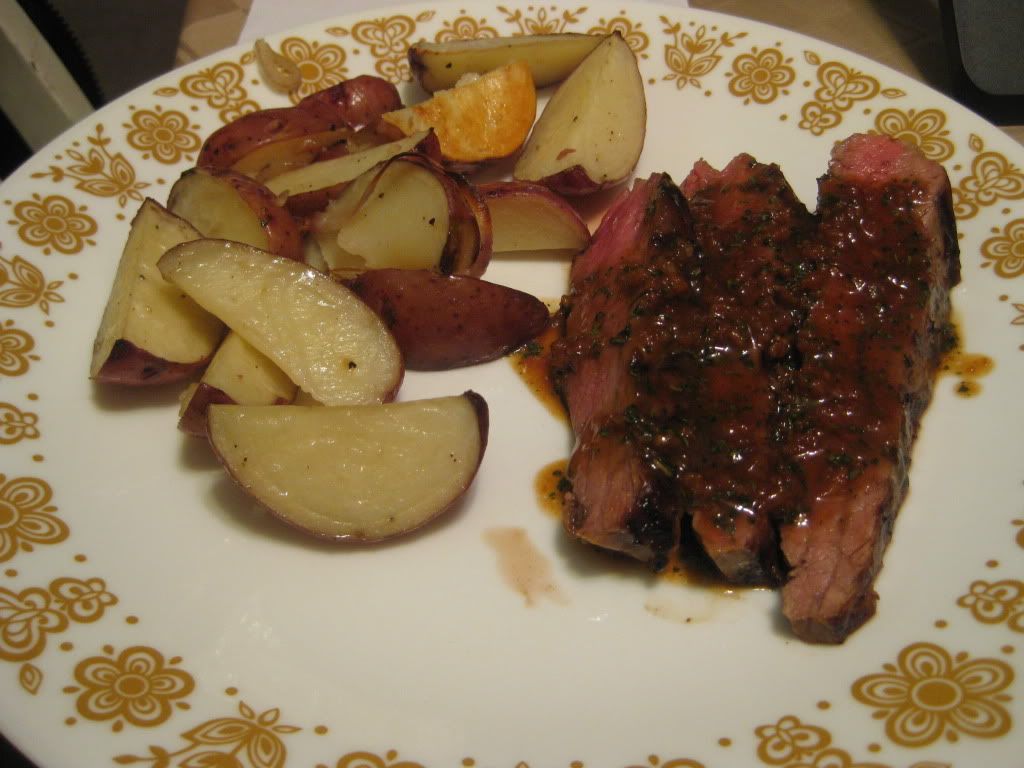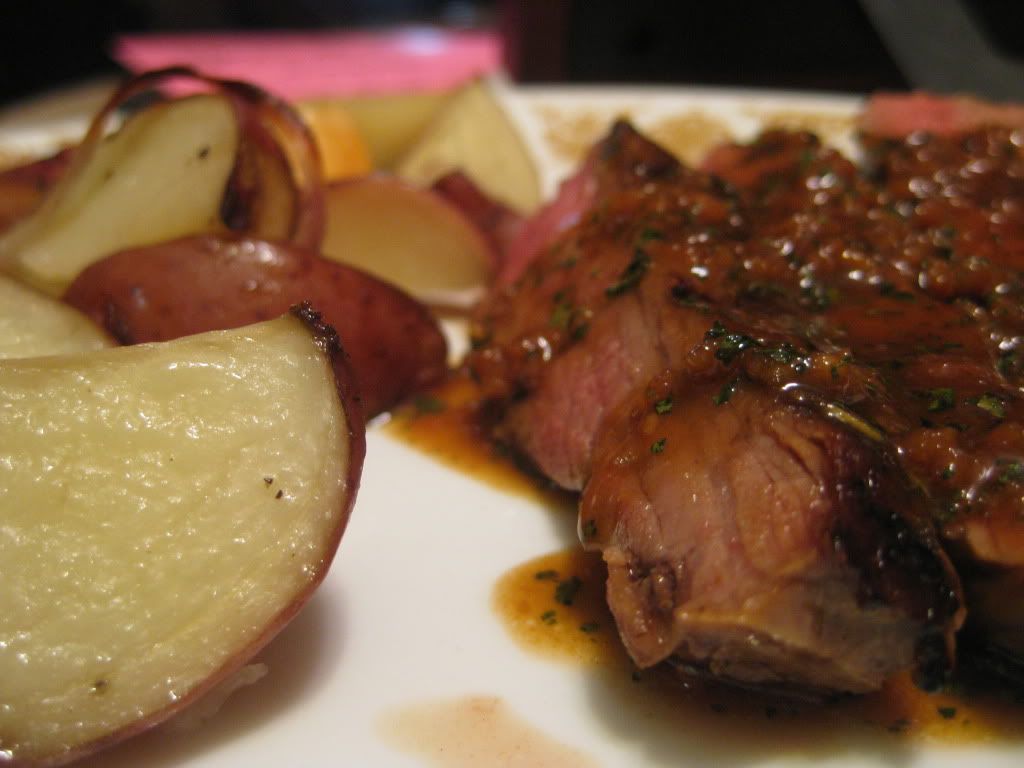 Like I mentioned in the title, this a modern twist on the classic Meat and Potatoes dish. Granted, you could take any meat and throw it with any style of potato. But roasting the red potatoes with shallots gives it a bit of an oniony kick and adds a new depth of flavor that I haven't experienced before. The steak, with the soy-mustard sauce, not only had a slight Asian influence, but made the steak super savory and rich. The sauce was probably one of the best sauces I've had or made for a dish. I tried pairing it with the potatoes and it didn't have that same delicious taste, so it's definitely "with only steak" type of sauce. Overall, a great pairing of flavorings for an old favorite.
Join us tomorrow as Tyler tackles another recipe - but this one may be like something you have never tried before. Until then,
~Cheers!