Good evening everyone! The weather has returned to a bit of normalcy here in the greater Des Moines metro. Last week we were reaching 80+ degrees and now, we are a bit cooler in the high 60's. I wouldn't mind if the temperatures stayed like this all summer, but we all know that it probably won't. With temperatures and nights like these, it's nice to not slave all evening over a dish and not being able to enjoy the weather. Tonight's recipe is no exception: a light pasta that won't weigh you down and it can be created in a snap. Plus mixing different flavor combinations will make this a unique dish.
The Recipe: Orecchiette Carbonara with Leeks
Original Recipe Found In: Bon Appetit Pasta Perfect
What You'll Need:
4 Applewood-Smoked Bacon slices, diced
2 medium Leeks, halved lengthwise, cut crosswise into 1/3 inch pieces
10 Ounces Orecchiette (or small shell pasta)
2 large Eggs, room temperature
1/2 Cup freshly grated Parmesan cheese
1 Tablespoon freshly chopped Italian Parsley
To start, cook the bacon in a large skillet over medium high heat until the bacon is crispy, which should take about 8 minutes. Transfer the bacon to a paper towel lined plate to drain. Reserve two tablespoons of the bacon drippings in the skillet. Add the leeks to the skillet and sauté until they are softened, about six minutes.
Meanwhile, bring a pot of salted water to boil and add the orecchiette. Cook the pasta to package directions or al dente. Reserve a 1/2 cup of pasta water before draining the pasta in a colander and reserve until later. Orecchiette pasta is shaped like little ears, which makes them distinctly different in the pasta world. Last time I used them (almost two years ago!), they were incredibly hard to find. Since our local Trader Joe's opened a year and a half ago, they have opened up a lot of different food options that we weren't able to use before. This includes the orecchiette, which was mingled together with regular pastas, such as spaghetti and penne.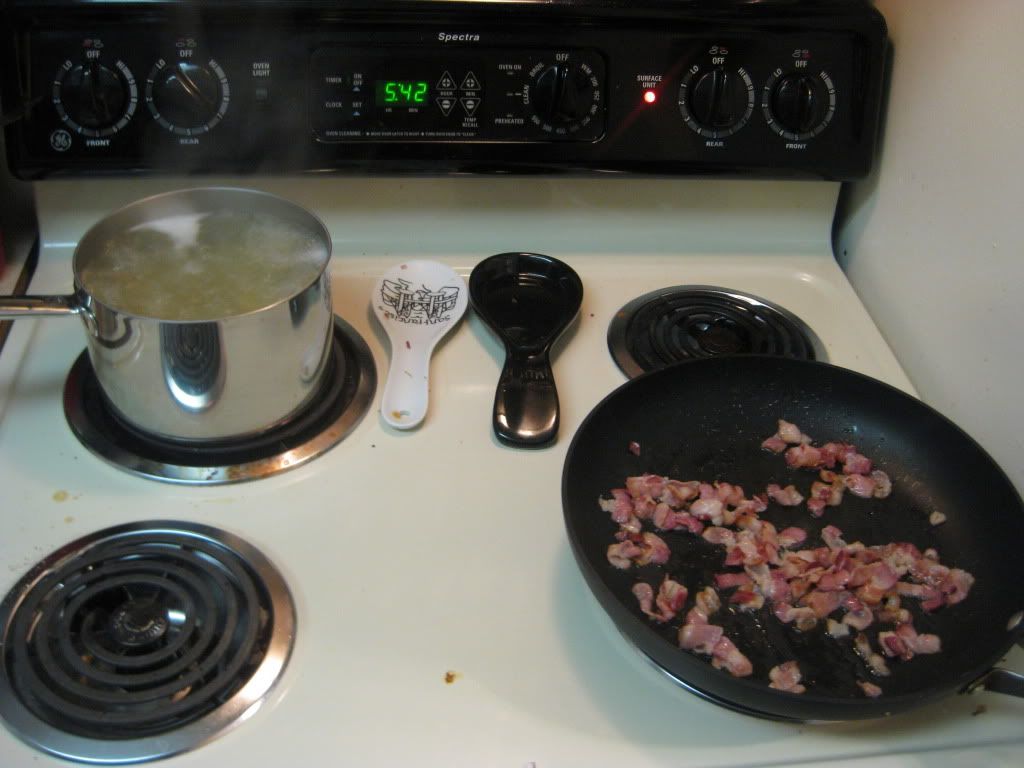 Nothing like multitasking during cooking!
Next, in a small bowl, whisk the eggs and Parmesan cheese together to blend. Slowly add a 1/4 cup of the reserved pasta water into this mixture. Add the drained pasta to the skillet with the leeks and stir to heat the combination through. Pour the egg mixture to the pasta and leeks and stir until the sauce is just creamy and the eggs are no longer raw. This should take about two minutes: if the sauce is still runny, keep the skillet on over very low heat. But do not, I repeat, DO NOT overcook - the eggs with curdle and not create a sauce. Add the remaining pasta water if the mixture looks dry. Add the bacon and parsley and stir to incorporate. Serve with sprinkled Parmesan cheese and enjoy!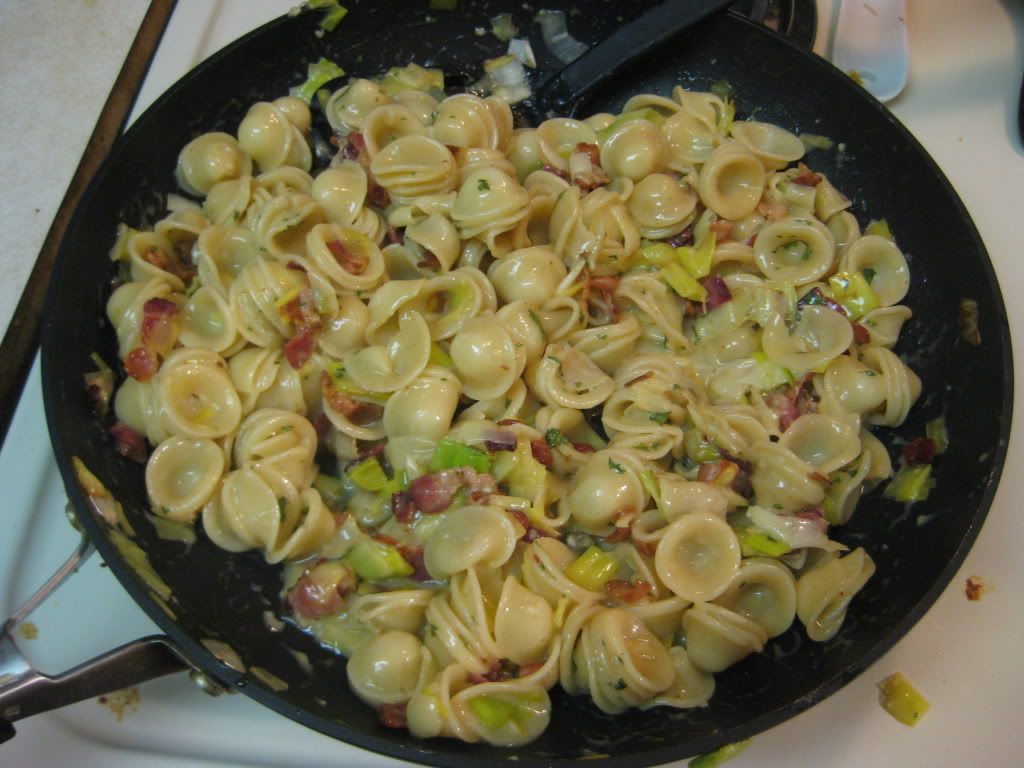 The End Result:
I've never created a carbonara before and I had my reservations about creating a silky, smooth sauce from just eggs and cheese. But lo and behold, it was actually quite simple and not that daunting of a task. The orecchiette soaks up the sauce and adheres to the leeks and the bacon. Since that flavor is soaked in, it just melts in your mouth and creates something completely unique. I would make this again in a heartbeat and I'm just thrilled to have an easy, great tasting pasta dish added to my 'return to' recipes.
That's all we have for you this week. We hope we have stirred some culinary inspiration into your thoughts and you can share it with you and yours. Join us on Monday for another excursion for Around the Culinary World. Until then,
~Cheers!