Good evening everyone! I'm launching a (sort of) new mission. In an effort to get healthier, I'm scouring our vast resources to find good for you recipes. For long time followers of the blog, this was one of our original goals for the blog. We've deviated from that theme for a little while (I mean, who could forget the pizza, with a mac'n'cheese crust.) But we've really made an effort over the past year to find that theme again. Tyler has been especially dedicated to finding and sharing these healthy recipes, I've been...well, less than strict on that sometimes! But I'm going to really try to make a concentrated effort to stick with the healthy, so goodbye pasta and cheese, you're no longer welcome here! (Okay, maybe in moderation, but that goes with every type of food.)
Tonight, I'm making one of our favorite styles of food: Mexican. It's also one that I tend to have a love/hate relationship. I love all the flavors that encompass Mexican, but hate that it's so high in caloric value. I will attempt to squash that love/hate combination and hopefully turn it into something that I make whenever I feel like it. Also, we're trying a new ingredient: zucchini. I've had zucchini bread before but I've never cooked with it. I hope that it isn't too overpowering for the entire dish.
The Recipe: Turkey Enchiladas
Original Recipe Found In: Fitness Magazine, May 2012
What You'll Need:
1 Tablespoon Olive Oil
1 Large Onion, chopped
1/2 Pound ground Turkey
1 large Zucchini, shredded
1/3 Cup Stuffed Green Olives, chopped, plus 2 Tablespoons Olive Brine
2 Jalapeños, seeded and chopped
1 8 Ounce can Tomato Sauce
1 Teaspoon ground Cumin
1 Teaspoon dried Oregano
1/4 Teaspoon Salt
1/4 Teaspoon ground Cinnamon
8 Corn Tortillas
1/2 Cup reduced-fat shredded Cheddar Cheese
*Note: Since neither one of us like olives, we are omitting those from tonight's version of the recipe. Also, we don't want a lot of heat, so we are omitting the jalapeños.
To start, preheat an oven to 375 degrees. Coat a 2 quart rectangular baking dish with cooking spray. Meanwhile, in a large nonstick skillet, heat the oil over medium high heat. Add the chopped onion and cook until softened, about five minutes, stirring occasionally. Next, add the turkey, zucchini, olives, olive brine, jalapeños, 1/2 cup tomato sauce, cumin, oregano, salt, and cinnamon. Cook this combination for six to seven minutes, stirring occasionally. The turkey should be cooked almost all the way. Fortunately, turkey doesn't take that long to cook, so the cooking time in the skillet is minimal.
I know it doesn't look that appetizing, but it's quite tasty.
Next, wrap the tortillas in a damp paper towel and microwave for 30 seconds. This ensures that the tortillas are not only warmed, but bring out their natural flavors. Most corn tortillas are refrigerated, which isn't the case for flour tortillas. I've learned for a more authentic Mexican flavor, you want to stick to corn tortillas. Corn tortillas are also lower in calories. For those of us who are used to flour, it's a little bit of an adjustment. But, to bring out true flavor, corn is the way to go.
Spoon a generous 1/3 cup of the turkey mixture down in the center of a tortilla. Roll the tortilla up and place the seam side down in the baking dish. Repeat with the remaining seven tortillas and turkey mixture. Spoon the remaining tomato sauce over the enchiladas and sprinkle with cheese. To use up remaining cheese I have in our refrigerator, I'm also sprinkling a light amount of Mexican cheese on top, just to give it a little bit more of a flavor. Cover the baking dish with aluminum foil and bake for 30 minutes. Remove the foil cover, let stand for ten minutes, serve, and enjoy!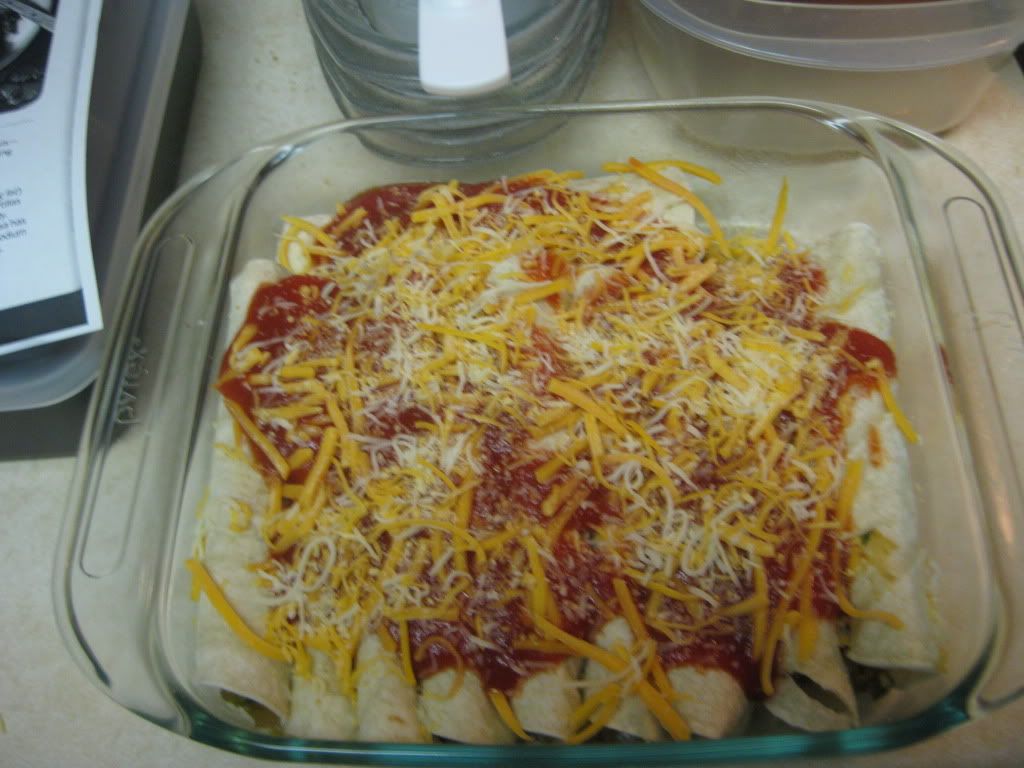 The End Result: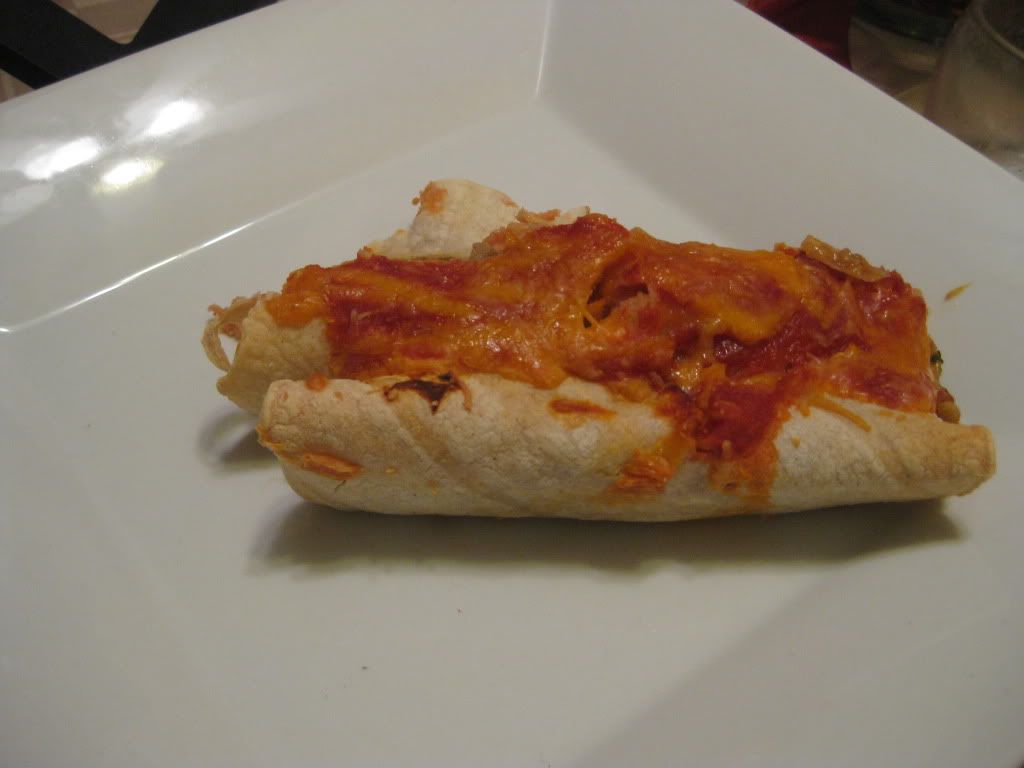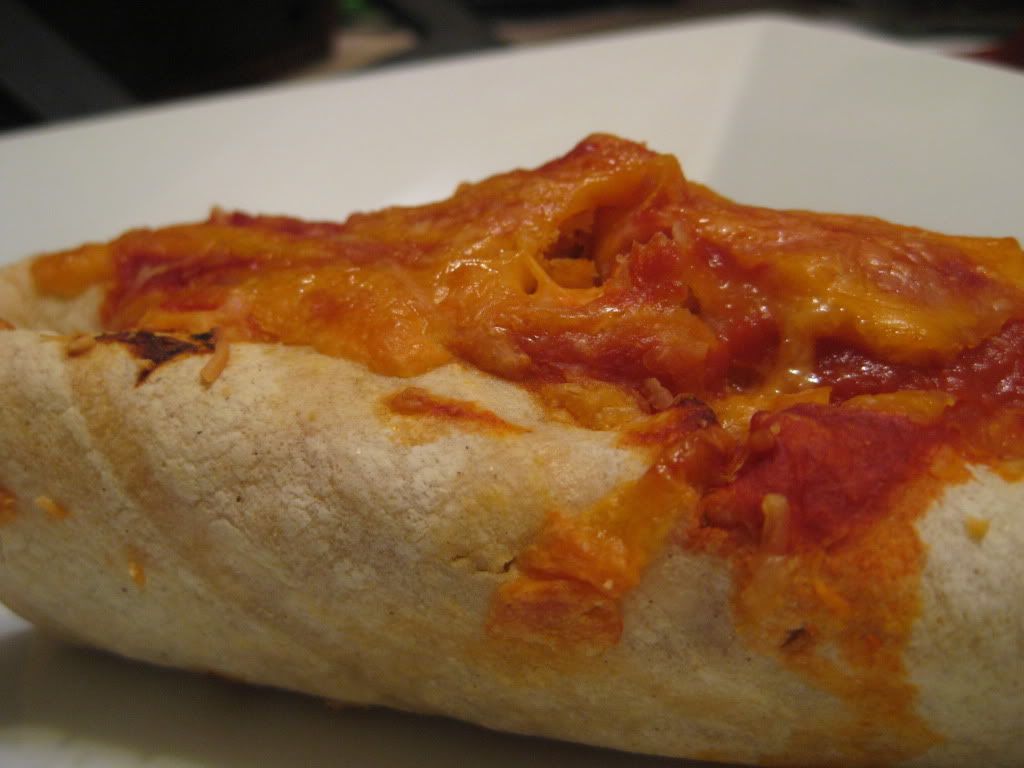 This is more of a red sauce version of enchiladas, but the taste does not disappoint. I realized after I finished tonight's recipe that I forgot to add the foil to cover the dish while cooking. Granted, it did dry out the enchiladas a bit, but the tortillas got crunchy and added a new depth to it. (We actually preferred the crunchy tortillas to the usual softer variant you get with a standard enchilada recipe). The tomato save mixture did dry out, but it didn't lose any flavor (it just baked right in) so, all things considered, not at all a bad result despite missing a step! The ground turkey is obviously a healthier choice than ground beef, and using onions, olives, zucchini, and jalapeños adds a nice enhancement to inside of the enchiladas. This is the first time we're using zucchini on the blog and I will have to say that it's a good addition to our list of ingredients. Overall, a great tasting Mexican dish, and at only 319 calories per serving, it's won't add too much to the waistline.
Join us tomorrow as Tyler serves up one of our favorites here on the blog, but will add a whole new dimension to a classic. Until then,
~Cheers!