Good evening everyone! We're no strangers to a good burger recipe. From the
classic
, to the
complex
and
everything in-between
, if its burger based, we'll give it a shot. The biggest reason for this willingness to explore is our fantastic 'base' burger recipe. We tried and have perfected Jamie Oliver's 'Cracking Burger' recipe to the point where it's downright foolproof. This flavorful base provides and rich and juicy burger every time. The best part is, with fresh ingredients, even the traditionally not-so-healthy burger is an okay addition to your healthy eating plan. (It's okay to splurge once in a while - especially when everything is made fresh!)
Tonight I'm trying a new burger recipe with a twist. Instead of cooking up the burger the usual way (via skillet, grill pan or George Forman Grill) I'm trying a cooking technique that I've always wanted to use - steam cooking.
The steam cooked burger is starting to gain in popularity across the country. When you see the end result, it's not hard to imagine why. The burger that is cooked in steam retains a great deal of moisture and flavor. I've read countless tales of people trying steam cooked burgers and then never wanting to return to the traditional cooked burgers again. Tonight, we get to see what all the hubbub is about. Let's get cooking!
The Recipe: Beer Cheese Burgers
Original Recipe Found In: Food Network Magazine - June 2012
What You'll Need:
1 Pound 85/15 Ground Beef*
12 Unsalted Saltines (Ground into a powder)
2 Tablespoons Dijon Mustard
1 Egg
Pinch of Dried Parsley
2 Tablespoons Butter
2 Tablespoons All Purpose Flour
1/4 Teaspoon Mustard Powder
3/4 Beer (Your choice of type)
1/2 Cup Half and Half
1 1/2 Cups Sharp Cheddar Cheese (Shredded)
*Despite our usual insistence of using a leaner style of ground hamburger, you'll want to go against the grain with any burger recipe and pick up 80/20 or 85/15 ground beef instead. The higher fat content helps create a juicer and more flavorful burger. So long as you're not cooking these up each and every night, the extra 5% fat content isn't going to hurt you.
Begin by preparing the cracking burgers. If you need detailed step by step instructions, feel free to read the original cracking burger recipe
HERE
. If you're familiar with the process of constructing the burger, simply mix the beef, saltines, dijon, parsley and egg well and then form 4 burger patties by hand.
Once the patties have been formed, press your thumb into the center, creating a 1/2 indentation in each patty. This indentation keeps the burgers from "puffing" during cooking. This indentation technique isn't just for steam cooked burgers - you can use this for just about any burger method - grill or oven. That way you don't have to press on the burgers with a spatula (big burger no-no) during cooking.
Once the patties have been prepared, set them aside and begin preparation of the beer cheese sauce.
In a small sauce pan, melt the 2 tablespoons of butter and then slowly whisk in the flour and mustard powder. All this mixture to simmer for 2 to 3 minutes, stirring occasionally - but be careful not to brown the mixture (you don't want to create too dark / heavy of a flavor).
Next, whisk in 3/4 cup of the beer (we're using my personal favorite - Red Hook ESB) and bring the mixture to a light simmer. Once simmering, slowly whisk in the half and half. All this mixture to simmer, with occasional whisking, for 4 minutes or until it begins to thicken. (My experience with this step found that the mixture thickened almost immediately. This is probably highly dependent on the type of beer you're using. I also had to occasionally add splashes of extra beer to keep the sauce thinned out slightly. This seems like a "your results will vary" area, so pay close attention to the sauce).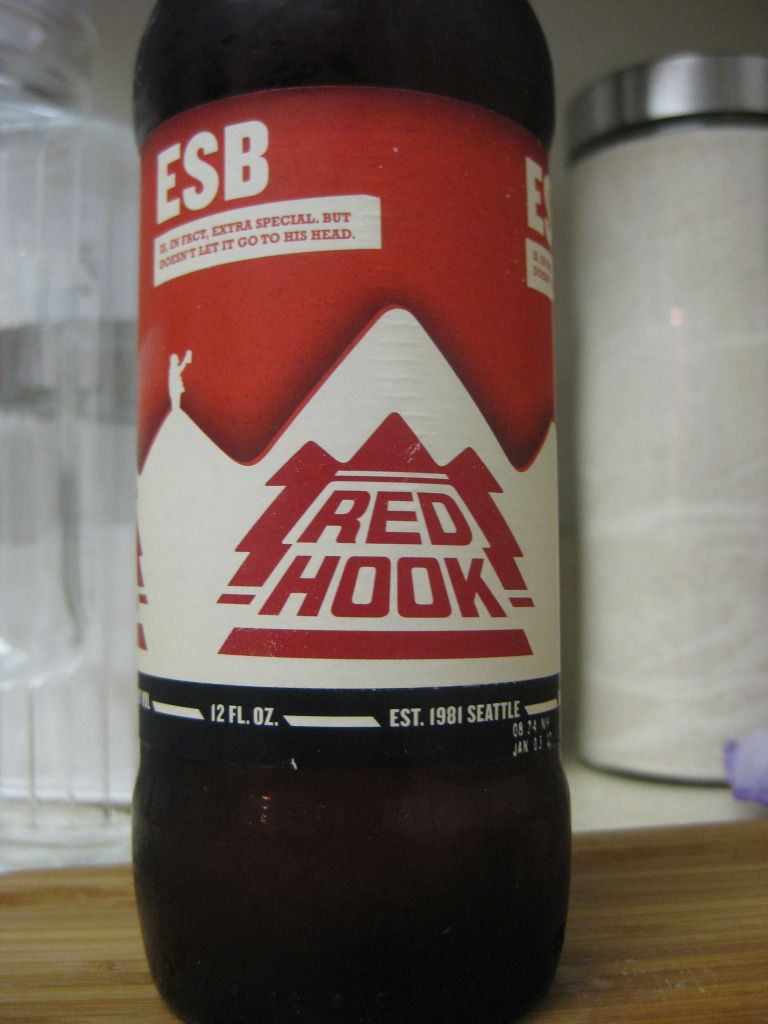 Once thickened, stir in the sharp cheddar cheese (working it in small groups) until the cheese is completely melted. Set the completed sauce aside until the burgers are ready.
Now, on to steam cooking the burgers!
Place a large skillet over medium high heat and add the burgers to the skillet (indentation side up). Next, add 1/3 cup water to the skillet and cover (make sure you're using a skillet with a tight fitting lid - you don't want the steam escaping from the edges). Allow the burgers to cook undisturbed for 4 minutes or until they are slightly firm to the touch in the center of the patty.
Steamin' away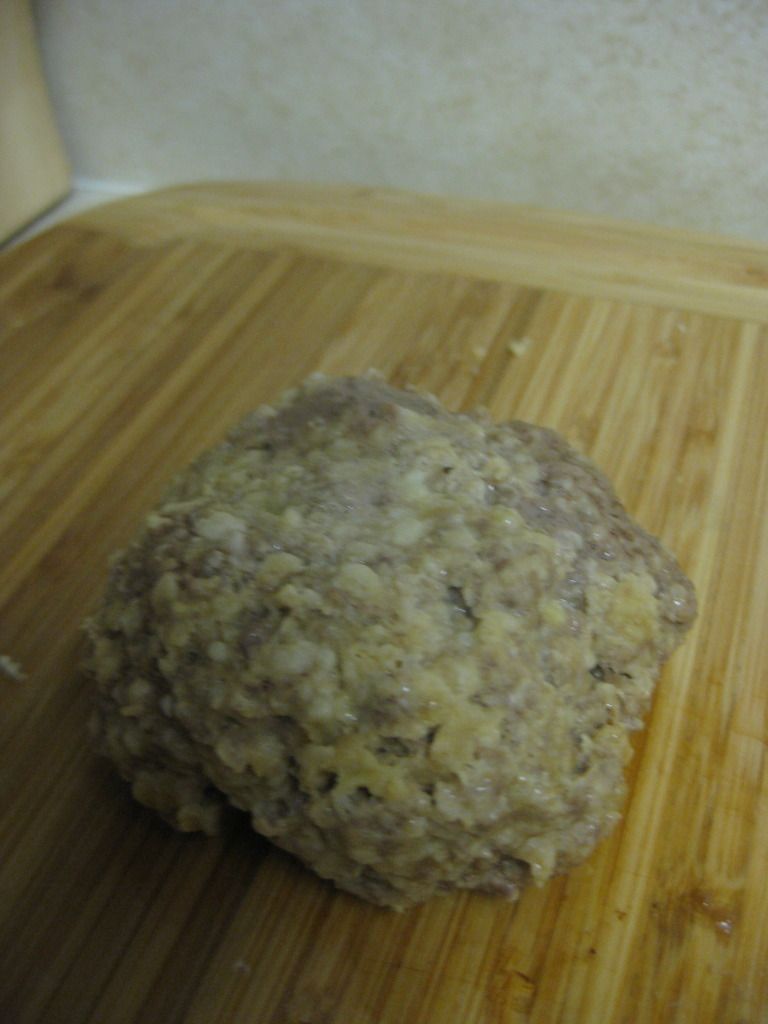 The only downside to steamed burgers? They're not that visually appealing when finished
Once the burgers have been steamed to perfection, serve with the beer cheese sauce and top with your favorite veggies and enjoy!
The Results: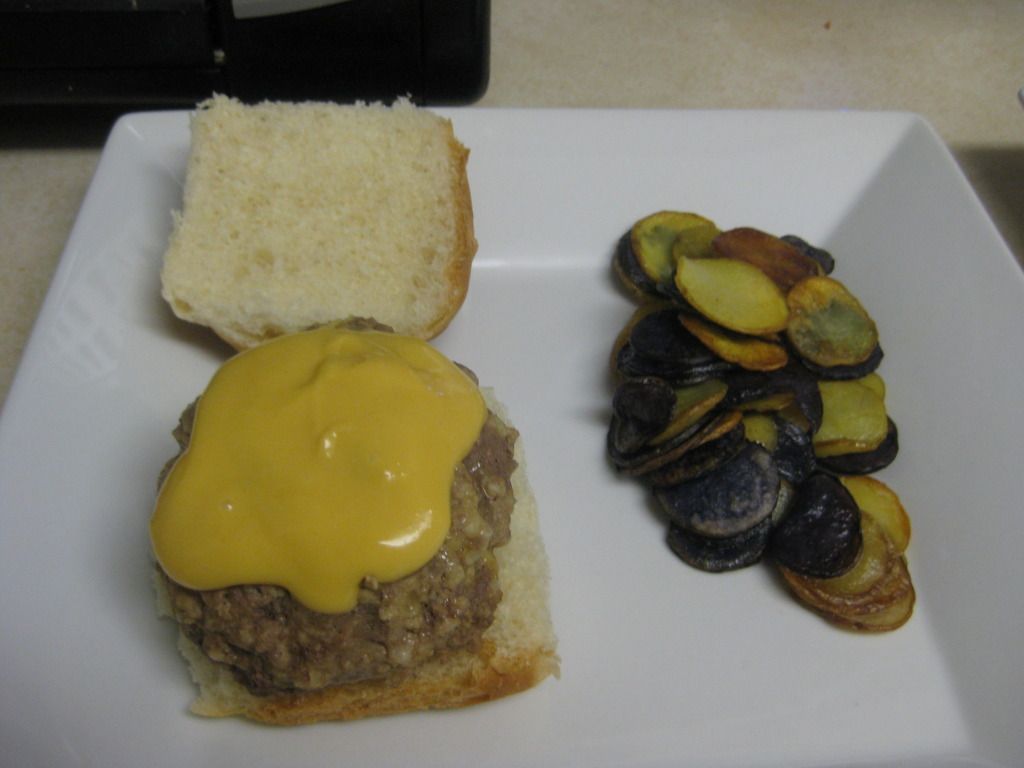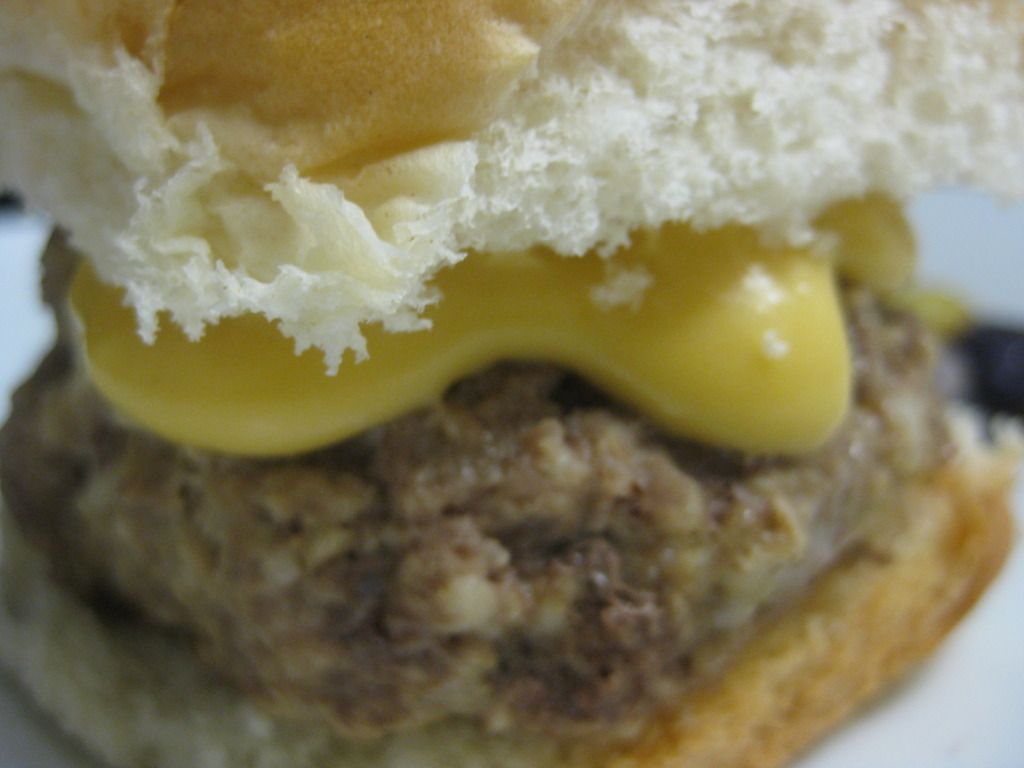 Steam cooking certainly has a large following for a reason. The burgers were amazingly juice and moist - it was almost a surprise after the first bite at just how much moisture was still in the burger. We've tried many burger cooking methods and even have a prefaced burger recipe that is supposed to keep most of the moisture and flavor in the burger - but we've never had a burger that was THIS juicy.
The beer cheese sauce was exactly as you would expect it to be; rich, flavorful and with the nice undertone of a flavorful beer. Luckily, all of the alcohol flavor cooks off fairly quickly - making the sauce a simple, safe for the whole family topping.
You'll notice in the final picture that I served these burgers with a side of fried potatoes. Those were made by simply slicing some red, yukon and purple potatoes (leftover from last week's recipe) very thin and frying them in a skillet with a little olive oil. They added a classic "french fry-esque" flavor to the plate without all of the extra fat and sodium of traditional french fries.
That's all we have for you this week. We're back on Monday with a new edition of Around The Culinary World (We've got a stockpile of stories to share since it's been a few weeks since our last iteration of that feature). Everyone enjoy the long weekend! Until Monday,
~Cheers