Good evening everyone! I'm excited to share tonight's recipe, because it's so symbolic in a lot of ways. After we spoke about Food Revolution Day and Jamie Oliver's Food Revolution platform on Sunday, I decided to flip through Jamie Oliver's Food Revolution cookbook for old time's sake.
I owe a lot to Jamie's Food Revolution cookbook as it was the device in which I learned to cook. When we first decided to start cooking on our own and trying to eat healthy in place of eating out, Food Revolution was the first book we picked up. I had the ambition to cook, but absolutely no knowledge or experience. Thankfully, the Food Revolution cookbook was written in such a way to not intimidate the novice chef – rather it made cooking simple and even fun. The simplified recipes broke down the terminology into "Jamie-isms" (Rather than exact measurements of olive oil, he tells you to use two "glugs" or the sound the bottle makes when it's pouring).
His simple and delicious recipes did two things for my amateur cooking enthusiasm. It built confidence as I realized I could, in fact, make tasty recipes at home. Secondly, it sparked a fire that I didn't know I had. It ingrained cooking as a passion, not just a means to eat.
As time progressed, I cooked my way through the entire Food Revolution book and moved on to more challenging things. Jamie's Food Revolution book did exactly what it was meant to – it provided easy recipes to get people into cooking. With that passion lit, I moved on from the Food Revolution book and into more complex and challenging recipes. I realized on Sunday that it had been a solid year since I had browsed through that cookbook.
I found my well worn copy (it's well used – food stains, creased pages and notes in the margins – an indicator of a good cookbook) and flipped through the pages. That's when I stumbled across the recipe for a simple stew. The basic stew recipe was simple and premise and great in flavor (it was one of the first things I made). However, now graced with my experience and knowledge I've picked up over the years – this original recipe was a little too simple. So, using Jamie's recipe as inspiration, I decided to create and adapt my very own stew recipe. It's almost like coming full circle. Nearly two years from the start of this blog – which was inspired by Jamie Oliver and his recipes, I'm taking the skills I've honed and adapting a Jamie Oliver recipe into an Out Of The Culinary Original. It's poetic in a way.
Alright, enough nostalgic waxing – let's get to cooking!
The Recipe: Chicken & Parsnip Stew
Recipe Inspired By: Jamie Oliver
What You'll Need:
2 Celery Stalks (Chopped)*
2 Medium Onions (Diced)*
2 Large Carrots (Peeled, Chopped)*
1 Pound Boneless, Skinless Chicken Thighs
3 Medium Parsnips (Peeled, Chopped)
2 Cups White Wine
2 Cups Low Sodium Chicken Broth
1 Handful Fresh Thyme Sprigs
* Trader Joe's and other 'fresh food focused' grocers such as Whole Foods sell a mirepoix mix (carrots, onions and celery – a common base for most stews, soups and roasts is classically called mirepoix). It's sort of a lazy way out, but when you're pressed for time or coming home after a busy day it makes a perfect convenient solution to chopping up all the veggies yourself. At only $2.99 (Trader Joe's) it's an affordable solution as well.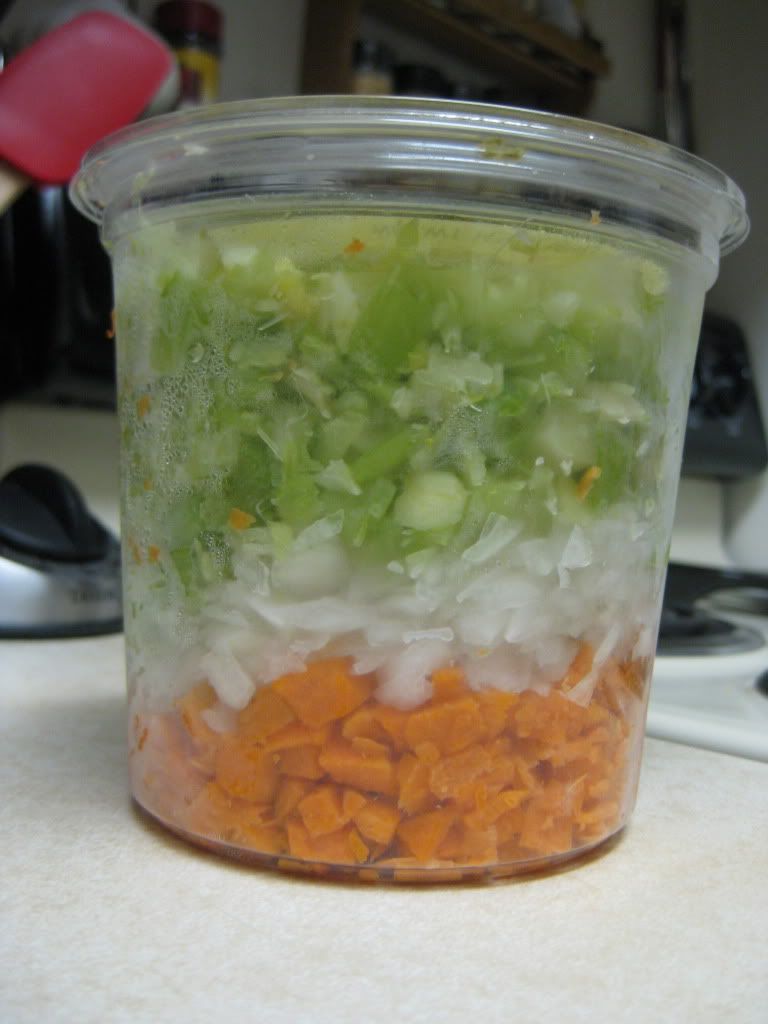 This recipe is designed for use in a slow cooker. This week shaped up in such a way that I simply did not have time to come home and cook. Rather than simply cutting corners and preparing a less than healthy meal – I turned to the busy chef's best friend, the slow cooker. Alternatively, this dish can be cooked up in a Dutch oven (350 degrees for 3 to 4 hours) but it was designed for a slow cooker.
Normally, when making a chicken stew, you dice the chicken so it is not served in large, hard to eat chunks. However, since this dish is going to be cooking for about 8 hours, the chicken is going to be mostly broken down and will easy be shredded with a spatula when mixing the pot before serving. In other words, it's another time saving step!
Rather than prepping and chopping the thyme, you can easily create an herb bundle by simply using cooking twine. Simply grab a small handful (no precise measurement – in tribute to Jamie Oliver) and wrap them in cooking twine as pictured. Leave the long end strings on each side, that way it's easier to locate and discard the thyme bundle before serving.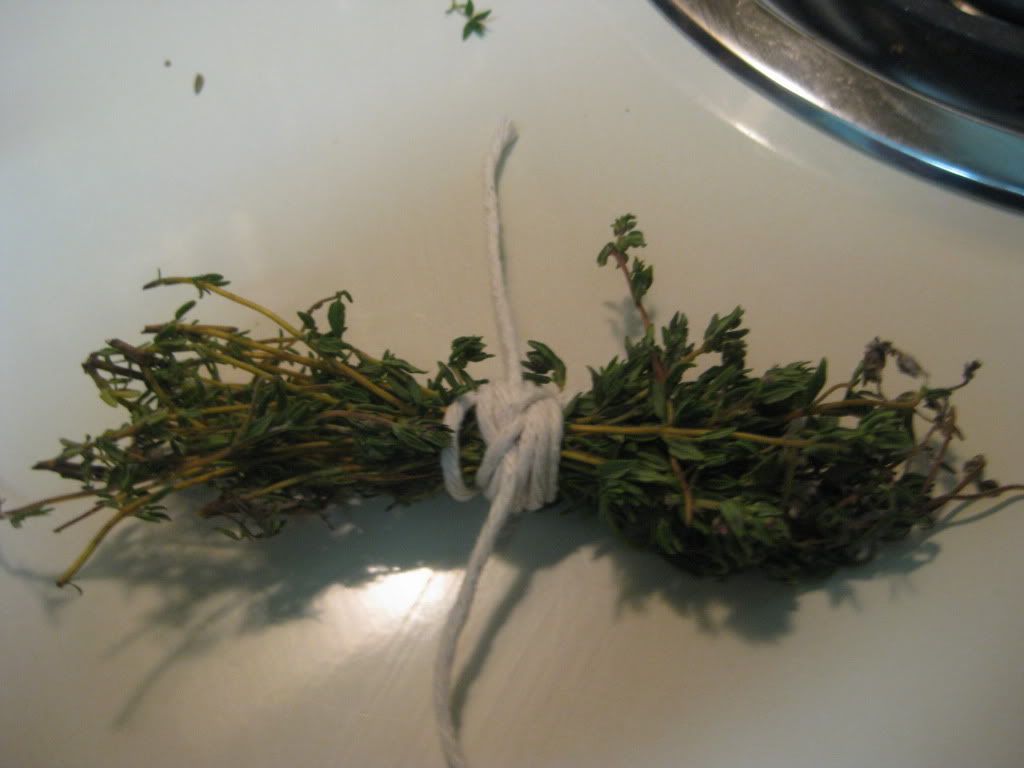 To begin preparing the stew, layer the chicken thighs into the bottom of a 3 to 5 quart slow cooker. Pour the mirepoix mixture over the chicken and work it in amongst the meat. Next, add the diced parsnips and mix them in alongside the other veggies and chicken. Finally, add the white wine and chicken broth to pot. Nestle the thyme bundle in the center of the pot, place the lid on the slow cooker and set it to low. Allow the mixture to cook for 5 to 8 hours before moving on to the next steps.
Note: I decided to use parsnips in this recipe simply to change up the flavors a little bit. This is the second appearance of parsnips on the blog (check out our first run-in HERE. Interestingly enough, just like our first time purchasing the parsnip – the Hy-Vee employee was stumped as to what the veggie was. "Is this a….parsnip?") Parsnips are a root vegetable, much like a carrot or potato and can be found in almost any grocery store. Parsnips have a hard, waxy skin that must be peeled off before serving (you certainly don't want to eat it). Once baked parsnips have a consistency much like a potato but taste almost like a carrot. They're a unique addition to this rustic style stew. However, if you don't care for parsnips you can simply use russet potatoes in their place. You'll yield the same result, albeit with a slightly less complex flavor.
This style of cooking is actually derived from Irish stews. Rather than browning the meat and caramelizing the onions like most stews, the Irish approach is to simply lump it all together and allow the pot to stew. This approach creates a more harmonious flavor at the expense of sharper high end and subtle low end flavors. For a rustic stew such as this one, that's exactly the flavor blending you're looking for.
Once the stew has cooked for 8 hours, remove the thyme bundle and give the mixture a good stir with a rubber spatula. This stirring should cause the large chicken thigh meat pieces to break apart and shred. (If not, simply "jab" at them with the spatula to speed up the process). At this point, assess the stew. If it's thicker than you'd prefer, add a little low sodium chicken broth to the slow cooker until it reaches the consistency that you'd like. Taste the stew and season lightly with salt and pepper to adjust the final flavor to your preference. Once the flavor has been fine tuned, all that is left is to simply serve and enjoy!
The Results: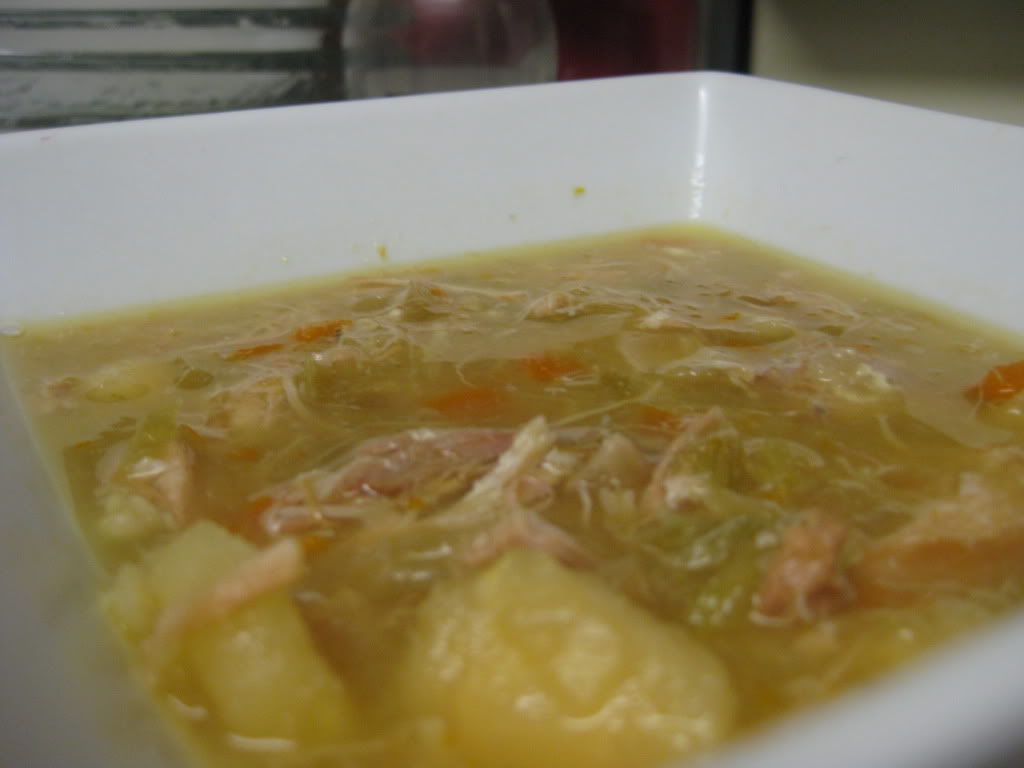 Whenever a recipe doesn't take a whole lot of effort (simply piling things into a slow cooker would qualify as being of "little effort") it's a great bonus when the flavors turn out to be amazing and complex. The base of this dish, mirepoix with white wine created a light yet flavorful backdrop to the tender chicken pieces. The parsnips were a good late addition to this recipe. After 8 hours of slow cooking, they were incredibly tender and melted in your mouth. The parsnips' flavor is hard to peg with certainty. It's like a potato, sweet potato and a carrot got together and had a baby. It's not quite any one flavor, but it has a great rustic taste that compliments this dish nicely.
That's all we have for you this evening. Later on this week we're planning on featuring our favorite cookbooks – these are the basic building blocks for anyone looking to get into cooking at home. With Food Revolution Day approaching, we thought sharing the best references for an at home cook could encourage a few more readers to take on the challenge of cooking at home and eating healthy. Be sure to stop back for that feature (likely to be posted on Thursday). Until then,