Good evening everyone! I must confess: I've been finding myself on an endless pursuit of cooking healthy Mexican food. Whether it's the variety of the Mexican genre or just my constant longing for it, I just keep ending up with a Mexican dish. I hope to break free of these limitations soon and start exploring more culinary ground. But for tonight, I present another delectable dish. There isn't a real market for "vegetarian Mexican" recipes out there (that I've seen.) And if there is, it's often ladled with cheese or other condiments. Tonight's recipe hopes to shake up that particular culinary scene with a delicious, and low calorie, alternative to standard Mexican faire.
The Recipe: Vegetable and Rice Burrito with Quesadilla Cheese
Original Recipe Found In: Cooking Light, May 2012
What You'll Need:
4 Teaspoons Canola Oil, divided
1/3 Cup uncooked Long-Grained White Rice
1 Teaspoon chopped Garlic, divided
2/3 Cup Water
1/4 Teaspoon Salt, divided
1 Tablespoon chopped Jalapeño Pepper*
1/4 Cup reduced-fat Sour Cream
1 Tablespoon chopped Cilantro
1 Teaspoon fresh Lemon Juice
1/8 Teaspoon ground Red Pepper
1 Cup chopped Onion
1 Cup sliced Cremini Mushrooms
1/2 Cup fresh Corn kernels
1 small Zucchini, halved lengthwise and sliced (about 3/4 cup)
3/4 Cup halved Grape Tomatoes*
4 (7 to 8 inch) Whole-Wheat Tortillas
4 Ounces Quesadilla Cheese, shredded
*These ingredients will be omitted for our version of the recipe tonight.
To start, heat a small saucepan over medium-high heat. Add one teaspoon of the canola oil to the pan and swirl to coat. Add the rice and 1/2 teaspoon of garlic and sauté, stirring constantly for a minute. Add the water and 1/8 teaspoon of salt. Bring this combination to a boil. Cover the saucepan, reduce the heat, and simmer for 15 minutes. After the rice is done cooking, remove the saucepan from the heat and let it stand for 10 minutes. Fluff with a fork and stir in the jalapeño. Alternatively, if you are not using jalapeños, you could stir in a teaspoon of dried cilantro to add flavor to the rice.
Next, in a small bowl, combine the sour cream, chopped cilantro, lemon juice, and red pepper. Stir until thoroughly mixed.
Over medium-high heat, begin to heat a large non-stick skillet. Add the remaining tablespoon of oil and swirl the pan to coat. Add the chopped onion, sautéing and stirring frequently for 2 minutes. Add the remainder of the garlic and mushrooms and sauté for 1 minute. After this combination becomes fragrant, add the corn and zucchini and sauté for 2 minutes. Add the remaining salt and tomatoes and continue to sauté until the tomatoes are heated thoroughly heated, about 30 seconds. Remove the vegetable mixture from the pan to a bowl, covering to keep warm. Wipe the skillet clean with a paper towel.
Next, heat the tortillas according to package directions. This will help the tortillas from tearing or cracking during the filling part of the recipe - nothing is worse than a cracked tortilla. Divide the sour cream mixture evenly amongst the 4 tortillas, spreading a thin layer in the middle of the tortilla. Top the sour cream mixture with a 1/4 cup of cheese, 1/4 cup of the rice mixture, and 1/2 cup of the vegetable mixture. Roll each tortilla up to the likes of a jelly roll.
Return the skillet to medium heat. Add 2 burritos to the pan, seam side down, and cook for 1 minute on each side, until all sides are browned. Repeat the process with the other 2 burritos. Serve and enjoy!
The End Result: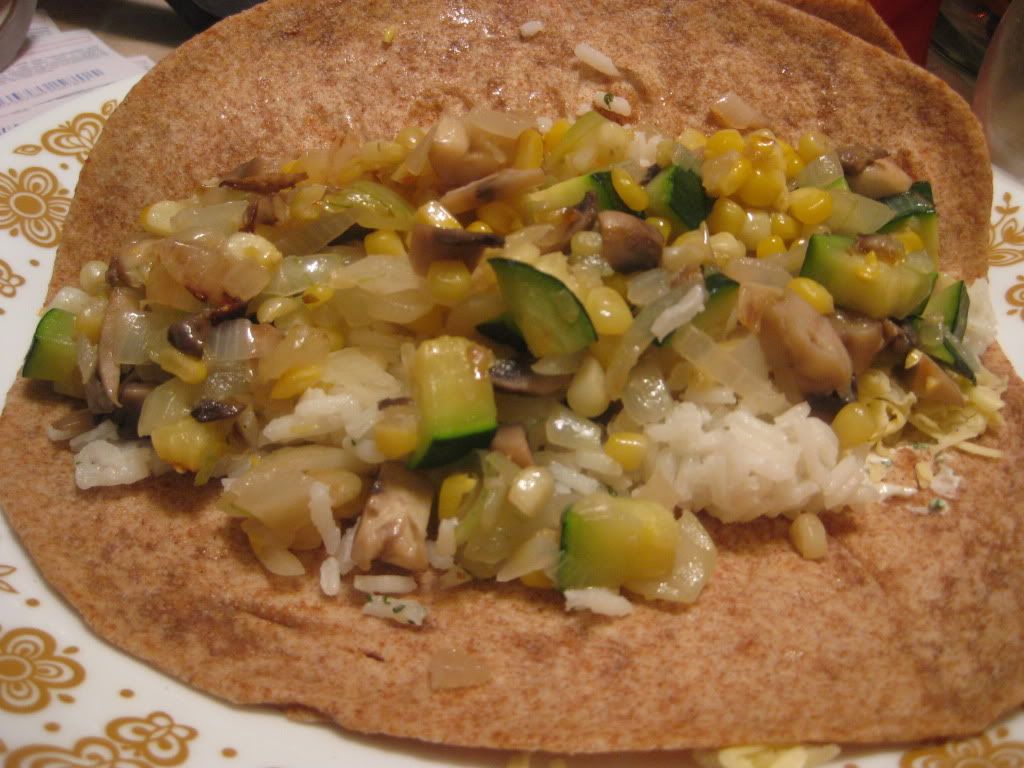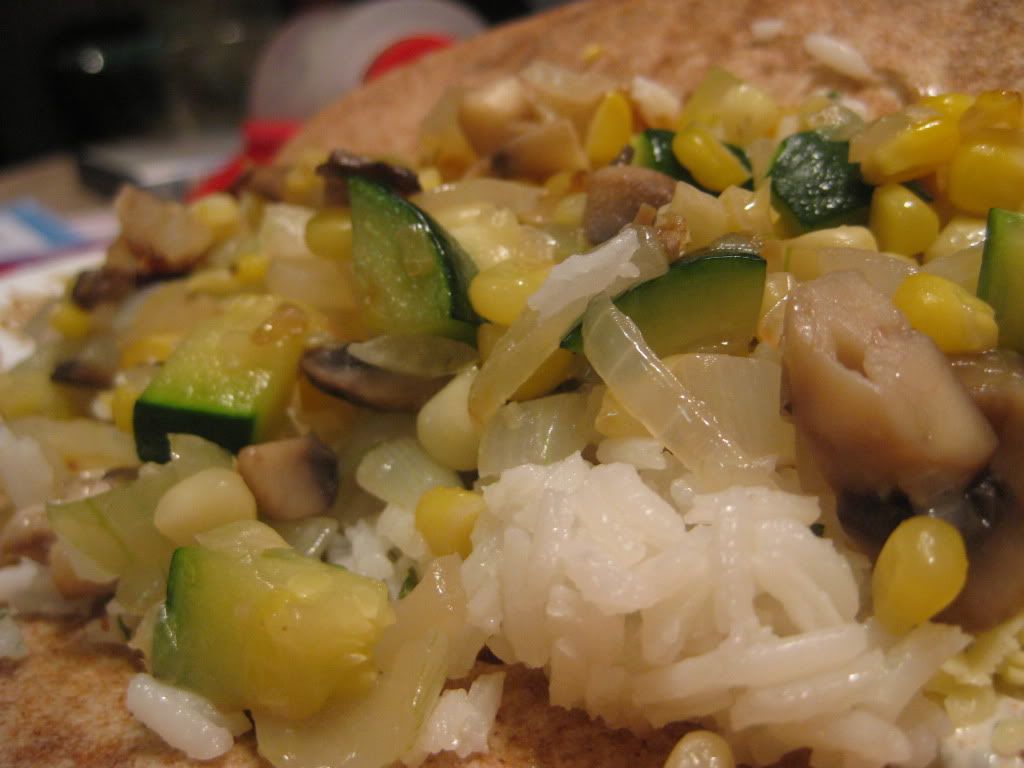 (I apologize for the lack of pictures - the recipe picked up rather quickly and I didn't have time to pick up the camera!)
It is well known here on the blog that we are big fans of the restaurant Chipotle, heck, Tyler tried to duplicate one of their famous burritos. But if we were in the mood for creating our own similar style burritos, but not going to Chipotle to get them, this would be the recipe to duplicate. Everything is incredibly flavorful and super tasty. It doesn't take more than 40 minutes to whip up this winning combination of Mexican flavors. And, as a bonus, each burrito is only 363 calories, which won't bust your gut when you eat one. I would definitely make this recipe again, only to add different flavors to make it something completely unique.
That's all we have for you this evening. Join us tomorrow as Tyler brings the grill inside (a figure of speech, of course) for a summer inspired dish. Until then,
~Cheers!