Good evening everyone! It's quite well known now that I tend to favor easy recipes. Every now and then, I throw in a complicated dish. Creating a recipe from very few ingredients is something that speaks to me; simplicity is my bread and butter. Tonight's recipe is no different. With a handful of ingredients, and a little creativity thrown in, something brilliant can be created from a few pantry items.
The Recipe: Linguini with Tomatoes and Basil
Recipe Adapted From: www.foodnetwork.com
What You'll Need:
1 Pound Linguini*
4-5 medium ripe Tomatoes, diced*
1 1/2 Teaspoons kosher Salt
1 large clove Garlic
1/2 Cup Extra-Virgin Olive Oil, plus an extra 1-2 Tablespoons
1 Tablespoon White Wine Vinegar
Large handful fresh Basil leaves (approximately 3/4 cup)
2-4 Ounces grated or shredded Parmesan cheese
8 Ounces sliced Mushrooms*
*I first want to note the adaptations I made to this dish. To make the dish a little more healthy, I chose a whole grain linguini. Whenever possible, we like to swap whole grain or whole wheat in place of white or enriched pasta - it's always a healthy upgrade. Instead of whole tomatoes, I went with pre-diced canned tomatoes (low sodium), as we use numerous times on the blog. I'm also adding mushrooms to the mix in this recipe. Not only did we have some leftover from last weeks blog, but they will add a new flavor to this dish.
To start, bring a large pot of salted water to a boil. Add the pasta and cook for 10 minutes, or according to package instructions. While the pasta is cooking, heat 1-2 tablespoons of olive oil over medium high heat in a large, nonstick skillet. Once the skillet is hot, add the sliced mushrooms. Saute for 10 minutes, stirring occasionally, making sure the mushrooms don't stick to the pan. After the mushrooms have softened, remove from heat.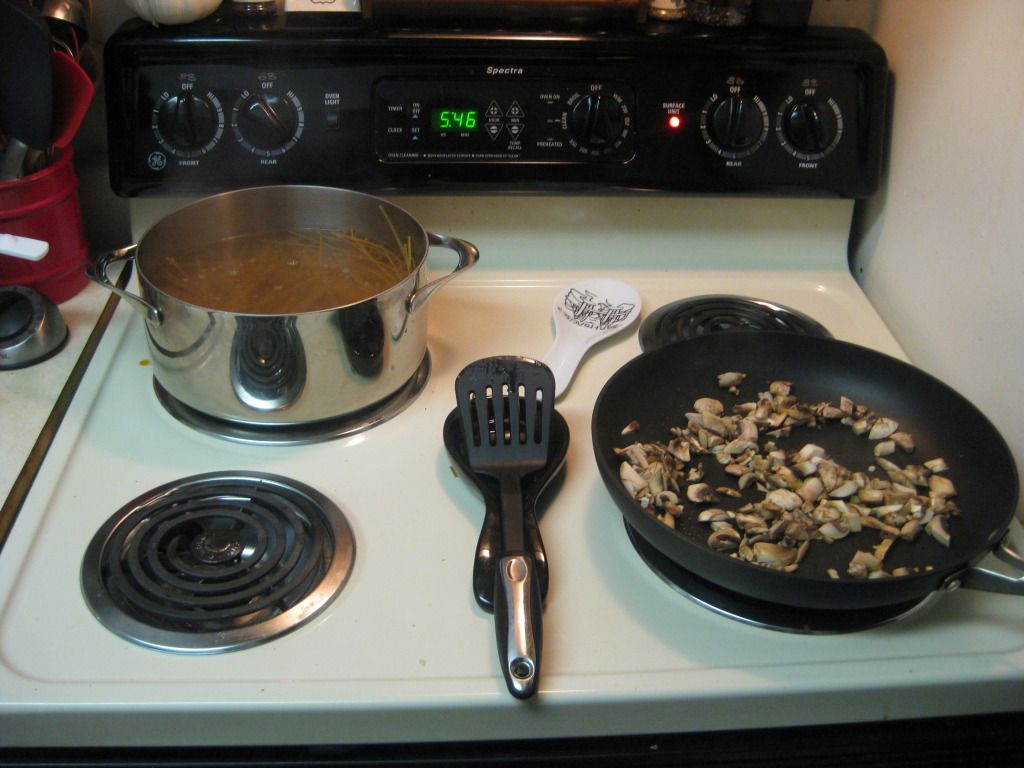 A busy oven is always a good sign.
Next, in a large bowl, toss the tomatoes with 1 1/4 teaspoon salt and freshly ground black pepper. On a cutting board, smash and peel the garlic clove and sprinkle with the remaining 1/4 teaspoon of salt. With the flat side of a knife, mash and smear the garlic mixture to a coarse paste. I've seen this technique done before and it's a creative way to release all the flavor from the garlic, without having to cook it. Add the garlic paste, olive oil, and vinegar to the tomatoes. Tear the basil leaves into pieces and add to the tomatoes.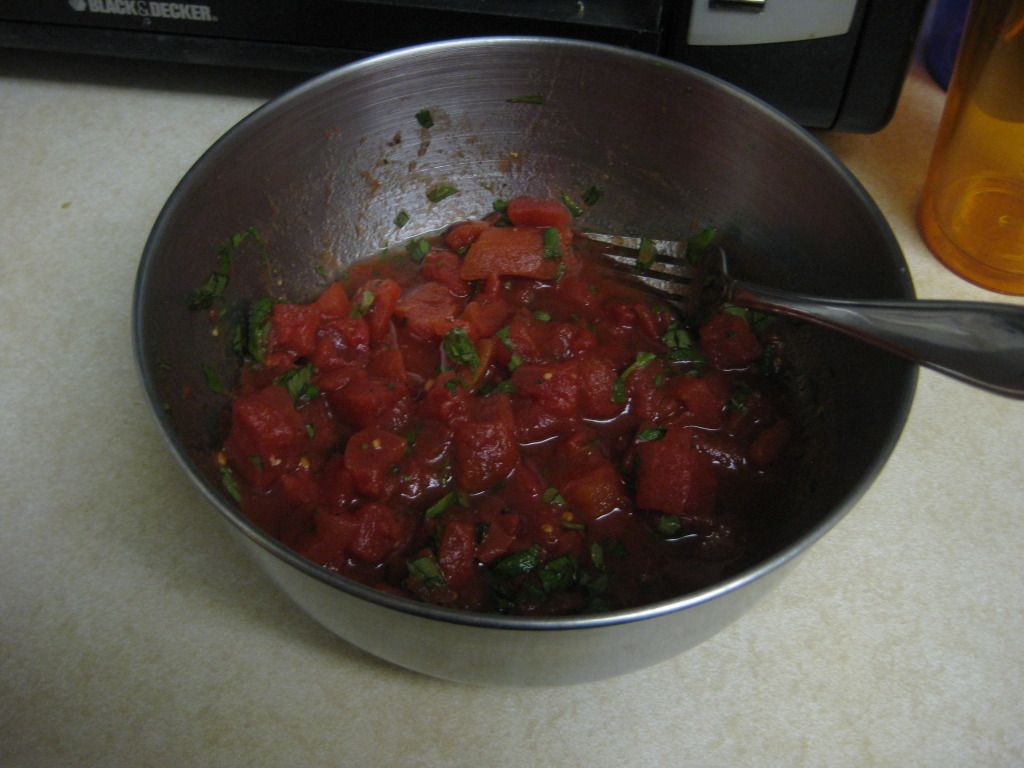 If you are using pre-diced tomatoes, a la our variation, don't add the olive oil or vinegar to the tomatoes. With the whole tomatoes, this creates a sort of sauce. As the canned tomatoes are packaged in tomato juices, we don't need any additional moisture. To the tomatoes, add the torn basil leaves and stir well to combine. Alternatively, you could also mince the garlic and add it to the cooking mushrooms. The smell of sautéing garlic is one of my favorite smells to come from the kitchen - I take any opportunity I can to create it!
Once the pasta is done cooking, drain well in a colander and add to the tomato bowl. If you are using mushrooms, you can add them into this bowl at this time. Season the pasta/tomato mixture with salt and pepper and toss to coat evenly. Sprinkle with desired amount of cheese, serve, and enjoy!
The End Result: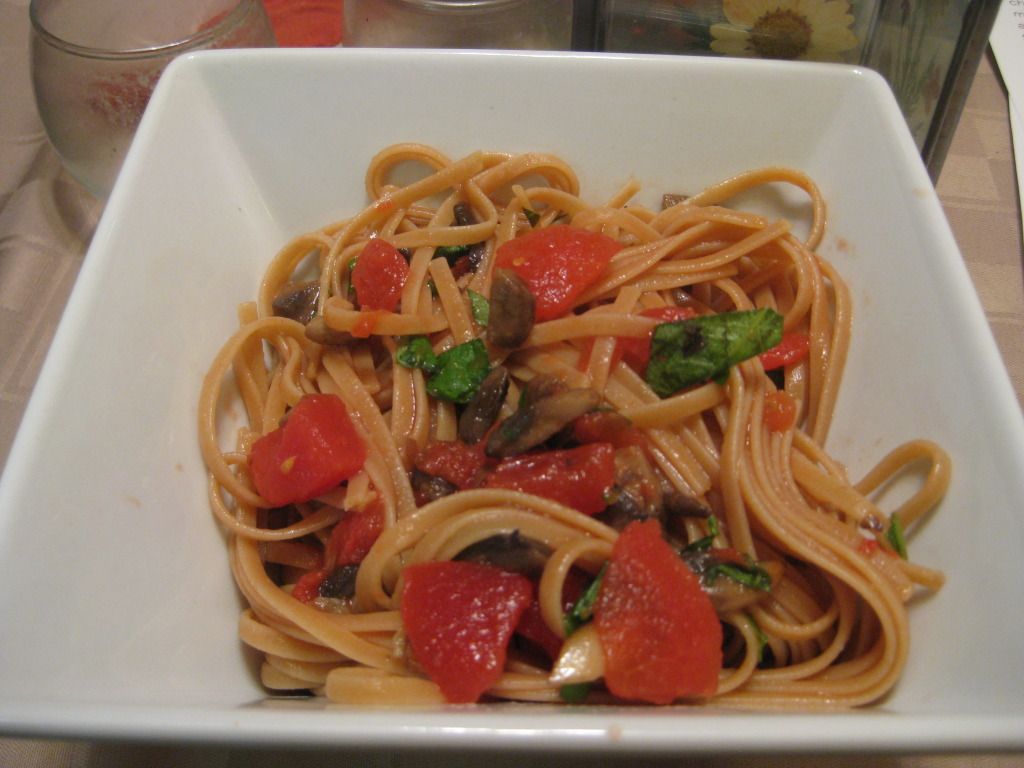 The diced tomatoes gave the dish an almost marinara sauce feel, without all the added salts and preservatives that would normally be in spaghetti sauce. The remaining sauce leftover from the tomatoes helped to bond the tomatoes, basil, and mushrooms to the linguini. The mushrooms were an excellent addition to dish. It's almost an alternative to a meat sauce, but with a vegetarian dish. The fresh basil added a great kick of flavor that brings the whole recipe together. As we were eating, Tyler thought the dish was missing a little flavor - he grabbed the garlic salt and added a dash to the dish. This slight addition greatly added to the flavor - creating a uniquely Italian flavored dish.
You can't go wrong with a pasta dish, but when all the ingredients are fresh and that work in harmony, it's great to have a dish taste so delicious.
Join us tomorrow as Tyler takes a summer standby and makes it uniquely his own. Until then,
~Cheers!