Good evening everyone! After taking a week off from cooking due to a nasty late season cold (I rarely get sick, but when I do, it seems to be the cold virus of the year…) I'm back into the kitchen tonight and playing around with one of my favorite ingredients; cod. Yes, this mild whitefish has appeared in a multitude of recipes on the blog over 2 years from breaded to fried and nearly everything in between. So, when I stumbled across a new style of recipe for cod that drew influence from Spanish cuisine – I knew I had to give this dish a shot. Let's get cooking!
The Recipe: Baked Cod With Chorizo & White Beans
Original Recipe Found On: Eatingwell.com

What You'll Need:
1 Teaspoon Extra Virgin Olive Oil
1 Shallot (Finely Chopped)
2 Ounces Spanish Chorizo
1 Teaspoon Chopped Fresh Thyme
1 Pint Grape Tomatoes* (Halved)
½ Cup Dry White Wine
15 Ounces Great Northern Beans (Rinsed)
½ Teaspoon Salt (Divided)
1 ¼ Pounds Cod (Cut into 4 pieces)
*If you're trying to stay 100% authentic, you'll want to include the grape tomatoes. However, Maggie and I can only tolerate tomato based products on a limited basis (not our favorite flavor) and we know from experience that the softened, tender result of baking tomatoes is far from our favorite thing to add to a dish. As such, I'm omitting them from this dish (substituting 3/4 cup of tomato sauce instead), feel free to include them if you so choose.
This recipe draws from the Spanish and Portuguese culinary tradition of pairing a mild whitefish fillet with a cured, spicy sausage. By simply adding a small amount of a flavorful sausage to the dish, you create a distinct rich and smoky flavor that truly changes the way you'll look at baked fish. I've seen this technique used many times in the past either on cooking shows or in cookbooks – but we have yet to try it for ourselves…until tonight.
Preheat your oven to 425 degrees and coat a 9 X 13 inch baking dish with a light layer of cooking spray.
In a medium (10 inch) non-stick skillet, add the olive oil and heat over medium-high until the oil begins to lightly shimmer. Next, add the shallot, chorizo and thyme to the skillet and cook, stirring occasionally, until the mixture becomes fragrant (when you can smell the sharp onion like flavor of the shallots) – this takes about 30 seconds to 1 minute.
Add ¼ cup of the white wine (and tomatoes if you're using them) to the skillet and allow the mixture to simmer for 2 to 4 minutes. This should allow the tomatoes to break down (resembling more of a sauce) and the wine to evaporate slightly. Stir in the white beans and a ¼ teaspoon of salt before removing the skillet from the heat.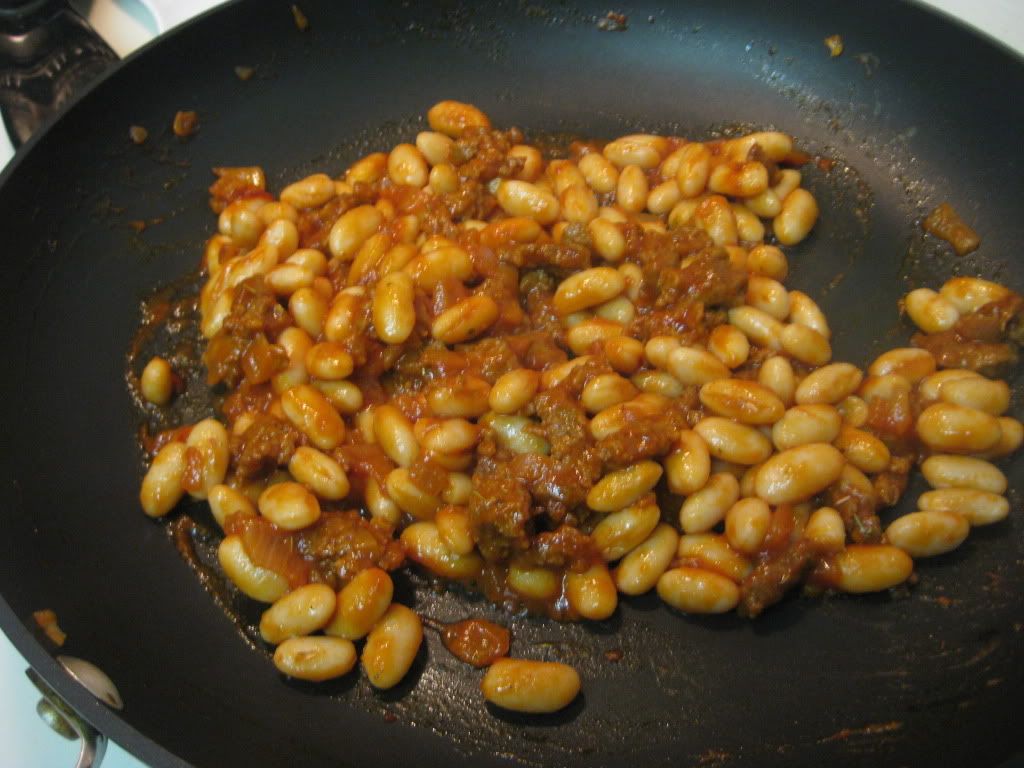 On a separate plate, season the cod with the remaining ¼ teaspoon of salt and some freshly ground black pepper. Carefully lay the fillets into the baking dish and then cover each fillet with about ½ cup of the tomato/bean mixture. Pour the any remaining bean mixture evenly over the fillets and then add the remaining ¼ cup of white wine to the baking dish as well.
Cover the pan with aluminum foil and bake in the 425 degree oven for 15 to 20 minutes or until the cod is completely cooked through and flaky in the center. Serve with a side of steamed vegetables and enjoy!
The Results:
It's hard to go wrong with cod. That's been our mantra since we started using this particular cut of fish – and that continues to prove true with this recipe. Baking the cod with the tomato / wine mixture creates a deep, rich flavor that is quintessential Spanish / Mediterranean cuisine. The white beans almost fade into the background of the dish, acting merely as a vessel to carry the white wine flavoring. The part where this dish truly stands out, however, is in the chorizo. This spicy little sausage takes a very respectable dish and turns it into a remarkable dish. Even in as small of a quantity as 2 ounces, the flavor of this recipe completely morphs around the chorizo – adding a smoky and deep flavor to the whole dish. In a word – amazing.
That's all we have for you this evening. I'm returning to the kitchen tomorrow night to try my hand at a classic Italian dish that features an ingredient I've never worked with (or eaten) before. It could prove to be a delight or a disaster. Stop in tomorrow night to find out which of those rings true. Until then,