Welcome again, one and all, for this bonus Friday blog. I made this delicious recipe about a week ago and we were instantly hooked. The one great feature about this dish is that it doesn't involve any baking. Since we're caught in the middle of a toasty summer, it is a super tasty addition to any meal. Hopefully, this recipe will inspire you to make this incredible dessert.
The Recipe: No Bake Strawberry-Lemon Cheesecake
Original Recipe Found On: www.pinterest.com
What You'll Need:
For the Crust:
3/4 Cup Graham Cracker Crumbs
1 Tablespoon Sugar
3 Tablespoons unsalted Butter, melted
For the Filling:
2/3 Cup Sugar
Zest of 2 Lemons*
1 (8 ounce) package Cream Cheese, softened
2 Teaspoons fresh Lemon Juice
1 Teaspoon pure Vanilla Extract
1 (8 ounce) tub frozen Whipped Topping, thawed
1 Cup fresh Strawberries, slightly mashed with a fork
*Although we love the taste of fresh lemon zest, we didn't want to waste 2 lemons in the process of this dish. So I used a 1/2 teaspoon of lemon extract, less if you don't want a strong lemon zing in your dish.
To start, stir together the graham cracker crumbs, one tablespoon sugar, and butter in a medium bowl. In a glass baking dish, press the graham cracker mixture evenly on the bottom of the dish to form a crust layer.
In a large bowl, mix together the 2/3 cup sugar and lemon zest, until the sugar becomes fragrant and moist. Add the softened cream cheese and beat with an electric mixer until smooth. Add the lemon juice and vanilla extract, mixing well to combine. Using a rubber spatula, fold in the whipped topping until well blended, then fold in the strawberries.
Next, evenly spoon the filling into the glass baking dish over the graham crust. Cover with plastic wrap and refrigerate for at least two hours before serving. Cut with a serving spatula, serve, and enjoy!
The End Result: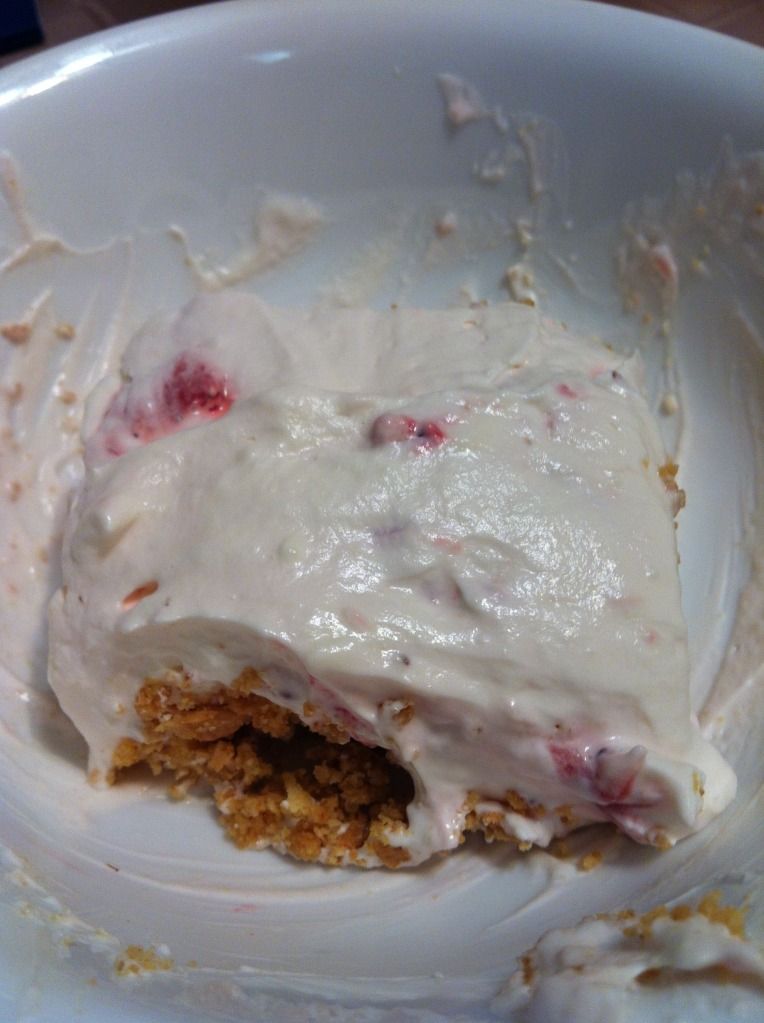 This is an incredibly delicious dessert. If you're a fan of strawberry lemonade, this cheesecake is for you. It might take a little more time to mash the strawberries, but if you don't want the strawberry skin poking out in the filling, it's worth the extra time. The original recipe called for raspberries, but other options were strawberries or blueberries; the berry option is up to you. This recipe makes about 12 servings, so there will be more than enough to share with everyone you know.
That's all we have for you this week. Thanks for joining us as we journey further into our culinary trip. Join us next week as we cook up more delicious recipes. Until then,
~Cheers!