Good evening everyone! If you live in the central Iowa region and you're under 30 years old...congratulations, yesterday was the hottest day on record since you were born! Might not sound like an accomplishment, since it felt like the face of the sun, but it might be a fun fact of the day at some point in time. Since it has been so hot, it almost seems like a chore to warm up the kitchen for an hour to make dinner. Tonight, I have a recipe that won't heat up your living space, yet has all the favorite flavors of the warmest season of the year.
The Recipe: Pasta Salad with Melon, Pancetta, and Ricotta Salata
Original Recipe Found In: Bon Appetit Magazine, August 2012
What You'll Need:
2 Ounces thinly sliced Pancetta
4 Ounces Orecchiette
3 1/2 Tablespoons Extra-Virgin Olive Oil
2 1/2 Tablespoons White Wine Vinegar
2 Cups cubed pieces peeled Cantaloupe
1/3 Cup coarsely chopped fresh Mint, divided
3 Tablespoons thinly sliced Scallion
Pinch of crushed Red Pepper Flakes
1 Ounce crumbled Feta
Begin by heating an oven to 350 degrees. Arrange the pancetta in a single layer on a large rimmed baking sheet. Bake the pancetta until brown and crisp, about 20-25 minutes. If you prefer not to heat up the oven, place the pancetta on folded layers of paper towels on a microwave-proof plate. Microwave on high until brown and crisp, about 5 minutes. In either case, let the pancetta stand until it is cool enough to handle. Once cool, break into bite-size pieces.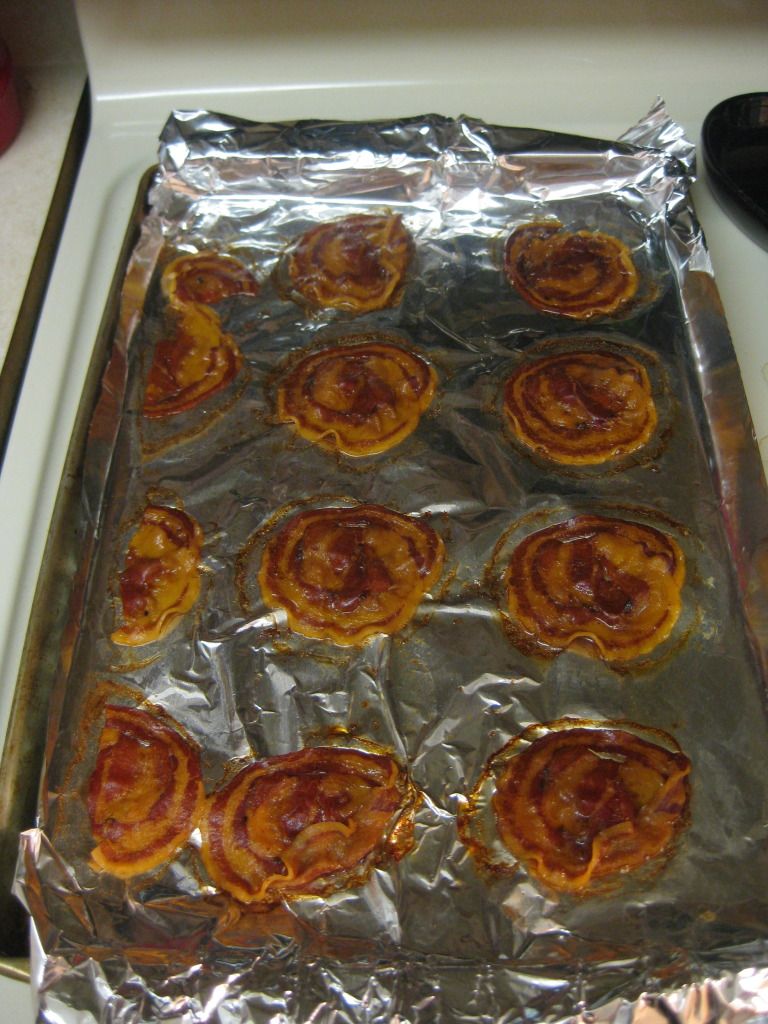 Pancetta...Italian's version of bacon
Meanwhile, start a pot of water and bring to a boil. Cook the pasta according to package directions and stirring occasionally. Drain the pasta and set aside.
In a large bowl, whisk the oil and vinegar together. Add half of the pancetta, cooked pasta, melon, half of mint, scallion, and red pepper flakes. Toss this combination to coat. Season with salt and pepper to taste. Transfer this combination to a serving dish and sprinkle with remaining pancetta and mint. Garnish with feta and enjoy!
The End Result: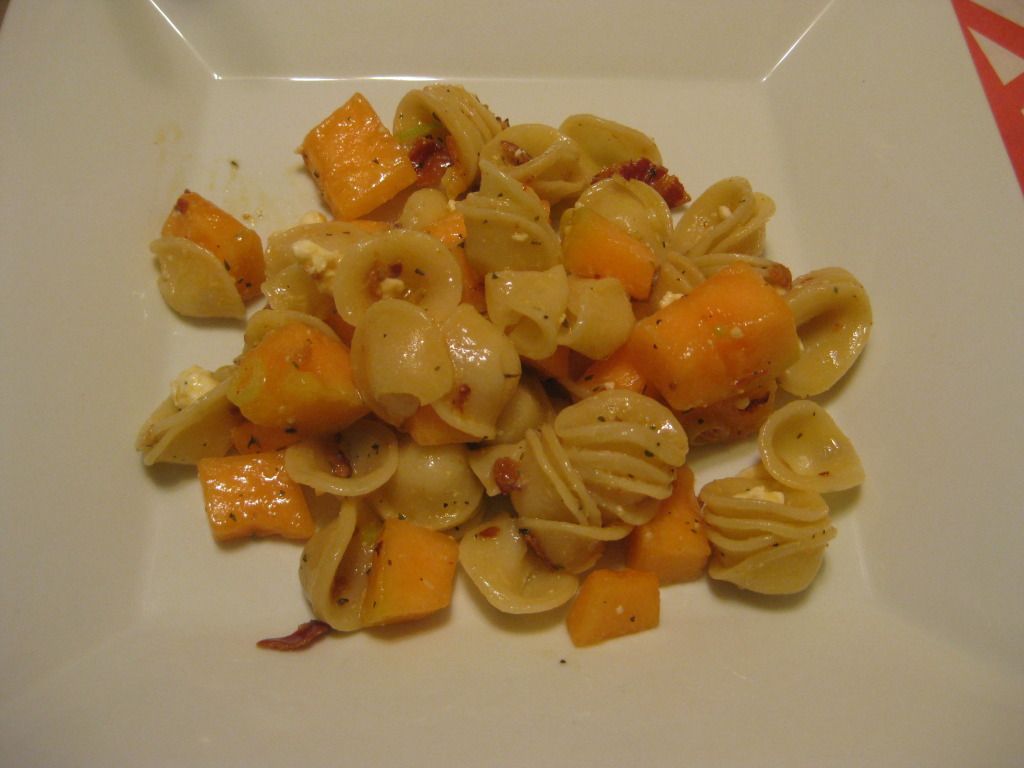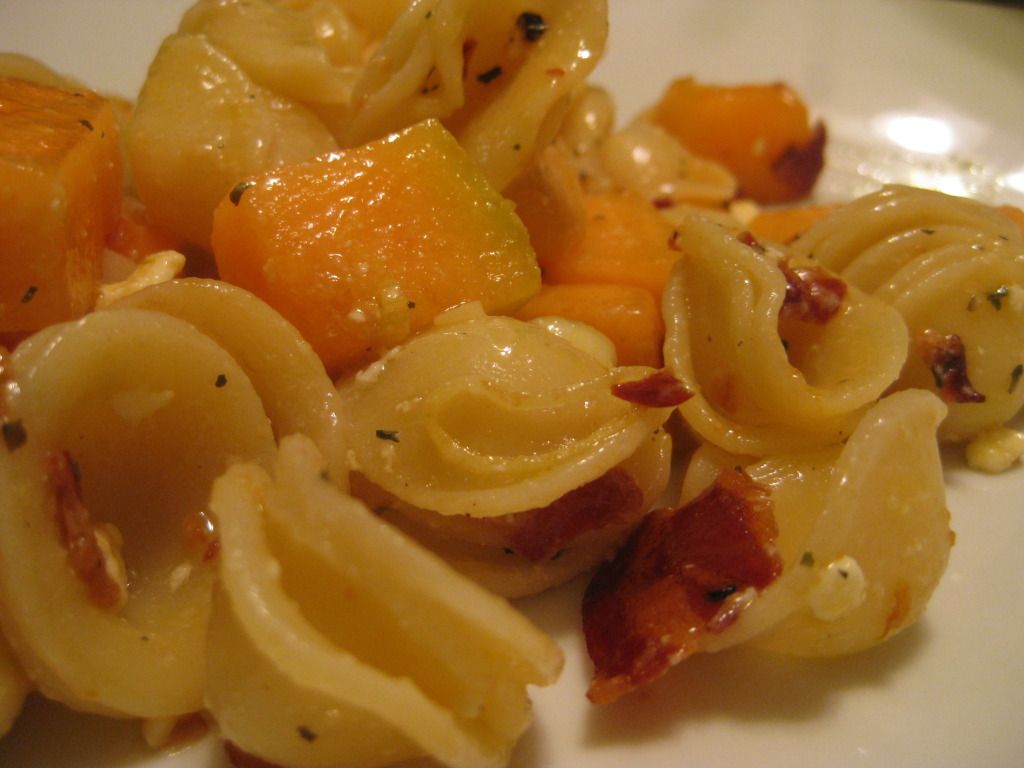 This salad is bright, fresh, and delicious! The saltiness from the pancetta becomes subdued when mixed with the sweetness of the melon. The pop of flavor from the mint almost acts as a pallet cleanser as you continue to eat this dish. It almost seems weird adding flavors like pancetta, cantaloupe, mint, and feta into one dish. But all the ingredients meld together and make it super savory. And since all the ingredients are summertime favorites, it's easy to find them and whip up this tasty dish!
That's all we have for you this evening, join us tomorrow as Tyler takes to the kitchen to make little pots of goodness. Until then,
~Cheers!