Good evening everyone! After this week, I will hopefully have the theme of cooking Asian out of my system. Tonight, I'm featuring a recipe of Asian inspiration that I've never eaten nor cooked...ever... I have always wanted to try potstickers, but I haven't had the nerve to try it. Once I saw what was in the potstickers, it seemed like a pretty good dish. Enough about new dishes, let's get cooking!
The Recipe: Perfect Potstickers
Original Recipe Found On: www.foodnetwork.com
What You'll Need:
1/2 Pound Ground Pork
1/4 Cup finely chopped Scallions
2 Tablespoons finely chopped Red Bell Pepper
1 Egg, lightly beaten
2 Teaspoons Ketchup
1 Teaspoon Yellow Mustard
2 Teaspoons Worcestershire sauce
1 Teaspoon light Brown Sugar
1 1/2 Teaspoons kosher Salt
1/2 Teaspoon Black Pepper
1/4 Teaspoon Cayenne Pepper
35-40 small Wonton Wrappers
3-4 Tablespoons Vegetable Oil
1 1/3 Chicken Stock, divided
To start, preheat an oven to 200 degrees. While the oven is preheating, combine the ground pork, scallions, red bell paper, egg, ketchup, mustard, worcestershire sauce, brown sugar, salt, pepper, and cayenne pepper in a medium mixing bowl. This combination will almost look like meatloaf, but it will yield a very different result. Set this mixture aside.
To form the dumplings, place one wonton on a small plate. Brush two of the edges of the wrapper lightly with water. Using two spoons, round 1/2 a teaspoon of the pork mixture and place in the center of the wrapper. Fold the wrapper over on itself, seal the edges, and shape as desired. I decided to shape mine with the outer most edges and the top edge inward, so all the edges are folded into one side. This will hopefully keep the mixture inside the wrapper and not spill out when cooking it. Set the folded potstickers on a sheet pan and cover with a damp cloth or damp paper towel. Repeat this process until all of the pork mixture is gone.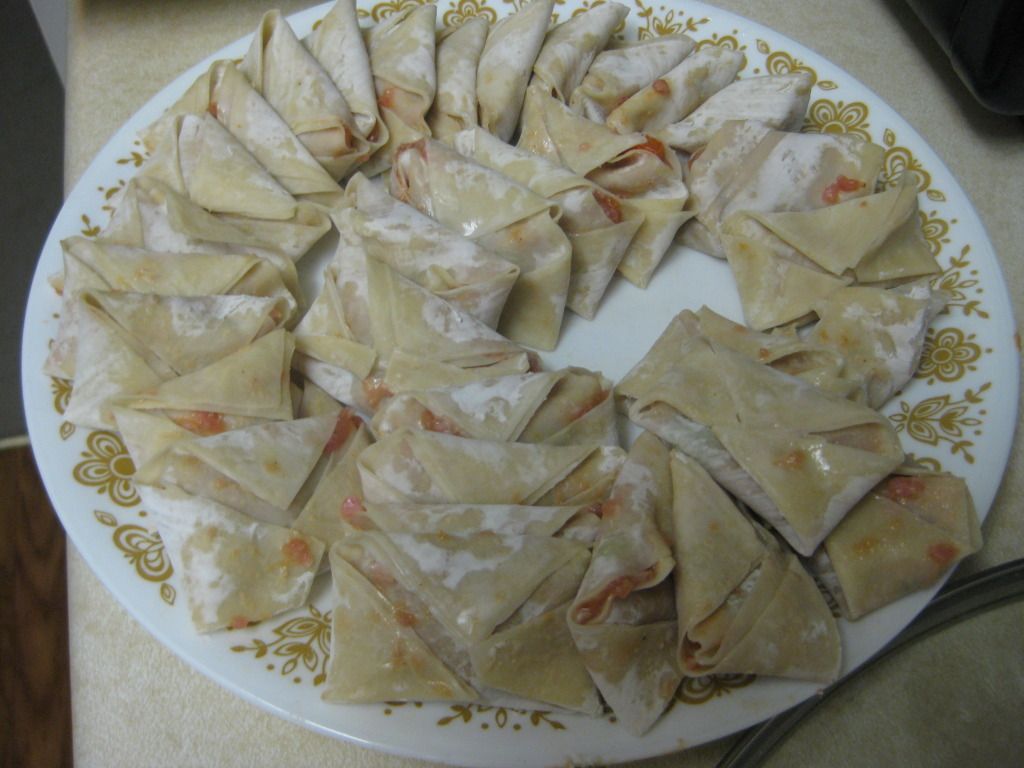 Little envelopes of tastiness
Next, heat a large nonstick skillet over medium heat. Brush the skillet with the vegetable oil once it's hot. Add 8-10 potstickers at a time to the pan and cook for two minutes, without touching. Once the two minutes are up, gently add 1/3 cup of the chicken stock to the skillet and turn the heat down to low. Cover the skillet an cook for another two minutes. Remove the potstickers from the skillet and return to the sheet pan and place in the oven. Clean the pan in between batches by pouring water into the skillet, allowing it to deglaze. Repeat this process until all the wontons are cooked. Serve and enjoy!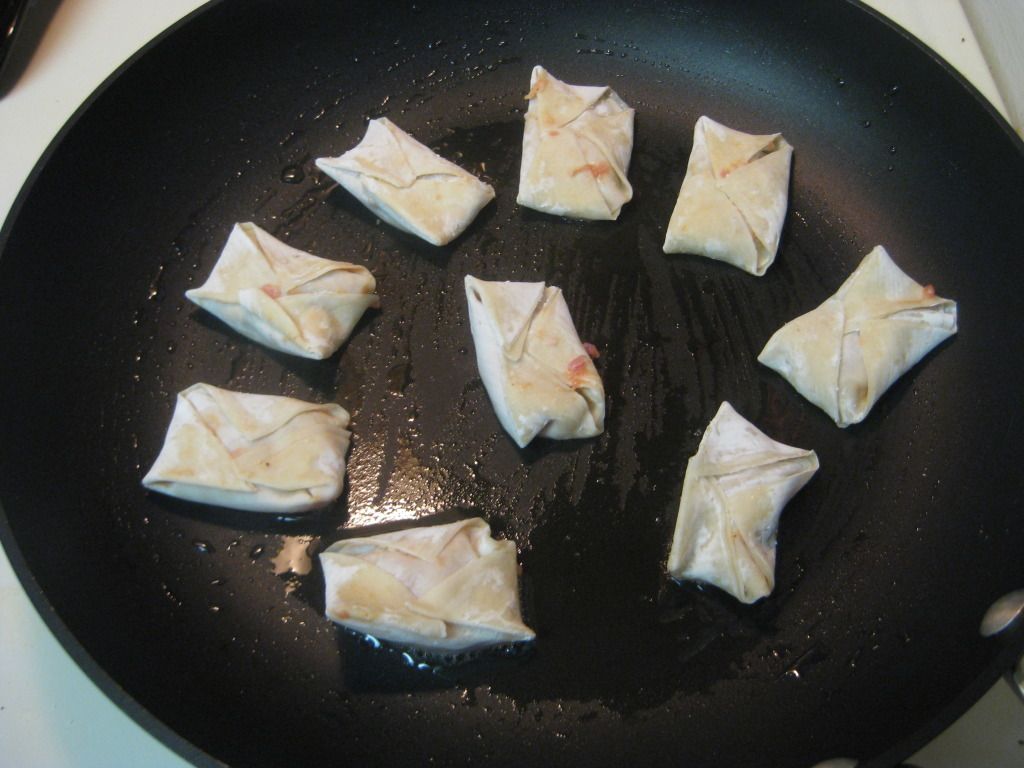 The End Result: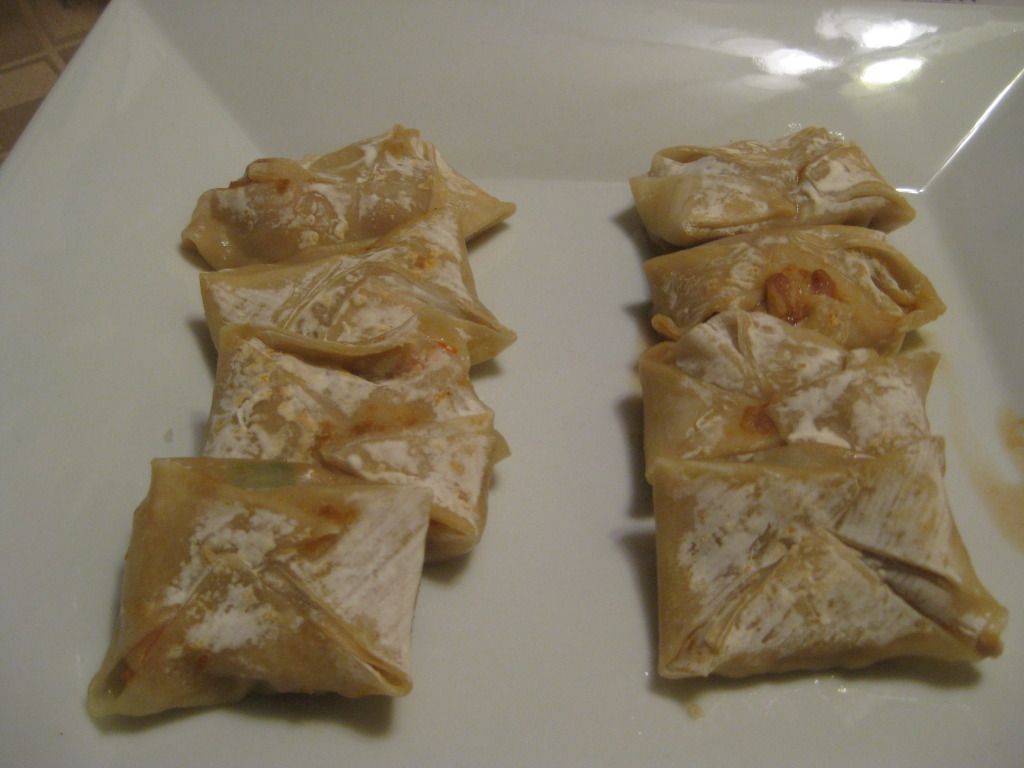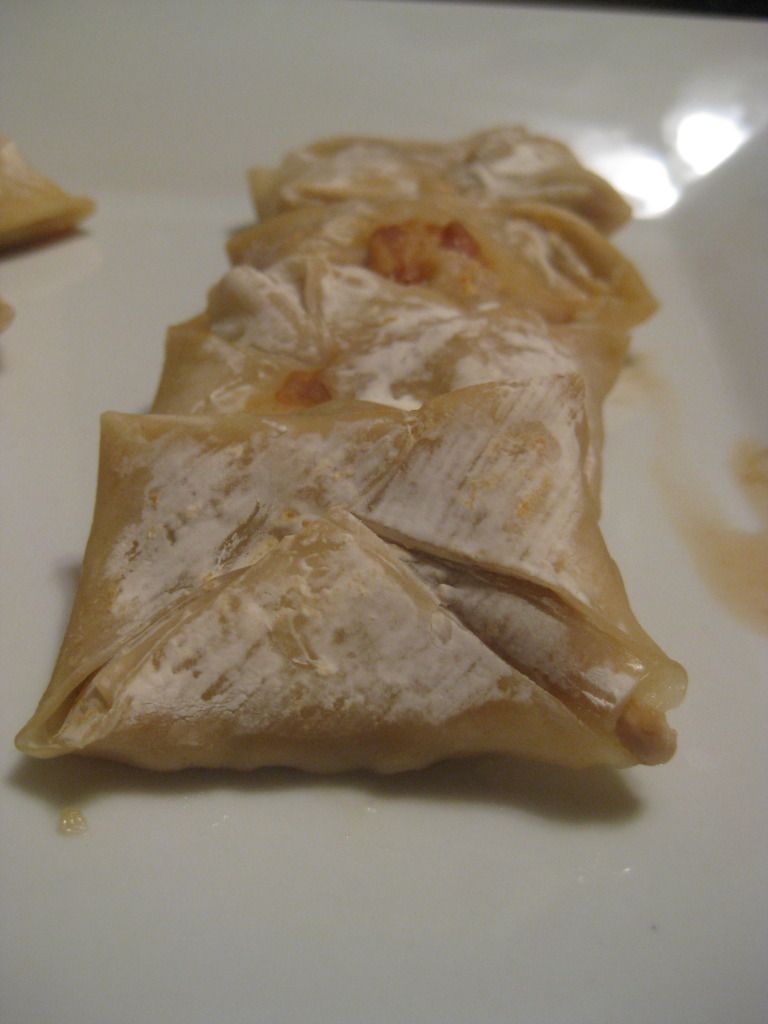 I can see why these are popular items at an Asian restaurant. The filling was cooked to perfection and was incredibly tasty. It wasn't too dry and had almost a savory flavor to it. The not-so-traditional Asian ingredient mixture, ketchup, mustard, worcestershire sauce, and sugar worked harmoniously to create a unique flavor. But like I mentioned before, it worked so well together that you forget that it's such a strange combination.
The cooking method was something new too. The process seems a bit lengthy, but the potstickers are worth it in the end. If your skillet fits more than 10 potstickers, then you can add more to the skillet, but make sure they aren't touching each other. The potstickers with soak up the chicken broth and will make the wonton wrappers softer and easier to eat. Overall, a great Asian-inspired dish to end my Asian theme.
Join me tomorrow as I attempt an incredibly delicious dessert that will make everyone in your family want more. Until then,
~Cheers!