Good evening everyone! If you're a regular viewer of any of the Food Network programs (Chopped, Iron Chef - etc.) you've likely been hearing a lot about couscous and quinoa. While these grains are anything but new, they are relatively new to the foodie scene. These ultra nutritious grains have made their way into many modern menus and are becoming a common kitchen item for those who love to cook.
So, when I stumbled across a recipe that utilized couscous, I knew I had to give it a shot. Tonight, we'll find out what the whole foodie world has been raving about for a while now. Let's get cooking!
The Recipe: Grilled Pork Steaks With Zucchini Couscous
Original Recipe Found In: Food Network Magazine, September 2012 Issue
What You'll Need:
(Serves 4)
1 Cup Whole Wheat Couscous
1 3/4 Pounds Pork Tenderloin
3 Tablespoons Extra Virgin Olive Oil
1 Small Garlic Clove (Grated)
2 Medium Zucchini (Sliced lengthwise into wedges)
1 Tablespoon Fresh Lemon Juice
1/4 Cup Chopped Fresh Parsley
**NOTE: We are heavily adapting this recipe for our personal preferences. We're omitting a fresh chopped tomato from the couscous (not tomato fans) and we're leaving out the plain Greek yogurt dipping sauce (not Greek yogurt fans) if you'd like to add either of those, feel free to copy the original recipe from Food Network Magazine.
Couscous is a new addition to our cooking repertoire. This grain originates from Africa and dates as far back as 13th century. It's been adapted to many different cultures and regions throughout time, including African, Middle Eastern and even French cuisines. From a culinary standpoint, couscous behaves a lot like pasta or rice in a recipe, providing a great grain base to any dish. The upside of couscous, however, is that it is one of the healthiest grains you can eat. Couscous has 3.6 grams of protein for every 100 calories (compared to 2.6 grams found in white rice) and its fat to calorie ratio is 1% while pasta is 5% and white rice is 3%. In addition, couscous has riboflavin, niacin, vitamin B6 and folate in comparison to pasta and four times as much thiamine and pantothenic acid. This is one healthy grain!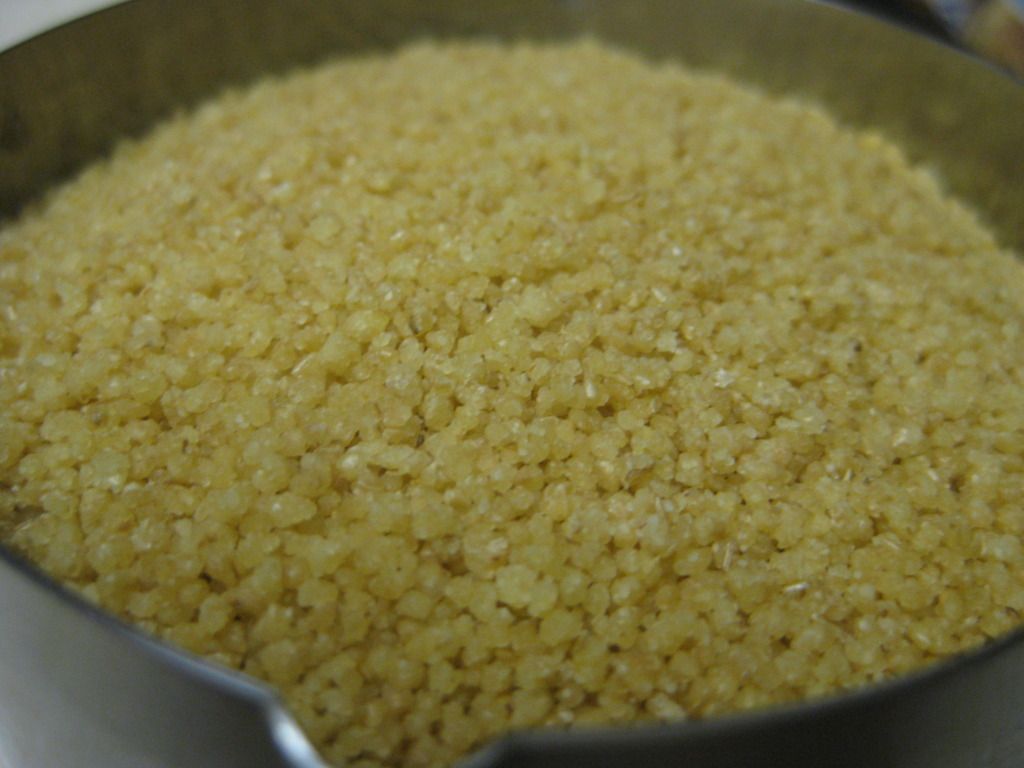 The best part about couscous is that it is not at all hard to find in your local grocery store and it is extremely affordable (around 1.99 for a box).
To begin preparing this dish, preheat your grill or grill pan to medium high and begin preparing the couscous according to package instructions.
If you're using a full sized pork tenderloin, take a few moments to butterfly the loin (slicing it nearly in half lengthwise) and pound it out with a meat tenderizer. This flattening will speed up cooking time latter on. We're using a center cut tenderloin that is fairly diminutive in size, meaning we don't have to butterfly our cuts.
In a small bowl, combine 1 tablespoon of olive oil with the garlic and 1/2 teaspoon of salt and pepper. Rub this mixture evenly over the pork.
Meanwhile, toss the zucchini in 1/2 tablespoon of olive oil and 1/4 teaspoon of salt and pepper. Place the zucchini on the grill and cook for about 3 minutes per side, or until the zucchini is lightly charred. Transfer the cooked zucchini to your cutting board and chop it into small wedges.
Next, add your pork to the grill. Cook for 3 to 5 minutes per side or until the pork is cooked through and registers at least 145 degrees. Transfer the tenderloin to a cutting board and allow it to rest for 5 minutes before slicing it into pieces (if you were using one large loin).
Finally, toss the couscous (already cooked) with the zucchini, lemon juice, parsley and 1 1/2 tablespoons of olive oil and a pinch of salt and pepper. Serve with the pork and enjoy!
The Results:
The pork tenderloin was amazingly soft, juicy and bursting with flavor thanks to the nice garlic rub. On it's own this pork recipe works well for summertime grilling season and could be cooked up on any weeknight.
The real reason behind this recipe was to try couscous, however, and I'm happy to say this popular grain didn't disappoint. It lives up to its billing and acts like a hybrid of rice and pasta. It has a fairly neutral flavor that allowed it to blend nicely with the zucchini and compliment the pork.
All in all, I was very pleased with the outcome of this dish. Couscous will certainly be making more appearances on our blog in the future. Its neutral "pasta-like" flavor and small granular size make it easily adaptable to many dishes - something that any at home chef can appreciate and utilize.
That's all we have for you this evening. Maggie takes to the kitchen Thursday night with a blending of her two favorite cooking mediums. Be sure to stop in then to see what she has cooking. Until then,
~Cheers