Good evening everyone! With the calendar officially reading September, the 'fall season' is now upon us. That means cool mornings, changing leaves, brisk nights and warm delicious dishes on the supper table. Of course, you could have fooled us that fall was here yesterday – it reached a balmy 90 degrees in the greater Des Moines metro! Minor heat wave aside, with the season slowly turning to fall, we too will slowly turn to fall recipes.
We've cooked up a few versions of white chili on the blog before (chicken, broth based, white beans) with a set of nice results. Tonight I'm expanding on that white chili concept and applying it to a more traditional chili base. Now, neither Maggie nor I are big fans of tomato based sauces, so we're tweaking the recipe to suit our needs, but the main premise remains the same. Traditional chili, with a nice, low calorie, twist.
The Recipe: Light Mexican Chili
What You'll Need:
(Serves 8)
2 Large Boneless Skinless Chicken Breasts
1 28 Ounce Can Diced Tomatoes (Drained)
1 14.5 Ounce Can Kidney Beans (Rinsed)
1 14.5 Ounce Can Black Beans (Rinsed)
1 14.5 Ounce Can Corn (Or fresh sweet corn, cut off the cob – preferred)
1 Tablespoon Chili Powder
1 Packet Taco Seasoning
2 Cups Low Sodium Chicken Broth
Be sure to take the time to rinse and drain the canned beans. The beans (even the organic ones) are canned in a salty "gunk" that adds an extra 20% of sodium to the beans. Rinsing them not only cleans off the gunk from the can, but washes away most of that excess sodium.
In addition, be sure to drain your canned tomatoes. The soupy juice in canned diced tomatoes is also sodium laden and carries an…interesting flavor (battery acid) – you're better off creating your own broth base and omitting the canned juices.
Begin by adding the black beans, kidney beans, corn, tomatoes, taco seasoning and chili powder to a large (4 quart) slow cooker. Give everything a good stir to make sure all of the ingredients are evenly incorporated. Next, nestle the chicken in underneath and amongst the bean mixture.
Finally, add the chicken broth to the slow cooker. You'll want to add enough so that all of the ingredients are covered by a small layer of liquid. This is typically 2 cups but could vary based on the size of your slow cooker and other minor variables.
The original recipe called for a tomato sauce base – but as I mentioned in the open, Maggie and I are not big tomato sauce fans. In its place, we're using a low sodium chicken broth. This broth will pick up the bean and tomato flavors while keeping the base of the chili relatively light. Since we're using a smaller quantity of liquid, we're not going to get a soupy "broth base" that you see in some white chili dishes. The liquid should mostly absorb during cooking and allow the chili to thicken up.
Once everything has been added to your slow cooker, set it to low and allow it to cook for 8 to 10 hours.
After 8 to 10 hours, locate the chicken breasts in the chili and move them to a small bowl. Using metal tongs or two forks, shred the chicken into smaller pieces. Add the shredded chicken back to the chili and stir well. You can add a splash of chicken broth or water if you want to thin out the chili slightly. Serve and enjoy!
The Results: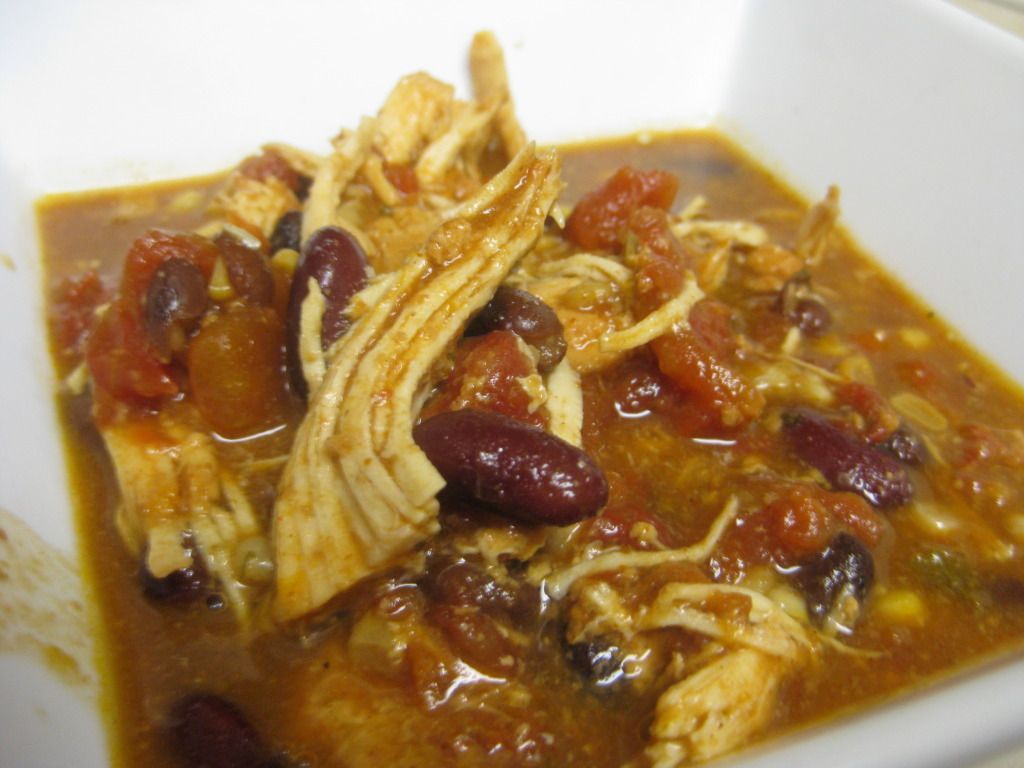 Imagine if the consistency of chili were to blend with the flavors of white chili and then they all took a trip to Mexico and picked up some "Mexican flavor". That's the end result of this dish. It's a lighter, chicken based chili that packs all the flavors of its meat and tomato based counterpart. At only 200 calories per serving this light chili won't knock you off your diet either!
That's all we have for you this evening. Maggie will be back this weekend to share her corn muffin recipe that was promised last week. No, we didn't forget – we simply ran out of time last week to post the recipe. Be sure to follow us on Twitter or like us on Facebook to get first notice of new recipes – including the corn muffin recipe coming up this weekend. Until then,
~Cheers