Good evening everyone! We hope all of you got to enjoy some part of the last blast of summer, also known as Labor Day. We took an extra day, in addition to our three day weekend, to celebrate our two year anniversary. It only seems like yesterday that we got married, but my, how time flies!

These last two years also is an anniversary, of sorts, of our blog. Granted we started it a couple of months before our wedding, it's been an activity that we've worked on and it's been an experience we've grown together on. We're constantly coming up with ideas and find new sources to share with all of you. So we'd like to say thank you, for sharing in our journey and we hope you continue to be with us as we grow and evolve as cooks.

Speaking of new ideas, we're trying a new one this week. The concept isn't new, but we're trying it to see how it works. The concept of using one main ingredient for both of our recipes has been used when trying to have a structured meal plan for families. It can also be used for couples, like us, who want to try to meal plan, without spending a lot of money for groceries. Tonight, I'll highlight the main ingredient in a fresh and flavorful way.
The Recipe: Grilled Chicken Florentine Pasta
Original Recipe Found In: Cooking Light, September 2012
What You'll Need:
2 (6 Ounce) bone-in Chicken Breasts, skinned
8 Ounces uncooked Linguine (we opted for a whole-wheat linguine)
2 Tablespoons Canola Oil
3 Tablespoons all-purpose Flour
1 Teaspoon chopped fresh Garlic
1 Cup Whole Milk
1 Cup fat-free, lower sodium Chicken Broth
3 Ounces Parmesan Cheese, grated (about 3/4 cup)
4 Cups fresh Spinach leaves
To start, heat a grill pan to medium high heat and coat it with cooking spray. Sprinkle the chicken with salt and pepper on both sides and place the chicken on the pan to start to cook. Cook the chicken for eight minutes on each side, or until a meat thermometer reads 165 degrees. Place the chicken in a foil tented plate and let it rest for ten minutes. This will help keep the juices in the chicken and add an increased flavor in the finished dish.

While the chicken is cooking, being a pot of water to boil. Once the water is boiling, salt the water and add the linguine. Cook until package directions indicate al dente and drain the water. Return the pasta to the pot and cover with a lid to keep warm.

When the chicken is resting, you can begin to cook the sauce. In a large nonstick skillet, over medium high heat, add the oil to the pan and swirl to coat. Add the flour and garlic and cook until the garlic is browned, about two minutes, stirring this combination constantly. Add the milk and broth, stirring with a whisk. Bring this combination to a simmer and cook for two minutes or until thickened. Next, add the cheese, stirring until all the cheese is melted. Sprinkle 1/2 teaspoon of salt, 1/2 teaspoon of pepper, and the spinach. Stir until the spinach has wilted. Finally, add the chicken and the pasta and toss to combine. Serve and enjoy!
The End Result: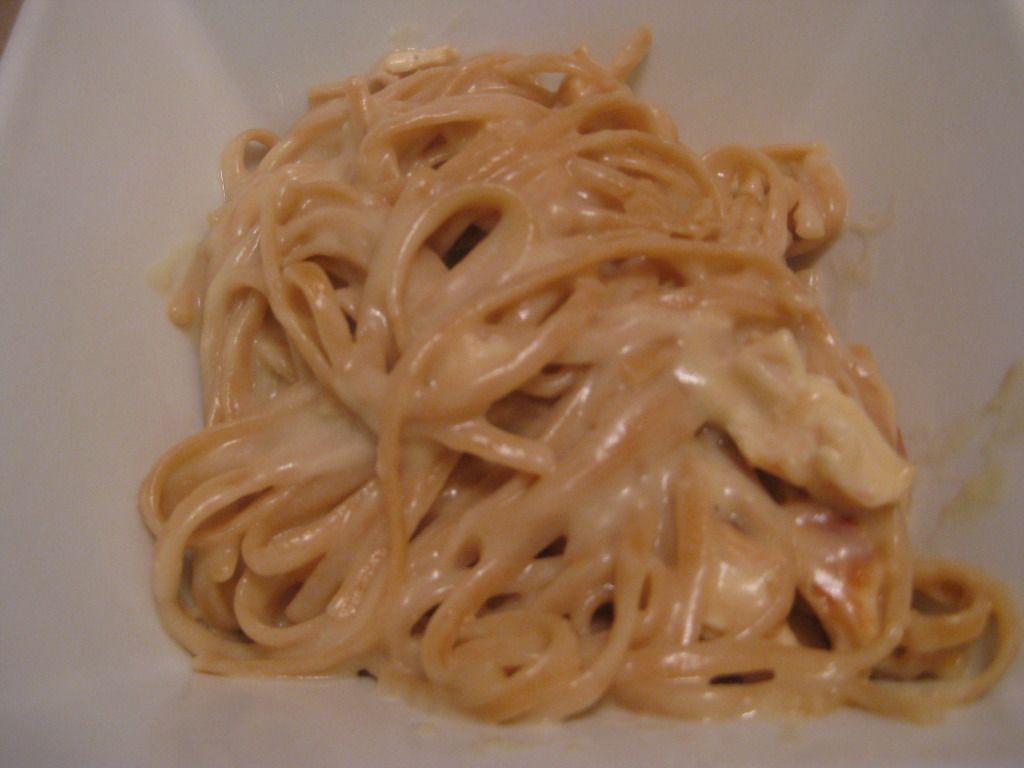 In the years we've been doing this blog, I have never combined a grilled meat with a pasta variant. I had to say that it is quite a delicious combination. Letting the chicken rest gave the whole dish a savory result, which really enhanced the flavor and added a new depth. The homemade sauce was much better than any pre-made sauce that came from a can or a jar. Since the original recipe called for wilted spinach, I was afraid that the flavor would leave a giant gap. But, in fact, I couldn't imagine this dish with the spinach in it. In place of the spinach, I would definitely recommend an herb, like parsley or basil. Overall, a fantastic quick fix for any night of the week.

Join us tomorrow as Tyler completes our one main ingredient week with a whole new flavor from our favorite style Until then,

~Cheers!