Good evening everyone! There's nothing quite like a warm, soul-filling recipe that fills you up when the temperature cools down. Especially when a dish could take all evening to cook and has an end result of something quite fantastic. That's what I will attempt this evening: a homemade dish, from start to finish, that has an incredibly homey feeling that will make you crave more.
The Recipe: Potato Gnocchi with Browned Butter and Sage
Original Recipe Found On: www.americastestkitchen.com
What You'll Need:
Gnocchi:
2 Pounds Russet Potatoes
1 Large Egg, lightly beated
3/4 Cup, plus 1 Tablespoon, All-Purpose Flour
1 Teaspoon, plus 1 Tablespoon, Salt
Sauce:
4 Tablespoons unsalted Butter, cut into four pieces
1 Shallot, minced
1 Teaspoon minced fresh Sage
1 1/2 Teaspoon Lemon juice
1/4 Teaspoon Salt
Start by heating an oven to 450 degrees. Poke each potato eight times with a paring knife over the entire surface of the potato. Microwave the potatoes until the ends begin to soften, about ten minutes, flipping the potatoes halfway though cooking. Transfer the potatoes directly to the oven rack and bake until the potato can be easily pierce, about 18 to 20 minutes.
Using a potholder or a kitchen towel, peel each potato with a pairing knife. Process the potato through a rice or a food mill onto a rimmed baking sheet. Gently spread the potatoes in an even layer and let cool for five minutes. If you have oven gloves, I would highly recommend to use them during this part of the cooking process. The potatoes will be extremely hot and it's best to be overly cautious while handling them during this part of the recipe.
Next, transfer three cups of the warm potatoes to a bowl. Using a fork, gently stir in the egg until just combined. Sprinkle the flour and one teaspoon of salt over the potato mixture. Again, using a fork, gently combine until no pockets of dry flour remain. Press the mixture into a rough ball and transfer to a lightly flour dusted counter. Gently knead until smooth, yet slightly sticky, about one minute. Lightly dust the counter with flour as needed to prevent sticking.
Line two baking sheets with parchment paper and liberally dust with flour. Cut the dough into eight pieces. Roll each piece of dough into 1/2 inch thick rope. Then cut the rope into 3/4 lengths. Holding a fork with prongs facing down in one hand, press each dough piece cut side down against the backside of the tongs with thumb of the other hand to create an indentation. Roll the dough down to form ridges on the sides. Transfer the formed gnocchi to sheets and repeat with remaining dough.
Or, you could buy a package of pre made gnocchi, like we did.
To make the sauce, melt the butter in a large nonstick skillet over medium high heat, swirling occasionally, until the butter is browned and releases a slightly nutty flavor, about 1 1/2 minutes. Take the skillet off the heat and add the shallot and sage. Stir until the shallot is fragrant, about one minute. Stir in the lemon juice and salt. Cover to keep warm.
In a large pot, bring four quarts of water to a boil. Add to the pot the remaining one tablespoon of salt, and using the parchment paper as a funnel, gently slide the gnocchi into the water. Cook the gnocchi until it's just cooked through, about 90 seconds (the gnocchi should float to the top after a minute.) Using a slotted spoon, transfer the gnocchi into the skillet with the sauce, gently toss to coat the gnocchi in the sauce, serve, and enjoy!
The End Result: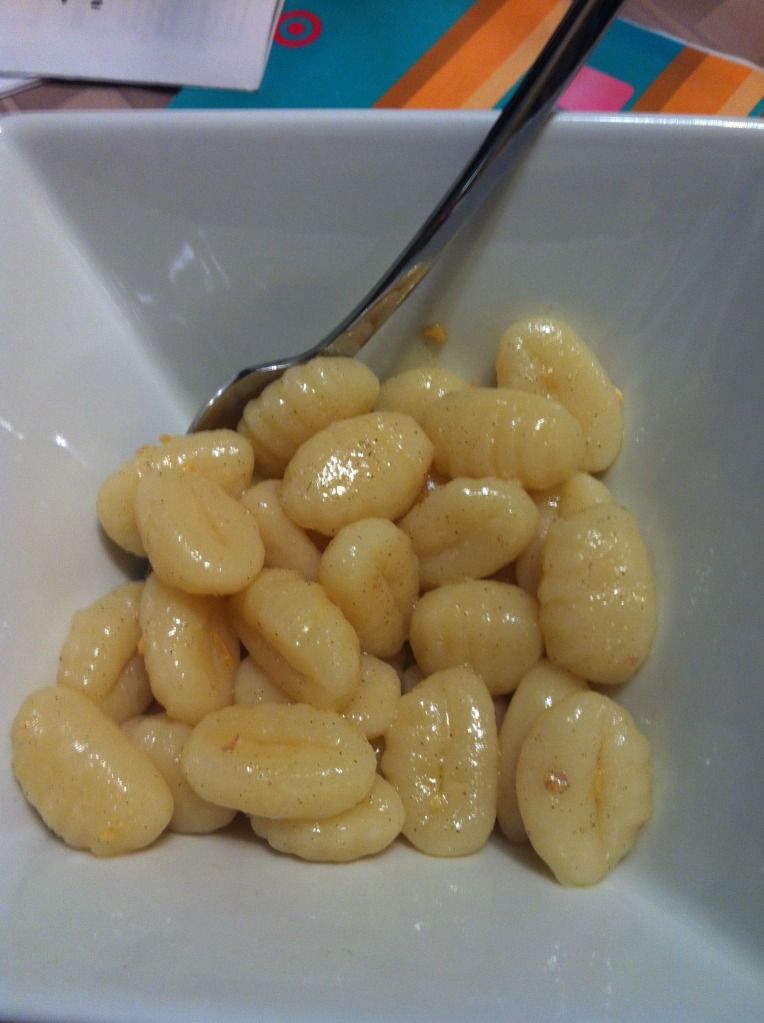 The gnocchi had almost a creamy texture to it that made it incredibly delicious. The hints of sage and shallots scattered throughout the gnocchi added a savory flavor and the browned butter amped those flavors to a higher degree. Although making your own gnocchi would be quite an adventure, but premade gnocchi was definitely the way to go, especially if you want to make this recipe in a pinch. Overall, a great, savory dish where a little will go a long way. I would definitely make this recipe again, perhaps with a different sauce and/or seasonings.
That's all we have for you this week. Join us next week as we continue to delve into new culinary adventures and experiences. Until then,
~Cheers!