Happy Saturday everyone! Every fall, the collegiate football season has produced a rivalry between two of the larger universities in our state: Iowa State University and University of Iowa. Today, these two teams will battle it out on the football field. But, before the big game starts, why not make a delicious cornbread muffin that will soothe any bitterness between the two teams. These muffins are great for a tailgate party or spending an evening in.
The Recipe: Famous Dave's Copycat Cornbread Muffins
Original Recipe Found In: Various Sources
What You'll Need:
1 3/4 Cup Cornmeal
1 1/2 Cup All-Purpose Flour
2 Teaspoons Baking Powder
3/4 Teaspoon Salt
1/4 Teaspoon Baking Soda
2 Eggs
2/4 Cup Granulated Sugar
1/4 Cup Shortening
1/2 Teaspoon Vanilla Extract
3/4 Cup Whole Milk
1/4 Cup Buttermilk
1/3 Cup Vegetable Oil
4 Tablespoons Honey
To start, preheat the oven to 400 degrees. If your cornmeal isn't finely ground, almost to a flour-like consistency, grind it in a food processor for five minutes. This will help the dry ingredients keep the same consistency when mixing. Pour the cornmeal, flour, baking powder, salt, and baking soda into a large mixing bowl and mix until all the ingredients are incorporated.
In another mixing bowl, combine the eggs, sugar, shortening, and vanilla. Using an electric mixer, cream these ingredients together until they are well combined. Next, pour the wet ingredients into the large bowl with the dry ingredients. Stir together until smooth.
Line two 12-cup muffin tins with paper muffin cups. We used silicon muffin cups and they pop out the muffins much more easier than paper muffins cups. Fill each muffin cup until it's 3/4 full with batter. Place the muffin tins in the oven and bake for 18-20 minutes or until a toothpick inserted comes out clean. Serve with butter and honey and enjoy!
The End Result: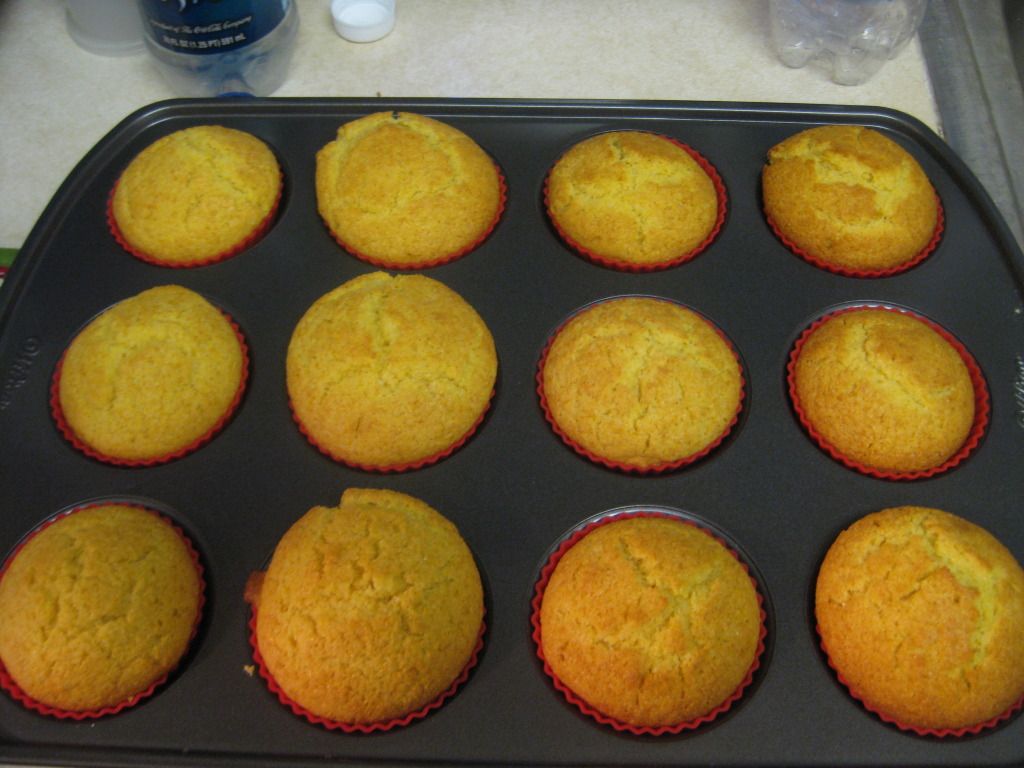 I have been to Famous Dave's Restaurant several times and I always love to have their muffins. Now, I won't need to go to their restaurant, because these muffins are way better. The muffins have a little bit of moistness still left in them, even after baking in the oven for 20 minutes. The sweetness isn't too much, but there is enough there to make it incredibly delicious. Pairing the muffins with butter and honey is one of the ways we enjoys cornbread muffins, but you can decide what to pair with them. We love these muffins so much, that I made them twice in a month. Even if you aren't a cornbread muffin fan, we would definitely recommend that you try these, you won't regret it.
Thanks for joining us this week on Out of the Culinary. Check back next week as we share with you our culinary expeditions. Until then,
~Cheers!