Good evening everyone! In yesterday's recipe, Maggie spoke about fall being her favorite season. Cooler weather, warmer dishes and savory flavors all come into their prime during the fall months, making it one of my favorite seasons as well. One of my favorite aspects of fall cooking is that root vegetables (potatoes, sweet potatoes, carrots, parsnips – etc.) all come into their prime. My favorite fall dish (or side dish) is slow roasted root vegetables. Drizzled with honey or lemon juice and allowed to roast in a low temp oven all day – yum, yum, yum!
The dilemma, of course, is what to do when you're craving slow roasted root vegetables but don't have the time to babysit an oven all day. The simple answer? Break out the slow cooker! (Yes, this is the third week I've turned to a slow cooker. I've been busy with no days off during the week – I'm adapting the best that I can!)
I decided to take things one step further in fulfilling my root vegetable craving. I'm combining one of my favorite dishes, potato soup, with the savory flavors of roasted root veggies – the end result is an Out of the Culinary original creation:
The Recipe: Root Vegetable Soup
An Out of the Culinary original!
What You'll Need:
(Serves 8)
1 Pound Yukon Gold Potatoes (Peeled, roughly chopped)
1 Pound Sweet Potatoes (Peeled, roughly chopped)
2-3 Large Carrots (Peeled, diced) or 1 Small Bag Baby Carrots
3 Medium Sized Parsnips (Peeled, roughly chopped)
3-5 Cups Low Sodium Chicken Broth (Or vegetable broth)
1 Tablespoon Dried Rosemary
2 Cloves of Garlic
3 Tablespoons Unsalted Butter
Pinch of Dried Parsley, Cumin, Celery Seed or Garlic Salt (Or all 4)
You might recall the parsnip making an appearance or two on the blog before. It made its debut in '
What The Heck Is A Parsnip
?' and has popped up in a few other side dishes here and there since that first recipe. A parsnip is a root vegetable related to the carrot. It has a waxy outer skin, its "flesh" feels similar to condensed Styrofoam and it smells like a pine tree…while tasting like a mash up between a sweet potato and carrot. It's a unique little veggie. (Kudos to the first guy that dug that up and thought "Yeah, I'd eat that")
Once slow roasted, however, the parsnips turn into a lovely harmony of sweet and earthy flavors, making it a perfect companion to potatoes and carrots in a side dish or stew.
When you're peeling and dicing the veggies, don't worry about chopping them too fine – they are going to slow roast for hours and where eventually blending everything anyway, so rough cuts will work just fine.
To begin, grab a 4 to 5 quart slow cooker and toss in all of your veggies (including the garlic). Sprinkle in the rosemary and give the mixture a few good stirs to distribute the seasoning evenly. Next, add the chicken or vegetable broth. You'll want to add enough so that the veggies are just covered by liquid. This amount will vary – thus the 3-5 cup range given in the original ingredients.
After everything is in the slow cooker, set it to low and allow it to stew away for 6 to 8 hours.
This low and slow process achieves similar ending flavors as roasting the veggies would. It's the best alternative to using your oven for 3 hours and it requires a lot less babysitting!
Once your veggies have roasted for at least 6 hours and have become incredibly tender and flavorful, you can begin the final preparations for the soup.
Put a large stock pot or Dutch oven on the stove over medium high heat. Add the 3 tablespoons of butter and allow it to melt before adding the vegetables from the slow cooker. Move a majority of the broth with the veggies – but reserve some of the broth for the final stages of the soup.
Use a potato masher to break down the larger chucks in the pot before switching to an emersion blender to mix everything together. If the soup is too thick, add some of the reserved chicken broth. If you'd like a creamier soup, you can add splashes of half and half or whole milk to the soup – but be sure to do so in small quantities and taste test the soup before adding more – the flavor profile can become too rich if you add too much cream.
Once everything is blended smooth and the large lumps have been removed, give the soup another taste test. Add a pinch of dried parsley, celery seed, cumin or garlic salt (or any combination of those 4) to change the flavor profile to your liking. Cumin and parsley compliment root vegetables well, so if you're unsure of which seasonings to add, opt for those first.
Once you've hit the flavor you want, all that's left is to serve and enjoy!
The Results: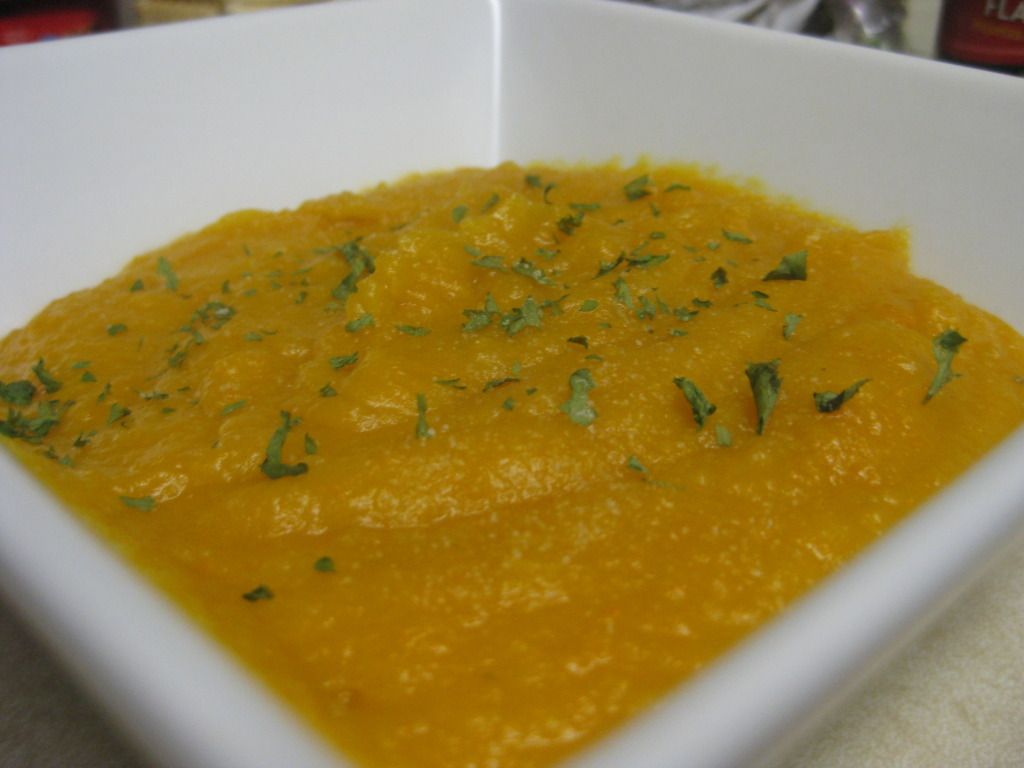 A recipe like this is ideal for days like we had today in the greater Des Moines metro. It was a cold and rainy day that invoked thoughts of October and changing leaves. This warm and savory soup hit exact spot we were looking for. Full of rich earthy flavors, this soup is destined to warm up any cool fall afternoon. The best part is the overall recipe clocks in at about 250 to 300 calories per serving!
That's all we have for you this week. As always, we'll be back next week with more brand new recipes to share. Until then,
~Cheers