Good evening everyone! I'm feeling a bit better from the last two days. Tyler has come up with a name for what I have: collergies. Since I'm not sure if what I have is a cold or allergies, I have decided that it's both. If it's allergies, it's been the worse case I've had of them in quite some time. Nevertheless, tonight I'm feeling up to cooking in the kitchen and ready to whip up a brand new dish.
We've tried our fair share of a tasty little number called risotto. Whether it's with butternut squash or with leeks and bacon, it's one of our favorite mediums to test with rice. Tonight, I'm trying another vegetable variant, but with one very unique ingredient for a risotto dish.
The Recipe: Tomato and Mozzarella Risotto
Original Recipe Found In: Cooking Light, October 2012
What You'll Need:
3 1/4 Cups organic Vegetable Broth
1 Tablespoon unsalted Butter
1/2 Cup finely chopped Onion
1 Tablespoon minced fresh Garlic
1 1/4 Cups uncooked Arborio Rice
3/4 Cup canned crushed Tomatoes
1/2 Cup shredded fresh Mozzarella cheese
1/4 Teaspoon freshly ground Black Pepper
1/8 Teaspoon kosher Salt
2 Cups torn baby Spinach
1/4 Cup chopped fresh Basil
To start, bring the vegetable broth to a simmer in a medium saucepan, but do not bring to a boil Keep the broth warm over a low heat.
In a large saucepan, melt the butter over medium heat. Add the onion and garlic to the pan. Saute for two minutes until the onion is tender, stirring frequently. Next, add the rice and cook for one minute, stirring constantly. Add a 1/2 cup of broth to the rice mixture and cook for five minutes until the liquid is absorbed and continue to stir constantly. Reserve 1/3 of the broth and use the remaining broth for the rice mixture. Adding 1/4 cup at a time and stir constantly until each portion of the broth is absorbed before adding the next. This entire process should take about 22 minutes and your arm will get really, really sore. But the end result will be really worth it. (And unfortunately, it's a extremely hands-on process that doesn't lend itself to a lot of pictures.)
After the risotto is cooked, stir in the tomatoes and cook for one minute. Add the cheese, pepper, salt to the rice and stir until the cheese is melted. Remove the pan from the heat and stir in the 1/3 cup of broth, spinach, and basil. Serve and enjoy!
The End Result: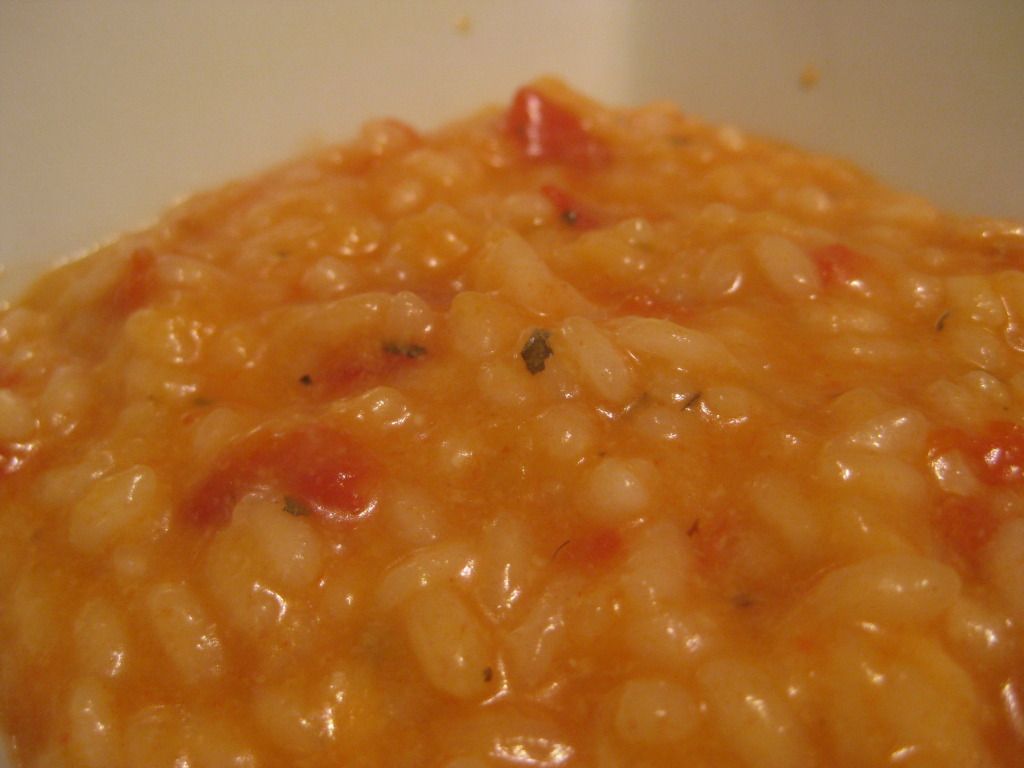 As always, when cooked properly, the risotto should be creamy and incredibly savory. Adding tomatoes and mozzarella cheese to the mix? I've had great risotto before (the butternut squash part deux was probably the best,) but this risotto was right up there. There were so many flavor elements that made it incredibly delicious. The cheese adds a nice hint of flavor, but it's not overwhelming, which is great for those that don't like a lot of cheese in their dish. The risotto soaks up all that tomato flavor and adds a whole new flavor element to the rice. Risotto is always a hit with us and when something that takes so much effort and tastes so good in the end, it makes all that work very worth it.
That's all we have for you this week. Thanks for joining us and come back next week to find out what new culinary adventures we embark upon. Until then,
~Cheers!