Good evening everyone and HAPPY ANNIVERSARY! If you are a loyal reader of the blog, you will know that today is our one year anniversary of starting our blog. It has been, most certainly, an incredible trip. When we started last May, we wanted to change the way we were eating and learn how to cook. My, how things change in 12 short months. We have developed into complete, die-hard foodies and pretty good chefs. Our families, friends, and coworkers are well versed in our blog and often ask what we are making that evening/week. We have refined our tastes and only look for the "good stuff" in grocery stores and in restaurants. I've felt that we've grown up a lot, culinary wise, and I'm sure Tyler would say the same. I get excited about every week when we try something completely different...and pleased that the recipe turns out well. But mostly, we couldn't have done it without the help our family, friends, and readers - this blog wouldn't be successful without your support and love. Thank you, thank you, thank you a million times over!
Speaking of growing up as cooks, tonight's recipe was something I would have never tried a year ago. Granted, I've tried salmon way before I was a budding chef, but I wouldn't even attempt to cook salmon. As we have developed our tastes into the fish department, salmon is that one ingredient we keep on going back to. After tonight's recipe, I think it's safe to say that anyone can make this dish.
The Recipe: Slow-Baked Salmon with Lemon and Thyme
Original Recipe Found In: Bon Appetite magazine, May 2011
What You'll Need:
1 1/2 Tablespoons Extra Virgin Olive Oil, divided
2 6-8 Ounce Boneless Salmon Fillets, skin on
1 Tablespoon Chopped Fresh Thyme (or 1 teaspoon dried thyme)
Zest of 1 Lemon
4 Lemon Wedges
To start off, preheat an oven to 275 degrees. While the oven is preheating, line a baking sheet with aluminum foil and brush 1/2 tablespoon of oil over it. Now, you might be asking why the oven is at such a low temperature. Giving the salmon a low heat loosens the fat surrounding the fillet and makes the meat really moist and tender. After all, the best kind of salmon is the kind that breaks apart when you cut into it with a fork - no knife needed.
Next, place the salmon fillets skin side down on the oiled baking sheet. In a small bowl, mix the remaining oil, thyme, and lemon zest. Spread the mixture over the salmon, making sure the mixture is dispensed equally and coated evenly. After that, season with salt and pepper. Let the salmon stand for ten minutes before popping in the oven. This allows the flavors the seep into the fillets. That's what's great about this kind of fish - salmon really soaks up the flavor of whatever is around it. This makes it a universal dish that you can put any flavor with it and it will taste great.
Mixture mixed
Place the salmon in the oven and bake it until just clear in the center of the fillets, about 15 to 18 minutes. Serve with lemon wedges and enjoy!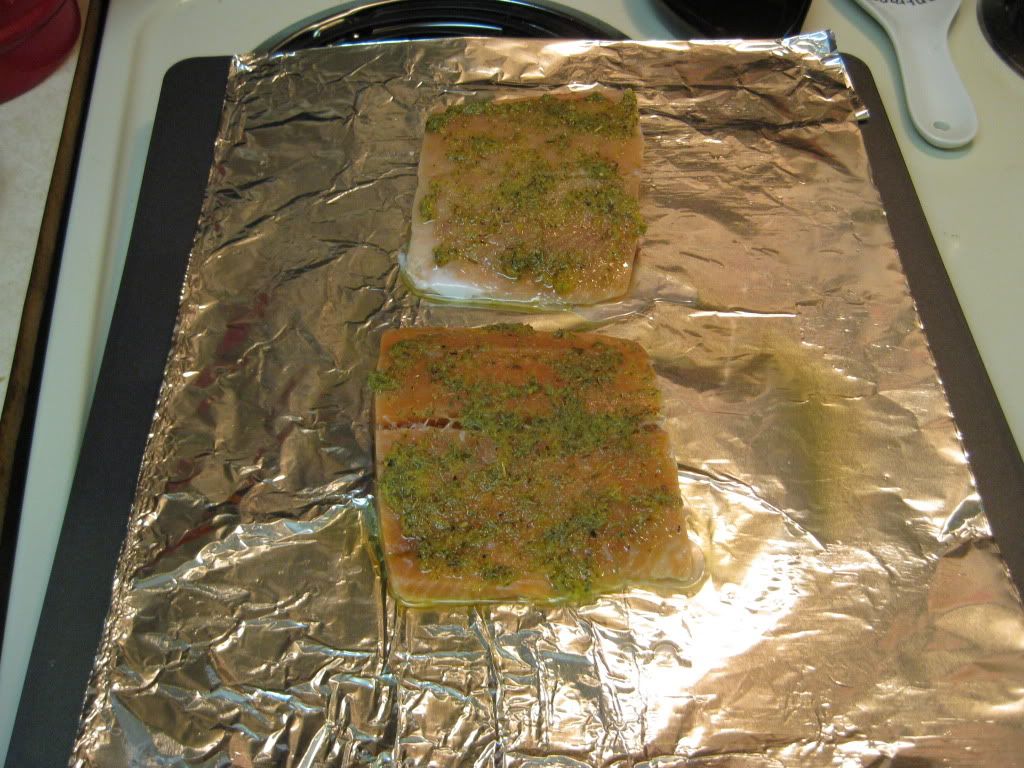 Ready to cook!
The End Result: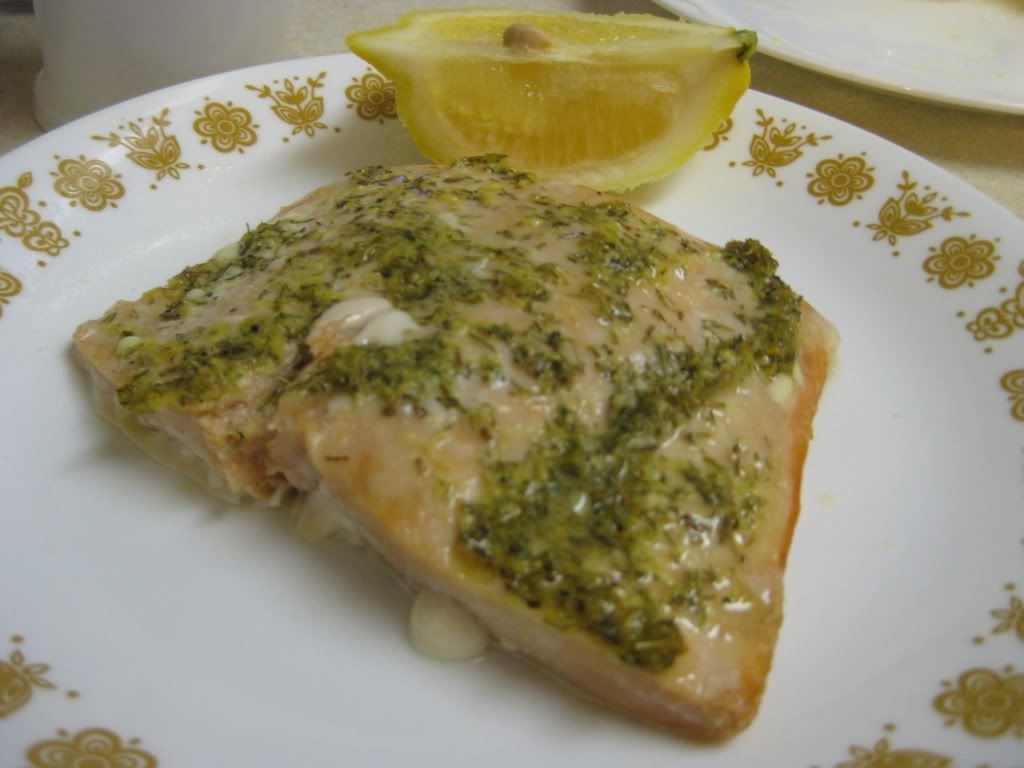 The slow and low method worked perfectly. The salmon was incredibly moist and just broke apart when I dug my fork into it. The lemon and thyme flavors really enhanced an already great fish. Letting the flavors seep into the fish before putting it in the oven made it really flavorful. If I had not done that, the lemon/thyme mixture would have not stayed on the fish nor made it taste great. Salmon is a great choice for any night of the week - paired with the right flavor options, it could become a super part of your dinner plate. Not only is salmon a super food (high protein, high omega 3's, and vitamin D,) but this dish is a superb low calorie option. At only 308 calories, for those wanting to eat healthy and have their food taste great, this recipe is for you!
Thank you Maggie. Yes, as Maggie mentioned in the open, today marks the 1 year anniversary of our little cooking blog. I started Out Of The Culinary on a whim last May. Maggie and I were trying to cook and eat healthier and had been doing a decent job. I wanted something to keep us honest and keep us committed. It's all too easy to start something and then sluff off - until you're back to where you started.
So, Out Of The Culinary was born. Not only as a method to share our recipes and cooking adventures but as a way to keep Maggie and myself on track. 230 posts, 170 plus recipes and countless adventures later, we've become quite capable chefs.
I started off with the most cooking experience between the two of us. This sounds impressive, until you realize that my beginning cooking experience was the ability to make 'box mix' pancakes. Maggie, to her credit, freely admitted that she could boil water...and that was all. Armed with my copy of Jamie Oliver's Food Revolution, I learned to cook the way I learn anything new - diving right into and learning on the fly. Through Jamie's quirky terms and free flowing recipe style, I learned how grill, sear, season and cook like a pro. It was thanks to that one cookbook (and it's easy to follow recipes) that this blog succeeded and grew like it did.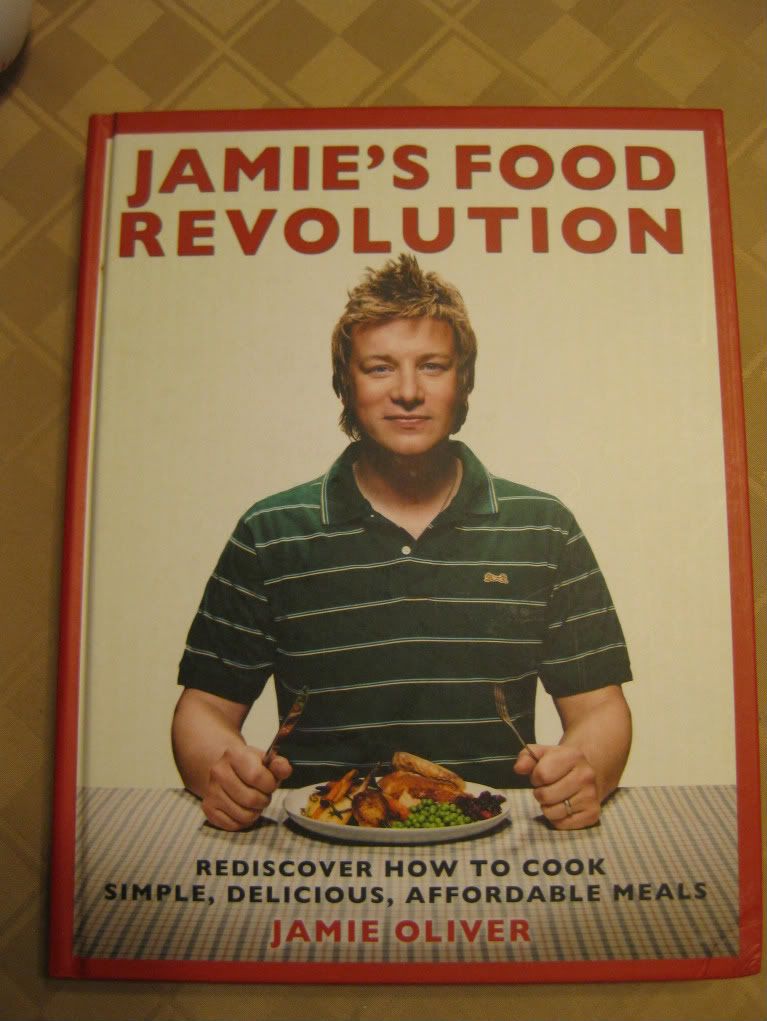 As a feature for our one year anniversary, I wanted to create a 'top 25 recipes' list featuring the best of the best recipes (so far). As I started, however, I found the task to be more taxing than I first imagined. Our cooking style has shifted so much in one year, that it is almost unfair to compare today's dish with the recipes from a year ago. You can't really compare the ground beef wellington with our crunchy cod fillets - they're both great, but for different reasons. So, I decided against making a 'best of list' - instead, you can check out our favorites from the blog's first year in our
cookbook
.
If you're in the mood for a funny read - go back to the beginning of the blog and randomly skip through the weeks. You can almost see the evolution, both in writing style and it recipes tackled. We started small - keeping the post focused on the recipes and keeping the recipes focused on a few ingredients. This grew into more research heavy posts, more detailed recipes, more ingredients. We eventually have settled into a blending of the two. We try to write informative, detailed posts breaking down a recipe beyond what you can find in the cookbook. We're cooking it first so you don't have to. We learn the hard way when a cookbook is uninformative. We search for substitutes and alternatives for many recipes - we even will take a recipe down to its framework and start from square one. Our job is to not only share good recipes with you, but to break them down and make them approachable for any level of cooking experience.
As an aside, this has been the biggest challenge for Maggie. She tends to write 'by the book' keeping her posts reading a lot like a recipe. I have spent many nights editing and patching one of her posts together to the point where it is more 'my words' and less her words. She's gotten a lot better at this, (another way we've grown in the past year) by the way, and most of her posts go unedited!
Unlike my wife, I tend to get verbose and wax poetic (much as I am now) I get involved in a recipe from start to finish and try to craft a story of the dish. Beginning, middle and end. Sometimes it makes for great, interesting reads others (I'm sure) it feels a little long winded. But those differences are what make Out Of The Culinary what it is. Two different voices, two different chefs, two different approaches to cooking.
In the end, I've discovered a new hobby and learned that I had a talent for something I could never have imagined doing even two years ago. I got to share the experience with the love of my life and it has become a passion that we can both share forever.
In the back of my head, when I started this blog, I imagined it as 'snapshot' of our lives together. I planned to treat it as a look into one year of our lives cooking. That's right, the plan was for this to last one year. That's why tonight, I'm announcing that this is the end of....
Only kidding. We've got something good going here and so long as Maggie and I are enjoying what we're doing - we're going to keep it going. (Heaven knows it's not for monetary gain as we don't make a dime off of the site thanks to a Google mix-up...) Last month was our highest total page views since our blog launched. We had over 1,300 unique visitors in April alone - an astounding increase in readers. Our readership is growing, our experience is becoming more vast and, well, this whole thing is just too much fun to give up.
I'm back Thursday night with a revisit to a recipe that has bothered me since the day I tried (and mostly failed) at duplicating it. Now, I'm back for vengeance. Be sure to stop in Thursday night to see what I've got cooking. Until then, thank you for reading - and here's to another year!
~Cheers