Good evening everyone! As many readers know, I love combining different flavors and taste combinations to create a truly unique dish. When a flavor combination works, I love to go back and retry it with a different twist to it or maybe as a new variation of the dish. Tonight is no exception. Last December (wow, five months ago - crazy!) I tried a recipe that we saw at the Des Moines Food and Wine Expo
Chimichurri - Hard to Spell, Easy to Enjoy
and searched for quite a bit for the perfect recipe. Chimichurri is one of those recipes that once you have the list of ingredients, it's easy to find numerous recipes that are all pretty much the same. Tonight, I'll be taking on a variation of this recipe, but make it a more Americanized version. Would it live up to its previous contender?
The Recipe: Burger Argentina with Chimichurri Sauce
Original Recipe Found In: America's Test Kitchen, 30 Minute Suppers
What You'll Need:
1/2 Cup Chopped Fresh Parsley
1/4 Cup Extra Virgin Olive Oil
1 Large Shallot, minced
2 Tablespoons Red Wine Vinegar
2 Garlic Cloves, minced
1/8 Teaspoon Red Pepper Flakes
1 1/2 Pounds 85% Lean Ground Beef
5 Teaspoons Vegetable Oil
1 Red Onion, peeled and cut into 1/4 inch rings
4 Hamburger Buns
Begin by making the Chimichurri sauce, combining the parsley, olive oil, shallot, vinegar, garlic, and pepper flakes. Season with salt and pepper. If you have never tried Chimichurri sauce, you are in for a real treat. Granted these ingredients sound rather weird all together, when you combine everything, it makes for a heavenly aroma and a flavorful sauce.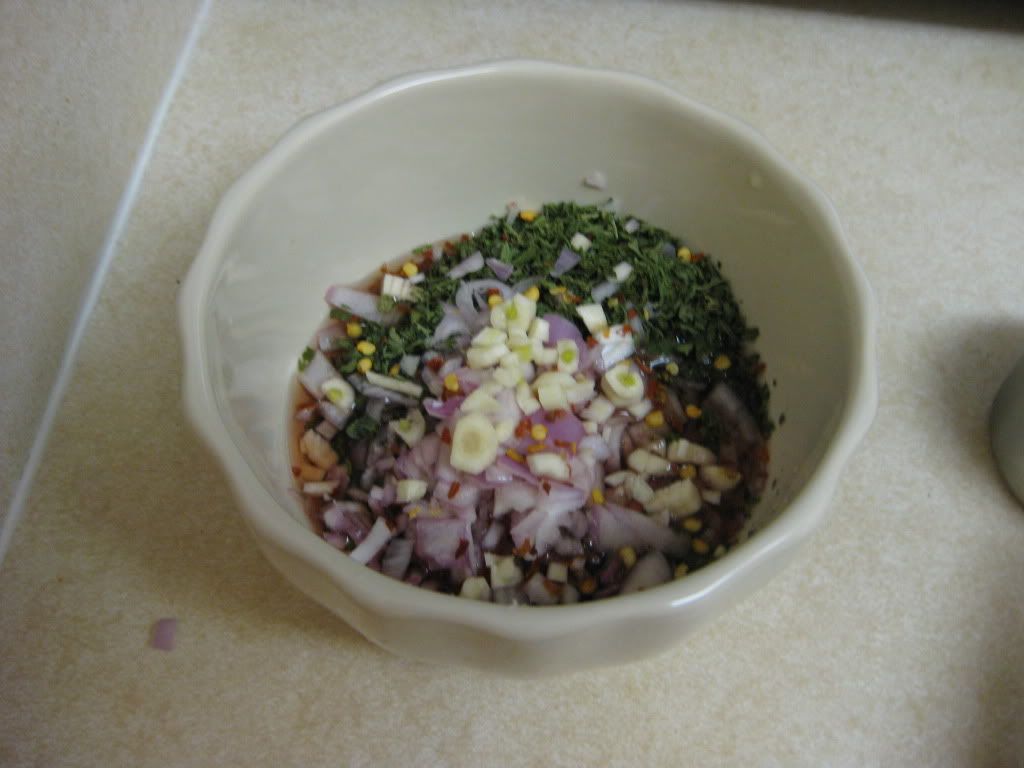 Premixed Chimichurri Sauce
Next, gentle mix the ground beef with a 1/2 teaspoon of salt, 1/2 teaspoon of pepper, and three tablespoons of the Chimichurri sauce in a large bowl until well combined. Form the mixture into four 3/4 inch thick patties and make a slight indentation in the top of each with your knuckles. Making an indentation in the beef patties helps them from not swelling during the cooking process. Don't press too hard though - a shallow center with thick edges will not make for a good burger by unevenly cooking it.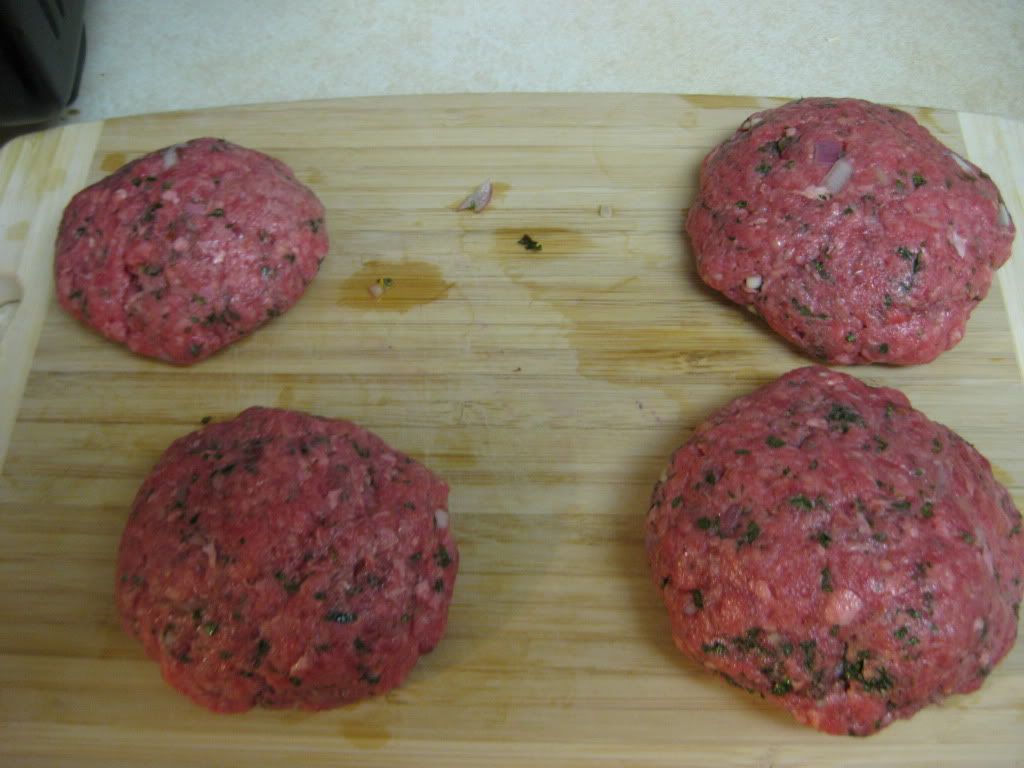 Burgers, pre-burgerized
Then, heat three teaspoons of oil in a large nonstick skillet over medium high heat until the oil is warmed through and is shimmering, not yet smoking. Cook the onion rings until soft and golden, about six minutes. Transfer the onion rings to a plate and tent with foil to keep warm.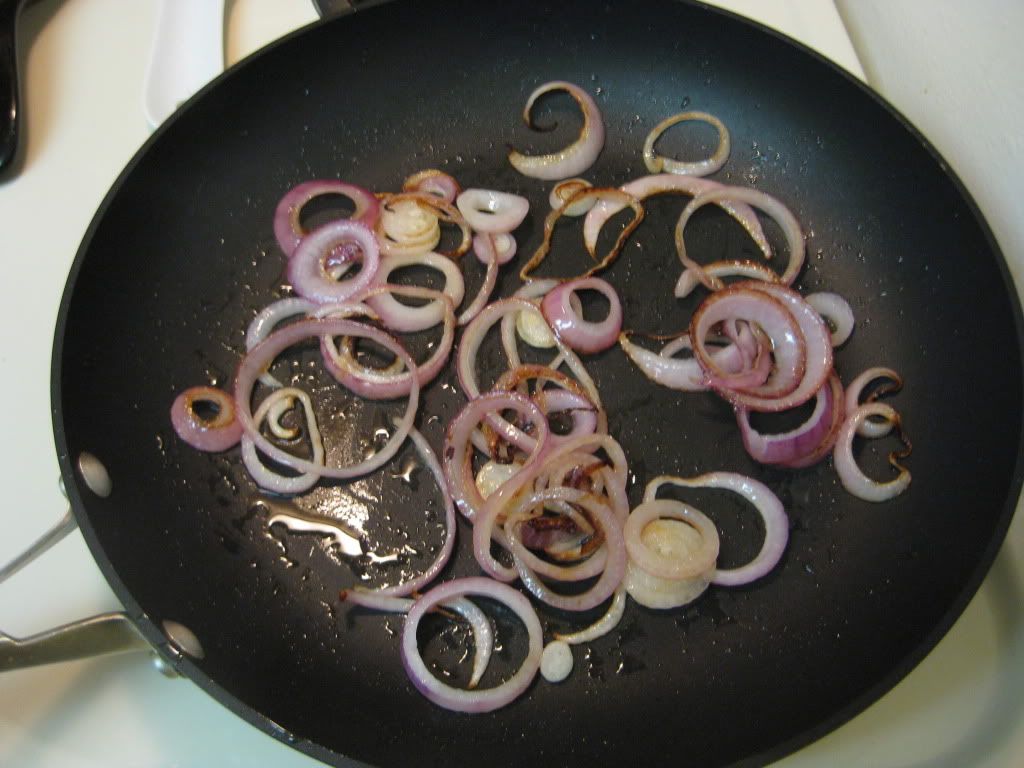 After that, wipe the skillet down with paper towels (a tip: pressing the paper towels hard in the skillet might burn through the paper towel and cause an unnecessary burn. The paper towel should soak up that excess oil without pressing too hard.) Return the skillet to the stovetop and heat remaining two teaspoons of oil in the skillet until the oil is just smoking. Add the meat patties until they are well browned and cooked to desired doneness, six minutes for medium rare, eight for well done. Arrange the burgers on the hamburger buns, top with the cooked onion rings, drizzle with sauce, and enjoy!
The End Result:
This recipe was completely different than the Chimichurri steak. While the steak marinated in Chimichurri sauce, the burger was topped with the sauce and a little bit sauce was mixed in with the meat. Therefore, the burger had a more intense flavor. But all the different ingredients worked so well together that it was a good kick. The leaner meat probably also had to do with the greater flavor quotient. The one thing that didn't work was the size of the patties. I made them too chunky and therefore, ended up burning one side of them and cook the remaining time in the microwave. Live and learn as a cook, right? Hopefully, next week will be a little bit better than these last two. But, as a chef, I'm always learning about being better and picking up new techniques.
Thanks Maggie! That's all we have for you this evening. I'm reaching back into our new cookbook for a recipe that I'm excited to try. It's new, it should be tasty, and it's coming up on Thursday. Until then,
~Cheers!